New dryers a godsend for NASCAR Nation
January, 23, 2013
01/23/13
1:46
PM ET
If I could have back all the time I've spent at racetracks in the rain and waiting for the drying process, I would be a young man today.
And I've had it easy, compared to you, the ticket-buying fan, who had to brave the elements and get home in the wee hours of Monday to go to work or maybe even throw away hard-bought tickets because you couldn't return for the rain date.
Now there's hope of considerable relief for everybody, as reported Wednesday by our David Newton from the NASCAR media tour. At Daytona in February, we can hope to see the beginnings of a revolutionary reduction of the drying process -- down to 20 percent of the current time.
[+] Enlarge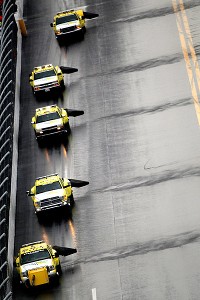 Tom Pennington/Getty Images for NASCARMore efficient track-drying machinery is expected to replace the familiar jet dryers, above, beginning next month at Daytona.
If this works -- well -- I cannot remember a single thing NASCAR has done, in the almost 39 years I've covered it, that would be more popular with fans, both in the stands and via television. Not to mention competitors, media and TV programming executives.
This will be no panacea. There'll always be those days of relentless downpours that force postponement.
But you and I both know the most miserable pattern there is: There's enough of a shower for NASCAR to "lose the track," as they say. Two hours or more are spent drying the track, and just as it "grays up," here comes another shower. Out come the jet dryers again to repeat the agonizingly slow process. Then another shower. And so on.
That's the sort of thing that should be eliminated with the equipment announced Monday by NASCAR senior vice president of racing operations Steve O'Donnell.
Newton reports the equipment will use compressed air in a sort of "squeegee effect," simultaneously vacuuming up water, as opposed to the current jet dryers that merely -- and oh so slowly -- blow hot air onto the track while fleets of trucks run the track, trying to blow off water with their tires.
Imagine a shower early in the Daytona 500 on Feb. 24 and the track is dry enough for racing within 30 minutes. That's what NASCAR is shooting for. They'll keep the jet dryers on site until the new equipment is perfected.
But it's an enormous start for all of us who have spent the dreary hours and days -- to me, it seems like months or years, all told -- waiting, and waiting, and waiting, and waiting.
Malign NASCAR chairman Brian France as you will -- and have -- but O'Donnell indicated France is the one who pushed for this terrific reduction in drying time. And France is asking for even more efficiency than what NASCAR Research and Development has come up with so far.
Surely you will give the third czar his due credit when his commanded achievement hits you right between the eyes -- when the green flag drops on what, half an hour earlier, was a wet track.
My first NASCAR rainout was at Talladega in the summer of 1975. The schedule being much less crowded in those days, the race was postponed for an entire week. On the rain date, Tiny Lund was killed.
I was working at an Atlanta newspaper in 1980 when there was a similar postponement for a week. It rained even more in the interim. What was then Atlanta International Raceway had grassy fields for parking lots. I called the track's then-new public relations chief for an update on conditions for the rain date.
"We'll try to have as many tractors and chains as we can to pull people out if they get bogged down," said the young PR guy.
I thought this guy would never make it in NASCAR. He was way too honest with the public.
His name? Mike Helton.
For the next 32 years, his recent decades spent as NASCAR's president, Helton more than anyone would have to endure the agony of rain and the ire of the fans.
Helton joined O'Donnell in announcing the new equipment. I wasn't there, but I've known Helton well enough, long enough, to know no one is happier or more relieved at its prospects.
Don't even think of all the time he has spent in the rain at tracks, trying to figure out what to do, knowing nothing he can decide will please the public.
Just take the time Helton has spent standing in the door of the NASCAR hauler looking helplessly out at the rain. If he could just have that back, there would be no gray in that mustache.