Category archive:

Chrissy Wallace
November, 5, 2011
11/05/11
11:44
AM ET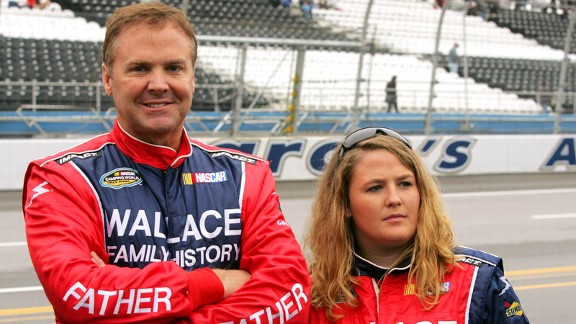 Jerry Markland/Getty ImagesMike Wallace and his daughter Chrissy Wallace are just a small part of the Wallace racing family.
In the early morning hours of Oct. 30, we lost one of the great motorsports patriarchs of the Midwest. Russ Wallace, father of Rusty, Mike and Kenny Wallace, passed away at 77 from stroke complications.
Russ never made a living racing. He worked jobs during the weekdays to fund his obsession at night and on the weekends, piecing together cars to race throughout Missouri and Illinois. Once his boys came along, he worked to underwrite their dreams, eventually helping them all move south to start one of the NASCAR's greatest sibling success stories.
His final days were spent watching one of those boys, Mike, experience a thrilling, emotional return to Victory Lane. On Oct. 22, the 52-year-old grabbed his first NASCAR win since 2004 and first Camping World Truck Series victory in 11 years. As the celebration began to slow, he politely did what he does a lot these days. He shifted the focus away from himself and onto his daughter, Chrissy.
"I hope we have another Wallace winning races in this series very soon," he said.
Chrissy's determination to keep climbing the racing ladder was always a source of pride for Russ.
"She keeps on digging," Russ told me in a conversation just prior to her Daytona debut in the NASCAR Nationwide Series in 2010. "People tell her no, but she won't take no for an answer.
"It reminds you of how we had to do it back home in St. Louis. You keep working and running up front, and they'll notice you. You start winning, and they'll have no choice but to give you a shot."
The 23-year-old Chrissy is constantly making phone calls, putting together sponsorship proposals and stuffing envelopes. The routine is nothing new. It's like this every year. But this autumn's search for next season's ride seems to have a little more momentum behind it.
Funny what winning a championship can do for one's spirits.
Chrissy started this season by becoming the first female to win a late model feature at the legendary Lebanon I-44 Speedway in Missouri. Then she added five more wins, along with 12 top-5s and 16 top-10s, in 19 starts. That earned her I-44's ASA Track Championship, the ASA West Region Championship, and placed her third in ASA's overall national championship hunt.
For those of you who don't know, the American Speed Association has been in business, albeit through two incarnations, since 1968. In its heyday, it was the premier Midwestern stock car series, producing the likes of Mark Martin, Alan Kulwicki and Johnny Benson. The history of the racing Wallace family is deeply intertwined with the history of the ASA. Rusty won the ASA national championship in 1983 and Kenny earned Rookie of the Year honors three years later.
[+] Enlarge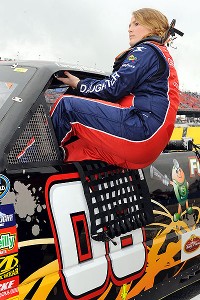 John Harrelson/Getty ImagesChrissy Wallace has only gotten a handful of starts in NASCAR's national touring series, but she's knocking on doors looking for her next shot.
"It has been so great going back to Missouri, where all of my family is from, and kind of getting back to my roots," said Chrissy, who was born in St. Louis. "The fans at I-44 have been watching my family for so long, and a lot of the people I see at the track raced against my father or my uncles.
"They all knew my grandfather. All the time, they've been coming up to me and telling me how much they support me."
It's not like the folks in Lebanon have never watched a Wallace dominate the summer. In 1990 Mike won the track late model title and NASCAR's Mid-America Region championship with a mind-blowing 21 wins in 29 races.
"Dad says it feels a lot like it did when he was racing there," Chrissy said. "It's a family affair. Most of the crew that worked with me each weekend was from my Mom's side of the family.
"My uncle Larry spots for me. That family support is such a huge reason for why we wanted me to go back and race there."
The other reason was to hit the reset button. To get away from all the motorsports noise of North Carolina and find another route back to NASCAR. Wallace started seven NASCAR Truck races in '08-09 and a pair of Nationwide Series races last year, but none this year.
But so far, so good on her climb back. Her success at I-44 caught the eye of Cunningham Motorsports and crew chief Paul Andrews, another alumnus of the ASA ranks. They put her in a ride for the Oct. 16 ARCA series finale in Toledo, where she finished a solid 11th out of 35 cars, barely missing her second top-10 in just three ARCA starts. Russ got to see that, too.
The goal is to land a ride in the Truck Series for 2012. There have been some discussions, but she knows that she needs to bring a better sponsorship portfolio to grease the rails. So, once again, she's back at work in her Concord, N.C., office, knocking on doors and hoping for a chance. It's quite a contrast to the ongoing stock car experience of Danica Patrick, who seems to trot out sponsorship and race schedules with the greatest of ease.
"This does seem like it comes easy for some people," Chrissy said. "Not a lot, but some. The rest of us have to work harder to make things happen. I've never been afraid of hard work, so I'll just keep on pushing. Eventually someone will take notice and give me a shot."
If she keeps on winning, they'll have no choice. Just like Russ said.