Welcome back to the Chicken Bone Section.
You know the place. The first few rows of the racetrack grandstand that, by the end of 500 miles, become the catch-all for anything and everything -- crushed cans, empty party cups and, yes, chicken bones that have been gnawed naked.
This is where I dump my racetrack reporter's notebook onto the worldwide Interweb and into your browser. So grab a spork and come with us -- into the Chicken Bone Section.
Queers for -- do what now?
Two weeks ago, during Carl Edwards' weekly media center visit at Auto Club Speedway, there was a subtle yet no less great moment that slipped by most people in attendance and watching at home on the Internet.
Before every question, media members are asked to identify themselves by name and affiliation. You know the drill. You see it on CNN and ESPNEWS all the time. But even Edwards, who is as smooth and media-savvy as they come, paused and smiled as if to say, "Come again?" when he heard this: "Michael Myers with Queers4Gears.com..."
See the moment for yourself by going here. You can hear Myers and his question at the 1:38 mark.
Myers is a 37-year-old sales manager based out of Las Vegas. Yes, he is gay. Yes, he is a NASCAR fan. And yes, there are more race fans out there just like him. A lot more.
"I started the site in September 2009, and the steady increase in traffic has really been encouraging," Myers said by telephone on Wednesday. "And the correspondence I've gotten is a lot of, 'Man, thanks so much for this, there are a lot of us out here!'"
Talking to Myers and hearing his excitement over the number of gay NASCAR fans who have discovered his site reminded me of another conversation I had nearly two years ago with the original gay racing webmaster, the honorable Betty Jack DeVine, who started Gaytona.com in 2003. His real name is Dave and, as always, he'll be at his hometown track, the Atlanta Motor Speedway, this weekend.
That's right. There isn't just one successful site aimed at gay NASCAR fans. There are two. But where Gaytona is admittedly loud and proud, Q4G is a more traditional blog, news-driven and updated on a daily basis.
"I have two approaches to covering races," says Myers, who grew up in Spartanburg, S.C., hometown of David Pearson, Bud Moore and Cotton Owens. "The first is nuts and bolts. It's information, opinion and stats, totally centered on the racing itself. Then there is the Gaynalysis, which is a look at NASCAR from the perspective of what might of interest to gay NASCAR fans. Celebrities at the track, grand marshals, food, that kind of stuff. For example, the media center at Las Vegas has a spa. I'll be writing that up soon."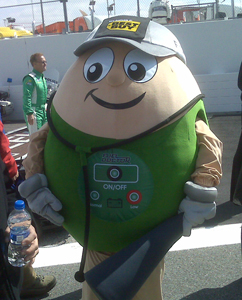 Courtesy Ryan McGeeName this thing. Details below.
Myers is so dedicated to serving his audience that he's willing to cover even what he doesn't care for. For example, he thinks that reality show celeb Kim Kardashian is a bit of a joke. But when she sashayed into the Vegas media center to promote her new perfume, he knew he had to resist his personal desire to bail. "If you're going to do a gay NASCAR Web site," he said with a sigh and a laugh, "then you have to interview Kim Kardashian."
Fontana and Vegas were Myers' first official visits to the track as a writer. He was admittedly nervous about how he would be received but was pleasantly surprised by the reaction he generated in the garage. After the smile-and-answer from Carl Edwards, the driver's PR rep quickly assured Myers that Cousin Carl thought that Q4G's presence at the track was great and that he'd done interviews with gay and lesbian media outlets before. In the deadline room, Myers was offered greetings and advice not only from some of his fellow scribes but also from racetrack management and NASCAR itself.
"Once everyone was sure that I was there to cover the races and not just there as a gawking fan, they accepted me pretty quick. It's a real honor and privilege to be credentialed. I know that, and I want to do that justice."
Throttle linkage
• Here's my 2008 story about Gaytona.com and webmaster Dave, aka Miss Betty Jack DeVine.
• My buddy Jay Busbee of Yahoo! Sports paid a visit to the Streamline Hotel in Daytona Beach, the building where NASCAR was founded, and found out that it now caters to gay clientele.
• Here's the official Web site of openly gay racer Evan Darling.
• Gaywheels.com is the Internet's largest car-centric site.
Herb who?
When Jimmie Johnson won at California two weeks ago, it was his 48th career victory and moved him into a tie for 12th place on the all-time wins list. He didn't stay there long, picking up win No. 49 this past Sunday at Las Vegas. During the brief time that JJ was in 12th, I received several e-mails asking for more info about the man he was tied with, Herb Thomas.
In Wednesday's blog, you learned that Thomas had the biggest nose in NASCAR history, at least according to old rival Lee Petty. The good folks with ESPN.com's NASCAR page even found a photo to prove it. But what you as a NASCAR fan really need to know about Thomas goes far beyond his face. Dude was a wheelman. One of the greatest ever.
The pride of Sanford, N.C., finished 29th out of 33 cars in NASCAR's first Strictly Stock (now Sprint Cup) race, held in Charlotte on June 19, 1949. It took him more than a year to grab his first win at Martinsville on Oct. 15, 1950. But once he got that first one out of the way, they started coming in bunches.
Thomas won the equivalent of the Sprint Cup title in '51 and '53. He also finished second in points in '53 and '54. Two years later, he was on his way to a probable third championship when he suffered a horrible crash at the Cleveland County Fairgrounds in Shelby, N.C., a wreck that many believed was an intentional hit put out on him by car owner Carl Kiekhaefer. Thomas suffered skull injuries, and his racing career never recovered.
At the time, Thomas' 48 wins was the all-time career mark, a full nine ahead of Tim Flock. That mark stood for four years until Lee Petty earned his 49th career win at North Wilkesboro on March 27, 1960.
Up next for Johnson on the career wins list are a couple of guys who you should already know about -- Junior Johnson and Ned Jarrett with 50 each. After that, it's Lee Petty's 54 wins.
The why we call Richard Petty "The King" fact of the week
His Royal Fastness started the first Sprint Cup race ever run at the Atlanta Motor Speedway held on July 31, 1960. He finished 20th out of 45 cars. His final career race came at Atlanta in the season finale event of 1992. He finished 36th out of 41 cars, famously on fire.
That means that he started all of the speedway's first 65 events. During that time he earned six wins, and during one stretch covering 1968 to '72 he earned 10 consecutive top-10 finishes.
Chicken Bone Caption contest
I ran into this, er, thing (photo above) on the grid before the Nationwide Series race at Daytona. It's the official mascot for the Fuel Doctor, a device sold at Best Buy that is supposed to drastically cut back on your fuel usage. I met the smiling green Q*Bert-looking dude while reporting my story about Chrissy Wallace.
I contacted the Fuel Doctor folks to find out his/her/its name, and they said it was TBD. Well hell, why else does the Chicken Bone Section exist if not for naming unidentified, goofy, green Humpty Dumpty-looking mascots?
Send your name ideas and/or captions to me at mcgeespn@yahoo.com or tweet me.