The world according to Felix Sabates
January, 23, 2013
01/23/13
12:50
PM ET
If we could just get Felix Sabates to speak his mind.
On Wednesday morning, the Cuban refugee-turned-American success story held court during the Earnhardt Ganassi Racing with Felix Sabates stop on the Sprint NASCAR Media Tour. On the eve of his 19th season as a NASCAR Sprint Cup Series team owner, a Daytona 500 champion ring on his left hand and Brickyard 400 ring on his right, the 70-year-old rolled through a rapid-fire list of topics, smiling and winking all the way.
The highlights:
• On the much-heralded looks of the newly redesigned Generation 6 race cars: "I am in the car business. [He started as a salesman at Charlotte's City Chevrolet in the 1960s and now owns a Mercedes dealership.] No one ever walked up to me on the lot and said, 'I want to buy this car because it has no style and looks terrible. No one doesn't love a good-looking car. These are good-looking cars."
[+] Enlarge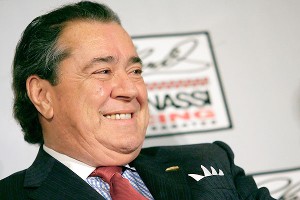 Jason Smith/NASCAR/Getty ImagesFelix Sabates had a lot on his mind when he met the NASCAR media Wednesday morning.
• On the legacy of the Gen 5 car, aka Car of Tomorrow, which is being shelved after six years: "The COT is the worst mistake NASCAR ever made. And they know that. ... But in the end, it did make the sport safer."
• On NASCAR chairman Brian France's somewhat similar admission during Tuesday's annual State of the Sport address: "Brian gets criticized a lot. But he is a lot like his father, Bill France Jr. He calls a spade a spade. There is never a time when I don't know how he feels about something. And if I need to know, I just need to ask him and he will tell me straight. Kind of like me. The public may not always see that in him, but behind closed doors I sure do."
• On the new car versus the old car on the racetrack: "These guys are going to have to be able to drive now. It will take cojones. The COT was very forgiving. This new car is harder to drive. It was specifically designed that way. You are on your own in this new car. If you aren't a real racer, you won't be able to do anything with it."
• What kind of driver is he talking about? "I think this new car is built for a guy like [EGR driver] Juan Pablo Montoya. He's the kind of guy that just naturally goes and finds the edges where a car can run. With the old car our engineers would say, 'You really need to be running closer to the wall.' So he would try it, hit the wall, and come back and say, 'Was that close enough?' This new car will be back in the hands of the drivers. The ones with cojones. That's how it should be."
• When asked for an example of the COT not being about the driver: "I don't think the 21 car wins the Daytona 500 without the COT. I love that kid [Trevor Bayne], and I have so much respect for that team [Wood Brothers Racing], but he simply figured out how to do that two-car draft and that's how he won the race. Good for him, he deserved it. But in this car, like the car before the COT, a young guy can't just walk in and win like that."
• On the addition of new sponsors Cessna and its Textron partners, Bell Helicopter and E-Z Go, their massive wares on display in the airplane hangar where the news conference took place: "This team has always been fully sponsored, even when the economic situation was at its worst and we were running terrible. We are very proud of that fact, and we should be. When a company like Cessna comes in, a company that does business with the best of the best in the corporate world, I think that sends a message to those CEOs that there must something to this NASCAR deal. It's OK to invest in racing again."
• Realizing he kept using the term "cojones" to describe what racers would need to drive the Gen 6 car, he offered up an alternative term: "Use the word 'timbales.' That's a much nicer way of saying 'balls.'"