Category archive:

Michael Schumacher
June, 27, 2012
06/27/12
3:31
PM ET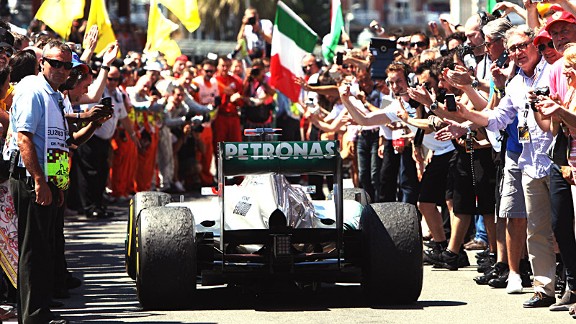 Ker Robertson/Getty ImagesIt had been a very long time since Michael Schumacher had drawn applause for a podium finish.
The opening laps in Valencia suggested that this year's version would be similar to recent editions on the street circuit.
Sebastian Vettel looked to be in complete control as he opened up a commanding lead, but mechanical gremlins ultimately ended his run early, opening the door for the competition.
Fernando Alonso took full advantage, to the delight of the home-country crowd, and collected a remarkable victory after starting 11th on the grid.
Aside from his memorable and controversial victory in Singapore in 2008, it was his worst starting position in an event he went on to win.
In addition, his victory earlier this year in Malaysia saw him start eighth, meaning he has been forced to make up some serious ground en route to his two wins this season.
Alonso has done an incredible job this season of pushing his car to the limits, but Ferrari still has plenty of room for improvement, as he told reporters after Valencia.
"It's true that we believe and we will never give up, we will have confidence in ourselves and we will arrive with optimism at every grand prix we go to," he said. "But at the same time, apart from winning today or finishing sixth today, we know that we are not in the position that we want to be and there are a few cars quicker than us and we cannot be blind to that.
"We need to work."
Red Bull still appears to have the quickest car lately, but Vettel now finds himself 26 points behind championship leader Alonso. That gap can certainly be closed, as Vettel eliminated a 19-point deficit in 2010 after eight rounds to win the championship, but it is a surprising position for him this far into the season.
Vettel was certainly not the only driver to suffer misfortune in Valencia, as Romain Grosjean also became a casualty of his Renault power plant. When Lewis Hamilton crashed late, it allowed for Michael Schumacher to score his first podium with Mercedes.
In what has been a very tough year, it was a standout result, and it marked the first time in nearly 2,100 days that Schumacher had reached the podium.
It was a finish that surprised many, as Schumacher found himself outside of the points with fewer than 20 laps remaining. It surprised even the driver himself, as he detailed to reporters.
"I didn't actually think about a podium at all at the end of the race," he said. "It was crossing the line that I asked my guys 'where did we finish?' I saw [Mark] Webber's pit board and close to the end it showed him eighth and seventh, and I knew I was one place ahead of that one. And then the boys told me 'that's third, that's podium.'
I can't believe that! It's something I didn't really expect."
Sure, he was on fresher tires than many other drivers, but he did a great job of dicing through the field. When several front-runners ran into trouble, he was able to secure an impressive day.
What's more, this season has now seen 11 different drivers on the podium, more than the previous two seasons combined. That's a pretty clear indication of just how varied this year has been, even when compared to a very thrilling 2010 season.
As the F1 calendar moves on, a storyline to watch next time out will be Vettel's pursuit of a 34th-career pole. It is a significant milestone, as it will give him sole possession of third place on the all-time pole ranks behind only Schumacher and Ayrton Senna.
May, 9, 2012
05/09/12
12:25
PM ET
Close, competitive racing has been the recipe throughout this Formula One season, but if this trend continues up front in Catalunya, it will prove to be a considerable exception for the circuit.
While the track is a familiar one for teams, it has not been known for providing close finishes. Last year was very much a rarity, with Sebastian Vettel holding off Lewis Hamilton by a mere 0.6 seconds. Aside from that result, no event at Catalunya has been decided by fewer than three seconds.
[+] Enlarge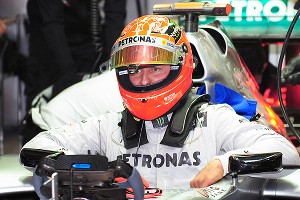 Mark Ralston/AFP/Getty Images Michael Schumacher owned the Grand Prix of Spain in his heyday, winning it six times.
In fact, of the 21 previous grands prix held, 19 have been won by more than a margin of five seconds and 14 have been decided by over 10 seconds.
While that certainly does not bode well for a memorable finish in Spain, if any season can deliver an exciting battle, this would certainly be among the top contenders.
The combination of tires that degrade quickly and an increase in the number of competitive teams has made this season very much a guessing game, and with any luck Spain will see a continuation of the 2012 excitement.
It certainly has been an unpredictable grand prix recently, as the last six events here have produced as many different winners. In addition, of the six former F1 champions on the grid, only Hamilton has yet to capture a win at this venue.
If Hamilton wants a legitimate chance at a victory here, he'll want to start on pole, or at least the front row. A staggering 10 of the last 11 winners have come from the pole, with the lone exception coming last year (Vettel won after starting second).
Since Catalunya began hosting F1 in 1991, only once has a driver won after starting outside the front row, and that was merely a third-place start from Michael Schumacher in 1996.
By comparison, a track such as Monaco, which stresses qualifying more than most venues, has 20 winners from the top three starting positions in that span but has just 10 from pole, compared to 16 in Barcelona.
Clearly, a top qualifying effort in Spain is absolutely critical for those who wish to win, making qualifying all that more riveting.
Perhaps Schumacher can boost his season at Catalunya, as Spain is one of his strongest grands prix. His six victories at the Spanish Grand Prix trail only France (eight), San Marino (seven) and Canada (seven) for his most at any grand prix, and he is now facing heightened expectations after his teammate Nico Rosberg drove to victory earlier this year.
Schumacher will have to continue to adjust to the Pirelli rubber, an aspect of the sport he is not pleased with, as he recently detailed to CNN.
"I just think they are playing much too big an effect, because they are so peaky and so special that we don't put the cars or ourselves to the limit," he said. "We drive like we're on raw eggs and don't want to stress the tires at all, otherwise you just overdo it and you go nowhere."
He has suffered from some bad fortune this season and, as a result, has earned fewer points than the likes of Bruno Senna, Jean-Eric Vergne and Pastor Maldonado.
His campaign with Mercedes has thus far been a disappointment, but there is still plenty of time to turn it around this season, especially with a car that appears to be more competitive than in past seasons.
The sport will also be celebrating an anniversary in Spain, as it will mark, to the day, the 62nd anniversary of the first Formula One race. That inaugural event was run in Silverstone and was won by Nino Farina and Alfa Romeo.
February, 1, 2012
02/01/12
9:56
AM ET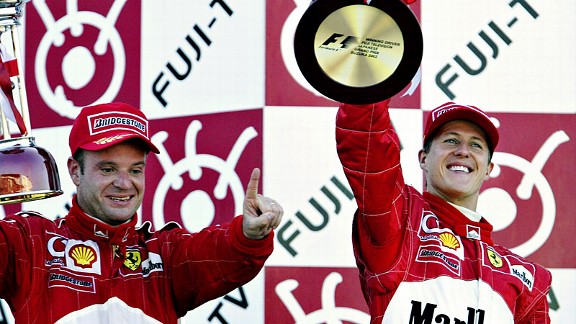 Mark Thompson/Getty ImagesRubens Barrichello and Michael Schumacher celebrated in October 2002 at Suzuka, Japan. Schumacher won a then-record 11 races that year and clinched the title with six races left.
During Formula One's dormant season, it's anyone's guess as to how the upcoming year will play out. But if history has any influence, it will be a memorable year, for better or worse. The years 1982, 1992 and 2002 all delivered notable performances, which begs the question, will 2012 follow suit?
Ten years ago, Michael Schumacher clinched the championship with a remarkable six races left on the schedule, capping one of the most dominant seasons the sport has ever known. He never finished off the podium and won a then-record 11 races. There was also significant controversy in Austria, as Schumacher overtook Ferrari teammate Rubens Barrichello in the final seconds to claim the victory. Team orders were clearly visible as Barrichello slowed to allow his teammate to overtake, but the resulting $1 million fine by the FIA was attributed to the violation of podium procedures after the event. Nevertheless, it cast a dark shadow on the sport.
The 1992 season saw Nigel Mansell and Williams display a similar level of dominance. Mansell cruised to his first world championship thanks to a combination of great skill and superior equipment, earning nearly double the points of runner-up and teammate Riccardo Patrese. It was also the season in which Schumacher scored the first of his record 91 wins.
Although 1982 was very different from the previous seasons mentioned, it is still very much a highlight in the history books, statistically speaking. There arguably never was a more even playing field, as a record 11 drivers claimed victory. That season also saw a chaotic Monaco: Alain Prost crashed while leading with only a few laps remaining, allowing Patrese to inherit the lead. Patrese then spun, as well, allowing Didier Pironi to take over first. But Pironi quickly came to a stop in the tunnel, meaning Andrea de Cesaris was due to overtake. However, de Cesaris suffered a similar fate, and, in the end, Patrese crossed the line first despite that late spin.
Keke Rosberg wound up as the world champion by a slim margin, his only title.
The promise of a new season brings with it significant uncertainty, and 2012 certainly could reflect the seasons of 10, 20 or 30 years prior. Last year saw incredible dominance, but the year before witnessed great balance. Much depends on innovations made by each team, as well as the ability of drivers to become comfortable with a challenging mix of tire compounds.
Ferrari is one of those teams that must adapt quickly this season or risk falling far behind. Felipe Massa is suffering from a 47-race winless streak, by far the longest of his career with the team. Fernando Alonso is also struggling, relatively speaking, as his 10-race winless streak is tied for his longest since joining Ferrari in 2010.
Both undoubtedly are skilled drivers, but, without truly competitive equipment, neither can hope for more than the occasional victory. Ferrari has suffered through a one-win season in two of the past three years, a phenomenon that had occurred just once in the 13 previous seasons, and it will be very interesting to see whether the squad can rebound in the coming year and compete consistently with the likes of Red Bull and McLaren.
December, 7, 2010
12/07/10
10:04
PM ET
The engines are quiet, but the offseason noise has just begun in Formula One.
Launch dates, rule alterations and driver changes are just a few items occupying F1 teams at the moment, and there is much work to be done prior to Bahrain in March.
Among the younger teams, Lotus seems to have a distinct advantage considering it began preparations for 2011 very early on last year, announcing intentions to focus on the coming year's car as early as May.
With a new engine supplier -- Renault -- Lotus could show strong improvement next season, whichever name they end up running under.
One rookie, Kamui Kobayashi, was very deserving of a race seat for 2011, and he received one by returning to Sauber.
Another rookie, however, was not as fortunate as 2009 GP2 champion Nico Hulkenberg was left without a starting ride for next season when he was replaced by Pastor Maldonado at Williams.
It's a fantastic opportunity for reigning GP2 title-winner Maldonado, but he will inevitably be compared to the man he replaced, as both made their entry into F1 via Williams immediately following a GP2 championship.
Maldonado has a considerable amount to live up to, considering Hulkenberg managed to earn points in seven races this season, the second-highest total by an F1 rookie driving for Williams since 1996.
There are several variables over the years, of course.
Hulkenberg had the benefit of several more races and an expanded points system. But he also had a less competitive car than Jacques Villeneuve in 1996, when Williams finished first and second in the drivers standings.
Hulkenberg's season was by no means bulletproof, but his progress as the year unfolded was undeniable.
In his first 11 races, Hulkenberg earned just two points, but in the final eight race weekends the young German collected 20. Equally impressive is the fact that he had just one retirement in his final 10 events of the year.
He capped it all off with pole position in Brazil.
Elsewhere, Michael Schumacher no doubt raised a few eyebrows in early December when he told Germany's Auto Motor und Sport, "We will make a big leap forward and -- if all goes well -- win races."
A 91-time winner in the series would normally be taken at his word, but after a trying 2010 season, questions certainly abound.
If Schumacher wants to have any chance at winning races next season, he'll have to start beating teammate Nico Rosberg, who consistently outpaced the seven-time world champion last season; Rosberg scored better than Schumacher in numerous metrics.
Keep in mind, twice Schumacher finished better than Rosberg when his young teammate retired after accidents that were out of his control. One came at Japan. Another occurred at Korea when Mark Webber lost control and came back across the track, collecting Rosberg in the process.
Yet another better finish came in Hungary when Rosberg lost his wheel on pit road while running well ahead of his teammate. Pirelli's tire may suit Schumacher better, but in order to realistically target wins in 2011, he'll have to tackle his teammate first.
Making some back-page headlines recently was also the news that American Alexander Rossi had recorded the fourth-fastest time in the GP2 tests at Abu Dhabi.
Rossi finished fourth in GP3 this past season, and could be America's most likely candidate for a future F1 seat.
A driver from the United States is paramount in the upcoming years, as F1 is set to return stateside in 2012.
In years past, the sport has been woefully underrepresented by Americans.
Scott Speed was the most recent American to compete, but after an underwhelming tenure he was replaced by Sebastian Vettel at Toro Rosso.
Prior to that, no American had raced in Formula One since Michael Andretti in 1993.
It's incredible to think that no one from the United States has won a grand prix since Mario Andretti in 1978, and only four Americans have competed in F1 events since 1983 (the year after Andretti's final F1 season).
July, 21, 2010
07/21/10
9:38
AM ET
This is the definitive weekend for Michael Schumacher. In front of his home fans, he'll surely want to put on a good show, and this is a track he is comfortable with.
[+] Enlarge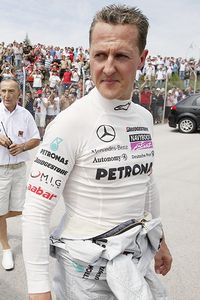 AP Photo/Burhan OzbiliciAn exceptional qualifying effort will be a must for seven-time F1 champ Michael Schumacher at Hockenheim.
The seven-time world champion has won the Grand Prix of Germany at Hockenheim four times (most of any Formula One driver), with three of those victories coming since the revamped track opened in 2002. He'll need the fastest of cars to compete with the likes of McLaren and Red Bull, and a good qualifying effort is imperative; no driver has won at Hockenheim from beyond the third starting position since 2000. Under the new layout, only once has a winner emerged from behind the front row (Fernando Alonso started third in 2005). It is a tall task for Schumacher these days, but a podium finish seems more likely here than anywhere else for the German.
Another driver who could definitely use a boost is Felipe Massa. Coming off three consecutive finishes of 11th or worse, the Brazilian will be looking to avoid some history Sunday. If he finishes outside the top 10, he'd be the first Ferrari driver to do so in four straight single-season races since Eddie Irvine in 1996. He'll likely avoid that dubious honor, though, as in two races here with Ferrari, he's checked in second in 2006 and third in 2008.
Most consecutive finishes worse than 10th (single season by Ferrari drivers since 2000)
2010 -- Felipe Massa -- Three*
2002 -- Rubens Barrichello -- Three
2000 -- Michael Schumacher -- Three
* active streak

After fighting back from a poor grid position in Great Britain, Jenson Button will be hunting for an outright win at Hockenheim. He finished second there in 2004 driving for BAR and third in 2005. If he were to taste victory, he would move into ninth on F1's all-time points list, ahead of Nigel Mansell.
True, Button has been aided by a revamped system this year, but up through 2009, the points payout was very similar to the systems in place throughout the past few decades. Even without his points earned this season, Button would still rank among the top 20, ahead of names such as Carlos Reutemann. For now, it's impressive company, but if the current points system continues to be utilized, climbing the list will of course become a mere afterthought.
Button certainly has been heating up lately, outgaining all but teammate Lewis Hamilton in points over the past four events. Indeed, those four races starting with Turkey have gone a long way in determining the standings.
Most points earned past four races
Driver -- Points -- Driver standings
Lewis Hamilton -- 86 -- First
Jenson Button -- 63 -- Second
Mark Webber -- 50 -- Third
Sebastian Vettel -- 43 -- Fourth

Hockenheim's history has taken the course of a few other Formula One circuits. Often considered one of the more dangerous tracks, the old layout had straightaways broken up only by several chicanes. By 2002, those straights were gone and a new layout was devised. The circuit is still very quick but is considerably shorter in length (now just 4½ kilometers). Today, the old section of the track has been returned to the earth, much like the fate of Monza and Fuji's old, banked high-speed ovals.
It's a track that has wounded title hopes, including those of Kimi Raikkonen, Ralf Schumacher and Barrichello in 2003. All three entered the race among the top five in driver points but were caught in an accident in the opening corner of the race. Raikkonen ended up losing the title by two points, the same margin that eventual champion Michael Schumacher came away with in Germany.
While there are still nine races left on the 2010 calendar, it's worth noting that British drivers occupy the top two spots in the world championship standings. If that holds true through the rest of the season, it would be the first time that British drivers finished first and second since 1968, when Graham Hill claimed his final title and Jackie Stewart finished runner-up. That year also saw the first victory for British entry McLaren. It was a particularly tumultuous season, as Hill's teammate and fellow Brit Jim Clark was killed in a Formula Two race at Hockenheim.
Sunday marks the six-year anniversary of Schumacher's win in Germany, his 11th win in the first 12 races of the 2004 season. Times have certainly changed, as Schumacher would go on to clinch the drivers' title with a remarkable four races to spare that year. This year, a podium finish would probably feel like a win, especially on home turf. Then again, it may end up being another German in Vettel who steals the spotlight.
March, 9, 2010
03/09/10
2:36
PM ET
It's going to be very difficult for the action on the circuit in 2010 to equal the chaos that was the Formula One offseason.
In the span of just around four months, we saw the all-time winningest F1 driver announce his historic comeback, the reigning F1 champ leave his post to join another team, a former world champion -- Kimi Raikkonen -- leave the sport altogether, a points system modified and then tweaked again, an in-race refueling ban announced, the addition of several newcomers (as well as the subtraction of USF1) and 16 drivers debuting with a new team for 2010.
Let's start with Jenson Button.
The 2009 F1 champion left Brawn GP to join McLaren and 2008 champion Lewis Hamilton. It's certainly not the first time a driver has left his team for another squad immediately following a championship season.
Since 1980, the defending champion has left his team following the season eight different times, including Button. Alain Prost left Williams in 1993 but retired, while Nigel Mansell departed for CART following his 1992 championship. Fernando Alonso was the most recent to do it, finishing a single point behind champion Kimi Raikkonen in 2007 after leaving Renault following his title-winning season of 2006.
Other drivers have had varying success; Damon Hill struggled with a bad Arrows team in 1997, finishing outside the top 10 while collecting just seven points. Schumacher departed Benetton following his second straight title in 1995, joining a beleaguered Ferrari squad. Schumacher battled opponents as well as his car throughout 1996, finishing third in the standings while collecting three race wins.
Alain Prost and Nelson Piquet both made the move in the late 1980s; Prost finished second in his first season with Ferrari in 1990, while Piquet checked in sixth in 1988 with Lotus after leaving Williams. If Button wants to win the title this season, he's clearly got some history to battle with.
[+] Enlarge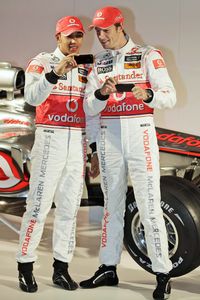 AP Photo/Lefteris PitarakisTyhe past two world champions are on one team, with 2008 champ Lewis Hamilton, left, welcoming 2009 victor Jenson Button on board.
Schumacher's return to F1, while not shocking after his attempted comeback last season, certainly raised eyebrows throughout the F1 community.
Following several weeks of preseason testing, Ferrari, Red Bull and McLaren appeared to lead the way, with Schumacher's Mercedes squad (formerly Brawn GP) in the mix as well, if not just a tick slower. Schumacher will have to battle not only a three-year absence from the sport, but numerous rule changes and new competitors, as well.
A revised points system was implemented to accommodate the additions of Hispania, Lotus and Virgin (also with the expectation of USF1's arrival, but that has since fallen through). Mid-race refueling has also been banned, meaning fuel tanks are now much larger and the car has a longer wheelbase and more weight. Also consider the radical design changes the cars underwent prior to the 2009 season, eliminating many of the aerodynamic properties Schumacher previously knew.
Young superstars Lewis Hamilton and Sebastian Vettel have also joined the series since Schumacher retired following the 2006 season.
Even the opening-round venue is not the same as last year.
The 2009 schedule had Australia host the first race of the season, while this year, the venue has been switched to Bahrain. A regular on the schedule since 2004, Bahrain's layout for the F1 race this year has been altered to include the extended backstretch, meaning it is now the second-longest circuit on the schedule behind Spa.
That's great news for Red Bull driver Vettel, who scored two wins and three podiums on the four longest circuits of last season. Keeping with that theme, as Vettel is one of the popular selections to win the championship this season, the winner at Bahrain has won the title in the same season four times out of six.
Felipe Massa is a rare exception; he won the 2008 race at Bahrain, but finished second by a single point to Hamilton in the championship. Keeping with the common theme, Massa too made headlines this offseason with his comeback from injury along with the fact he has a new teammate in two-time champion Alonso at Ferrari.
This season looks to be incredibly balanced at the top, and it's anybody's guess as to who takes home the first race, much less the title.