Happy homecoming for Schumacher?
July, 21, 2010
07/21/10
9:38
AM ET
This is the definitive weekend for Michael Schumacher. In front of his home fans, he'll surely want to put on a good show, and this is a track he is comfortable with.
[+] Enlarge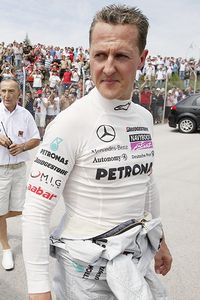 AP Photo/Burhan OzbiliciAn exceptional qualifying effort will be a must for seven-time F1 champ Michael Schumacher at Hockenheim.
The seven-time world champion has won the Grand Prix of Germany at Hockenheim four times (most of any Formula One driver), with three of those victories coming since the revamped track opened in 2002. He'll need the fastest of cars to compete with the likes of McLaren and Red Bull, and a good qualifying effort is imperative; no driver has won at Hockenheim from beyond the third starting position since 2000. Under the new layout, only once has a winner emerged from behind the front row (Fernando Alonso started third in 2005). It is a tall task for Schumacher these days, but a podium finish seems more likely here than anywhere else for the German.
Another driver who could definitely use a boost is Felipe Massa. Coming off three consecutive finishes of 11th or worse, the Brazilian will be looking to avoid some history Sunday. If he finishes outside the top 10, he'd be the first Ferrari driver to do so in four straight single-season races since Eddie Irvine in 1996. He'll likely avoid that dubious honor, though, as in two races here with Ferrari, he's checked in second in 2006 and third in 2008.
Most consecutive finishes worse than 10th (single season by Ferrari drivers since 2000)
2010 -- Felipe Massa -- Three*
2002 -- Rubens Barrichello -- Three
2000 -- Michael Schumacher -- Three
* active streak

After fighting back from a poor grid position in Great Britain, Jenson Button will be hunting for an outright win at Hockenheim. He finished second there in 2004 driving for BAR and third in 2005. If he were to taste victory, he would move into ninth on F1's all-time points list, ahead of Nigel Mansell.
True, Button has been aided by a revamped system this year, but up through 2009, the points payout was very similar to the systems in place throughout the past few decades. Even without his points earned this season, Button would still rank among the top 20, ahead of names such as Carlos Reutemann. For now, it's impressive company, but if the current points system continues to be utilized, climbing the list will of course become a mere afterthought.
Button certainly has been heating up lately, outgaining all but teammate Lewis Hamilton in points over the past four events. Indeed, those four races starting with Turkey have gone a long way in determining the standings.
Most points earned past four races
Driver -- Points -- Driver standings
Lewis Hamilton -- 86 -- First
Jenson Button -- 63 -- Second
Mark Webber -- 50 -- Third
Sebastian Vettel -- 43 -- Fourth

Hockenheim's history has taken the course of a few other Formula One circuits. Often considered one of the more dangerous tracks, the old layout had straightaways broken up only by several chicanes. By 2002, those straights were gone and a new layout was devised. The circuit is still very quick but is considerably shorter in length (now just 4½ kilometers). Today, the old section of the track has been returned to the earth, much like the fate of Monza and Fuji's old, banked high-speed ovals.
It's a track that has wounded title hopes, including those of Kimi Raikkonen, Ralf Schumacher and Barrichello in 2003. All three entered the race among the top five in driver points but were caught in an accident in the opening corner of the race. Raikkonen ended up losing the title by two points, the same margin that eventual champion Michael Schumacher came away with in Germany.
While there are still nine races left on the 2010 calendar, it's worth noting that British drivers occupy the top two spots in the world championship standings. If that holds true through the rest of the season, it would be the first time that British drivers finished first and second since 1968, when Graham Hill claimed his final title and Jackie Stewart finished runner-up. That year also saw the first victory for British entry McLaren. It was a particularly tumultuous season, as Hill's teammate and fellow Brit Jim Clark was killed in a Formula Two race at Hockenheim.
Sunday marks the six-year anniversary of Schumacher's win in Germany, his 11th win in the first 12 races of the 2004 season. Times have certainly changed, as Schumacher would go on to clinch the drivers' title with a remarkable four races to spare that year. This year, a podium finish would probably feel like a win, especially on home turf. Then again, it may end up being another German in Vettel who steals the spotlight.