Did Spa make season a two-driver race?
September, 1, 2010
09/01/10
4:21
PM ET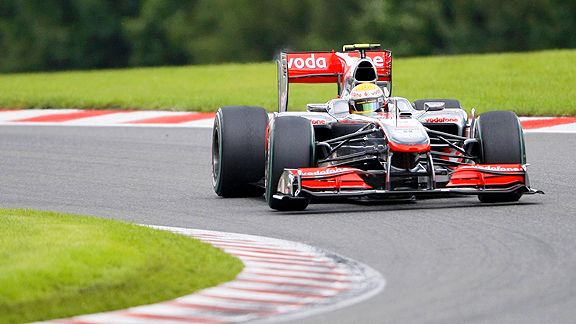 AP Photo/Michel SpinglerLewis Hamilton made one miscue at Spa, but it wasn't enough to prevent him from winning.
We may look back and view Spa as the race that ultimately decided the fates of several Formula One title contenders.
A hectic qualifying session set the tone early, with teams scrambling to set a fast lap before the rains set in.
When the rain came, it was typical for Belgium, with only part of the track being affected initially. Those who survived early qualifying saw the track dry again, and the flying laps ensued. Mark Webber and Lewis Hamilton came out on top, but it was a fascinating session to witness.
Hamilton carried that momentum into Sunday, quickly taking the lead from second and never looking back, although he did provide considerable drama after his off-track excursion late in the race.
Incredibly, he was able to keep his McLaren moving without hitting the wall. It was no doubt a hard-earned victory, and Hamilton now has wins at two of the most prestigious F1 races on the schedule, Spa and Monaco.
He's one of just 10 drivers to have wins at both venues on his résumé, and at just over 25 years of age, he's one of the youngest drivers to claim wins at both events.
Only Kimi Raikkonen and Michael Schumacher have won both races at a younger age, and it's only by a slim margin. More importantly, the vaults Hamilton back into the championship lead, and regardless of what happens at Monza it will be either Hamilton or Webber leading the World Championship.
That scenario exists because of disastrous days for Sebastian Vettel, Jenson Button and Fernando Alonso. None of the three drivers scored points, and Button's day was ended after Vettel appeared to simply be pushing too hard. With six races to go, all three have some serious work to do to catch Hamilton and Webber.
In order to ensure a World Championship, Fernando Alonso, for example, would have to earn on average seven more points than the leader for each of the remaining six events. That is going to prove exceedingly difficult, as Alonso has outgained Hamilton by at least seven points in just four grand prix events this season. The outlooks for Button and Vettel aren't much brighter.
As an event, Spa certainly delivered. The chaotic weather left teams at its mercy, and the constantly shuffling strategies employed by various teams were fascinating.
By the conclusion, 53 total pit stops had been made Sunday, the third-most of any race this season. It's quickly emerging that McLaren has been the best at adapting to adverse conditions this year, as the outfit also came out victorious in Canada (excessive tire wear) and China (rain), the two events that saw the most pit stops made.
One driver who had very little fanfare entering Spa was Robert Kubica, who ended up leaving with one of the most impressive performances of the weekend.
Not only was he among the top five quickest in all three practice sessions, but Kubica also qualified third and finished in the same position for his first podium since Monaco. Kubica was not without a mistake or two.
"Nobody was expecting us to be at this level in Spa," he told reporters after the race. "So I think we can be pleased with the work we have done."
While Spa did its part to sort out some of the championship contenders, there are still many questions that remain.
Of the six races left, one is at a new track (Korea) no driver has seen, while another, Yas Marina, has hosted only one event. All the top teams know tracks like Monza, Suzuka and Interlagos well, but the ones that can adapt quickest to the newer circuits (Korea, Singapore and Abu Dhabi) will likely find the most success.
Right now, that team looks like McLaren.