Webber hanging on as Alonso closes in
September, 28, 2010
09/28/10
6:43
PM ET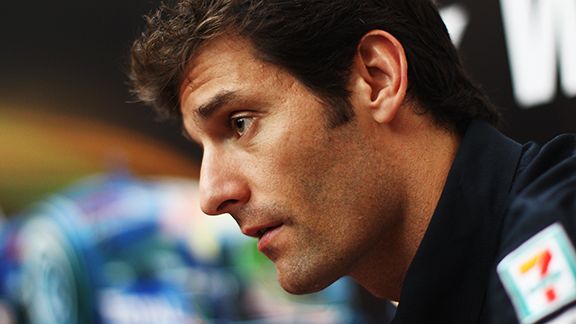 Paul Gilham/Getty ImagesMark Webber has the points lead, but it is getting slimmer.
Flash back to early July and Fernando Alonso had just finished 14th in Great Britain after being penalized for overtaking Robert Kubica by cutting a corner.
Alonso was fifth in the standings and 47 points shy of leader Lewis Hamilton. And while the focus was on the turmoil within Red Bull and the victory by Mark Webber, Alonso was making back-page headlines.
"I think we will win," he told Autosport then. "Yes. I think we lacked points in Valencia and Silverstone, but these are some moments of the championship where we needed to show that we want the championship and that we are a contender.
"I am more convinced than before this race that we will win the championship."
Singapore was certainly one of those moments where he showed he is a contender.
Even at the low point of his season, Alonso was convinced he would still win the championship, and he's since backed up his words, winning three of the five events since and finishing on the podium in all but one. While he is still 11 points shy of Webber for the lead, it is looking as if Alonso may be right after all.
Of all the title contenders this year, he's arguably the most dangerous, as he's a two-time world champion who previously tangled with Michael Schumacher in his prime all season and came out on top.
Alonso's win in Singapore was his 25th career victory, tying him with greats Niki Lauda and Jim Clark for sixth on Formula One's all-time wins list.
Imagine, however, if Alonso does go on to win the title by only a handful of points. If that happens, his victory in Germany -- in which the Ferrari team was suspected of imposing team orders allowing Alonso to win -- will no doubt become all the more controversial, and could end of overshadowing his accomplishments of this season.
Another key mistake for Hamilton has placed him 20 points shy of Webber in the standings, and while his title prospects look bleak, they are not completely gone.
After all, Hamilton knows all too well how a late-season surge can mean everything, as back in 2007 Kimi Raikkonen marched back from an 18-point deficit with four races to go to win the world championship.
That title came at the expense of Hamilton, and Raikkonen faced arguably a tougher comeback than Hamilton does now, as only 10 points were awarded for a race victory that year (two more than second place) instead of the 25 that are awarded now, with just 18 going to the second-place finisher.
While his comeback benefited from several slip-ups by Hamilton down the stretch in 2007, Raikkonen won three of the last four races of the season. Hamilton, then, is down but not yet out this season.
What makes the rest of this season so intriguing is that the men chasing Webber aren't even sure how many events they have left to catch the Australian. With the readiness of the track for the Korean Grand Prix in doubt, Alonso, Hamilton and the rest may soon discover that they have just three races left to make their move, rather than four.
Nevertheless, the spectacle that is Singapore again showed why it is fast becoming a favorite on the calendar.
While passing is understandably limited on a street circuit, the fight between Alonso and Vettel was enjoyable, and the uncertain weather played a considerable role in practice sessions.
Night racing adds another exciting element to the sport, and it makes the F1 World Championship that much more of a respected title, as the eventual winner will have persevered in every conceivable scenario throughout the season.
Next up is the challenging Suzuka circuit in Japan, a place where Vettel won last season. It's a classic circuit, one that has fueled the intense rivalry of Ayrton Senna and Alain Prost as well as seen Schumacher clinch a record sixth F1 title in 2003.
Ferrari has won there seven times, or the equivalent of a third of the races held at Suzuka since it joined the calendar in 1987.
It's been anything but predictable recently, however, as five different drivers have crossed the line first in the past five events.