Fairy-tale ending for Sebastian Vettel?
November, 9, 2010
11/09/10
1:11
PM ET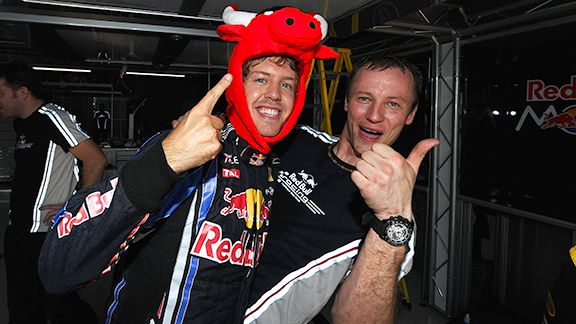 Clive Mason/Getty ImagesRed Bull Racing secured the constructors' championship after Sebastian Vettel's victory in Brazil.
For the fourth time in five years, fans must wait until the season finale before a Formula One champion is crowned.
After a stunning pole by Nico Hulkenberg at Brazil, the race order was quickly sorted out, as both Red Bull drivers overtook the young German before the first lap was over. It was only a matter of time before Fernando Alonso got by Hulkenberg for third, and from that point on, the racing was fairly tame, as Alonso did not relinquish his position.
Up front, Red Bull looked virtually unbeatable, as Sebastian Vettel and Mark Webber quickly stormed to a significant lead over the field. It was exactly the race that the team needed, and the 1-2 finish clinched the first constructors' championship in team history. It's now been two consecutive years with a constructor clinching a championship before a driver (Brawn claimed last year's), the first time that has happened since BRM won in 1962 and Lotus took its maiden title the following season.
In the end, Vettel was first across the line, and is now 15 points shy of leader Alonso. In order to win the title, however, he'll also have to overtake his teammate Webber, who is just eight points shy in the championship fight. Vettel appears up to his tricks from last year, as he's making a late-season surge yet again, having now won two of the past three races. In 2009, while attempting to chase down Jenson Button, Vettel claimed wins in two of the final three race weekends, including at Abu Dhabi (although Button had clinched by then). He has a very good chance to win there again, which immediately brings to mind some title scenarios.
If Vettel does win this race for the second straight year, he could claim the title if Alonso finishes fifth or worse, regardless of where Webber finishes. If Webber were to finish second in that scenario, the two Red Bull drivers would finish with the same number of points, but Vettel would have one more victory (they are tied with four wins each). Alonso also would be embroiled in the tie, but Vettel would win that tiebreaker as well; the two would have the same number of wins, so it would then move to second-place finishes. Both would be equal in those finishes as well, as is the case with third-place results. Since Vettel would have one more fourth-place finish than Alonso, he'd be the title winner.
Certainly one of the more complex scenarios, but Alonso can eliminate all that with a finish of fourth if Vettel wins and second if Webber claims victory.
The top drivers will have to be on their game Sunday at Abu Dhabi, but it is a much more forgiving track than others on the calendar, as there are ample runoff areas in the turns and very few locations where a driver has the potential to seriously damage his car.
Yas Marina is a stunning track and locale, but unfortunately the racing was not up to par in the inaugural event last year. It is the sixth-longest track on the schedule, and interestingly enough, the four drivers still mathematically alive for the championship all have at least one victory on the five circuits with a longer length this season, so the win is truly up for grabs.
There are so many storylines entering the finale. If Alonso claims his third title, he'd become the youngest to do so by two full years, as he's only 29.
Youngest driver to win a third F1 title
Ayrton Senna -- 31 years, 6 months
Michael Schumacher -- 31 years, 9 months
Fernando Alonso is 29 years, 3 months

Webber and Vettel are simply chasing their first titles after rather opposite careers. While Vettel has stormed onto the scene, his Australian teammate drifted between several squads since his debut in 2002 and did not earn his first win until just last season. If either were to overtake Alonso in the final race of the year, it'd be the second time in four seasons that the championship lead changed hands in the finale.
The championship lead changed after the final race (since 1990):
Year -- Leader entering -- Champion
2007 -- Lewis Hamilton -- Kimi Raikkonen
1999 -- Eddie Irvine -- Mika Hakkinen
1997 -- Michael Schumacher -- Jacques Villeneuve

Overall, however, it's fairly rare for the points lead to shift in the final race of the year; since 1990, it has happened just three times.
The youngest race and pole winner in F1 history is also seeking to become the youngest F1 world champion. If Vettel can somehow manage a title win Sunday, he'll eclipse Hamilton by several months for that honor.
Youngest F1 champion
Lewis Hamilton -- 2008; 23 years, 9 months
Fernando Alonso -- 2005; 24 years, 1 month
Sebastian Vettel is 23 years, 4 months