Is Button the man to watch in 2012?
December, 29, 2011
12/29/11
11:05
PM ET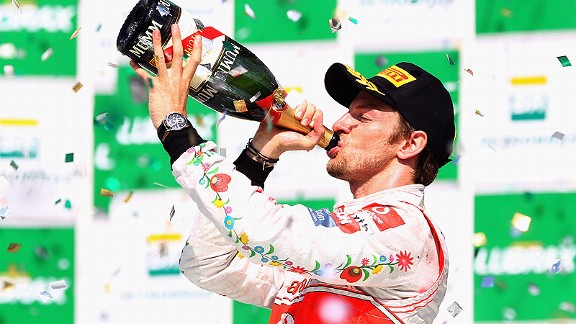 Mark Thompson/Getty ImagesJenson Button finished strong in 2011. Can he start and finish strong in 2012?
Among the most prominent questions this offseason is whether McLaren can close the gap with Red Bull, and whether that can be done sooner rather than later.
The team clad in silver suffered from a slow start last year, and it ended up allowing Red Bull to run away with both championships. But the German Grand Prix in late July saw the beginning of a turnaround for the team, as Lewis Hamilton put together a stunning drive to lead the field to the final flag. While teammate Jenson Button was forced to retire, the larger backstory was that Sebastian Vettel had finished off the podium for the first time in 2011.
In the final 10 races, McLaren won four grands prix while Red Bull claimed six, a much more even tally compared to the first nine events, when Red Bull claimed six to McLaren's two.
Button was a considerable force behind that second-half push; since Hungary, Vettel scored 176 points to finish out the season, while Button notched 161. If McLaren can avoid preseason struggles this year, the MP4-27 will likely be a car that can give Red Bull a significant challenge.
While the front-running squads will be sticking with their current drivers, many other teams, such as Toro Rosso, have announced a completely fresh driver lineup for 2012.
Out are Jaime Alguersuari and Sebastien Buemi, in are Daniel Ricciardo and Jean-Eric Vergne. Both have been primed for a seat with Red Bull for some time now, and the two have shown immense promise. It's a difficult break for the two exiting drivers, but Toro Rosso's primary purpose is to groom young stars for Red Bull.
That's been quite evident recently, as Ricciardo and Vergne will become the seventh and eighth drivers to compete for Toro Rosso since 2007. In that same span, Red Bull has had three.
Force India will also feature two young drivers next season, as Nico Hulkenberg returns to a primary seat alongside Paul di Resta. Both had impressive rookie seasons; Hulkenberg earned 22 points with Williams in 2010 while di Resta collected 27 with Force India this year. Hulkenberg, however, will have the added challenge of mastering the Pirelli tires this season.
Both also caught fire in the second half of their rookie years after understandably cool starts. In 2010, Hulkenberg had two points and three retirements through 11 events. In the final eight, he scored 20 points and failed to finish only once. That's a similar pattern to di Resta, who had two points through 10 events this year. In the final nine, di Resta outscored teammate Adrian Sutil by amassing 25 points.
Looking to 2012, there are several notable milestones that may very well be reached. With another win, Fernando Alonso will claim his 28th career victory, moving him ahead of Jackie Stewart for sole possession of fifth on the all-time list. Only Michael Schumacher, Alain Prost, Ayrton Senna and Nigel Mansell would be in front of him.
A victory would also extend Ferrari's mark of 18 straight seasons with a win, longest in the sport's history.
Meanwhile, if Vettel is able to match his 11 victories this year, which could prove difficult but can't be ruled out, there would likely be just three drivers with more career F1 wins than him. That's a scary proposition considering he will be just 25 years old at the end of next season.
Schumacher is also primed to make his 300th grand prix start midway through the year. He'd join former teammate Rubens Barrichello as the only drivers to reach that mark.