May, 23, 2013
May 23
5:05
PM ET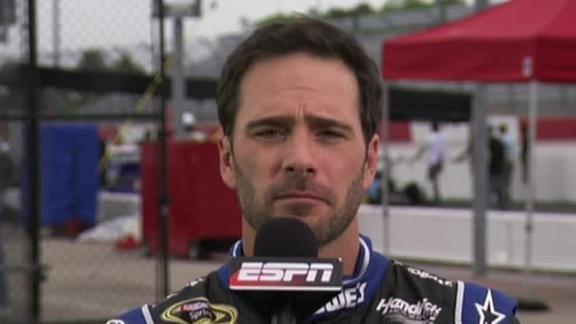 Jimmie Talks Record Win, Commercial
CONCORD, N.C. -- For most of his career Jimmie Johnson has been called vanilla and boring even though he is neither.
Now some are calling him arrogant.
He's not that, either.
But the five-time Sprint Cup champion was called that by some of you after Saturday night's All-Star Race, when he joked about fans wanting to hate him for winning the event for the fourth time, when he joked that races were rigged and he was lucky as fans screamed conspiracy theory.
He simply was being funny, responding to a question about how the network televising the race confused fans by posting a graphic that incorrectly showed the Hendrick Motorsports driver should have entered pit road 11th instead of fourth, as he was.
[+] Enlarge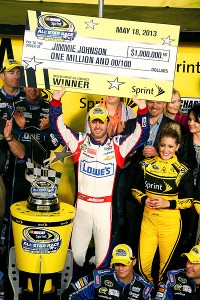 Jeff Zelevansky/NASCAR/Getty ImagesJimmie Johnson won his record fourth All-Star Race on Saturday night at Charlotte.
But some didn't take it that way. They took Johnson's response as being smug and arrogant.
Maybe fans simply were frustrated from the lack of passing and slam-bang racing in what was billed as a no-holds-barred event at Charlotte Motor Speedway. Maybe they were upset at having to face the reality that the No. 48 team may win a sixth title this year.
Maybe they were ticked that Danica Patrick won the fan vote.
Or that Bobby Labonte didn't.
Whatever, it was misdirected.
When you think of Johnson, words such as winner, champion, father, husband, athletic and consistent should come to mind.
Arrogant shouldn't be anywhere on the list.
Johnson is as humble as the sport has seen. Ask him how he compares with the Pettys and Earnhardts of the sport, as he was several times before Friday's first practice for Sunday's Coca-Cola 600, and he becomes almost shy.
"I just don't pay that much attention to it all," Johnson said. "It's very difficult to think about where I fit in while I'm still racing. I think of drivers' careers ending mid-40s. I still have 10 years or so to even think about that, worry about that.
"So to be recognized and thought of and even in the conversation with Petty, Earnhardt, Gordon, that's a huge compliment I'm very proud to have, proud to be a part of that conversation. But I haven't thought that much about it."
Peers certainly don't look at Johnson as arrogant. They may be jealous of his success -- 62 wins and five titles -- but they also respect him in the way they do a Hall of Famer.
"People can say whatever they want about him, but I don't know how you [can] say that he's not the best ever," 2003 Cup champion Matt Kenseth said. "Nobody has ever won five championships in a row and probably never will.
"It's kind of cool to be a part of that, because I think someday you will look back at history and be like, 'Oh, yeah, I raced against him.' But at the same time it stinks because you get beat so many times."
Four-time champion Jeff Gordon called his teammate's career "pretty phenomenal." Reigning champion Brad Keselowski called it "pretty damn good so far."
"I know there are a lot of people that would like to have it," he added.
None of the drivers called him arrogant.
That's because he isn't.
May, 18, 2013
May 18
10:05
AM ET
CONCORD, N.C. -- Danica Patrick was well into her media availability Friday when asked about her name being connected to a clarification in the fan vote that likely will get her into Saturday night's Sprint All-Star Race if she doesn't race her way in.
"I don't know in what light they were talking about," she said of media reports.
"The 'Danica Rule,'" a reporter said.
"What rule?" Patrick responded.
"On having or not having to be on the lead lap at the end of the Showdown," the reporter said.
"From my understanding, that was a mistake on NASCAR's part earlier in the week," a somewhat irritated Patrick explained. "So outside of that, I have absolutely no idea what the rules are from the past or what they're going to be or what they have been."
Conspiracy theories have been a part of NASCAR almost from the beginning of the sport. I've never bought into them because if officials were going to conspire, Dale Earnhardt Jr. would have a championship or two by now.
He'd have more than one win in the past four-plus seasons, too. There are no conspiracy theories behind getting Patrick into the All-Star Race, either.
I confess, I tweeted something during the week that would allude to a conspiracy theory in this matter, but it was all tongue-in-cheek. I later joked it was the Bobby Labonte Rule.
Unfortunately, it contributed to putting Patrick in an awkward position.
But she was right. NASCAR made a mistake.
From 2007 through 2011, there was no mention of having to finish on the lead lap in the Showdown, the preliminary to the main event. One had only to have a raceable car, which means not wrecked.
The rule was written that way so if a driver who had been dominant had a flat tire or another small issue in the second 20-lap segment, he or she wouldn't be penalized for finishing a lap or two down.
By mistake, it was mistakenly written into the 2012 rules that drivers who won the fan vote had to be on the lead lap to advance.
The mistake was corrected this year to revert back to the way it was. Because it possibly could benefit Patrick, who is expected to garner the most fan votes because of her popularity, the "Danica Rule" terminology was born.
But make no mistake, there is no such rule.
And make no mistake, Patrick wants to drive her way into the All-Star Race to become the first woman to participate in it.
"I feel I am very lucky to have so many great fans, and all my partners and everybody involved are doing a good job of promoting the fan vote," Patrick said. "Hopefully, that is there, but I would rather just focus on racing my way in and, if I needed the fan vote, then I will cross my fingers."
May, 15, 2013
May 15
12:00
PM ET
CHARLOTTE, N.C. -- Before Kyle Busch wrecked him for the second time in two weeks and the third time this season, I asked Kasey Kahne what it would take for him to get red-in-the-face mad.
You know, so mad that he would go out and retaliate the way Busch and others have done when they believe another driver has wronged them.
"I don't know," Kahne said last week in his usual soft tone. "It might happen."
Maybe it's time.
Maybe the only way for Kahne to send the message to Busch and others that he simply won't tolerate being wrecked -- even if it's unintentional -- is to send the Joe Gibbs Racing driver into a spin.
It probably won't happen, although Saturday night's Sprint All-Star Race is the perfect setting since no points are involved. It's not in Kahne's makeup to retaliate, at least in such an obvious way as Busch did to Ron Hornaday Jr. in the Camping World Truck Series two years ago at Texas or the way Jeff Gordon did to Clint Bowyer last year at Phoenix.
His way of sending a message is more subtle, like the not-so-friendly tap he gave to Mark Martin after Martin crashed him at Richmond.
"At Richmond, I was really mad," Kahne said.
Kahne shows his anger the way the Mona Lisa shows she's happy: You have to look hard to see it.
But you could hear it Saturday night in the sarcastic tone he used to describe how Busch "screwed up" and what likely will happen this week.
"I imagine he will call me again tomorrow and say he's sorry," said Kahne, referring to the apology he got after Talladega.
Busch knows he messed up, just as he knew he did at Daytona and Talladega. You could hear it in his voice over his in-car radio even if you didn't get to hear it after the race. He left Darlington Raceway without talking to media after a late tire issue left him with a sixth-place finish in a race he dominated.
Kahne stayed and talked after a 17th-place finish that could have been a win.
Maybe he is reaching a boiling point.
"Well, he needs to quit. … I mean he's got to just race me," Kahne said of Busch, who's not known as a dirty driver.
But when asked how he would race Busch moving forward, Kahne gave the answer you would expect.
"I will race him the way I've always raced him, the way I have always raced everybody," he said. "You try not to screw up and take people out when you are around them."
Maybe he needs to make an exception. Like in school, sometimes you have to stand up to the bully to let them and others know they can't walk all over you without consequences.
Were it not for Busch, as I wrote last week when Kahne told of the Talladega apology, Kahne would be near the points lead instead of in sixth. He might be the one with a series-best three wins instead of Busch's teammate Matt Kenseth.
Maybe this will work itself out. Maybe Busch will pull over and let Kahne pass the rest of the season when he knows Kahne has a faster car.
But that's not in Busch's makeup.
So maybe it's time for Kahne to send a message he's not to be messed with, to let people know he's a serious championship contender.
The All-Star Race would be the perfect place.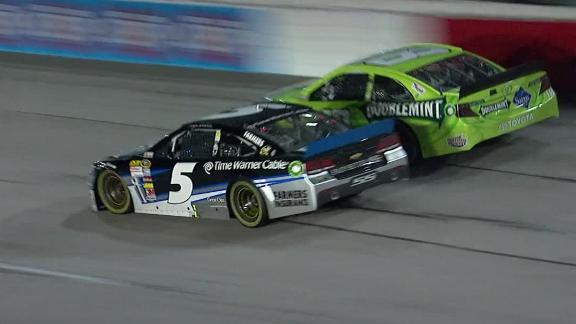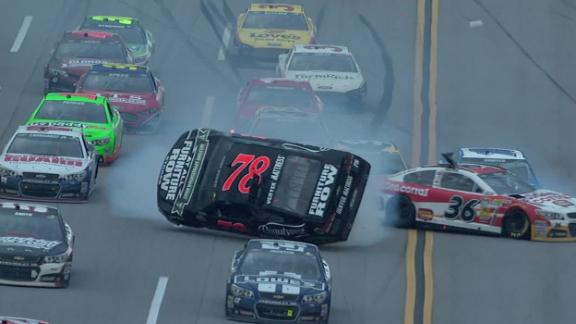 CONCORD, N.C. -- Kasey Kahne and Kyle Busch have agreed to stay away from each other the next time they compete on a restrictor-plate track.
They said it in fun on Monday when Busch called to apologize for wrecking Kahne in Sunday's race at Talladega Superspeedway, but it would be a smart move.
Twice this season -- first in the February Daytona 500 and again on Sunday -- Busch wrecked Kahne in almost the same way. If Busch had done that to almost any other driver in the garage, there might have been a brawl.
[+] Enlarge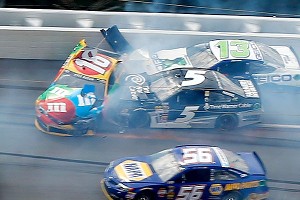 Jared Wickerham/Getty ImagesKyle Busch (18) wrecked Kasey Kahne (5) for the second time in two plate races this season.
If he had done that to Kevin Harvick or Tony Stewart, who were innocent victims in Sunday's Lap 42 incident that triggered a 16-car melee, it could have gotten real ugly.
Kahne's reaction?
"When I first got in that accident, I was sitting there and was like, 'Where is he?' I was looking for him and thinking, 'What should I do? Should I run down and grab him? Should we wrestle?'" Kahne said during a Tuesday event promoting the May 26 Coca Cola 600 at Charlotte Motor Speedway.
"See, that's what I'm thinking, but that's really not me. I just got in the ambulance."
Kahne appreciated Busch's apology, saying by the end of the conversation, "I told him at Daytona [in July] I'll stay away from him and he said he'll stay away from me."
He smiled as he said this.
That doesn't mean Kahne wasn't surprised a driver of Busch's talent wrecked him for the second time in as many plate races. It also doesn't mean he wasn't frustrated.
Were it not for those two crashes, Kahne likely would be no worse than second in points behind Jimmie Johnson instead of sixth, 84 points back. With a little luck, Kahne could be in the lead.
Consider: Kahne finished 36th at Daytona and 42nd at Talladega. He collected a mere 10 points between the two races. If he finished fifth in both races, which was entirely reasonable because he had a fast car in each, he would have another 68 points, without bonus points for leading a lap.
That would have put him in second, 16 behind Johnson.
If he won both races -- highly unlikely, but possible -- he would be at least tied for the points lead with his Hendrick Motorsports teammate. If he led the most laps for additional bonus points, he would have the outright lead.
But Kahne isn't losing sleep over all the lost points. He was more upset that he lost the Las Vegas race to Matt Kenseth and that Mark Martin wrecked him at Richmond, where the driver has more control over his car than at Dega or Daytona.
"At Richmond, I was really mad," Kahne said.
Not that anyone could really tell. The soft-spoken Kahne is one of the nicest drivers in the garage. He seldom lets his emotions get the better of him.
And Kahne could tell from the look on Busch's face in the infield care center that the wreck wasn't intentional.
"It's that type of racing there," he said. "There is a couple of times when you're racing at other tracks and you get wiped out by the same guy and you're definitely in a much different place. I don't know. I just try not to let it bother me."
Kahne still needs to stay away from Busch at Daytona.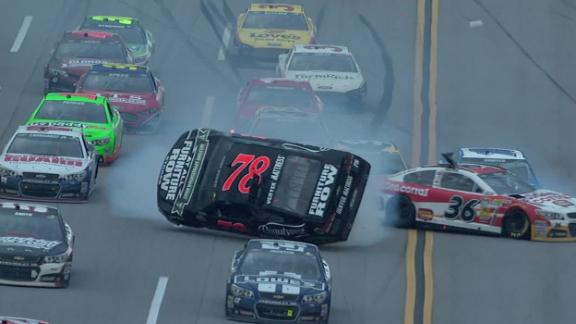 April, 23, 2013
Apr 23
4:12
PM ET
CHARLOTTE, N.C. -- Showcased in the middle of the Carolinas Aviation Museum is the Airbus A320 that in 2009 Capt. Chesley "Sully" Sullenberger successfully landed in the Hudson River.
One-hundred fifty-five lives were saved.
None were lost.
[+] Enlarge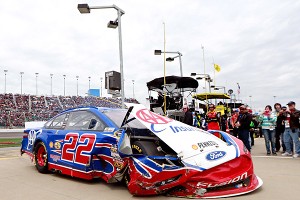 Chris Trotman/Getty ImagesAn early exit at Kansas left Joey Logano 39th in the race and 20th in the Sprint Cup standings.
Makes the feud between Joey Logano and Denny Hamlin seem kind of small, doesn't it?
So does standing in front of an Air Force war plane surrounded by military personnel promoting the Memorial Day weekend Coca-Cola 600 at Charlotte Motor Speedway.
"A tough day at the track is hard," Logano said during the Tuesday event outside the museum. "Nothing compared to what these guys are doing. It does put it in perspective. Compared to what all these military guys are doing, I'm not really doing much at all."
Logano has had a lot of tough days at the track lately. It began March 24 with his last-lap crash with Hamlin at Auto Club Speedway that ended his chance of winning and sidelined his former Joe Gibbs Racing teammate with a compression fracture in his lower back.
It continued two weeks later at Texas. NASCAR confiscated the rear-end housings of his No. 22 car and the No. 2 of Penske Racing teammate Brad Keselowski, then penalized the drivers 25 points each and suspended their crew chief, car chief and lead engineer pending an appeal.
It continued on Sunday at Kansas Speedway. Logano was the innocent bystander in a spinout of another former JGR teammate -- Kyle Busch -- that destroyed his car and left him with a 39th-place finish.
So in four weeks Logano has gone from a potential win at California and move near the top five in points to 20th.
"I'm still very confident and I know my team is very confident and I'm going to lead that team to make sure it stays confident," Logano said as he awaits a May 1 appeal of the penalties. "I don't feel like it is as big of a downswing as it may look on the outside.
"I feel like I'm still right where we need to be, like we were at California, to make sure we can go win."
No, Logano isn't concerned that JGR and Hendrick Motorsports have won seven of the first eight races and have led about 73 percent of the laps.
"They obviously have some great race car drivers, they have great teams," he said of JGR and HMS. "But I don't feel like it's anything we don't have.
"So, yes, the numbers may show one thing, but the way I feel doesn't relate to the numbers."
Logano also isn't worried about whether his issues with Hamlin will continue once Hamlin returns over the next few weeks.
He took the high road when given the chance to respond to a tweet by Hamlin -- "I know Joey felt bad but he doesn't have to keep falling in the points on my count :) #seeyasoon" -- after the Kansas crash.
"Personally, I don't like being in drama and I stay away from drama and I'm not going to get carried into any drama on this situation," Logano said. "I'm going to stay focused on what my task is, and that's winning the race.
"And the rest of it is whatever to me. I'm here to win and put the past in the past."
And keep things in perspective.
April, 15, 2013
Apr 15
2:53
PM ET
CHARLOTTE, N.C. -- There's been an outcry on social media to suspend Ron Hornaday Jr. for wrecking Darrell Wallace Jr. under caution in Sunday's Truck Series race at Rockingham Speedway.
People contend that the four-time Truck Series champion deserves the same punishment that Kyle Busch got when he was parked for the weekend after wrecking Hornaday in 2011 at Texas Motor Speedway.
They argue NASCAR has painted itself in a box.
And they're right that there is a precedent.
But here's a major difference, at least in my mind, and an argument why Hornaday should be fined, but not suspended: Busch wasn't a Truck Series regular.
[+] Enlarge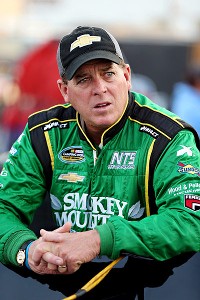 Matthew Stockman/Getty ImagesRon Hornaday Jr. knows punishment may be coming for spinning Darrell Wallace Jr.
Hornaday, 54, and Wallace, 19, are. They have to deal with each other on a regular basis. When they race each other hard -- and even retaliate -- as was the case on Sunday, they do so understanding both are trying to win a title.
Busch had nothing to lose, at least in that series. His actions cost Hornaday, who was 15 out of the points lead heading into Texas, a chance to compete for another Truck title.
It fueled the argument for why Cup drivers shouldn't be in the second- or third-tier series.
"[Busch] was just doing it for racing because he loves racing like everybody else does," Hornaday said on Monday. "Darrell and I, we've got to race each other however long I'm going to continue in the series."
There's another reason why Hornaday shouldn't be suspended. Busch wasn't apologetic about the Texas incident until after he was suspended. Hornaday went out of the way to immediately call himself an idiot for turning Wallace into the fence, explaining that that was not his intent.
He was so regretful that he went to his pit stall after the race and told his crew to stand back so he could accept whatever Wallace and his team did.
"If they wanted to come punch me in the nose, which I deserved, they could have," Hornaday said. "I took my helmet off and was going to take it like a man.
"I didn't mean to do it [wreck him]. I know in my heart I didn't mean to do it."
Busch made no excuses in 2011. He admitted he had enough of being wrecked several weeks in a row "and ended up losing my cool." Replays show he got on the rear bumper of Hornaday's truck and pushed until Hornaday turned into the wall.
Hornaday appeared to brush his front bumper across Wallace's rear bumper and clip the right side to turn him sideways. He apologized profusely afterward and again on Monday, saying you wouldn't turn "your worst enemy into the fence" intentionally.
"I don't know if I was too far up or he slowed, or whatever," Hornaday said. "It just happened so quick. I feel like an idiot about it.
"Any other racetrack, he probably wouldn't have hit the fence. He probably wouldn't have spun out. It's one of those things that happened and I've got to pay the consequences for it."
And there should be consequences. Wrecking another driver under caution shouldn't be allowed without penalty. Hornaday gets that.
He also believes there are major differences between what happened on Sunday and in 2011.
"I put them in a box," Hornaday said of NASCAR. "We shouldn't even be talking about it today. I guess you've got to take whatever they give you. I hope it's not too harsh."
April, 10, 2013
Apr 10
6:49
PM ET
CHARLOTTE, N.C. -- Bruton Smith was in one of the downstairs offices of his Ford dealership two years ago when I asked if fear, jealousy and politics once again played a role in his not being nominated for the NASCAR Hall of Fame.
"Probably, probably," the chairman of Speedway Motorsports Inc. said with a smile. "Why don't you ask them? You're chicken if you don't."
I did.
And although I didn't get a satisfactory answer, I asked again a year later.
I won't have to ask anymore.
Smith, one of NASCAR's greatest innovators and, yes, aggravators, was among the Hall's five new nominees announced Wednesday. That means the 86-year-old native of Oakboro, N.C., will be among the 25 nominees from which the five-member 2014 class will be chosen on May 22.
[+] Enlarge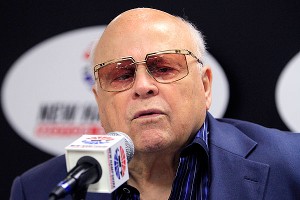 AP Photo/Jim ColeBruton Smith joins Dale Jarrett, Maurice Petty, Rex White and Larry Phillips as newest nominees for the NASCAR Hall of Fame.
It's long overdue.
Smith has built SMI into one of the most powerful entities in NASCAR. He has spent more than $4 billion in purchasing and upgrading the company's eight tracks that host 12 Cup events. He introduced condominiums, VIP suites and club-like restaurants to raise tracks to the standards of facilities in other sports.
A few years ago he introduced the world's largest HD screen at Charlotte Motor Speedway, where he began his racing empire in 1959.
As I argued several times the past few years, Smith easily could have been among the original 25 nominees for the Hall. He wasn't -- and nobody will admit this -- because he ticked off many on the selection committee with his unwillingness to conform, his willingness to question and even his willingness to seek legal action.
That Smith suggested I was "chicken" if I didn't ask NASCAR why he hadn't been nominated says it all. Smith never has been chicken to ask or do anything.
He's said many times he doesn't care about being recognized for Hall consideration, suggesting he's not on the list for the same reasons NASCAR never has given him a Sprint Cup date without taking one from one of his other tracks.
But you know he cares. He wouldn't have accomplished everything he has without caring.
"At the time when I told you that, I meant it," Smith said Wednesday night. "What's occurred is my employees and friends … a lot of people have stated how important it is that this is occurring. I don't know. It's a different perspective than where I was a few years ago.
"Now with all the input from all the employees I have [about 15,000], it seems it meant an awful lot to them. I've been impressed by that."
Does this mean the end of politics in the Hall selection process?
"In the past there has been an awful lot of it," Smith said with a laugh. "I don't know if this will change anything."
It definitely won't change what Smith is all about. As he's told me many times, "I like to build things" and "I like to be where the action is."
Even NASCAR chairman Brian France, who has bumped heads with Smith more times than most, predicted this moment when asked two years ago why Smith wasn't on the list.
"Bruton Smith clearly is one of the most accomplished track owners in the sport, and his contributions have been significant," France said at the time. "He oversees some of the greatest, most anticipated events on our schedule. Clearly his contributions have had a profound influence on the sport."
Whether Smith will make the cut for the 2014 class remains to be seen. There are many deserving pioneers, from Fireball Roberts to Fred Lorenzen, who have been overlooked far too long.
But at least now Smith has a chance, along with the other deserving new nominees -- Dale Jarrett, Maurice Petty, Rex White and Larry Phillips.
And I won't have to ask why he's not on the list anymore.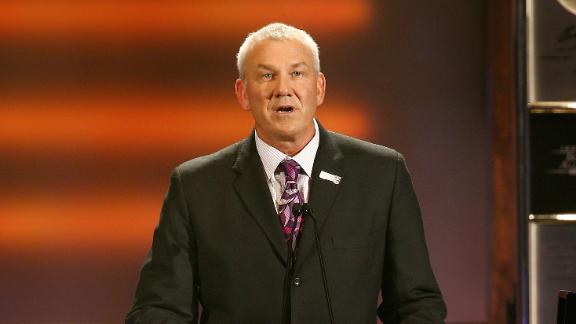 April, 5, 2013
Apr 5
4:09
PM ET
CHARLOTTE, N.C. -- Remember the little kid in kindergarten who stood almost invisible in the corner and smiled while the other kids got in trouble?
That's Dale Earnhardt Jr. right now.
NASCAR's most popular driver has avoided all of the drama of the past few weeks between Joey Logano and Denny Hamlin, Logano and Tony Stewart and the question of who will replace Hamlin while he recovers from a compression fracture in his lower back.
[+] Enlarge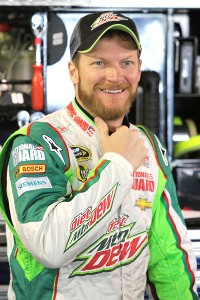 Jerry Markland/Getty ImagesSprint Cup points leader Dale Earnhardt Jr. is working on a streak of five top-10 finishes to start the season.
He's gone about his business in workmanlike fashion without drawing much, if any, attention to himself. It hasn't gotten him into Victory Lane, but he does have five top-10s that have him in the points lead heading into Sunday's Sprint Cup race at Martinsville Speedway.
Avoiding the spotlight -- for a driver who always seems to be in it -- is just fine with him.
"I feel like it gives us the opportunity to keep focusing on what we need to do," Earnhardt said of the attention being focused elsewhere. "We've finished well, but there's a lot of areas that we can improve, and we get to focus on that sort of being out of the scope and out of the spotlight. We can pay more attention to how do we get better as a team.
"You know, if we go out and win some races, we'll get credit where credit is due."
With a little luck -- and continued avoidance of the drama that could unfold if Stewart decides to take short-track revenge out on Logano for blocking him on the final restart at Auto Club Speedway -- a win can't be far away.
It could be staring him in the face.
Martinsville statistically has become Earnhardt's best track. Before a 21st-place finish last fall, he had four straight finishes of seventh or better, including a second and a third in the past two spring events at the quirky half-mile track.
His driver rating at Martinsville is 99.8, better than any track on the circuit -- including Michigan (97.1), where he has scored his past two wins. He's led more laps here (868) than any track by more than 100. He has as many top-5 finishes here (10) as he does Daytona, where he once was the restrictor-plate king.
He's come a long way from being the rookie who once hit everything at Martinsville but the concession stand where they sell the famous hot dogs.
"I ran into other race cars, walls, pace cars ... just about everything that could be ran into, I found it," Earnhardt recalled.
Even an ambulance.
"Yeah, the ambulance wouldn't move, so I had to give him a bit of the bumper," Earnhardt said. "I ran over everything and finally Dad was like, 'Man, tell that kid to park it.' "
But Earnhardt finally learned the rhythm it takes to maneuver the paper-clip-shaped track. After an average finish of 25th in his first four attempts, he rattled off five straight finishes of fifth or better.
His 14 career top-10s here now rank second to the 15 he has at Daytona.
He really loves this place -- from the nostalgia standpoint, little has changed here from the first Cup race in 1949 to the tight racing.
"Every track has something about it that you like or something characteristic about it that you enjoy," Earnhardt said. "But Martinsville is just a fun place, really fun track to race on.
"The fans get a great event. They get a great show when we're there. I think it's a good ticket between it and Bristol and Richmond. It's some of the best short-track racing in the country that you can see."
He'd like it better with a win.
And if he gets it, he won't be so invisible anymore.
March, 27, 2013
Mar 27
12:37
PM ET
CHARLOTTE, N.C. -- Can Denny Hamlin still make the Chase?
Yes.
And it might not be as difficult as it appears.
Hamlin is expected to miss the next five races recovering from a compression fracture in his lower back suffered on a last-lap wreck with former Joe Gibbs Racing teammate Joey Logano on Sunday at Auto Club Speedway.
He had 180 points during that span a year ago, which is a ton for one of only two drivers -- Jimmie Johnson is the other -- to have never missed NASCAR's 10-race playoff. It basically ends any chance he has of automatically qualifying in the top 10.
But earning one of the two wild-card berths, given to the drivers with the most wins inside the top 20, isn't a reach at all.
A year ago, Jamie McMurray was 20th in the standings with 640 points when the Chase was set after 26 races. Hamlin, now 10th in the standings, has 145 points.
Hamlin would need approximately 495 points -- and one or two wins -- over the 16 races before the September Richmond race to be in position for the top 20 under 2012 standards. To do that he would need an average of 30.9 points per race, or an average finish of around 13th.
Throw in bonus points for a few wins in which he leads the most laps for a maximum 48 points and his average finish could be slightly higher.
It's possible. A year ago, Hamlin's average finish was only 14.1 from race 11 to 26. But he won at Bristol and Atlanta and accumulated 499 points, three more than he would have needed to get into the Chase.
If he did the exact same thing a year ago after missing five races, he would have knocked Jeff Gordon out of the final wild-card spot.
Based on what 20th place has done so far this year Hamlin may have even more leeway. Ryan Newman is in the bubble slot with 121 points, an average finish of 24.2. Average that out over 26 races and the total is only 629.
If you need more proof this is possible, 13 of Hamlin's 22 career wins have come at the tracks he'll compete between his likely return at Darlington and Richmond. Four have come at Pocono, where he'll have two opportunities to win.
As wild as it sounds, the Chase remains a realistic goal.
March, 22, 2013
Mar 22
12:04
PM ET
FONTANA, Calif. -- Finding the Phoenix Racing hauler used to be easy when arriving at Auto Club Speedway -- or any Sprint Cup track.
Just go to the back of the garage and count forward.
In case you didn't know, haulers are parked according to where teams rank in owner points. Before this season, the single-car team out of Spartanburg, S.C., never had been ranked higher than 23rd after more than one race.
Now it's tied for seventh.
"I can tell you there's a lot of people who came looking for us that went down there and had to come back this way," general manager Steve Barkdoll said with a laugh.
[+] Enlarge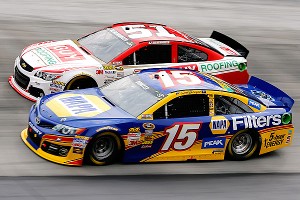 Jared Wickerham/Getty ImagesPhoenix Racing has taken the tag-team approach with three different drivers: AJ Allmendinger (51), Regan Smith and Austin Dillon.
And get this: James Finch's No. 51 team, which gets its Chevrolet engines and chassis from Hendrick Motorsports, ranks ahead of four other teams with the same equipment and all three Richard Childress Racing cars that field Chevrolets.
"Don't think we haven't noticed," an executive from one of those other organizations told me last week at Bristol.
HMS's Kasey Kahne ranks ninth and four-time Cup champion Jeff Gordon is 22nd. Stewart-Haas Racing's Tony Stewart is 25th, Ryan Newman is 24th and Danica Patrick is 30th.
RCR's Paul Menard is 11th, Kevin Harvick is 19th and Jeff Burton is 26th.
Did I mention that the Furniture Row team that gets its engines from RCR is 18th? That's nine spots behind the Phoenix Racing team that Kurt Busch said was not on par with the Denver-based organization when he left late last season.
And Phoenix has been able to do this with three different drivers -- Regan Smith, AJ Allmendinger and Austin Dillon. It'll be four by the time the team gets to Richmond and puts Ryan Truex behind the wheel.
"For them to be where they are in points, not only with three different drivers, but just in general, is a real testament to what they're doing," Burton said.
And if Phoenix -- unsponsored this weekend -- could somehow stay in the top 12 after 26 races and become eligible for the owners' championship in the Chase?
"If they could be in the top 10, it would be one of the bigger upsets in NASCAR's history," Burton said.
Barkdoll credits part of the early success to the new car that is easier to build. Because most of the parts are stamped out and body builders don't have to waste countless hours rolling sheet metal, they can spend more time in other areas.
Barkdoll spent part of that time two weeks ago explaining to his crew of 18 that there's a different routine for getting on the track for practice.
"When you're 27th in points, you go to templates first," Barkdoll said. "You don't get on the track. They send out 25 cars in practice for the first part until they start coming off. So we had to prep ourselves to know that we've got to get ready and do different things."
He hopes that continues.
"We know we've got to stay on top of things to stay here," Barkdoll said. "But think about the head table [at the banquet] if we happen to stay up here and James Finch gets to be the owners' champion and they have to split the title."
Then Phoenix Racing would be easy to find.