Category archive:

Kevin Harvick
November, 9, 2012
11/09/12
6:28
PM ET
AVONDALE, Ariz. -- Richard Childress was visibly upset as he stood next to grandson Ty Dillon's black truck during Friday's qualifying at Phoenix International Raceway.
It had nothing to do with Dillon's chances to win the Camping World Truck Series championship, trailing James Buescher by 15 points with two races remaining.
It had everything to do with an ESPN.com report that Sprint Cup driver Kevin Harvick has signed a multi-year deal to begin driving for Stewart-Haas Racing in 2014.
"I've got a contract for 2013 and this is 2012," the owner of Richard Childress Racing said of his deal with Harvick. "I'm not talking to you about nothing [regarding that]. Too far out."
Asked if Harvick had told him he will not drive for RCR beyond 2013, Childress barked, "You need to go talk to them people. Don't talk to me about it. If you want to talk to me about [the truck] championship, I'll talk about it. But don't talk to me about anything else."
It has been 18 years since Childress won the last of his six Cup titles with the late Dale Earnhardt. Harvick was RCR's lone Chase competitor this season and has been the only legitimate title contender for the organization the past two seasons, finishing third each year.
Losing him was the last thing Childress needed.
Harvick's departure will be huge, particularly if he takes primary sponsor Budweiser with him. Remember, RCR lost Chaser Clint Bowyer to Michael Waltrip Racing after last season due to lack of sponsorship and had to shrink from four to three teams.
[+] Enlarge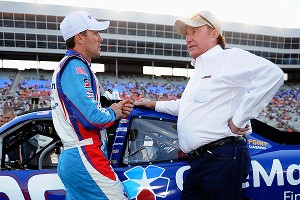 John Harrelson/Getty ImagesKevin Harvick has driven for Richard Childress at the Sprint Cup level since 2001. That relationship appears to be ending.
Some will say Harvick leaving only opens the door for Childress' other grandson, Nationwide Series driver Austin Dillon, to move to Cup in 2014.
But plans already were in place for Dillon to make the move then, either in the fourth car that is vacant or as a replacement for Jeff Burton, whose contract expires after 2013.
And by the way, while Dillon will make his Daytona 500 debut in the No. 33 next year, Childress left open the possibility the No. 3 Earnhardt drove remains a strong possibility for his grandson.
"That's still on the table," Childress said.
What isn't on the table, according to Marty Smith's report, is Harvick. Smith's sources say the deal has been signed.
Sources close to the situation told me Childress was blindsided by the news, which explains his mood. Replacing Harvick has to now be his No. 1 goal in order to remain relevant in the series.
As good as Dillon has been in the Nationwide Series, he remains an unknown in Cup. Burton appears past his prime and Paul Menard, beyond winning the Brickyard 400 last year, has done little to prove worthy of filling Harvick's shoes.
Convincing a sponsor to add 2004 Cup champion Kurt Busch to the mix may be the best solution. Busch already has a good relationship with Childress, often going to him for advice.
Busch already is driving a Furniture Row Racing car with a Childress engine the rest of this season and in 2013.
No matter what you think of Busch's off the track -- and sometimes on the track -- behavior, he would give RCR a legitimate threat to compete for the championship.
RCR needs that.
This is a pivotal time in the history of Childress' organization. It recently lost Earnhardt Ganassi Racing as an engine customer to Hendrick Motorsports for 2013. It apparently has lost Harvick to an SHR team that has HMS support.
By 2014, if it hasn't done so already, RCR could go from the second-best Chevy team to third behind HMS and SHR. It could even fall to fourth behind EGR.
So you can see why Childress would be visibly upset.
July, 14, 2012
07/14/12
3:30
PM ET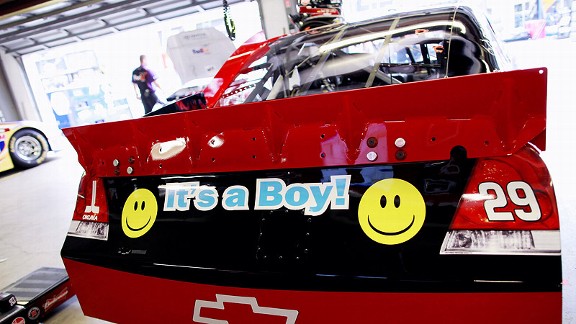 Tom Pennington/Getty Images/NASCARThe back of Kevin Harvick's car says it all for the new father.
LOUDON, N.H. -- Baby talk and triathlons.
That's what you may have missed over the past week as the Sprint Cup world focused on AJ Allmendinger's suspension for a failed drug test and the subsequent news and speculation.
If you didn't hear, Kevin and Delana Harvick became first-time parents -- no, dogs and cats don't count here -- on Sunday as Keelan Paul was born. That same day Kasey Kahne beat Jimmie Johnson in a triathlon in Charleston, S.C.
Friday's interviews surrounding both of these events were as entertaining as anything you'll see or hear this weekend at New Hampshire Motor Speedway. I'll give you a few nuggets on each.
• Harvick on Keelan having his own Twitter page: "Well, Keelan has his own everything because I didn't want some crazy-ass fan getting hold of his twitter name or his website."
• Harvick on driving Delana to the hospital: "It wasn't very fast because she was obviously in a lot of pain. That was partly my fault because I made her wait too long, so we didn't make any real fast corners. I had been to the doctor's office several times so I knew where every bump was. So I didn't get yelled at, and that was my goal."
• Harvick on whether Keelan has his own go-kart yet: "We're hoping for no go-karts. We're hoping for golf clubs. We're hoping that we go in a different direction there."
• Johnson on having cramps in the triathlon the day after a hard crash at Daytona: "I went to the curb and was stretching my calves real quick, and a guy in a No. 24 hat came running up with a Bud Light and said, 'Hey, this will help, this will help.'"
• Johnson on seeing a woman riding a beach cruiser during the bike portion of the race: "The only thing she was missing was a basket on the front."
• Johnson on Kahne saying he beat his Hendrick Motorsports teammate by 27 seconds: "Oh, twenty-something."
• Dale Earnhardt Jr. on whether Johnson has asked him to compete in a future triathlon: "Jimmie knows better than to waste too much time on that."
Hey, it can't be Allmendinger 24-7.
January, 26, 2012
01/26/12
3:16
PM ET
CHARLOTTE, N.C. -- The biggest news of the 2012 Sprint Media Tour wasn't that Danica Patrick will run the Coca-Cola 600 or the unveiling of the 2013 Ford Fusion. It wasn't that NASCAR has eliminated secret fines -- as far as we know -- or that Wal-Mart will sponsor Bill Elliott for the July Daytona race.
It wasn't that Jimmie Johnson and the No. 48 team are "pissed off" over not winning a sixth straight Sprint Cup championship or that team owner Rick Hendrick will be disappointed if he doesn't get all four cars into the Chase.
[+] Enlarge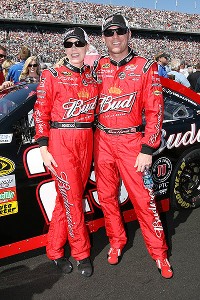 Harold Hinson PhotographyKevin Harvick announced Wednesday night that his wife, DeLana, is 14 weeks pregnant.
The biggest news was DeLana Harvick is pregnant.
Fourteen weeks.
Yes, sometime in July, a little "Happy" will join the NASCAR family.
You scoff, but look at all the things the decision to start a family triggered. As Kevin Harvick revealed during Richard Childress Racing's tour stop in Welcome, N.C., on Wednesday, this is the main reason he and DeLana shut down their Truck and Nationwide Series race shop in Kernersville, N.C.
That led to a consolidation of much of the Nationwide program with RCR, which worked out perfectly with Richard Childress' grandson Austin Dillon, ready to run full-time in the series. It led to Eddie Sharp forming his own Truck team with KHI equipment.
This also ended the speculation that Kevin Harvick Inc. was shut down because the couple's marriage was in trouble.
And it cemented what we've all known for years, that DeLana really does wear the fire suit in the Harvick household.
"There were a lot of factors that went into the KHI decision, but when your wife tells you she's not starting a family unless you get out of the race team business, that's a pretty big factor in things that are going on," Harvick told reporters on Wednesday night.
"It was kind of like it was all meant to be, Austin coming up in the Nationwide car, us wanting to do the family aspect of life and Eddie Sharp starting his team. It all lined up perfectly."
And get this for planning: The due date is during a rare off week in the Cup schedule.
Maybe that golden horseshoe Harvick once claimed Johnson owned really has changed hands.
We don't know if it's a boy or a girl, but we are confident either way the baby won't be named Kyle. Harvick made it clear his feud with Kyle Busch isn't over.
The sad news is we likely won't see DeLana in her familiar fire suit on pit road for long. Kevin doesn't really want his wife climbing those steep steps to the pit box.
The good news is the Harvicks really are Happy.
Congratulations.
Big news.
May, 10, 2011
05/10/11
1:05
PM ET
CHARLOTTE, N.C. -- Words you don't read here every day: NASCAR got this one right.
The governing body had no choice but to punish Kyle Busch and Kevin Harvick for Saturday night's postrace pit road confrontation at Darlington Raceway. The incident potentially put crewmen and NASCAR officials at risk when Busch shoved Harvick's car into the inside retaining wall as Harvick took a swing at him.
Knocking each other silly on the track in competition is one thing.
Endangering lives on pit road can't be tolerated.
Placing both of them on a four-race probation and fining them each $25,000 may seem like a slap on the wrist for those who aren't fans of either driver, but a slap is all that was needed.
To have docked either points would have been heading back down the slippery slope of over-governing that NASCAR vowed to get away from with "boys, have at it.''
To have put them on probation for the remainder of the season would have deprived us of the opportunity to see this rivalry grow when the probation ends on June 15.
As Harvick said Tuesday on Twitter, "I didn't say it was over.''
Let's hope not.
So now we all can look forward to the June 19 Michigan race and the rest of the season to see what happens, and there'll be plenty of opportunities since both race in the Sprint Cup, Nationwide and Truck series.
Keep in mind this feud wasn't born late in Saturday's race when Harvick and Richard Childress Racing teammate Clint Bowyer wrecked in a three-wide racing incident with Busch. Harvick and Busch have been taking shots at each other in the Truck series for years.
And then there was last year's Cup finale at Homestead-Miami Speedway, when Harvick wrecked Busch with 25 laps remaining, ending Busch's season in a fiery crash.
Harvick didn't run away from the fact he wrecked Busch intentionally then, either.
"He raced me like a clown all day -- three wide, on the back bumper, running into me, and I just had enough," Harvick said at the time. "[He] cut me off and ran up in front of me. The last time I just didn't lift."
To which Busch responded, "I don't know where his brain is at, but it's obvious not all [the] wires are connected.''
And Harvick gave Busch what he considered good, friendly advice when Busch started his own Truck team last season.
"He's two-faced,'' Busch said at Homestead. "He'll talk to you all day long straight to your face and be the nicest guy to you, but when you get out there on the racetrack, he ain't your friend.''
Nor should Harvick be.
Same for Busch.
This is the stuff of rivalries. That Busch and Harvick should be competing for wins in all three series this season, and for wins and a championship in Cup this season and many more to come, makes this potential rivalry more likely to stick than others.
Say what you want about the reported physical confrontation inside the NASCAR hauler between Ryan Newman and Juan Pablo Montoya -- officials, by the way, made the right decision in not penalizing them -- rivalries are much more intriguing when those involved are battling for something more significant than a spot on the track.
Busch and Harvick already have two Cup wins each this season, with Busch third in points and Harvick fifth. They also have edgy personalities that will continue to rub each other the wrong way.
So, as Harvick suggested, this isn't over.
"Boys, have at it" will continue because NASCAR didn't overreact.
December, 3, 2010
12/03/10
1:18
PM ET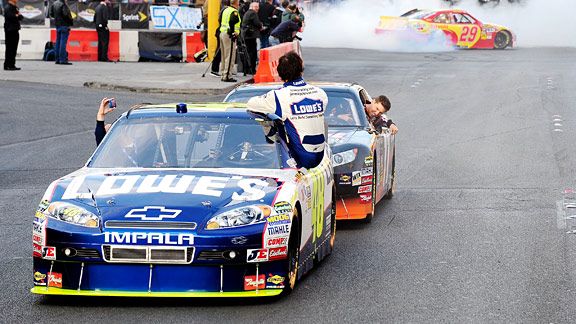 Rusty Jarrett/NASCAR/Getty ImagesKevin Harvick's burnout in Vegas caught the attention of five-time Cup champ Jimmie Johnson.
LAS VEGAS -- I'm sitting in a tailored black suit on a piece of cracked plastic foam on what has to be the thinnest stadium seat in the history of sports. The chair sits on top of the fuel line on the passenger side of Kevin Harvick's show car.
The gentleman who helped me through the window is concerned my weight might break the fuel line as I prepare for Thursday's 45-minute Victory Lap down the famous Las Vegas Strip.
He was even more concerned when Harvick hinted he wants to make his last ride in the yellow Shell Pennzoil car memorable, or at least do enough damage that the name of his soon-to-be former sponsor (which is leaving for Penske Racing) would be hard to read.
Great. I'm leaving this world as a human fireball with a driver nicknamed "Happy" at the wheel.
[+] Enlarge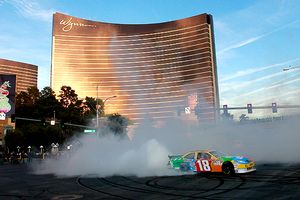 Chris Trotman/Getty ImagesKevin Harvick wasn't the only driver havin' fun on the Strip. Kyle Busch, above, was on cloud nine Thursday.
Close.
As we sit near the intersection near the MGM CityCenter for the second of two burnouts, Harvick has a twinkle in his eye that has me wishing I'd asked for one of his wife's famous firesuits.
"Are you going to blow the engine?" I ask.
"I hope so!" Harvick says.
The wheels start churning. Smoke begins filling the cockpit to the point I can't see.
Boom!
The left rear tire explodes. But Harvick keeps churning on the rim until he is blocked by the cars of Jimmie Johnson and Denny Hamlin, who by now are out of their cars and laughing uncontrollably as they survey the damage.
As I check to survey my damage, Johnson points and says, "Dude, look at your suit."
Not only do I smell like burnt rubber, but I look like the aftermath of someone caught in a volcanic ash cloud -- there's so much tire dust.
Harvick laughs.
The Sprint Cup world might be in Sin City to celebrate Johnson's fifth straight championship, but the driver who finished third is stealing the spotlight.
The first moment came during Wednesday's dysfunctional "Family Feud" contest between the 12 Chase drivers at Las Vegas Motor Speedway when a fan was told to pick a smart driver for the fast money round.
He picked Harvick, who was more of a smart aleck even though he earned 174 of the 200 points needed.
Later that night at the club Surrender, Harvick figured out how to party until 4:30 a.m. and get in a plug for his new sponsor, ordering 750 Budweisers, which almost sent his waitress into shock.
Before drivers were introduced for Thursday's luncheon at the Bellagio, Harvick got under the skin of Kyle Busch, reminding us how he took out NASCAR's bad boy in the season finale.
But nothing topped the burnout that had Johnson and Hamlin envious and local police calling for a street sweeper.
"Really a cool deal to get to do this in the middle of Las Vegas Boulevard," Harvick says.
No driver might be having more fun in Vegas than Harvick. Unlike Hamlin, who continues to lament the title he lost, Harvick believes what he accomplished in 2010 has him on track to be the lead car for the Strip ride next year.
(Memo to Richard Childress Racing: Get a permanent passenger seat like the other cars if you want me to ride along.)
But for now Harvick is relishing the spotlight, asking fans on Twitter whether he should spin out Johnson before the Victory Lap begins and then getting a warning from officials for ramming the back of Johnson's car.
His smile never is bigger than during the final half-mile as we ride on the rim to the Hard Rock Hotel with fans covering their mouths and pointing in disbelief at the damage.
"It's all beat to s---," Harvick says. "But it's all right. They have to repaint it anyway."
If only they could do that to my suit.
November, 17, 2010
11/17/10
5:18
PM ET
CORAL GABLES, Fla. -- Joe Gibbs has been around too many NFL deals where you get a first-round draft pick for a player or pick to be named later.
He opened Wednesday's conference call with the three owners of the Sprint Cup Chase contenders by offering to let Rick Hendrick (Jimmie Johnson) and Richard Childress (Kevin Harvick) win the championship the next two years if they let him win this year with Denny Hamlin.
[+] Enlarge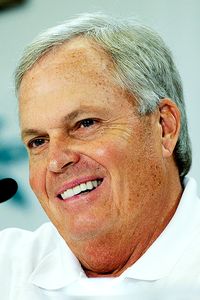 Sam Greenwood/NASCAR/Getty ImagesRick Hendrick, above, jokes to fellow Sprint Cup team owner Joe Gibbs: "If I knew how good you were going to be, Joe, I wouldn't have helped you."
"That's on scout's honor,'' said the owner of Joe Gibbs Racing, who won three Super Bowls as head coach of the Washington Redskins before turning to NASCAR. "And next year I might go, 'What?' I've been known to renege on stuff.''
Hendrick and Childress didn't bite.
But it was an interesting way to start a call that offered much insight on the Chase, the sport and the three teams that hope to win a championship on Sunday at Homestead-Miami Speedway.
Here are a few highlights as Hamlin takes a 15-point lead over Johnson and 46-point advantage of Harvick into the weekend:
• What would surprise you on Sunday?
"I would be surprised if we had an answer before the white flag,'' Hendrick said.
"What would surprise me is if any of these three teams were to go down easy,'' Gibbs said.
• Are all three of you sitting in the same room for this?
"No,'' Childress said. "We're the owners. We have to all still be here and work.''
Well, not all. Hendrick was fishing on his yacht somewhere in South Florida.
• The Chase arguably is the best since the inaugural one in 2004 that Kurt Busch won by eight points over Johnson and 16 over Jeff Gordon. So why are television ratings and attendance sagging?
"I don't think Rome is burning in NASCAR,'' Childress said. "We still have a great sport. We have great fans. The economy has touched every sport at some point. We will come back and be as strong as we ever were.''
Ditto, said the other two.
• Who has the biggest knot in their stomachs -- the owners, drivers or crew chiefs?
"I definitely do,'' Gibbs said. "Great athletes in pro sports, the ones I've been around, they have an amazing ability to relax.''
• What is your greatest fear on Sunday?
"From my standpoint, I hope there is no debris in the last few laps,'' Hendrick said.
For the record, he didn't come out and say that mystery debris is what got Hamlin in trouble with NASCAR earlier this year.
• Considering Hendrick Motorsports has won the past four titles with Johnson and finished 1-2-3 in points a year ago, would this season be a disappointment if Johnson doesn't win the title (with Gordon, Mark Martin and Dale Earnhardt Jr. not having won a race)?
"I don't think this is a disaster by any stretch, but we're not satisfied,'' Hendrick said. "I don't think we've made as much improvement as Richard's organization has made or Joe's organization.''
We're still waiting on an answer to the follow-up question about whether the pressure is on Earnhardt (19th in points) to turn things around since Hendrick has thrown everything he can into the No. 88 team.
• Did Hendrick and Gibbs study RCR, in the midst of six championships with the late Dale Earnhardt, when entering the sport?
Hendrick definitely did, saying "Richard showed us how you have to prepare and run for a championship. You've got to be there and you've got to race every race and every lap, and you've got to finish.''
Gibbs reminded us that Hendrick loaned then-general manager Jimmy Johnson to work with him on starting up a team. The owner with three titles also reminded us that he has nothing but respect for Hendrick with nine titles and Childress with six.
"Hey, it's only fair for those guys to at least give us another one or two here to at least even this thing up,'' Gibbs said.
Replied Hendrick, "If I knew how good you were going to be, Joe, I wouldn't have helped you.''
• Is there a special reward owners offer for winning the title?
All three agreed that after paying bonuses and incentives within the organization, they'll clear very little, if any, and that the biggest thing is winning the trophy for the pride of being champion.
But Gibbs added, "Every week I walk up to the drivers and say, 'Hey, you've got the good end of this deal. You make all the money, get all the girls and get to have all the fun.' ''
Still no takers on the opening deal, by the way.
November, 16, 2010
11/16/10
6:06
PM ET
CHARLOTTE, N.C. -- I was catching up on leftover thoughts during the Phoenix-to-Philadelphia-to-Charlotte red-eye home.
OK, so there was a nap in between.
But there were a lot of side stories that might have been overlooked while the focus was on the closest Chase in history -- Denny Hamlin is 15 points ahead of Jimmie Johnson and 46 up on Kevin Harvick -- after Sunday's Sprint Cup race at Phoenix International Raceway.
Here are a few:
---
The RPM saga: Although Richard Petty Motorsports made it to PIR and will be in Homestead-Miami for the season finale, what's going on behind the scenes remains intriguing.
I'm told that most of the work normally done on the RPM cars has moved to Roush Fenway Racing in the adjacent shop in Concord, N.C. Whether that's to save money or to ensure the cars don't get released without the latest installment check, nobody could verify.
Bottom line, Roush Fenway wants to keep RPM alive not only for Ford but also for its chassis and engine-rental business.
As for next year, Richard Petty says things remain in limbo while he continues to talk to investors about taking over majority interest from financially strapped George Gillett.
And the Charlotte television report that Petty received an infusion of money from Ray Evernham, who's still owed a large sum of money from Gillett after selling majority interest of Evernham Motorsports in 2007, was not true. But Evernham has made provisions to help Petty if needed.
---
Limbo Part II: Scott Speed likely will drive in his last Sprint Cup race for Red Bull Racing at Homestead. Team officials are confident that Brian Vickers, sidelined in the spring after blood clots were discovered, will pass all tests when he is taken off blood thinners in the near future and be ready to retake his spot in the No. 83.
Kasey Kahne will drive the car currently occupied by Speed.
Speed said he has no clue what he'll do in 2011, in part because Red Bull Racing hasn't given him permission to talk to other teams.
---
Busch-whacked II: Remember Kurt Busch's run-in with Avondale's finest while leaving PIR in 2005? Little brother Kyle had a little run-in leaving the track on Sunday night.
Driver J.J. Yeley tweeted that while leaving the track, "Kyle Busch tried to cut the exit line. Almost ran over a PIR employee."
He also tweeted that Busch was stopped by local law enforcement. Team and track officials said Busch didn't hit anybody with his car and wasn't ticketed or arrested.
Kurt wasn't so lucky in 2005. He was cited for reckless driving by the Maricopa County Sheriff's Office and suspended for the final two races by the Roush Fenway team he was leaving for Penske Racing after the season.
Kurt went on to perform 50 hours of community service and became friends with local sheriff Joe Arpaio.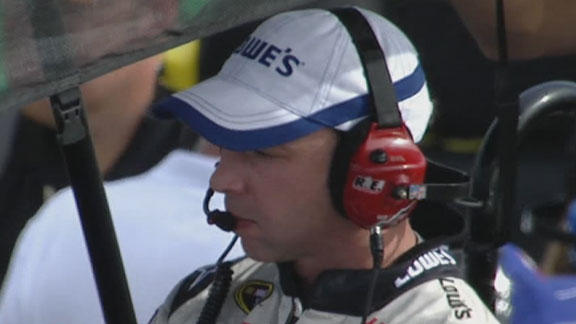 November, 13, 2010
11/13/10
1:58
PM ET
AVONDALE, Ariz. -- Mike Ford smiled as he looked at the group of reporters that gathered in the Sprint Cup garage for the pit-stall selection process Saturday morning at Phoenix International Raceway.
"Where were you guys at Kansas?" Denny Hamlin's crew chief asked.
Ford was referring to Chad Knaus' decision to pit Jimmie Johnson in front of Hamlin during the third Chase race, violating what he considered a gentleman's agreement not to pit around each other.
It came to light last weekend at Texas Motor Speedway when Ford returned the favor and pitted ahead of Johnson, a move Ford believes worked since Johnson's pit crew performed so poorly that Knaus swapped over-the-wall gangs with teammate Jeff Gordon during the race.
That brought us to Phoenix for arguably the most highly anticipated and media-covered pit-stall selection process in the history of NASCAR. Ford, Knaus and the officials running the show had smirks on their faces as we documented their every move.
Why?
" 'Cause it's funny," Ford said.
It wasn't funny at Kansas. Ford was angry then and still talking about it before Saturday's process, which was intriguing for those of us who have paid little attention to it in the past.
Most races, we take a quick look at the selection chart placed at our seat and then bury it in the pile of quote sheets. But with so much on the line, with Hamlin 33 points ahead of Johnson and 59 ahead of Kevin Harvick, and with such a big deal made about last week's selection, it became an event.
For the record, it appears Harvick won. He'll be pitting in the 37th spot, with start-and-parker Dave Blaney ahead of him and potential start-and-parker Bobby Labonte behind him. Johnson has the 39th stall, with Labonte behind him and Paul Menard ahead of him, so he at least has a chance to have lapped-down cars around him late in the race.
Hamlin is surrounded by trouble on both sides in the No. 18 stall, with Johnson teammate Dale Earnhardt Jr. in front of him and Harvick teammate Jeff Burton behind him. For the record, this could be the first time Earnhardt has been involved in the outcome of the Chase in a while.
Yep, there's strategy involved.
Mind games, too.
Hamlin will have to wonder every time he pits whether Earnhardt or Burton will do something to slow him down. It happens. Robbie Loomis reminded me of it last week when recalling the Chase finale at Homestead-Miami Speedway when he crew-chiefed for Gordon.
"Chad and I had a deal we never picked around each other," said Loomis, now the vice president for competition at Richard Petty Motorsports. "In '04 we qualified good and he qualified bad, and he picked right ahead of us. He finished second in points and we finished third.
"I'll remember that the rest of my life. I think the quote from Jeff was, 'You tell him if he leaves that right rear hanging out one more time, I'm going to drive through him.'"
Drivers aren't allowed to leave the right rear of the car outside the box anymore, but the strategy to disrupt neighboring pit crews remains.
Because of it, we'll all be back next week at Homestead making Ford smile again.
September, 30, 2010
09/30/10
5:10
PM ET
MARTINSVILLE, Va. -- The monsoon that blew through the East Coast forced the cancelation of a long-driving contest between Kevin Harvick and the media who gathered Thursday at Chatmoss Country Club as a promotion for next month's Sprint Cup race at Martinsville Speedway.
The contest to get Harvick to go in depth about his run-in with Denny Hamlin during Saturday's practice at Dover International Speedway was a wash as well.
"If you ask it 14 different ways, you'll probably get the same answer," Harvick said with a smile. "So write down the next one."
Harvick obviously is ready to put the incident -- he bumped Hamlin twice and then side-scraped him on the first lap of practice -- in his rearview mirror and focus on the Chase.
As far as he was concerned, the dust-up was over Tuesday when Hamlin said the two talked and made up, choosing to put their friendship and the Chase above what was said and done at Dover.
"Everybody saw what he said," Harvick said. "I think it's done."
That didn't stop us from trying to get more. We wanted to know if Harvick was trying to prove that the New Hampshire car of teammate Clint Bowyer could have been knocked out of tolerance by another car or a wrecker as the outspoken Hamlin downplayed after Richard Childress Racing said that would be its appeals case to the National Stock Car Racing Commission.
We wanted to know what Harvick was thinking when he sent the left front of his No. 29 car into the right rear of Hamlin's No. 11 seemingly without regard to how it might impact his position in the playoffs.
"I don't really remember what happened. Everything's handled, I believe," Harvick reiterated.
Harvick was much more concerned with going to Kansas and attempting to erase his 65-point deficit to Hamlin in the Chase standings. He was more concerned with helping Martinsville sell a few tickets.
Still, we tried. It was like a game, one you'll seldom win with someone as tight-lipped and mentally strong as Harvick.
I finally followed up on a tip that Harvick simply was standing up for Bowyer's crew chief, Shane Wilson, a good friend and the person who helped Harvick and Jeff Burton to 10 victories and the 2006 owner's championship in the Nationwide Series.
Harvick's reply: "Anytime you have a company or you have people, there's a lot of things you feel good about being a part of. Sometimes you have to do what you think is right for the company or the people. Our team didn't really have anything to do with it, to tell you the truth. To be drug into it was probably the switch that ignited the fire and the things that happened."
So this issue is closed. Harvick and Hamlin are friends again and Harvick has the focus that enabled him to dominate the points in the first 26 races.
He's not worried about what happens with Bowyer and the appeal to overturn the 150-point suspension for his New Hampshire car being too high in the rear or the final appeal that likely will be heard next week.
"I really haven't talked to anybody at RCR about it," Harvick said. "I think everybody knew it was coming. I've been part of those appeals before and kind of know how they're going to go.
"Our team is on its own, doing its own thing. The 31 team [Burton] is kind of doing its own thing. As a company as a whole, we're doing our own thing and staying focused on the things that we can control."
Contest over.
August, 17, 2010
08/17/10
5:22
PM ET
WELCOME, N.C. -- There was a bit of anxiety. Kevin Harvick hasn't always handled questions about replacing Dale Earnhardt at Richard Childress Racing so well, and I was about to ask what it was like to replace Dale Earnhardt Jr. -- albeit a few years removed -- as the new face of Budweiser.
He didn't snap.
He didn't shrug his shoulders and move onto the next question.
He actually laughed.
"If you're going to be successful in this sport, especially at RCR, you're going to have all those ties," Harvick said Tuesday after announcing a three-year deal with his new sponsor beginning in 2011. "That used to bother me. I've learned if you're going to be a part of this company and be successful in this sport those ties are always going to be there.
"You learn to take that as a compliment instead of being frustrated about it. If you can do anything that Dale Earnhardt did in a car, you're doing something OK."
Amen to that.
But Harvick didn't always see it that way. He saw the comparisons as people were trying to make him into what the driver of the No. 3 Goodwrench car was before his tragic death in 2001, when all Harvick wanted to do was make his own way.
[+] Enlarge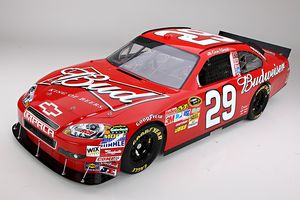 HHP ImagesKevin Harvick's car for 2011.
He fought it to the point it was uncomfortable, and he made others uncomfortable asking about it.
"It took me a long time," Harvick said of getting over his Earnhardt-phobia. "I had always beaten my own path. Everything [here] had an Earnhardt connection to it. It's just like anything else, as you grow in life you learn who you are and what you do and how things work."
The Sprint Cup point leader is comfortable in his skin. You can see it in the way he talks to the media and even in the way he drives. He's not out to prove anything because he already has, winning two Nationwide Series titles, the Daytona 500, Brickyard 400 and the last two Budweiser Shootouts.
The only thing missing on his résumé is a Cup title, and he's making people believe he can do that after Sunday's victory at Michigan International Speedway.
"He's really come into his own and more comfortable than I've seen in the last two or three years," said Harvick's wife, Delana. "He does view [comparisons to Earnhardt] as a compliment now, and that's because he is more comfortable in his own skin.
"Kevin is a very individualistic type of person. That's not easy walking into the situation he did in 2001. He was just so wanting to prove himself, and a lot of people misinterpreted that."
Being the Bud Man gives Harvick an identity he didn't have with Goodwrench initially or even Shell Pennzoil the past few years. He may not meet the ideal 21 to 34 age demographics the company talks about, but he'll represent it well because he has the confidence and track record that his predecessors -- Kasey Kahne and Earnhardt Jr. -- didn't always demonstrate.
"They want me to be who I am and do the things I normally do," Harvick said. "For the most part I don't act my age, anyway, so that'll be pretty easy for me to do."
Yes, Harvick is relaxed, as relaxed as he's ever been in his career. He can even talk about Earnhardt -- either one of them -- as he did on Sunday when he mentioned his first meeting with the seven-time champion and studying film of his son to prepare for a race.
"After a while you realize all the special accomplishment we've been able to accomplish in this company," Harvick said. "They [Earnhardt] accomplished the same thing. So what?
"I tell myself those were compliments, those weren't something somebody was trying to frustrate you by."