Category archive:

Joey Logano
April, 23, 2013
04/23/13
4:12
PM ET
CHARLOTTE, N.C. -- Showcased in the middle of the Carolinas Aviation Museum is the Airbus A320 that in 2009 Capt. Chesley "Sully" Sullenberger successfully landed in the Hudson River.
One-hundred fifty-five lives were saved.
None were lost.
[+] Enlarge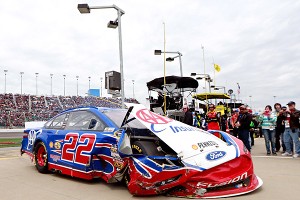 Chris Trotman/Getty ImagesAn early exit at Kansas left Joey Logano 39th in the race and 20th in the Sprint Cup standings.
Makes the feud between Joey Logano and Denny Hamlin seem kind of small, doesn't it?
So does standing in front of an Air Force war plane surrounded by military personnel promoting the Memorial Day weekend Coca-Cola 600 at Charlotte Motor Speedway.
"A tough day at the track is hard," Logano said during the Tuesday event outside the museum. "Nothing compared to what these guys are doing. It does put it in perspective. Compared to what all these military guys are doing, I'm not really doing much at all."
Logano has had a lot of tough days at the track lately. It began March 24 with his last-lap crash with Hamlin at Auto Club Speedway that ended his chance of winning and sidelined his former Joe Gibbs Racing teammate with a compression fracture in his lower back.
It continued two weeks later at Texas. NASCAR confiscated the rear-end housings of his No. 22 car and the No. 2 of Penske Racing teammate Brad Keselowski, then penalized the drivers 25 points each and suspended their crew chief, car chief and lead engineer pending an appeal.
It continued on Sunday at Kansas Speedway. Logano was the innocent bystander in a spinout of another former JGR teammate -- Kyle Busch -- that destroyed his car and left him with a 39th-place finish.
So in four weeks Logano has gone from a potential win at California and move near the top five in points to 20th.
"I'm still very confident and I know my team is very confident and I'm going to lead that team to make sure it stays confident," Logano said as he awaits a May 1 appeal of the penalties. "I don't feel like it is as big of a downswing as it may look on the outside.
"I feel like I'm still right where we need to be, like we were at California, to make sure we can go win."
No, Logano isn't concerned that JGR and Hendrick Motorsports have won seven of the first eight races and have led about 73 percent of the laps.
"They obviously have some great race car drivers, they have great teams," he said of JGR and HMS. "But I don't feel like it's anything we don't have.
"So, yes, the numbers may show one thing, but the way I feel doesn't relate to the numbers."
Logano also isn't worried about whether his issues with Hamlin will continue once Hamlin returns over the next few weeks.
He took the high road when given the chance to respond to a tweet by Hamlin -- "I know Joey felt bad but he doesn't have to keep falling in the points on my count :) #seeyasoon" -- after the Kansas crash.
"Personally, I don't like being in drama and I stay away from drama and I'm not going to get carried into any drama on this situation," Logano said. "I'm going to stay focused on what my task is, and that's winning the race.
"And the rest of it is whatever to me. I'm here to win and put the past in the past."
And keep things in perspective.
December, 11, 2012
12/11/12
3:54
PM ET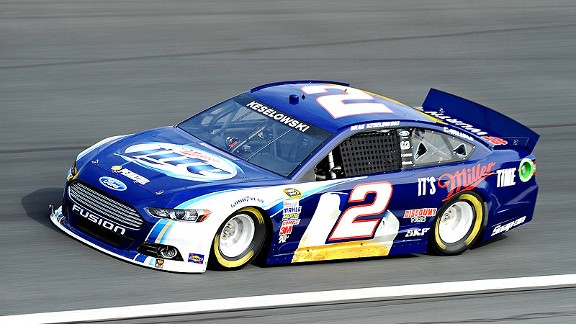 Jared C. Tilton/Getty ImagesBrad Keselowski stretched his legs in the new Miller Lite Ford Fusion during Tuesday's NASCAR test.
CONCORD, N.C. -- You won't find the sterling silver Sprint Cup trophy made by Tiffany and Co. at the home of reigning champion Brad Keselowski.
"No, I don't keep trophies at my house,'' Keselowski said during Tuesday's test at Charlotte Motor Speedway. "I don't believe in building a shrine to myself. It's kind of weird."
This is why Keselowski will be a threat to repeat in 2013.
The Penske Racing driver doesn't want to be reminded about what he has accomplished. He wants to work on building toward the future, and this two-day test at CMS is the first step in doing that.
Keselowski spent about as much time focusing on how he and new teammate Joey Logano will work together as he did the new car and new manufacturer.
"I'm curious to see over time how we can work together and push each other to be the best we can be, so I've had a lot of fun with that so far,'' Keselowski said. "We've got a lot of work to do.
"We're only a half a day into two really important days, not only for Penske Racing but for the sport itself, and hopefully we can continue to show progress."
Matt Kenseth, who replaced Logano in the No. 20 at Joe Gibbs Racing after spending his entire Cup career at Roush Fenway Racing, also was focused on getting to know new people at a time drivers typically are getting away from the sport.
That he chose to be here instead of spending quality time with his family is a reason he'll be a threat in 2013.
"I've got to be honest, it was probably the first time I've been nervous in a race car -- getting in there and going out for the first time -- in as long as I can remember,'' the 2003 Cup champion said. "It's always exciting and you're a little anxious when you go do something different. It's been fun so far."
OK, it wasn't all fun. Kenseth did create more work for his new crew than they probably expected when he over-revved the engine near the end of the first practice.
"So they're back there changing it,'' he said of the engine during lunch break. "So I think the guys are in love with me right now. Like, 'Where did we find this clown? Give us the other one back.' Other than that it's been good."
Bottom line for Keselowski and Kenseth: They still are hungry to prove themselves.
And that will make both contenders in 2013.
September, 5, 2012
09/05/12
1:41
PM ET
CHARLOTTE, N.C. -- We've been getting subtle hints throughout the past year-and-a-half of how influential Brad Keselowski has become in the decision-making at Penske Racing.
We got hit between the eyes with it on Wednesday.
"Brad Keselowski played a really big role in getting me in here and getting a meeting with Roger [Penske]," Joey Logano said while being introduced via conference call as the driver of Penske Racing's No. 22 next season.
Interpretation: When Keselowski speaks, his team owner listens.
[+] Enlarge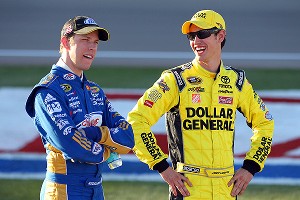 Jeff Bottari/Getty Images/NASCARJoey Logano, right, on future teammate Brad Keselowski: "Hopefully, we can learn from each other and make each other better race car drivers and make our team the best we can."
Keselowski actually convinced Penske to give Logano a look during the offseason when Kurt Busch was released after his meltdown in the season finale. But because Logano had a year left on his contract at Joe Gibbs Racing and JGR had no idea Matt Kenseth was going to be available to drive the No. 20 in 2013, the talks didn't go anywhere.
So when AJ Allmendinger was suspended and ultimately released last month from the 22 for failing a drug test, and with Logano in limbo at JGR with Kenseth signed to replace him, Keselowski went back to Penske.
"Brad had come to us last year and mentioned Joey's name," Penske racing president Tim Cindric said. "He felt he was somebody he could work with. That chemistry is so important."
Keselowski calls Logano a "good guy with a ton of talent." It's quite possible he sees some of himself in the 22-year-old driver.
Both have been highly successful in the Nationwide Series. Both won a race early in their careers, then struggled in ensuing seasons. Keselowski was 25th in points during his first season at Penske Racing after winning at Talladega the year before. Logano won a fuel-mileage race at New Hampshire in his first Cup season at JGR, then fell to 24th last season.
But as we saw with Keselowski, when put in the right situation, he flourished. He has won six races the past two seasons, finishing fifth in points a year ago and ranking sixth 25 races into this season.
Expectations are that Logano's career can take off in the same way.
"Joey seems from the outside at that point in his career where we feel we can openly provide him an environment where he can be successful," Cindric said.
There's no question Logano will be a bigger asset than Allmendinger. Logano's current and soon-to-be former teammates, Denny Hamlin and Kyle Busch, can't say enough good things about Logano's contributions -- particularly this season.
"Joey has phenomenal feedback and notes," Busch said on Tuesday when Kenseth was introduced as Logano's 2013 replacement. "He's a great note-taker and does a lot of stuff that Denny and I don't do.
"I love Joey to death. He's one of the hardest-working drivers out there."
Yet more similarities with Keselowski. Few work harder or are more involved with their team than the 28-year-old from Michigan.
"Hopefully, we can learn from each other and make each other better race car drivers and make our team the best we can," Logano said.
The downside of this is Sam Hornish Jr. He has poured his heart and soul into becoming a candidate to drive the No. 22 next year, but ultimately Keselowski and Penske saw more potential in Logano.
Unless sponsorship for a full Cup ride steps forward, which is unlikely at this point, Hornish will be relegated to another full-time Nationwide Series ride with a few Cup races next season.
But as JGR officials believed they couldn't pass up the opportunity to sign Kenseth, Keselowski believed Penske couldn't pass up the opportunity to sign Logano.
And as we are seeing more and more every day, when Keselowski speaks, people listen.
"He's the one that called me and said, 'Hey, this is a great opportunity for you,'" Logano said. "He was pretty involved in getting me here, for sure, as he is in most of the decisions that happen here at Penske."
August, 16, 2012
08/16/12
1:16
PM ET
Joey Logano may be faced with the toughest decision of his young career.
He also may be faced with the easiest.
If one of his two offers for a 2013 Sprint Cup ride indeed is from Penske Racing to drive the No. 22 -- or even a third Penske car -- it could be a no-brainer unless Joe Gibbs Racing comes up with sponsorship in a hurry.
Logano, 22, has been with JGR since he was 16. The organization has a lot invested in him and Logano has a lot invested in the organization. There are loyalty issues on both sides.
But without a guarantee of sponsorship to drive a full season in 2013 and beyond, and with primary sponsor Home Depot likely going to Matt Kenseth next year, the opportunity to latch on with Shell Pennzoil or another sponsor at Penske would be too good to pass up.
Here's what we know: Logano has two offers on the table, including one from Gibbs. The JGR offer depends on sponsorship, and team owner Joe Gibbs said Wednesday on ESPN that "everything is up in the air'' with Logano.
Without directly addressing Kenseth, Gibbs said he hoped to be able to announce something in two weeks, when the Cup series coincidentally will be in Atlanta, the headquarters for Home Depot.
Logano said last week he should have clarity in a few days to two weeks, with the two weeks now in the equation since a few days have passed. He also was noncommittal on whether he preferred to stay at JGR.
Team owner Roger Penske said last weekend at Watkins Glen he hoped to have an announcement on the No. 22 by the Chase opener at Chicagoland Speedway the weekend of Sept. 16. He didn't rule out Sam Hornish Jr., who has been in the car since AJ Allmendinger was suspended and subsequently released for failing a drug test.
Penske also suggested there are other options.
However this saga unfolds, it will happen in the next month, probably in two weeks. The longer it goes on, the more it feels like Logano will leave JGR.
***
Predicting where Logano lands may be easier than who will win the title, or even make the Chase as a wild card.
So I reached out to RJ Bell of Pregame.com in Las Vegas. Here are his latest odds for winning the title: Jimmie Johnson, 2.5-1; Tony Stewart, 7-1; Denny Hamlin, 8-1; Brad Keselowski, 9-1; Dale Earnhardt Jr., 9-1; Kasey Kahne, 10-1; Matt Kenseth, 10-1; Greg Biffle, 10-1; Kevin Harvick, 15-1; Jeff Gordon, 15-1; Kyle Busch, 18-1; Carl Edwards, 25-1; Clint Bowyer, 25-1; Martin Truex Jr., 30-1; Ryan Newman, 75-1; Joey Logano, 75-1.
Bell doesn't set odds on who will earn the two wild-card spots, but as you can see by the odds, Kahne and Gordon are favored.
August, 21, 2010
08/21/10
3:05
AM ET
BRISTOL, Tenn. -- Since when does a college education have anything to do with driving a Sprint Cup car?
Apparently, Ryan Newman thinks it does.
That was the case on Friday at Bristol Motor Speedway when Purdue graduate Newman discussed last week's postrace Michigan run-in with Joey Logano, resulting in both drivers being physically separated by NASCAR officials.
Newman still insists the 20-year-old Joe Gibbs Racing driver was at fault when the 39 car spun out, even though Logano and other drivers suggested Newman brought the accident on himself by side-drafting Logano too long.
"I think he lost it before he ever got into the corner," Newman said. "I'm pretty sure there's about 80 feet of asphalt there. He could have chosen any lane he wanted to. He drove up into me and hit me in the left rear quarter panel.
"He can call it what he wants. It's his story. I've got a college education. I didn't just get out of elementary school."
To refresh, Newman spun out after Logano got into the back of his car in Turn 4. Newman confronted Logano in the garage about 10 minutes after the race and told him he needed to "learn how to drive." When Logano's hand brushed Newman as the two argued, Newman said, "Don't touch me," and officials intervened.
Logano accused Newman of door-jamming him to the point that Newman took the air off Logano's car and got him out of control. Logano said at the time of the incident that he was "sideways because you were on my ... door." Logano also said Newman raced him too hard all the time, which several competitors said he shouldn't have said publicly even if it were true.
"I don't care how hard I raced him," Newman said. "Because he ran out of talent and drove into my car and thinks it's my fault -- I don't understand the logic there."
Let's go to a third party to see if he can explain it better. Kyle Busch says it's an "accurate assessment" to say Newman races people too hard every week. Although Logano is Busch's teammate, Kyle didn't seem to be taking sides as much as he was trying to make a point about side-drafting that led to him wrecking at the July race at Daytona.
"The thing that Joey should've been most upset about was Newman going in on his door and side-drafting him and spinning him out," Busch said. "That's a problem. You've gotta give guys room to race."
He says this without a college degree, so take it for what it's worth.
October, 14, 2009
10/14/09
11:17
AM ET
CHARLOTTE, N.C. -- Before we get to the first five selections for NASCAR's inaugural Hall of Fame class that will be named at 4 p.m. ET on Wednesday, let's get this out of the way: Tom Logano won't be on the list.
[+] Enlarge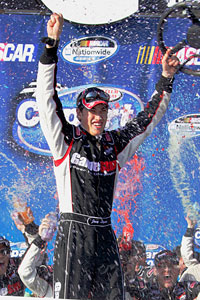 AP Photo/Reed SaxonWhile Joey Logano celebrated his Nationwide Series win Saturday at Auto Club Speedway, daddy Tom Logano was getting reprimanded by NASCAR.
His son, Joey, may one day 20 or 30 years from now.
But Daddy Logano won't ever be there. He also lost some votes for NASCAR's 2009 Father of the Year Award -- if there were such a thing -- after Saturday's pit road incident following the Nationwide Series race at Auto Club Speedway in California.
Let's rewind.
Greg Biffle sent Joey into the wall on Lap 50 after reportedly hinting over his in-car radio that he planned to do so. Joey received some damage, but not enough from keeping the 19-year-old phenom from winning the race.
While running down pit road toward Victory Lane, Tom, I'm told, saw Biffle's car headed to its pit stall. Instead of running past, Tom paused and made a gesture -- he gave him the finger, if you must know -- and said a few words that can't be repeated on a Web site owned by Disney.
Tom then was called to the Nationwide Series principal's office to meet with series director Joe Balash and a few Sprint Cup series officials. They took his hard card that gives him full access to the garage, which meant he had to stand in line for a single-event pass for Sunday's Cup race.
It was an inconvenience that Tom may have to deal with the rest of the season, but only an inconvenience.
I have mixed emotions about this. Having seen Little League fathers embarrass themselves countless times, my first inclination was to suggest the elder Logano be banned from a couple of races. What he did set a bad example.
But we're not dealing with 12-year-olds in Little League here. These are grown men, even if one of them still is a teenager.
And this is a family sport where family members curse and flip opponents off every weekend. You can count way past your middle finger how many times drivers flip each other off during a race, and NASCAR doesn't limit their access.
That Biffle reportedly said he was going to put Joey into the wall, apparently still miffed that Joey smashed in his fender a week earlier at Kansas, is the bigger issue.
If Brad Keselowski is warned for driving too aggressively against Juan Pablo Montoya in a Cup race as he was at Kansas two weeks ago, then a premeditated shot at another driver should warrant some sort of punishment, don't you think?
I'm not condoning what Tom did, but as a father I can imagine the anger he felt after thinking another driver purposely put his son in harm's way. It had only been a couple of weeks since he saw Joey roll the No. 20 seven times at Dover.
That day we saw images of him on television running toward the infield medical center to check on his son as any father would. I understood how he felt then, just as I understand how he felt on Saturday.
Could he have shown better judgment? Definitely. He told team president J.D. Gibbs he "messed up." He admitted to others I have talked to that he was embarrassed.
He also has been judged enough for it.
He wasn't a candidate for NASCAR's Hall anyway.
October, 2, 2009
10/02/09
11:22
AM ET
CHARLOTTE, N.C. -- The Sprint Cup cars of Jimmie Johnson and Mark Martin, which finished first and second on Sunday at Dover, were deemed "extremely close on some of the tolerances" during a postrace inspection at NASCAR's Research and Development Center.
Big deal.
Crew chiefs and now engineers have been pushing the gray areas for as long as the sport has existed. That is their job. As long as they stay within the rules, no matter how close to the tolerances, they have done nothing wrong.
[+] Enlarge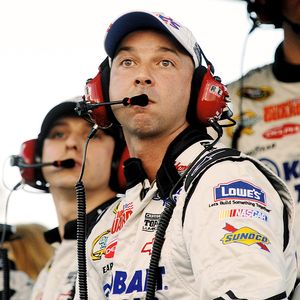 Mark J. Rebilas/US PresswireChad Knaus has been considered an innovator, and the car he put under Jimmie Johnson for the AAA 400 victory last Sunday apparently fit that bill.
NASCAR didn't penalize the two Hendrick Motorsports teams, so the cars are legal. Period.
You knew at some point a team would find a way to push tolerances in the new car, which supposedly has such a tight box that you can't push them without breaking the rules. You probably knew that it would be Johnson's crew chief, Chad Knaus.
Knaus has been referred to as one of NASCAR's greatest innovators. He's right there with his mentor, Ray Evernham, who pushed the gray area so far with Jeff Gordon's "T-Rex" car that won the 1997 All-Star race that the governing body told him not to bring it back to the track.
According to HMS officials, there has been no such mandate to the teams of Johnson and Martin this time. NASCAR's only statement has been this: "While both cars passed postrace inspection, we informed the 48 and 5 they were extremely close on some of the tolerances."
That doesn't make them cheaters, although Knaus has been called this more than his fair share of times. In 2006, he was suspended for the first four races after Johnson's car failed postqualifying inspection when a device that pushed the rear window out was discovered.
In 2007, he was suspended for six races after NASCAR found "unapproved" modifications to the fenders of the new car.
In both instances, NASCAR felt he and the team went past the line and brought down the hammer. There was no hammer this time for Knaus or Alan Gustafson, Martin's crew chief.
Not even a slap on the wrist.
"Kudos. Good job," said Evernham, now an analyst for ESPN. "Hey, that's why there are tolerances. As long as you know they didn't break the rule, they didn't break the rule. Take the limits as far as you can.
"If something is an advantage, wouldn't you go as far as you can go? In my opinion, they just did a great job. That's why those cars are winning. They're working harder at it to get an edge. If more is better, I'll take all I can get."
In this case the teams apparently found a way to offset the tail just enough to help the car stick to the track better and stay within NASCAR's rules. Unless the governing body makes it illegal, other teams surely will try it this weekend at Kansas or sometime in the near future.
That's why crew chiefs are paid the big bucks. If they sat back and did nothing, their drivers would be battling for a spot in the top 35 instead of a championship.
Yes, other crew chiefs and owners will gripe. What they should do is ask their crew chiefs why they can't find an edge.
This is almost a nonstory. It's like accusing Carl Edwards of being too close to the edge when he made that daring pass of Johnson last season at Kansas that didn't turn out so well.
He was just doing whatever he could within the rules to win a race.
That's what happened here.
Big deal.
September, 27, 2009
09/27/09
3:48
PM ET
DOVER, Del. -- Welcome to Talladega Superspeedway.
Oops! Make that Dover International Speedway.
Forget calling Talladega the only wild-card track in the Chase. Wild crashes can happen anywhere, at any time, as we saw on Lap 31 of Sunday's Sprint Cup race at the Monster Mile.
Joey Logano's No. 20 car flipped seven times coming off the back straightaway, dredging up images of crashes typically seen on that 2.5-mile restrictor-plate track in Alabama.
Logano walked away shaken but unscathed thanks to all the safety devices in the new car. Reed Sorenson, Martin Truex Jr. and Robby Gordon also avoided injuries even though their machines were trashed.
It could have been disastrous for Tony Stewart's hopes of a third title. The 2002 and 2005 champion inadvertently got into the back of the car he drove before this season when Logano checked up to avoid Bobby Labonte.
Stewart wound up with a hole in the front end of his car and minor damage to the right rear but was able to continue without losing a lap.
"I wish I had saw that coming," said Stewart, who led the point standings before they were reshuffled based on wins for the Chase, on the telecast. "I don't know how to say 'Sorry' enough to Joey. I don't know what happened. He just had to check up and I didn't see it coming."
Neither did Logano, who slid down into the grass and then back up onto the track in the unavoidable path of Sorenson, Gordon and Truex.
"It just really scared the heck out of me," the 19-year-old driver told a TV reporter. "I haven't seen a replay yet. I'm not sure I want to see a replay. It started rolling and I was in there like, 'Damn, please make this thing stop.'
"And it wouldn't. It just kept going and going. It goes to show how safe these cars are."
It also goes to show you that horrific accidents can happen at places other than Talladega, although that track gets most of the attention. Dover in particular is a place that can jump up and bite a driver -- or drivers -- at any time.
"We've seen a lot of really talented drivers wreck here just by themselves," Brian Vickers said earlier in the week. "There's going to be guys coming out of here that are big winners, and there's going to be guys that are probably going to come out of here big losers -- whether it's their fault or not."
Early on Sunday, Logano was the biggest loser and Stewart was the biggest winner.
"Yeah, I'm still shaking," Logano said. "I'm just happy it landed on its wheels. … It was the wildest ride I've ever been on. You can't go on a roller coaster any worse than that."
Even at Talladega.
March, 12, 2009
03/12/09
11:21
AM ET
DARLINGTON, S.C. -- An 18-year-old kid wearing a T-shirt stood on the wooden platform just off of Turn 1 at Darlington Raceway.
Vroom! Denny Hamlin's car blew past and the kid's head turned, watching how it exited the corner and entered Turn 2, avoiding the wall that drivers brush more than perhaps any other in the Sprint Cup Series.
Vroom! Elliott Sadler's car sailed past and the kid's head turned again, looking for whatever tips he could on getting around NASCAR's oldest superspeedway.
"Just checking things out, watching and seeing if I can learn something," the kid said. "It's only a couple of hours from home. Not a big deal."
The kid was Joey Logano. This was how he spent a sun-splashed, 80-degree Wednesday afternoon on what is an off week for Sprint Cup drivers unless you're one of the four invited to this Goodyear tire test at Darlington.
He's never driven a race car around the 1.366-mile facility many say is the toughest on the circuit because of its unusual egg shape. His only experience on the rough surface came a few minutes earlier when Hamlin, his teammate at Joe Gibbs Racing, took him for a spin in a rental car.
"That was scary enough," Logano said. "Don't sit on the right-hand side with a race car driver driving."
Many drivers will tell you that testing makes little difference in their Sunday performance. Not Logano. He would have benefited greatly from experience on a track that he's never circled until the Friday practice and qualifying session.
"Vegas was the same way," Logano said. "My first lap was in the pace truck 10 minutes before we go out and practice. How else are we supposed to do it?"
The first four races haven't gone exactly how Logano hoped or many predicted for one described as a phenom. He crashed and finished last in his debut at the Daytona 500. He finished 26th at California, 13th at Vegas and 30th at Atlanta -- the latter with a little nudge from the driver he replaced in the No. 20 Home Depot car.
"I don't know what he was trying to do there," Logano said of the late-race tap from Tony Stewart, who drove the car to two titles the past 10 years before going out on his own. "I haven't figured that out yet."
Logano hasn't figured a lot out. He's far from lived up to the preseason hype, ranked 33rd in driver and owner points. One slipup at next week's race at Bristol Motor Speedway and he could wind up out of the top 35 guaranteed a starting spot the following week at Martinsville.
"Yeah, man, of course you think about it," Logano said. "You don't want to think about it. You've got to go out and race."
That's why Logano was at Darlington instead of doing what most 18-year-olds do with a week off. He wants to soak up as much as he can to improve as fast as he can.
He even tossed his helmet and fire suit into the passenger seat of his Toyota FJ Cruiser just in case he was allowed a real lap around the track.
"You never know," he said. "You always keep your helmet and suit in the car no matter what."
And no, Logano didn't take a spin around the track in his Cruiser. "I don't think the FJ will handle good around this track," he said.
But Logano believes he'll see marked improvement in the handling of his race car the deeper he gets into the season. He believes the next two races will be easier because aerodynamics that frustrated him at some of the larger tracks won't be a factor.
But for the rest of the week he'll go back to being an 18-year-old with a week off, although he's not entirely sure what to do.
"It's going to get cold and rainy and I'm pissed off about that, dude," he said. "I wanted to go to Myrtle Beach."