Stewart off to solid start as owner and driver
March, 31, 2009
03/31/09
7:05
PM ET
CHARLOTTE, N.C. -- OK, who kidnapped Tony Stewart and what do we have to pay to get him back?
The Stewart I listened to for more than 30 minutes on a Tuesday afternoon conference call sounded like the voice of the two-time Sprint Cup champion, but was much too calm, much too content, much too practical to really be him.
[+] Enlarge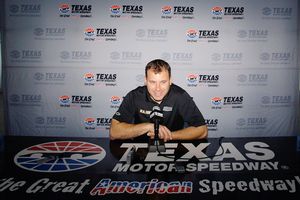 AP Photo/Matt SlocumRyan Newman is on the rise heading to Texas Motor Speedway, and that makes boss Tony Stewart happy.
There was no shot at Goodyear, no questioning of NASCAR, no controversial statements or comments that could be taken in or out of context the wrong way.
He sounded like an … owner.
Oops. Forgot. He is.
And a pretty good one from what we've seen so far. In six weeks he has turned an organization that had absolutely no chance of winning a race, much less a title, into a legitimate contender for both.
Sunday's third-place finish at Martinsville was higher than any in the eight-year history of Haas CNC Racing before it became Stewart-Haas Racing this season. Johnny Sauter finished fifth at Richmond in 2007, but no other Haas driver scratched the top five.
In fact, Haas drivers had only 14 top-10s in 284 races, only one all of last season. Stewart and teammate Ryan Newman already have six, including two at Martinsville.
I'm not sure Haas CNC ever had two drivers in the top 10 in one race.
It also can't go without mention that Stewart is ranked seventh in points and Newman 18th. No Haas driver finished in the top 20 and I'm pretty sure there wasn't one in the top 10 after six events.
No wonder Stewart was in such a good mood. But he's not getting cocky. He's not scrambling to find sponsorships for a third or fourth team, even though that was the goal of the organization before he came on board.
He wants to make sure he and Newman can contend for wins and championships before considering expansion.
"I don't know that it'll happen for next year," Stewart said. "Right now, I want to make sure I give Ryan and I the best opportunity to run for a championship. Until we have that I don't know that diluting into a three- or four-car operation is the best thing right now."
Nobody ever said Stewart was stupid. But perhaps this ownership thing is good for him. He admitted there have been times when he would have left Martinsville mad after a third-place finish. As an owner he understands success isn't always measured in wins, although that contradicts the way he thinks as a driver.
To realize that in six weeks he's competed on almost even terms with Hendrick Motorsports, Roush Fenway Racing and even his former organization, Joe Gibbs Racing, has been almost humbling.
"Success isn't just necessarily measured by wins," Stewart said. "It's measuring yourself against the competition. … A win is more of an individual feeling. Being a car owner helped put that in perspective."
Maybe this is the new improved Stewart. Maybe all those hauler lectures from former team owner Joe Gibbs about how to talk to the media are sinking in.
Maybe Kyle Busch should get into ownership.