Junior's bump should have ended in hauler visit
April, 20, 2009
04/20/09
1:01
PM ET
CHARLOTTE, N.C. -- NASCAR will deny there is such a thing as the "Junior Rules" -- one set of standards for Dale Earnhardt Jr. and another for the rest of the Sprint Cup garage.
But there is that perception among fans, competitors and even a few in the media.
Saturday night's race at Phoenix International Raceway did nothing to dispel it.
[+] Enlarge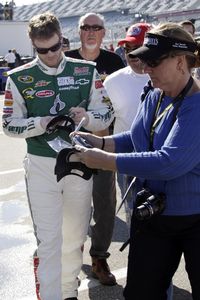 AP Photo/Terry RennaDale Earnhardt Jr. has his fans, but he seems to be gaining some detractors among his peers.
Earnhardt, apparently upset by his late-race fade and having been sent into the wall by Casey Mears, spun out Mears on the cool-down lap following his 31st-place finish, which dropped Earnhardt to 19th in points. Mears responded by giving Earnhardt a bump on his way to pit road.
Neither was called to the hauler, and NASCAR officials said they don't plan to review the incident.
That's fine. Nobody was hurt or put in real danger by the incident.
Here's NASCAR's problem: Last season Kyle Busch and Carl Edwards were placed on probation for bumping into each other during the cool-down lap following the August race at Bristol.
In 2006, Edwards was fined $20,000 and placed on probation for hitting Earnhardt's car on the cool-down lap following a Nationwide Series race at Michigan.
In 2004, Jamie McMurray was fined $10,000 and placed on probation for making deliberate contact with Matt Kenseth's car following a race at Bristol.
There are other examples, but this is enough to demonstrate a precedent for postrace incidents. By not calling Earnhardt to the hauler, or at least reviewing the incident, there appears to be a double standard when it comes to NASCAR's most popular driver.
Mears doesn't deny he accidentally got into the side of Earnhardt on lap 300 of 312 when he "wheel-hopped his car getting into the corner." He also made it clear Earnhardt intentionally got into him on the cool-down lap.
"I guess he was a little bent out of shape about it, because he spun me out after the checkered flag," Mears said.
This isn't the first time this season that Earnhardt has appeared to get the benefit of the doubt. In the opener at Daytona, he caused a huge wreck that impacted the outcome when he got into the back of Brian Vickers' car after being forced below the yellow line.
A day earlier, Jason Leffler was held for five laps in the Nationwide Series for making a similar move that NASCAR ruled as "aggressive driving."
Vickers wondered publicly why one was penalized and the other wasn't. NASCAR's director of competition, Robin Pemberton, simply said it was two guys racing hard. "You could say it's a mistake. Guys were just being very aggressive."
You make the call.
Other competitors also have indicated Earnhardt gets breaks. You could hear sarcasm dripping from Busch's tongue at Bristol when NASCAR called caution for debris, putting Earnhardt back on the lead lap.
"Eighty-eight, lucky dog," he said with a laugh over his car radio. "Hahahahaha."
I'm not willing to say there's favoritism at work here, but there is enough ammunition for Oliver Stone to consider another conspiracy-theory movie.
There is little doubt about Earnhardt's intent at Phoenix. That NASCAR has a history of placing drivers on probation for such incidents leaves the governing body vulnerable.
That, to paraphrase one fan's e-mail, is all I'm sayin'.