Bobby Allison's Coke car tops this list
May, 20, 2011
05/20/11
1:45
PM ET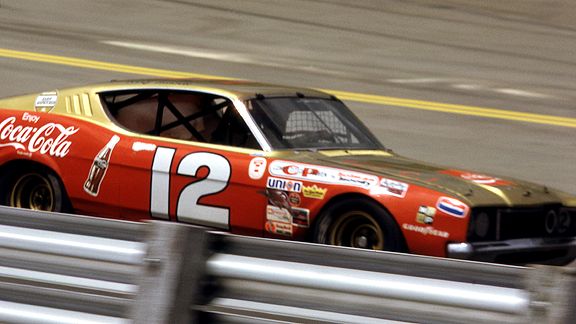 Dozier Mobley/Getty ImagesWhy does Bobby Allison's Coca-Cola No. 12 rate as David Newton's all-time favorite? Have to ask?
ESPN.com likes lists and polls -- a lot. We recently had a poll on what NFL team has the best helmet. I'm partial to the Minnesota Vikings' purple lids myself.
But it got me thinking: Who has the best paint scheme -- or as most are these days, wrap schemes -- in NASCAR?
It's a good question for this weekend because so many teams have special schemes for Saturday's All-Star Race at Charlotte Motor Speedway. Drivers such as Jimmie Johnson and Mark Martin even have new numbers -- Johnson the 5 to promote a 5 percent off deal for his sponsor, and Martin the 25 as a throwback commemorating owner Rick Hendrick's first car 25 years ago.
Yeah, that part will be confusing, although Johnson plans to keep his No. 48 pit board knowing he surely would drive by the 5 stall.
The problem with compiling this list is cars have so many different schemes these days. Kyle Busch may be in the M&Ms No. 18 one week, Wrigley's Doublemint gum the next, Snickers the next, Pedigree the next and Interstate Batteries the next.
It's not like the old days when we could almost guarantee that Richard Petty would be in the Petty Blue No. 43 STP car, Dale Earnhardt would be in the black No. 3 GM Goodwrench car and Jeff Gordon would be in the rainbow-colored No. 24 DuPont car.
But we're going to try this anyway. And for the fun of it, let's go with two lists, my all-time favorite paint schemes and current favorites. (You can tell by my all-time list that I'm a traditionalist.)
All-time favorites
1. Bobby Allison's Coca-Cola No. 12 -- Like many kids back in the day, I picked my favorite driver based on the car and paint scheme. I'd give Allison his 85th win back to see this back on the track.
2. David Pearson's Purolator No. 21 -- Vintage, just like the Silver Fox.
3. Dale Earnhardt's GM Goodwrench No. 3 -- You didn't have to look twice in the rearview mirror to know who was driving this. Enough said.
4. Harry Gant's Skoal Bandit No. 33 -- It's hard to think about NASCAR without thinking of "The Green Machine."
5. Darrell Waltrip's Mountain Dew No. 11 -- Dale Earnhardt Jr. first copied this with a retro look at Darlington in 2008. Anything worth copying is worthy of my vote.
Current favorites
1. Kevin Harvick's Budweiser No. 29 -- Classic look with black paint scheme, maybe the best Bud car of all time.
2. Dale Earnhardt Jr.'s Diet Dew No. 88 -- You had to know this was coming after I picked Darrell Waltrip's Dew scheme as an all-time favorite.
3. Kyle Busch's Interstate Batteries No. 18 -- You thought I was going with the pink "Love to Love" car, right? Love the way the battery looks like it's crashing through the paint on the hood.
4. Mark Martin's Quaker State No. 5 -- Guess I have a soft spot for green paint schemes.
5. Trevor Bayne's Purolator No. 21 -- Told you I was a traditionalist.
Want to chime in with your favorite paint schemes? Post a comment below ...