Category archive:

Bruno Junqueira
April, 13, 2010
04/13/10
11:51
AM ET
LEEDS, Ala. -- The Izod IndyCar Series would greatly benefit if two of Andretti Autosport's drivers could find a way to win a race.
One of them looks like he is ready to deliver.
While Danica Patrick struggled to a 19th-place finish in the inaugural Indy Grand Prix of Alabama, her AA teammate Marco Andretti led 58 of 90 laps at Barber Motorsports Park. And while the 23-year-old Pennsylvanian ultimately finished only fifth after making a late splash-and-go pit stop, he served notice -- and not for the first time in 2010 -- that his next IndyCar race win is going to happen sooner rather than later.
[+] Enlarge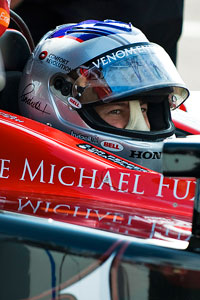 AP Photo/Steve NesiusMarco Andretti led 58 of 90 laps at Barber Motorsports Park on Sunday, but he had to settle for fifth after a late stop for fuel.
He's in his fifth year of racing Indy cars, but Sunday at Barber was perhaps Marco's most impressive performance to date. It certainly drew words of praise from his competitors.
"I thought he drove a great race and did a bloody good job," observed defending series champion Dario Franchitti.
"On a track where it's so difficult to pass, he did a great job -- a hell of a job," chipped in Scott Dixon.
After some of the challenging time he's encountered since claiming his first (and only) IndyCar win at Infineon Raceway back in August 2006, leading a ton of laps and notching a fifth-place finish could have seemed like a victory for Andretti, his father, team owner Michael Andretti, and strategist Kyle Moyer. Marco was still pretty glum in the aftermath, but he wasn't pouting or complaining.
"We have to be happy to put this thing in the top five after our disaster on road courses last year," Andretti said. "We'll just keep marching forward. The four of us are working together to improve these race cars. We're still a little bit off as far as pace goes. Here I was looking a bit stronger than maybe anywhere else just because it's tough to overtake. So it was easier for me to control the race.
"The good thing was when we needed to push, we could," he continued. "The car was giving it to me. We were just kind of conserving the front tires and conserving fuel. I'm yet to doubt myself. We need to just keep working on the car to make it easier on us."
Andretti certainly caught Castroneves by surprise when he barged past on a Lap 17 restart. But following instead of leading caused Team Penske to change Helio's strategy and ultimately won him the race.
"Marco did a good job in passing me," Castroneves said. "In fact, he kind of like pushed me away. And he was driving like he was more patient this time. His driving reminded me of his father, Michael Andretti. He did a hell of a job.
"I felt like I had a better car than Marco, but unfortunately, I just couldn't pass him. And I was just patient and waiting for an opportunity, and, well, I guess we were able to be smart enough to save a lot of fuel."
Andretti eventually started saving fuel, but it was too late to allow him to commit to a two-pit-stop strategy. Moyer accepted the responsibility for not recognizing early enough that Barber was developing into a fuel race.
"We were good enough to win," Moyer said. "But that one you can blame on me. We should have been saving fuel after we stayed out on the first yellow. Everybody else did and we didn't. That's my mistake. He was doing exactly what he was told.
"We should have won this one."
Once again showing signs he is maturing, Andretti refused to blame Moyer -- or anyone else at Andretti Autosport.
"Each time, Helio just went longer than me and longer than me, and that was the difference after the last stop," Marco explained. "We fell a bit short. It would have been close with that last yellow, so I'm a little disappointed."
In 2009, the Andretti Autosport team suffered through its least competitive championship campaign in its eight years in the IndyCar Series. Based on circumstantial evidence from the first three races of 2010, it looks like the team is on the way back. Andretti has been consistently the quickest of the AA foursome; Tony Kanaan scored his first podium of the season, and Ryan Hunter-Reay had a second-place run in the season opener at Brazil.
The only AA driver not regularly running near the front is Patrick, who has struggled mightily in the sequence of road races that open this year's IndyCar title tilt.
Moyer, who has held key management roles with Andretti Autosport and its former iterations since the team started out at Forsythe/Green Racing in 1994, is convinced that AA in general -- and Marco in particular -- is ready to mix it up with the dominant Penske and Ganassi teams.
"The one good thing about this is the team is working together well and Marco is driving great," Moyer said. "We saw that last race and we saw it again today.
"Now it's just time for us to get our stuff together and get something happening."
April, 5, 2010
04/05/10
10:33
AM ET
The Izod IndyCar Series had gained some leadership and direction in terms of determining its new engine and chassis formula for the future. But the decision remains controversial.
Spurred by the unveiling of the radical Delta Wing concept, there's been a lot of recent talk about the new chassis. But things have gone quiet on the engine front.
[+] Enlarge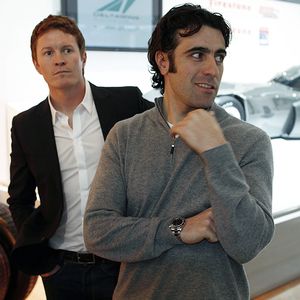 AP Photo/Jim PrischingIndyCar Series stars Scott Dixon, left, and Dario Franchitti were on hand for the unveiling of the 2012 Delta Wing concept car Feb. 10 in Chicago.
That is, until Roger Penske, the most successful team owner in Indy car racing history, stepped into the fray when he met with reporters at the Honda Grand Prix of St. Petersburg.
Citing cost concerns for the teams, Penske advocated introducing the new engine formula first and retrofitting it into the current Dallara chassis, which has been the default chassis of the IndyCar Series since 2003.
"Let's make each step one at a time rather than two steps at once," Penske commented. "I'm all about saving costs right now for all of the teams. I'm not sure if we change cars right now we are going to put 50,000 more people in the stands."
He added: "I don't think it changed NASCAR when we went from the old car to the [Car of Tomorrow], so we just have to look at it. Our team has probably got to have seven or eight cars, so you're talking $2-3 million, plus all your parts. I think they've got to consider that."
Indy Racing League CEO Randy Bernard has met with Penske, and he seems to be leaning toward delaying the introduction of a new technical package until 2013. It's a tricky situation to balance for Bernard:
On the one hand, public perception is that the IndyCar Series badly needs a new design to replace the aged and unpopular Dallara. On the other hand, in the current economic climate, can competitors -- even well-funded ones like Team Penske and Target Chip Ganassi Racing -- afford to make a major equipment change?
One point that shoots down Penske's argument is that the new engine formula is expected to lower engine costs, whether it is the turbocharged V-6 favored by current IndyCar supplier Honda or an inline-4 being pushed by alternate manufacturers.
Bernard is counting in particular on Gil de Ferran, who has been nominated as the team owner representative for the seven-member advisory committee chaired by retired US Air Force General William Looney.
"I think it's very important for Gil to do a team owner survey to see exactly what is important to the team owners," Bernard told reporters at St. Petersburg. "Can they afford, in this economic situation right now, to move into a new car in 2012? Do they like leasing their engines rather than owning their engines? Questions like that.
"I don't want to just shoot from the hip. We could have announced a car last week, and that would have created negative vibes among our fan base and our team owners and sponsors. We need a new car for perception, but if you look at how close some of these races are, the fans love the closeness of these races. We've got something working for us and we have momentum. We have more cars now than we have in the past four years.
"This is one chance that IndyCar can continue to build momentum by making sure this process is well done and well thought out," Bernard concluded. "If the advisory committee comes back and says we need to wait until 2013, we need to think about that."
While the chassis will provide the visual identity for the Indy car of the future, the engine is probably a more important element. Once again, a number of factors need to be considered. Obviously there is the basic format. What kind of fuel should the new powerplant use? How much relevance to street car engine technology should be part of the package?
My own transportation during the St. Petersburg race week was a 2010 Ford Fusion Hybrid, a vehicle I was highly impressed by after driving it. The car's transition from electric to gasoline power was seamless and unobtrusive, performance was on par with a V-6 Fusion, and I averaged 35.5 miles per gallon in more than 300 miles of varied driving. The standard V-6 Fusion probably would have returned mileage in the low to mid-20s.
You could argue that relevance to street car technology is much more important to stock car racing. Of course, NASCAR is legendary in its refusal to adopt modern technology; its spec cars still feature carburetors some 55 years after fuel injection was introduced into Formula One, and the design of basic components such as the live rear axle date to the early '60s.
Formula car racing, on the other hand, has always been about new and advanced technology -- which often carries a higher price tag. But it also provides open-wheel racing with a bit of cache for serious gearheads who love to watch the development of the latest and greatest technology. It also offers car manufacturers an avenue to filter racing technology into their road cars and genuinely prove the adage "Race on Sunday, sell on Monday."
These are the questions the IndyCar technical advisory committee -- and ultimately Randy Bernard -- must grapple with. And with a decision on Indy car racing's future technical direction expected by June 1, time is running short.
April, 1, 2010
04/01/10
5:31
PM ET
For the last several years, the Indianapolis 500 has scrambled to come up with 33 starters. Shoot, there were times when it appeared the Memorial Day Classic would struggle just to put together 33 entries.
That doesn't appear to be the case in 2010, another sign that the IZOD IndyCar Series is picking up momentum. Twenty-four cars started the first two races of the season in Brazil and St. Petersburg; there are already eight additional entries confirmed for the Indy 500, and there could be as many as 10 more when the shortened practice and qualifying format takes the green flag May 15.
In addition to the 24 cars that competed in St. Petersburg, seven teams have already revealed extra Indy entries (de Ferran/Luczo Dragon Racing -- Davey Hamilton; Bryan Herta Autosport -- Sebastian Saveedra; Sarah Fisher Racing -- Jay Howard; Sam Schmidt Motorsports in association with Ganassi Racing -- Townsend Bell; Andretti Autosport - John Andretti; Conquest Racing -- Bernard Baguette; and FAZZT Race Team -- Bruno Junqueira; KV Racing Technology -- Paul Tracy).
[+] Enlarge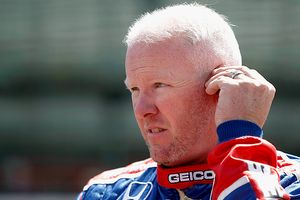 Jonathan Ferrey/Getty ImagesHe's back? Yes, Paul Tracy is expected to race in the Indy 500.
Of that group, the Junqueira/FAZZT link-up is the most compelling story. Last year, the vagaries of Indy's complicated qualifying system led to Junqueira qualifying Conquest's second entry after Alex Tagliani was bumped out of the field. Citing commercial reasons, Conquest then nominated Tagliani to race the car that Junqueira had qualified after only 13 practice laps.
Junqueira was rightfully crushed, but fate has a funny way of working things out. Tagliani now drives for the newly formed FAZZT team, and when it was realized that FAZZT had the budget to run a second car at Indy, there was no hesitation about whom to hire.
"Because we have enough sponsorship to run a second car at Indianapolis, we felt it important to give that chance to Bruno," Tagliani said in a team statement. "Last year with Bruno as the second driver in the team I was at, he let his spot in the field go after I had a mishap in qualifying. And it turned out, I had a pretty good race at the Indy 500 so it is a nice way to say 'thank you' to Bruno for what he did for me last year."
Junqueira has had a roller-coaster career at Indianapolis Motor Speedway; he qualified on pole position for the 2002 event but suffered the worst accident of his career in the 2005 race, breaking his back after being put into the wall by A.J. Foyt IV.
Junqueira has notched two top-5 finishes at the Speedway, and the 33-year old Brazilian is delighted he will be back in the mix at IMS.
"To win at Indianapolis has always been a dream of mine," Junqueira said. "I've had some very competitive opportunities at Indianapolis, and I hope that in 2010 I am able to complete my dream of a win at Indianapolis since I have been so close in the past. The FAZZT team will give me the resources and support to compete in a car that has the capabilities of winning at the Indianapolis 500."
The John Andretti/Andretti Autosport pairing is the latest chapter in the long Andretti family saga at Indianapolis. Mario Andretti's victory in the 1969 Indy 500 remains the family's only triumph at Indianapolis; Mario's son, Andretti Autosport owner Michael Andretti, and Michael's son Marco Andretti have both led the race and finished second.
John Andretti is the son of Mario Andretti's twin brother, Aldo, and is Michael's cousin. He has made 10 Indianapolis 500 starts with a best finish of fifth in 1991.
For the second year in a row, John Andretti's Indy effort is in conjunction with NASCAR team Richard Petty Motorsports and sponsored by Window World. The car will carry the iconic Petty Blue/DayGlo red colors and the number 43.
"It would be difficult to script a scenario any better than the one we have here," John Andretti said. "The relationship I have with Richard, the respect I have for Michael and his team, the partnership I enjoy with Window World, and all of it focused on the Indianapolis 500 -- it's really a perfect situation.
"I can't wait to get in the car and get to work. May can't get here soon enough."
"I have a lot of respect for John's talent -- I always have," Michael Andretti added. "I really think he will fit in very well at Andretti Autosport and can be a factor during the month of May."
Still to be confirmed, but expected, are additional entries from Newman/Haas/Lanigan Racing with driver Graham Rahal, A.J. Foyt Racing (Foyt IV), Dreyer & Reinbold Racing (Ana Beatriz), and Vision Racing (Ed Carpenter). Other teams that are likely to post entries include Hemelgarn Racing (with driver Buddy Lazier), Panther Racing, Team 3G and Rahal Letterman Racing.
The combination of more cars, less practice time and fewer qualifying days should make for the most exciting Month of May during the Indy Racing League era (1996-present). There promises to be significant excitement on Bump Day, and the 94th running of the Indianapolis 500 should also boast the strongest field in the modern era.
All in all, this is a month of May for Indy car racing fans to really look forward to.