Category archive:

Paul Tracy
April, 1, 2010
04/01/10
5:31
PM ET
For the last several years, the Indianapolis 500 has scrambled to come up with 33 starters. Shoot, there were times when it appeared the Memorial Day Classic would struggle just to put together 33 entries.
That doesn't appear to be the case in 2010, another sign that the IZOD IndyCar Series is picking up momentum. Twenty-four cars started the first two races of the season in Brazil and St. Petersburg; there are already eight additional entries confirmed for the Indy 500, and there could be as many as 10 more when the shortened practice and qualifying format takes the green flag May 15.
In addition to the 24 cars that competed in St. Petersburg, seven teams have already revealed extra Indy entries (de Ferran/Luczo Dragon Racing -- Davey Hamilton; Bryan Herta Autosport -- Sebastian Saveedra; Sarah Fisher Racing -- Jay Howard; Sam Schmidt Motorsports in association with Ganassi Racing -- Townsend Bell; Andretti Autosport - John Andretti; Conquest Racing -- Bernard Baguette; and FAZZT Race Team -- Bruno Junqueira; KV Racing Technology -- Paul Tracy).
[+] Enlarge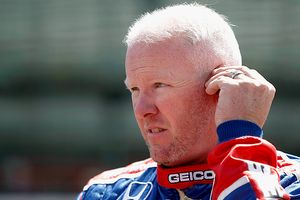 Jonathan Ferrey/Getty ImagesHe's back? Yes, Paul Tracy is expected to race in the Indy 500.
Of that group, the Junqueira/FAZZT link-up is the most compelling story. Last year, the vagaries of Indy's complicated qualifying system led to Junqueira qualifying Conquest's second entry after Alex Tagliani was bumped out of the field. Citing commercial reasons, Conquest then nominated Tagliani to race the car that Junqueira had qualified after only 13 practice laps.
Junqueira was rightfully crushed, but fate has a funny way of working things out. Tagliani now drives for the newly formed FAZZT team, and when it was realized that FAZZT had the budget to run a second car at Indy, there was no hesitation about whom to hire.
"Because we have enough sponsorship to run a second car at Indianapolis, we felt it important to give that chance to Bruno," Tagliani said in a team statement. "Last year with Bruno as the second driver in the team I was at, he let his spot in the field go after I had a mishap in qualifying. And it turned out, I had a pretty good race at the Indy 500 so it is a nice way to say 'thank you' to Bruno for what he did for me last year."
Junqueira has had a roller-coaster career at Indianapolis Motor Speedway; he qualified on pole position for the 2002 event but suffered the worst accident of his career in the 2005 race, breaking his back after being put into the wall by A.J. Foyt IV.
Junqueira has notched two top-5 finishes at the Speedway, and the 33-year old Brazilian is delighted he will be back in the mix at IMS.
"To win at Indianapolis has always been a dream of mine," Junqueira said. "I've had some very competitive opportunities at Indianapolis, and I hope that in 2010 I am able to complete my dream of a win at Indianapolis since I have been so close in the past. The FAZZT team will give me the resources and support to compete in a car that has the capabilities of winning at the Indianapolis 500."
The John Andretti/Andretti Autosport pairing is the latest chapter in the long Andretti family saga at Indianapolis. Mario Andretti's victory in the 1969 Indy 500 remains the family's only triumph at Indianapolis; Mario's son, Andretti Autosport owner Michael Andretti, and Michael's son Marco Andretti have both led the race and finished second.
John Andretti is the son of Mario Andretti's twin brother, Aldo, and is Michael's cousin. He has made 10 Indianapolis 500 starts with a best finish of fifth in 1991.
For the second year in a row, John Andretti's Indy effort is in conjunction with NASCAR team Richard Petty Motorsports and sponsored by Window World. The car will carry the iconic Petty Blue/DayGlo red colors and the number 43.
"It would be difficult to script a scenario any better than the one we have here," John Andretti said. "The relationship I have with Richard, the respect I have for Michael and his team, the partnership I enjoy with Window World, and all of it focused on the Indianapolis 500 -- it's really a perfect situation.
"I can't wait to get in the car and get to work. May can't get here soon enough."
"I have a lot of respect for John's talent -- I always have," Michael Andretti added. "I really think he will fit in very well at Andretti Autosport and can be a factor during the month of May."
Still to be confirmed, but expected, are additional entries from Newman/Haas/Lanigan Racing with driver Graham Rahal, A.J. Foyt Racing (Foyt IV), Dreyer & Reinbold Racing (Ana Beatriz), and Vision Racing (Ed Carpenter). Other teams that are likely to post entries include Hemelgarn Racing (with driver Buddy Lazier), Panther Racing, Team 3G and Rahal Letterman Racing.
The combination of more cars, less practice time and fewer qualifying days should make for the most exciting Month of May during the Indy Racing League era (1996-present). There promises to be significant excitement on Bump Day, and the 94th running of the Indianapolis 500 should also boast the strongest field in the modern era.
All in all, this is a month of May for Indy car racing fans to really look forward to.
July, 12, 2009
07/12/09
5:33
PM ET
TORONTO -- The IndyCar Series' Summer of Irony continued, as the Toronto street course produced arguably the most exciting race of the season.
It's a sign of the times that most folks involved in a series created to preserve oval competition were looking forward to having a street race to spice up the show.
Dario Franchitti won the revived Honda Indy Toronto to re-take the IndyCar Series championship lead after an unpredictable afternoon of slam-bang racing in which Helio Castroneves temporarily turned into Canada's Public Enemy No. 1.
Team Penske's Ryan Briscoe and Will Power overcame first-lap delays to fill out the podium and a pair of Canadians starred, but ultimately didn't figure in the final reckoning. Alex Tagliani led 21 laps, but luck was not on his side in the end, while local favorite Paul Tracy was at the center of the excitement before he and Castroneves controversially crashed out on the 65th of 85 laps.
Tracy made a series of passes under braking for the Turn 3 hairpin at the end of the back straight, but Castroneves tried to maintain second place in the run out of the corner and stuck Tracy's KV Racing entry into the wall.
"I don't think he did it intentionally," Tracy said. "I think we got screwed in the pits and I was trying to keep up with Dario. We showed we can run with those guys. It's a sad way to end the day, but I guess that's why they call me 'The Thrill,' right?"
The Canadian crowd heartily booed Castroneves when he arrived back at the pits to the horror of team boss Roger Penske.
"[Tracy] would be the last guy I'd take out in Canada, obviously," Castroneves said. "I still love Canada, don't get me wrong. It's the way it is. People love you and people hate you, especially after what happened in 2002 [when Castroneves edged Tracy in the disputed finish of the Indianapolis 500]."
Franchitti was already in the pits when the yellow flag waved for Ed Carpenter's Lap 59 spin. Tagliani was set to stop a lap later, and was the latest driver to be adversely affected by the IndyCar Series' pit closure rule. The native of Quebec, who is running a part-time schedule for Conquest Racing, finished a disappointed ninth.
"For a part-time team it's very good," Tagliani said. "We showed we can dominate, and I thought we had it in our pocket today."
After winning the Toronto race ten years ago, when it was one of the top events in the CART-sanctioned IndyCar Series, Franchitti turned in a textbook performance to claim his third win of the 2009 season.
Castroneves' DNF turned the IndyCar championship into a three-man contest, with Franchitti, Scott Dixon and Briscoe separated by just 13 points.
Dixon finished fourth Sunday at Toronto behind the Penske cars driven by Briscoe and Power, both of which were forced to pit after suffering punctured tires on the opening lap.
The design of the Toronto street course allowed them to race back into contention.
[+] Enlarge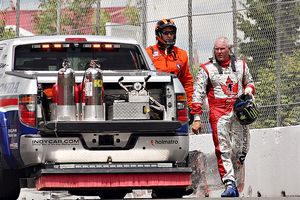 AP Photo/Graham JardinePaul Tracy had his day end early with a walk to the safety truck after his car made contact with Helio Castroneves'.
"It's one of the few street courses I've ever been at where you can actually pass cars and go racing, so it was fun," Briscoe observed.
"That was what I call a race," Power added. "I passed a lot of cars and had a lot of fun.
"Having a really long straight going into a hairpin type of turn with heaps of room, that's what you need at every track. If you're fast, you can get through the field without worrying about using fuel."
Even if Castroneves can't pull himself back into championship contention, it should be a good fight between Franchitti, Dixon and Briscoe.
Briscoe hasn't won since the season opener, but his series of second place finishes has left him in a solid position to make a run at the title.
"I'm trying to win, don't worry," he said. "In the last two races I think I've gained 10 or 13 points to the championship lead, so it's not all bad. I'm doing my best and hopefully we'll get some wins."
In Franchitti's last championship run (2007, when he drove for Andretti Green Racing), he built a big points lead and held on down the stretch. With seven races left and just a three-point lead over his teammate, he won't have that luxury this year.
"Everyone makes mistakes, and everybody also gets caught up in other people's problems," Franchitti said. "Last week [at Watkins Glen] I got caught in somebody else's spin, and it destroyed my race. It's all about how much risk you want to take. There were a couple times today where I felt if I took a risk I would end up with a bent race car.
"We've got to keep finishing races. One week Scott's going to be better than me or I'll be better than him, but we'll go out and race each other and have fun."