Category archive:

Justin Wilson
April, 20, 2010
04/20/10
1:10
PM ET
You can refute the argument that drivers play only a small part in winning races in the Izod IndyCar Series with two words:
The 30-year-old from Sheffield, England, won last year's IndyCar race at Watkins Glen for perennial tailender Dale Coyne Racing. And he did it with speed and savvy, not through a lucky full-course caution or Hail Mary fuel strategy.
[+] Enlarge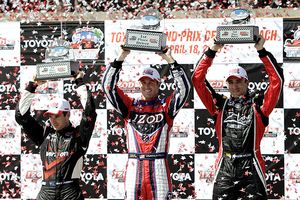 AP Photo/Jae C. HongJustin Wilson, right, shared the Toyota Grand Prix of Long Beach podium with winner Ryan Hunter-Reay, center, and third-place finisher Will Power.
Wilson switched to Dreyer & Reinbold Racing this year and finished second in two of the first four races of the 2010 season, regularly beating the heavy favorites from Team Penske and Target Chip Ganassi Racing.
"It was fun to pass Will [Power, the championship leader of Team Penske] after all the success he's had this year," Wilson said after his second-place run in the Toyota Grand Prix of Long Beach. "That made me feel good, and I think it was just a very positive day for everyone at Dreyer & Reinbold. We've worked really hard, and we keep making improvements."
After helping to transform Coyne's team from a field filler into a winner, Wilson was expected to stay on with DCR in 2010. But key engineering departures and Coyne's desire to lock Wilson into a multiyear deal caused J-Wil to look elsewhere.
He landed with Dreyer & Reinbold, the team established by Indianapolis car dealer Dennis Reinbold and former IRL driver Robbie Buhl in 2000. And although D&R has vaulted from the midfield to the front at the four road races to start the IndyCar Series season, Coyne has dropped to the very back with drivers Milka Duno and Alex Lloyd.
"When I went to the [D&R] workshop for the first time about four months ago, I saw everything they were working on and all the potential there," Wilson said. "It's a great team, and everything is coming together. A little bit of continuity is going to go a long way because I think we have all the right parts and all the right pieces to the puzzle -- the personnel and the work that they do. It's just going to take a little bit of time for us all to get used to each other.
"We go through the weekend and develop the car and think, 'If only we could start the weekend like this!' That's where the continuity is really going to come in."
Buhl won Dreyer & Reinbold's first IndyCar Series race, but Wilson's pair of seconds matched the closest the team has come to returning to Victory Circle. After running a rotation system of drivers last year that included Duno and Tomas Scheckter, D&R is sticking to a core two-driver lineup of Wilson and fellow Briton Mike Conway, who is in his second year of racing Indy cars.
Conway shined in practice and qualifying at Barber Motorsports Park, where he lined up on the outside of the front row. He finished ninth in the race, two positions behind Wilson, and has finished in the top 10 in three of four starts this year.
Wilson managed to come home second at Long Beach despite losing a front wing when his car was clipped by backmarker Lloyd.
"I had the door slammed in my face," Wilson said. "I made a move to back out of it, but the guy came right across the apex and clipped the curb even. I was pretty frustrated by what I thought was poor racing, and we lost the front nose. Everyone on the crew did a great job switching out the nose, and we did our pit stop at the same time. Then it was tight until the end on fuel, but we managed to make it and actually ran out of fuel on the in-lap.
"All weekend I said the Z-Line Designs car has been really quick. We had the potential to win this race. Today we were in the battle and unfortunately we didn't get first, but it was a good day."
Wilson, an acknowledged road-course ace, will begin his acid test at Kansas Speedway when the IndyCar Series transitions into a series of oval races. He says he's ready for the challenge.
"I'm really looking forward to the ovals," Wilson said. "I think we have an opportunity to be close to the front -- maybe not challenging for the win, but I think we can be much further up. I have a lot of confidence. I know what I want from the car and how to get it.
"I'm looking forward to learning from Dreyer & Reinbold. They've done a lot of oval racing, and my engineer [Matt Curry] is more in tune with the oval racing. That's where his background is, and I think the two of us make a good combination. A lot to learn, but I'm looking forward to it."
July, 12, 2009
07/12/09
5:33
PM ET
TORONTO -- The IndyCar Series' Summer of Irony continued, as the Toronto street course produced arguably the most exciting race of the season.
It's a sign of the times that most folks involved in a series created to preserve oval competition were looking forward to having a street race to spice up the show.
Dario Franchitti won the revived Honda Indy Toronto to re-take the IndyCar Series championship lead after an unpredictable afternoon of slam-bang racing in which Helio Castroneves temporarily turned into Canada's Public Enemy No. 1.
Team Penske's Ryan Briscoe and Will Power overcame first-lap delays to fill out the podium and a pair of Canadians starred, but ultimately didn't figure in the final reckoning. Alex Tagliani led 21 laps, but luck was not on his side in the end, while local favorite Paul Tracy was at the center of the excitement before he and Castroneves controversially crashed out on the 65th of 85 laps.
Tracy made a series of passes under braking for the Turn 3 hairpin at the end of the back straight, but Castroneves tried to maintain second place in the run out of the corner and stuck Tracy's KV Racing entry into the wall.
"I don't think he did it intentionally," Tracy said. "I think we got screwed in the pits and I was trying to keep up with Dario. We showed we can run with those guys. It's a sad way to end the day, but I guess that's why they call me 'The Thrill,' right?"
The Canadian crowd heartily booed Castroneves when he arrived back at the pits to the horror of team boss Roger Penske.
"[Tracy] would be the last guy I'd take out in Canada, obviously," Castroneves said. "I still love Canada, don't get me wrong. It's the way it is. People love you and people hate you, especially after what happened in 2002 [when Castroneves edged Tracy in the disputed finish of the Indianapolis 500]."
Franchitti was already in the pits when the yellow flag waved for Ed Carpenter's Lap 59 spin. Tagliani was set to stop a lap later, and was the latest driver to be adversely affected by the IndyCar Series' pit closure rule. The native of Quebec, who is running a part-time schedule for Conquest Racing, finished a disappointed ninth.
"For a part-time team it's very good," Tagliani said. "We showed we can dominate, and I thought we had it in our pocket today."
After winning the Toronto race ten years ago, when it was one of the top events in the CART-sanctioned IndyCar Series, Franchitti turned in a textbook performance to claim his third win of the 2009 season.
Castroneves' DNF turned the IndyCar championship into a three-man contest, with Franchitti, Scott Dixon and Briscoe separated by just 13 points.
Dixon finished fourth Sunday at Toronto behind the Penske cars driven by Briscoe and Power, both of which were forced to pit after suffering punctured tires on the opening lap.
The design of the Toronto street course allowed them to race back into contention.
[+] Enlarge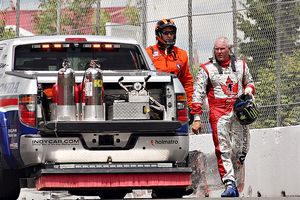 AP Photo/Graham JardinePaul Tracy had his day end early with a walk to the safety truck after his car made contact with Helio Castroneves'.
"It's one of the few street courses I've ever been at where you can actually pass cars and go racing, so it was fun," Briscoe observed.
"That was what I call a race," Power added. "I passed a lot of cars and had a lot of fun.
"Having a really long straight going into a hairpin type of turn with heaps of room, that's what you need at every track. If you're fast, you can get through the field without worrying about using fuel."
Even if Castroneves can't pull himself back into championship contention, it should be a good fight between Franchitti, Dixon and Briscoe.
Briscoe hasn't won since the season opener, but his series of second place finishes has left him in a solid position to make a run at the title.
"I'm trying to win, don't worry," he said. "In the last two races I think I've gained 10 or 13 points to the championship lead, so it's not all bad. I'm doing my best and hopefully we'll get some wins."
In Franchitti's last championship run (2007, when he drove for Andretti Green Racing), he built a big points lead and held on down the stretch. With seven races left and just a three-point lead over his teammate, he won't have that luxury this year.
"Everyone makes mistakes, and everybody also gets caught up in other people's problems," Franchitti said. "Last week [at Watkins Glen] I got caught in somebody else's spin, and it destroyed my race. It's all about how much risk you want to take. There were a couple times today where I felt if I took a risk I would end up with a bent race car.
"We've got to keep finishing races. One week Scott's going to be better than me or I'll be better than him, but we'll go out and race each other and have fun."
July, 4, 2009
07/04/09
7:05
PM ET
WATKINS GLEN, N.Y. -- The overall vibe is certainly interesting at Watkins Glen International for the Camping World GP at the Glen.
Starting with the reason we're all here: The drivers, with rare exception, are delighted to be back on a road course after a series of six consecutive ovals. For someone like Justin Wilson, who qualified on the front row for Dale Coyne Racing after struggling through the oval stretch, never finishing better than 14th, it was pretty much a new lease on life.
For the second time this year, Indy car racing's favorite underdog team went head to head against the might of the traditional giants -- Team Penske and Target Chip Ganassi Racing -- and almost pulled off a major upset. Penske's Ryan Briscoe ultimately claimed pole position, but Wilson outqualified Ganassi's Scott Dixon (third) and Dario Franchitti, who will start sixth after crashing during the Firestone Fast Six session.
Wilson also has the potential advantage of two sticker sets of the red-sidewall alternate Firestone tires for Sunday's 60-lap race (1 p.m. ET, ABC).
The drivers raved about the grip of the alternate tires at Watkins Glen. Briscoe set a track record of 1 minute, 28.597 seconds using the "reds." It's the Australian driver's second consecutive pole at The Glen.
"The Firestone red tires made things tricky with strategy during qualifying, but for me, the reds were a lot of fun today," observed Briscoe.
Mario Moraes (KV Racing) and Graham Rahal (Newman/Haas/Lanigan Racing) also infiltrated the top six, while Helio Castroneves failed to advance out of his group qualifying session and will start 14th.
Andretti Green Racing was down the order again, led by Danica Patrick in eighth place. But rising American star JR Hildebrand gave the beleaguered team something to celebrate by winning the Firestone Indy Lights race.
The mood among the team owners was uncertain. They met Saturday evening in the Watkins Glen paddock for an informal briefing from Indy Racing League management in the wake of Tony George's departure as IRL CEO.
"Almost nothing has changed" was the message communicated by commercial president Terry Angstadt to the owners, and again a few minutes later to the media.
"We received direct assurance from the board that they are pretty pleased with the direction and the management of the company," Angstadt said. "We have taken on the challenge started three years ago to make this a very viable and sustainable entity on its own and we are well on the way to achieving that. We are going to exceed the plan that was signed off on by our parent organization, and I think you'll see a continually improving financial picture from this year forward.
"I want to erase from anyone's minds concerns about not having an Indy Racing League. That's what we do."
If the Watkins Glen crowd knew about the management shake-up at the IRL, they didn't seem to care. There appear to be more campers on site than a year ago, possibly due to unseasonably cool weather and a more fan-friendly 1:30 race starting time on Sunday.
George appeared to be in escapist mode at The Glen. Vision Racing announced that the IRL founder will not address the media in the near future, and instead plans to issue a statement on the Vision Web site later next week.
At the track, George traded in his trademark Segway in favor of a shiny black scooter, which he rode briskly through the paddock.
IRL racing division president Brian Barnhart talked about George's surprise departure as the figurehead of the league he founded.
"I guess I am wishing the best for Tony," Barnhart said. "He met with Terry and Charlie [Morgan, IMS Productions president] and I on Wednesday night before we went to Richmond and left us with good indications.
"The best thing that I got out of it was that Tony had a good peace of mind. He seemed very comfortable with his decisions and very excited about the challenge he faces with Vision Racing.
"Tony has been in this position for nearly 20 years," Barnhart added. "I think he's done a great job and enjoyed it to that point. While he's no longer CEO in the positions that he held before, the fact that he signed on to be a steward of open-wheel racing in the future is a lifetime commitment for him. It's going to be ongoing, no doubt."