Category archive:

Danica Patrick
June, 25, 2011
06/25/11
9:06
AM ET
NEWTON, Iowa -- The front row for the 2011 Iowa Corn 250 startled and surprised race fans from Joliet to Japan.
Tokyo native Takuma Sato became the first Japanese driver to qualify on pole position for an Indy car race. Of greater interest to mainstream America, Danica Patrick turned in her best qualifying performance since August 2007 and will line up on the outside of the front row.
But as the old saying goes, qualifying is one thing and the race is another thing completely. In that regard, both front-row occupants have their work cut out for them in Saturday night's 250-lap race.
Since the start of the 2008 season, 29 of 33 Izod IndyCar Series races staged on oval tracks have been won by drivers affiliated with Ganassi Racing or Penske Racing. Patrick was one of the anomalies, crossing the line first at Twin Ring Motegi in 2008 in a car fielded by the team now known as Andretti Autosport.
AA is responsible for three of the four non-Penske/Ganassi wins, with Tony Kanaan taking the other two. Kanaan now drives for KV Racing Technology as a teammate to Sato. Kanaan qualified third at Iowa, demonstrating that the team owned by Jimmy Vasser and Kevin Kalkhoven has its cars nicely dialed in for the Iowa oval.
Dan Wheldon's triumph last month at the Indianapolis 500 is the only other oval victory since 2008 from outside Indy car racing's two dominant teams.
So while the front-row pairing of Sato and Patrick makes for an interesting story, the odds are overwhelmingly against either one of them winning the race on Saturday night.
Sato's pole is the biggest surprise of the pair. The Japanese ex-Formula One driver had never competed on an oval track until last year, and his best career Indy car finishes to date are a pair of fifths, including two weeks ago at Texas Motor Speedway.
"It's a fantastic achievement," Sato said. "I knew we were going to be competitive because of last year [when he qualified seventh at Iowa but crashed in the race], and this morning I was truly comfortable in the car. I'm very pleased with today's result."
Patrick started from the pole three times in her rookie Indy car campaign in 2005, but she had the advantage of being one of a handful of drivers with a Honda engine. Since 2006, when every driver has been powered by Honda, her qualifying performances have not been as competitive.
With a front-row start at Iowa in the bag, this race may represent her last, best chance to win another Indy car race before her expected move to NASCAR in 2012.
"It feels really good to be in position to be able to start up front and have the opportunity for a solid race day," Patrick said. "I haven't started on the front row in a long time, so it's a good feeling.
"On short tracks like this it's nice to start near the front because you can gain ground more quickly," she added. "If you start near the back of the field you could be a lap behind very quickly."
The dominant Penske and Ganassi teams didn't have their best day in Iowa qualifying. IndyCar Series championship co-leaders Will Power and Dario Franchitti will start from the third row, and Penske's Ryan Briscoe and Helio Castroneves qualified 10th and 13th, respectively.
Ganassi's Scott Dixon said he nearly crashed on his warm-up lap and his first qualifying lap and ranked 23rd in the 24-car field.
Yet many observers would contend that despite his qualifying travails, Dixon -- the 2008 winner at Iowa -- has a better chance of winning the race from the back row than Sato or Patrick do from the front row.
"That was a poor run, and I'm surprised we're not starting last, but this is a place where you can win from just about anywhere," Dixon said, citing Kanaan's victory from 15th on the grid in 2010.
In fact, Dixon scored his first (admittedly strategy-driven) Indy car victory after starting 23rd in a CART-sanctioned race at Nazareth Speedway in 2001.
The numbers don't lie, and it will be interesting to see if Sato, Patrick or anyone else in the field can break the Penske/Ganassi dominance on Saturday night.
June, 22, 2010
06/22/10
6:22
PM ET
In most IZOD IndyCar Series race markets, Danica Patrick kicks off the event weekend with a media availability. It's an opportunity for a new group of local reporters to ask pretty much the same questions Patrick faces every week.
The Iowa Corn Indy 250 was no exception, and the focus was on Patrick's busy upcoming schedule, including her next NASCAR Nationwide Series appearance at New Hampshire Motor Speedway this Saturday.
[+] Enlarge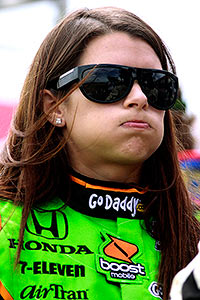 AP Photo/Conrad SchmidtDanica Patrick said her car faded on her as the race went on, but she did manage to finish 10th.
But Danica dashed local hopes by confirming that she won't be in JR Motorsports' No. 7 Nationwide car when the series visits Iowa Speedway on July 31, even though it is an off weekend for the IndyCar Series.
The Iowa race on Sunday was the last of four consecutive oval events for the IndyCar Series and marked the conclusion of the first half of the season. Patrick wasn't pleased with the balance of her Andretti Autosport car in practice, running just 22nd fastest. However, she made a big improvement in qualifying to grid ninth in the 25-car field.
"I'm happy with the way qualifying went," she said. "I was flat out the last two laps of the run, and I haven't been able to get flat all day."
The Andretti team's 2010 resurgence continued on race day. Marco Andretti qualified third and led laps early before fading with handling problems, and Ryan Hunter-Reay and Tony Kanaan were very strong on race day. Hunter-Reay worked up to third but lost a lap through a pit penalty and finished eighth. Meanwhile, Kanaan was the fastest man on the track, blazing through the field from 15th on the grid to claim his first race win in more than two years.
Patrick drove a steady race, but she fell a lap down to the leaders on Lap 172 and finished 10th.
"I wish we had a better day, but we'll take a top-10 finish," Patrick said. "It was a challenging race. We had a good car, but the longer the race went on, the more difficult the car got, handlingwise."
January, 14, 2010
01/14/10
5:51
PM ET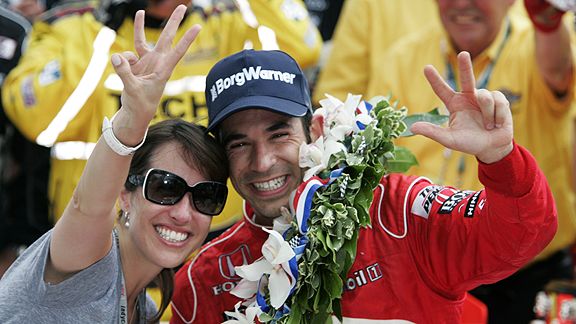 AP Photo/Michael ConroyHelio Castroneves has won the Indy 500 three times. His next goal is winning his first IndyCar Series title.
Every Izod IndyCar Series driver was at the Indianapolis Motor Speedway on Tuesday for physical exams and mandatory winter safety meetings. Helio Castroneves had an additional reason to come to town.
The 34-year-old Brazilian again celebrated his victory in last May's Indianapolis 500 by unveiling his most recent visage on the iconic Borg Warner Trophy and collecting his Herff Jones "Champion of Champions" ring in a ceremony at the IMS Hall of Fame Museum.
With three wins at Indianapolis, Castroneves is indeed a champion among champions when compared to other top IndyCar Series drivers. Although he has never corralled a series championship, Castroneves is the leading money winner in Indy Racing League history with $16,315,178. Nearly $6 million of that total was earned at the Indianapolis Motor Speedway.
Those Indy wins (not to mention a victorious effort on the ABC competition "Dancing With The Stars") also helped make Castroneves the most well known current IndyCar Series driver not named Danica Patrick.
He'll be back for his 11th campaign with Penske Racing, gunning for win No. 4 at Indianapolis and his first overall series title.
"It's just incredible," he said. "I guess I keep doing the right thing. I'm just honored to be in this organization. What I admire the most is the loyalty of Roger Penske and Tim Cindric and everyone.
"It's great just to be involved and race for that organization. You have a chance to win no matter what."
Castroneves was the first Indy winner since 2004 who didn't go on to become the IndyCar Series champion. Dan Wheldon (2005), Sam Hornish Jr. (2006), Dario Franchitti (2007) and Scott Dixon (2008) did the Indy/series championship double.
***
The IndyCar Series confirmed at the winter safety meeting that it will eliminate the cockpit fuel mixture switch from its cars for 2010. The change has allowed Honda to almost double the horsepower boost from its overtake assist system.
"It will allow the drivers more strategy during the event," said Indy Racing League senior technical director Les Mactaggart. "If they want to save fuel, they can by controlling the throttle and equally so the overtake assist will be more effective because they'll have more horsepower."
[+] Enlarge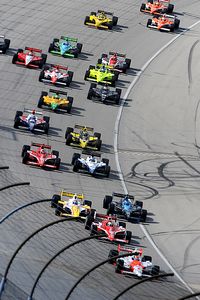 AP Photo/Paul Beaty, FileThe IndyCar Series has some difficult decisions to make regarding its engine and chassis package.
More significant questions involving the development of a new engine and chassis for the 2012 season remain unresolved, and it appears battle lines are being drawn.
Honda recently indicated it is planning to build a turbocharged V-6 engine for Indy car racing. That goes against the wishes of a group known as Delta Wing LLC, which is developing an envelope-pushing new chassis designed to accept a four-cylinder power plant.
The Delta Wing project is led by Ganassi Racing designer Ben Bowlby, and several IndyCar Series team owners have endorsed building a prototype for testing and analysis.
Honda has repeatedly stated its objection to building a four-cylinder engine, but all signs point to Honda's being the only major auto manufacturer that is interested in participating in Indy cars in the future. IndyCar Series officials had been courting the Volkswagen Group and its VW, Porsche and Audi brands, but VW Group motorsport chief Kris Nissen has all but ruled out their participation.
"I am not 100 percent sure of the latest status, but I think it is not realistic for the moment that the VW group will do it," Nissen told Autosport.com. "Also IndyCar needs to settle down, and it looks like it is getting better. America needs to settle down, the car market needs to be stable again."
Caught in the middle is IndyCar Series competition president Brian Barnhart, who is believed to favor an evolution of the current Dallara chassis. Barnhart is under fire from teams and manufacturers for dragging out the decision with regard to the future direction of the series, and a fan group recently started an online petition to encourage his removal.
Barnhart and IndyCar Series officials must decide who they can most afford to lose: Honda and/or Dallara, or Ganassi and the majority of team owners who seem to favor a more radical shakeup of the rulebook and parts-supply system.
January, 8, 2010
01/08/10
10:48
AM ET
With the calendar now showing 2010 and the thermometer near zero, the Izod IndyCar Series is beginning to emerge from its offseason hibernation. Preseason media and test days at Barber Motorsports Park are less than seven weeks away, and information about new team/driver combinations is starting to trickle out.
Here's a recap of recent IndyCar Series news and developments:
Hunter-Reay confirmed at Andretti Autosport: The team formerly known as Andretti Green Racing confirmed that it will continue to field a series-high four cars in 2010, with the returning Tony Kanaan, Marco Andretti and Danica Patrick set to be joined by former IRL Rookie of the Year Ryan Hunter-Reay for at least a partial schedule.
[+] Enlarge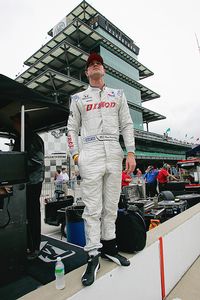 AP Photo/Tom StrattmanRyan Hunter-Reay will drive the No. 37 car for Andretti Autosport at the 2010 Indianapolis 500, among other races.
Hunter-Reay, who was instrumental in bringing the Izod brand into Indy car racing, will drive the No. 37 car with sponsorship from Izod at the Indianapolis 500 and a to-be-determined selection of other races. AA owner Michael Andretti is optimistic that funding can be sourced to run Hunter-Reay for the full season.
"We are excited about what we've put together with PVH [Phillips-Van Heusen] and Ryan, and believe we can grow this program substantially over the next several months," Andretti said. "How far we take him into 2010 is still in the works, but we feel good about the potential that we will add Ryan to our driver lineup for the full season."
Hunter-Reay is the only driver to have won races in CART, Champ Car and IndyCar Series competition. He drove for Rahal Letterman Racing in 2008 and split time between Vision Racing and AJ Foyt Racing in 2009.
"Michael Andretti is as hungry to win races today as he has ever been, and it is an honor and a privilege to drive for the same person I looked up to as a young karter," said Hunter-Reay. "Joining a team of Andretti Autosport's caliber has been my goal for the entire 16 years of my racing career, and being able to strengthen my ties to everyone at Izod through this effort is tremendous. This is the opportunity of a lifetime, and I am ready to give 120 percent to the program."
Japanese connection: There are likely to be two Japanese drivers on the IndyCar Series grid in 2010 as former Formula 1 racer Takuma Sato looks set to move to the American open-wheel scene with de Ferran Motorsports. Sato has an existing relationship with team boss Gil de Ferran, who served as the Honda F1 team's sporting director several years ago.
De Ferran has ceased its Honda-funded, Acura-branded American Le Mans Series program to eliminate conflicts of interest and allow its transition into the IndyCar Series, where all competitors are powered by spec Honda engines.
Hideki Mutoh, a veteran of two years in the IndyCar Series, is looking to move to Newman/Haas/Lanigan Racing, which is likely to field three cars in 2010. Emerging star Graham Rahal returns for his fourth season with the team, while Alex Lloyd hopes to complete his first full IndyCar campaign.
On a FAZZT track: The FAZZT Racing team made its on-track debut recently for testing at Homestead-Miami Speedway. Alex Tagliani drove the No. 77 car, which will unveil its livery Jan. 14 at the Montreal International Auto Show.
"These two days have been unbelievable," remarked Tagliani. "It has been the best days at the track for me in a long, long time. The team showed up, and by all appearances you would think we had been working together for 10 years."
Tagliani is a principal in the new team, along with Jim Freudenberg and Andre Azzi. Veteran Rob Edwards is team manager.
"This is a new team, but it is a group of individuals with many years of experience, and that was evident in the smoothness of the operation over the course of the test," Edwards said. "It was as much a test of the equipment as it was a test of our crew and how they would work together as a team, and I must say I believe we met our goals this week."
One-liners: The IndyCar Series' annual winter meetings take place in Indianapolis on Monday and Tuesday. Drivers will take their annual physicals, and details will be revealed to the teams about the March 14 opener in Sao Paulo, Brazil. ... The Dallara-Honda package will feature a reverse gear in its spec six-speed gearbox for road course events in 2010. ... Honda Performance Development and the IRL are discussing modifying or eliminating the driver's ability to control the fuel mixture during races. HPD's Roger Griffiths also indicated that the future IndyCar engine formula will be a turbocharged V-6. ... IndyCar owner/driver Sarah Fisher is writing a motivational book for women to be published in May and has started a campaign to lure talk show host Ellen DeGeneres to the 2010 Indy 500. Interested fans can encourage Ellen via a Twitter account created for the project: @ellen2indy500. The Indianapolis Conrad Hotel has already pledged accommodations for Ellen should she accept the invitation.
December, 17, 2009
12/17/09
3:36
PM ET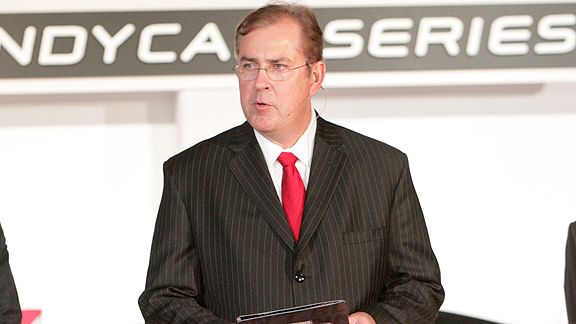 Ron Hoskins/Getty ImagesJeff Belskus has been a speedway and league insider for years.
One of the most important stories in Indy car racing during 2009 was the boardroom coup that resulted in Tony George being removed from power at the Indianapolis Motor Speedway. Even more surprising was George's subsequent decision to relinquish leadership of the Indy Racing League and the IZOD IndyCar Series, which he founded back in 1996.
George's roles with the IRL and IMS were taken over by Jeff Belskus, a longtime associate of the Hulman-George family who has worked for IMS since 1987. Like the Hulman family and many key members of Speedway management, Belskus is a native of Terre Haute, Ind., and he has been a friend of George through high school and into their time at Indiana State University.
A certified public accountant by trade, Belskus has long been known as the money man in the background of the IMS hierarchy. But with George's ouster from IMS and surprise move to distance himself from the IRL, Belskus found himself thrust into the spotlight.
Shy by nature, Belskus was somewhat unfairly roasted by Indianapolis Star columnist Bob Kravitz following his first public appearance in his new roles. But the key constituents of the Speedway and the IndyCar Series are comfortable with their new leader, mainly because he was quickly able offer a sense of calm and a "business as usual" approach to the issues faced by the track and the league.
"I think it has gone as well as anyone could expect it to go," Belskus said of his first three months as the outright leader of IMS and IRL. "I'm pleased with the way it has gone. Tony and I have a good working relationship and I'm happy about that. I'm still spending a lot of time learning the lay of the land in some respects. It's been a great learning experience so far and I feel good about the way it has gone."
Belskus' longterm association with the Indianapolis Motor Speedway Corporation gave him an insider's view of the workings of the company, a huge advantage over hiring an outsider to take over the notoriously private family business. He's not concerned that he could be stretched too thin by being in charge of multiple facets of the company.
"We have a good team in place at IMS that is very experienced and we depend on them," he remarked. "Even though I'm not there, I get e-mails and phone calls, but I have responsibility for running the Indianapolis Motor Speedway."
After relying solely on the Indianapolis 500 through 1993, the Speedway now hosts three major events a year. In 2009, attendance was down for the NASCAR Brickyard 400 and the second running of the Red Bull Indianapolis MotoGP race, but Belskus is not significantly concerned.
"Renewals [for the Brickyard] have been strong -- they are in line with last year," he said. "It's a higher quality product when you don't have to stop every nine or 10 laps for a competition yellow [as happened in 2008], so we hope those problems are behind us and we can win back the fans we lost as a result of that.
"Having said that, it seems like NASCAR in general, whether it's the economy or whatever it is, has certainly had their share of attendance issues this year. It's a good event for us and we hope it continues to be a good event for us. We met expectations this year. We planned for it to be off, but I think that was as much about the economy as it was about the event."
A bigger adjustment has been required in terms of managing and being the public face of the IRL. One of the toughest tasks he already dealt with was cutting staff by approximately 40.
"It's an ongoing process," Belskus said. "We're doing what we can to review everything for efficiencies to try to be as productive as we can be. I know my way around the racetrack pretty well and there haven't been too many surprises about what's going on with the League at these events. Terry Angstadt [Vice-President of Marketing] and Brian Barnhart [Vice-President of Competition and Operations] are working hard and doing a good job, and I think we deliver a lot of value."
The IndyCar Series got a huge boost in early November when it was revealed that apparel manufacturer IZOD signed a multi-year contract for title sponsor rights. Most importantly from Belskus' perspective, IZOD is essentially going to pick up the tab for the TEAM subsidy program that pays each full-time competitor up to $1.2 million annually in lieu of prize money.
"Getting the right [title sponsor] was important," Belskus said. "We spent a lot of time talking about 'fair value' and what the series is worth. We're very excited about being associated with IZOD, a brand that we feel good about."
The other bullet the IRL dodged was Danica Patrick's potential move to NASCAR. In the end, America's favorite female racer elected to remain with Andretti Autosport in Indy cars fulltime for at least the 2010 season while beginning to sample the world of NASCAR with a limited schedule for JR Motorsports in the Nationwide Series.
"She's great for our series and an important part of our series," said the IRL leader. "We hope to see her as a part of it for many years to come. I won't say it's absolutely necessary, but we'd prefer to have her here, given our druthers. My hope is that she's going to continue to be an Indy car driver first and foremost."
Belskus said that Indy car racing fans shouldn't expect radical changes to the IRL schedule or the Indianapolis 500 during his watch. However, at a Dec. 9 meeting, the IMS board did approve a plan to shorten the month of May Indy activities to include just one week of practice and a single qualifying weekend.
"We will still be primarily a North American series, though international events are important to us," Belskus said. "We need a compelling reason to do the international events and it is important from that perspective. For Japan, it's because of Honda. We're looking at three or four international events as the most. I don't see it as a significant portion of our schedule."
November, 30, 2009
11/30/09
1:05
PM ET
Danica Patrick (The Celebrity), representing Danica Patrick (The Brand), appeared on ABC's "Good Morning America" on Monday to announce that Danica Patrick (The Race Car Driver) will continue to make competing in the Izod IndyCar Series her primary occupation for the next three years.
Joined by Andretti Autosport owner Michael Andretti, Patricck revealed that her No. 7 car will enjoy primary sponsorship from GoDaddy.com, the controversial Web domain vendor and Web site developer. No mention was made of the N-word (NASCAR).
Although the news is good for the IndyCar Series, which can now theoretically count on keeping its most recognizable and marketable star for the foreseeable future, my initial reaction was: Who cares?
Honestly, this non-story has been festering for the past 10 months. I asked Patrick questions about her contract year back in February at IndyCar Series media days, and, frankly, she was more forthcoming about it then than would prove to be the case throughout the summer and fall.
A series of red herrings (Patrick to Chip Ganassi's IndyCar team! Danica to Team USF1! Patrick to NASCAR!) got Patrick offsides with the specialty motorsports media and did little to disguise the fact that her only realistic career option moving forward was to continue in the IndyCar Series with Andretti, who has employed her since 2007.
The two top teams in open-wheel racing -- Team Penske and Target Chip Ganassi Racing -- passed on the opportunity to employ Patrick, because Roger Penske and Chip Ganassi are motivated by performance, not publicity.
And it's in that regard that Patrick (The Race Car Driver) has fallen short of expectations during her three years with the team formerly known as Andretti Green Racing. Sure, her public profile is higher than ever -- thanks in part to those suggestive (some might say tasteless) GoDaddy commercials. But despite the historic first Indy car victory for a female driver she achieved in April 2008, Patrick is arguably less competitive on a regular basis these days than she was as a rookie driving for Bobby Rahal's team back in 2005.
She led 63 laps back in '05, but only 47 in the four years since. She claimed three pole positions in her rookie campaign but hasn't been the top qualifier since.
Certainly, Patrick is a more consistent performer these days. In 2009, her third-place finish in the Indianapolis 500 and fifth-place overall in the IndyCar standings represented career bests. But she never actually ran near the front or threatened to win a race.
Admittedly, the entire Andretti Autosport team has been in a state of decline for the past two years, and Patrick -- not to mention Michael Andretti -- must be hoping that the once-dominant organization that won three IndyCar Series championships and two Indianapolis 500s between 2004 and 2007 finds its competitive mojo again.
AA's major problem for the past couple of years appeared to be a lack of cooperation and consideration between the drivers. The "me first" attitude that Patrick and Marco Andretti seem to share is in direct contrast to the team-oriented outlook espoused by former AGR drivers Dario Franchitti, Dan Wheldon and Bryan Herta.
Lost in the euphoria of the IndyCar Series maintaining ties with Patrick and AA inking GoDaddy.com to a three-year contract is the fact that the team and the series are losing a blue-chip sponsor in Motorola. The electronics giant was represented on the CART or IndyCar Series grid since 1994.
Questions also remain about Patrick's long-term commitment to Indy car racing; she has openly courted NASCAR teams for the past two years and it appears likely that her GoDaddy.com connections will land her a part-time Nationwide Series deal with JR Motorsports, the team owned by Dale Earnhardt Jr.
That potential pairing already has pundits poking fun at the notion that America's two most popular drivers are almost indisputably America's two most overrated racers. Despite dominating mainstream media headlines and merchandise sales, Patrick and Earnhardt have combined for exactly two fuel-strategy-driven race wins in the past three years.
The bottom line: Now that Danica Patrick (The Brand) and Danica Patrick (The Celebrity) are firmly established, maybe it's time for Danica Patrick to refocus on becoming a top-flight race car driver.
Isn't that why she started racing in the first place?
September, 28, 2009
09/28/09
1:37
PM ET
Danica Patrick still hasn't actually told anyone what her plans are for 2010 and beyond, but it's taken as gospel that she will remain an IndyCar Series driver for the next three years. The Indianapolis Star reported Thursday that Patrick signed a contract extension to remain with Michael Andretti's team, and Andretti all but confirmed the signing in Curt Cavin's follow-up story.
What does it mean? Mostly that a lot of people in a lot of places -- the Indy Racing League, the league's television partners ABC/ESPN and Versus, the team currently known as Andretti Green Racing, and what's left of open-wheel racing's fan base, to name a few -- can all breathe a big sigh of relief now that Indy car racing's most recognizable star is not leaving for NASCAR.
Although the IndyCar Series can boast of several world-class drivers, including Scott Dixon, Dario Franchitti, Helio Castroneves, Tony Kanaan and the rapidly emerging Ryan Briscoe, none of them captivate racing fans of all ages like Danica does. As Americans, Graham Rahal and Marco Andretti have the potential to build a massive fan base to rival Patrick's, but they'll have to start winning a lot more races for that to happen.
It's ludicrous to think that a driver with one career race win could be so critical to the future of Indy car racing, but that's the power that Danica -- the driver, the business and the brand, by her own description -- holds over America. You can be sure that Jeff Belskus, the man who took over from the ousted Tony George as the leader of the IndyCar Series and the Indianapolis Motor Speedway Corp., is sleeping a bit easier knowing that Patrick will be racing in the Indianapolis 500 for the foreseeable future.
"She's great for our series, an important part of our series, and we hope to see her as a part of it," Belskus said. "I won't sit here and say it's absolutely necessary, but on the other hand, we'd prefer to have her a part of it.
"It's understandable that she's considering all the options available to her, and if I was advising her, I'd suggest the same thing. My hope is that she's going to continue to be an Indy car driver first and foremost. She has said the Indy 500 is important to her and it's a lifelong dream for her to win that event."
The TV partners must be thrilled that they will have Patrick to promote, and re-signing her was no doubt a key part of Michael Andretti's business plan as he moves forward as the sole owner of Andretti Green Racing. The 2009 season is the third out of the last four that AGR has compared poorly to the IRL pacesetters, and the nine wins that Franchitti and Kanaan combined for in 2007 are a distant memory. In fact, the team's victory tally in 2006 and 2008-09 is just four. It remains to be seen whether rebuilding under Andretti's watch will restore the team to the level of competitiveness Patrick will demand.
Ultimately, it doesn't really matter if Patrick is running third or 13th; people are going to be watching her anyway. The challenge for the IndyCar Series and its partners is to get those people paying attention to Danica Patrick to start caring about the true long-term stars of the sport -- from Andretti, Briscoe and Rahal to Dixon, Kanaan, Castroneves and Franchitti -- to be prepared for the day when Patrick eventually does depart.
September, 18, 2009
09/18/09
11:49
AM ET
MOTEGI, Japan -- Here's one of life's rich ironies: On a weekend when Danica Patrick actually should be the center of attention, she's not.
[+] Enlarge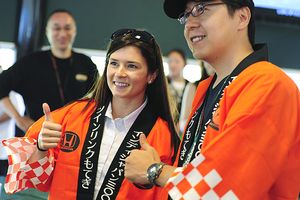 AP Photo/Shuji KajiyamaDanica Patrick poses in a racing-themed happi coat given to her by a Japanese fan.
Patrick scored her first -- and only -- IndyCar Series race win last year at Twin Ring Motegi. She led the last three laps when five of the six cars running in front of her had to stop for fuel, and Helio Castroneves didn't conserve enough of his to stay out front all the way to the checkered flag.
At a venue where she is the defending race champion, Danica might expect to gain the lion's share of attention. But she's playing second fiddle to the native drivers in Saturday's Japan Indy 300 -- her Andretti Green Racing teammate Hideki Mutoh, as well as part-timers Kosuke Matsuura and Japanese-American Roger Yasukawa.
Not to mention the IndyCar Series championship battle being waged by points leader Ryan Briscoe of Team Penske and pursuers Dario Franchitti and Scott Dixon from Target Chip Ganassi Racing.
After a strong start to her season topped by a third-place finish in the Indianapolis 500, Patrick has faded from championship contention. She's still a career-best fifth in the standings, but she has achieved only one top-5 finish in the past two months. The Andretti Green team has been in a perpetual state of implosion in that period, and Danica may be distracted by all the speculation about her possible long-term future in NASCAR.
Patrick was reportedly rebuked by her team following the IndyCar Series race at Infineon Raceway for revealing too much about her contract negotiations to remain with AGR and the IndyCar Series, and she was very testy when pressed about the subject at the next race at Chicagoland Speedway. At Motegi, on the setup day for the Japanese race, a member of the small American media contingent on hand who shall remain nameless (but who is often associated with a famous brand of cookie) took a bullet for the team and asked whether the Japanese fans could expect to see her back at Motegi for next year's IndyCar event.
"You'll know when I tell you," she snapped, in a manner reminiscent of her apparent new mentor, Tony Stewart.
Or maybe it was just Danica being Danica.
She was also unhappy when another reporter asked about the fact that her sole IndyCar victory was the result of a fuel-mileage gamble.
"Obviously I think that's unfair," Patrick said. "You have to be running well to win any race you go to. There have been a lot of people who have won on strategy; strategy is a huge part of it.
[+] Enlarge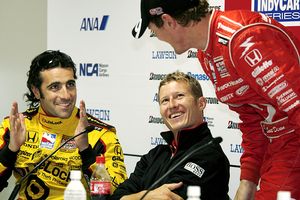 AP Photo/Shuji KajiyamaSure, Danica Patrick is the defending race winner in Motegi. But don't forget about Indy front-runners Dario Franchitti, Ryan Briscoe and Scott Dixon.
"Everybody wants to win in a record photo finish, or by a lap over the second-place car. I'm proud of the win and the way we achieved it."
Meanwhile, at the front of the field, Briscoe arrives in Japan with a 25-point lead over Franchitti and with 33 points in hand over defending series champion Dixon. The Australian Penske driver hasn't been the dominant driver in the IndyCar Series this year -- he has three race wins compared with four apiece for the Ganassi duo -- but he has been the most consistent, with seven second-place finishes padding his points total.
Unless Franchitti wins the last two races of the season (at Motegi and Homestead-Miami Speedway on Oct. 10) and also leads the most laps, another pair of second-place finishes will be enough for Briscoe to claim the championship crown.
Briscoe is coming off a thrilling victory at Chicagoland Speedway over Dixon, and he has compiled the best record in the series on 1.5-mile ovals in 2009.
"I'm really excited about going to Japan and have always enjoyed the atmosphere of racing there," said the Sydney native. "Team Penske has done an amazing job all year long, and I'm hoping to continue our streak of 1.5-mile circuit performances going into the final two rounds of the championship."
Briscoe will be hoping for an assist from his Penske teammate Castroneves, who like Patrick has faded in the second half of the season after he scored race wins at Indianapolis and Texas Motor Speedway.
Mathematically ineligible to win the title, Castroneves knows he is playing a support role this weekend.
"Those guys are having the battle," Helio observed. "I'm not in the mix so I will do everything I can to help Ryan out and get him the title. The Ganassi boys are battling each other for the title. If that becomes an issue, it would be a good issue for us."
Neither Dixon nor Franchitti has ever won at Motegi, despite the fact that both have competed at the Japanese oval for many years, dating to when the race was a round of the CART series.
Dixon suffered one of the biggest crashes of his career at Motegi, breaking his wrist during the IndyCar Series' debut at the track in 2003. He has finished fourth and third in Japan the last two years, leading 101 of 200 laps in 2008.
"It's completely different and definitely one of the toughest tracks we go to," Dixon said. "You have half the downforce you would have at a short oval and it's really on the edge. It's been a bit of a thorn in my side for some time. You need to have a lot of confidence on that track and you have to stay committed."
IndyCar Series officials are quietly hoping that at least one of the Ganassi drivers dominates at Motegi so that the championship fight will not be settled until the finale back in America. The last time the IRL title was clinched prior to the last race of the season was 2005, when Dan Wheldon locked it up with two races remaining.
Given the unpredictable nature of the Japanese round, dating all the way back to the CART era, it would hardly be a surprise at all if the points race was extended for a couple more weeks.