Category archive:

AutoRacing
October, 17, 2013
Oct 17
3:38
PM ET
PORTLAND, Ore. -- Every time I visit my father in Portland, it gets me to thinking that the Indy car circuit should still be stopping here.
CART and Champ Car staged Indy car races at Portland International Raceway from 1986 to 2006, and for most of that time, it was a pretty successful event.
Portland is the only major U.S. market I can think of that features a natural terrain road course within 10 minutes of the city center. PIR will never be mistaken for Road America or Spa-Francorchamps, but it was a track that the drivers generally liked, and it was convenient for spectators.
[+] Enlarge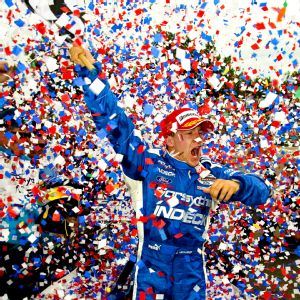 Gavin Lawrence/Getty ImagesAJ Allmendinger won the Champ Car World Series' Grand Prix of Portland on June 18, 2006.
Portland produced some memorable races from the start, when Mario Andretti passed his out-of-fuel son Michael in the sprint to the finish line to steal the inaugural victory. There was another photo finish in 1997, as Mark Blundell passed a prematurely celebrating Gil de Ferran at the stripe to claim PacWest Racing's first win.
But as is the story with several once-thriving Indy car events, Portland fell off the schedule when it lost its title sponsors -- Budweiser and the now-defunct chain of G.I. Joe's sporting goods stores. That left the promoter unable to afford a race-sanction fee, and the rest is history.
I also thought of Portland a couple of weeks ago when I was at the IndyCar Series doubleheader at Houston. That event made me reminisce about Cleveland, and Road America, and Michigan, and Phoenix, and a couple of other tracks that really ought to be on the modern Indy car schedule.
Houston is the fourth-largest city in America, so it makes sense for INDYCAR to try to crack that market. But staging races on a hastily erected, poorly conceived temporary circuit does not portray the IndyCar Series in a very positive light.
Of course the reason the IndyCar Series was racing in Houston is the money was there for it to do it. Shell Oil is headquartered in Houston, and it wanted a race in its hometown. Voilà!
I couldn't help but wish that Shell, or a similar company, would spend its sponsorship dollars at a more enjoyable venue for the participants and spectators. Like Road America. Or Portland.
Or Cleveland. In fact, Houston promoter Mike Lanigan also owns the rights to stage an Indy car race in Cleveland. But while Lanigan can't find the sponsorship to revive the popular Cleveland race (it was run from 1982 to 2006), the money dropped into his lap for the reviled Houston.
For longtime enthusiasts, it's frustrating to watch Indy cars bounce and lurch around on a slow, wall- and fence-lined parking-lot track like Houston when they really should be stretching their legs on proper racetracks, whether they are ovals like Michigan or purpose-designed road courses like Road America or Portland.
I would also argue that a purpose-built racetrack, whether a road course like Portland or an oval, is safer in most regards for drivers and spectators than temporary circuits are.
Cleveland is the rare example of a temporary track that really works. The unique Burke Lakefront Airport circuit creates exciting racing, and the entire track is visible from the grandstands, which is a rare treat in road racing. And only a small portion of the track is constrained by the walls and fences that are always a potential threat for drivers and cars.
Shell, or any other potential event sponsor, could create a ton of goodwill among Indy car racing's competitors and fan base if it just listened to what they are saying. Absolutely no one was clamoring for the revival of the Houston Grand Prix. But seemingly everyone wants to be at Road America.
Hulman & Co. CEO Mark Miles has said that the 2014 IndyCar Series schedule won't feature any significant changes, but a shake-up could be in store for 2015. Let's hope the future takes Indy car racing back to tracks where they belong.
September, 4, 2013
Sep 4
9:33
PM ET
INDIANAPOLIS -- It's fair to say the prospect of an IZOD IndyCar Series race on the Indianapolis Motor Speedway road course has polarized fans of Indy car racing and of IMS itself.
Brickyard loyalists would love to set the clock back to 1968, tear up the road course and reinstate the Indianapolis 500 as the only game in town, with a 30-day buildup of practice and four full days of qualifying.
[+] Enlarge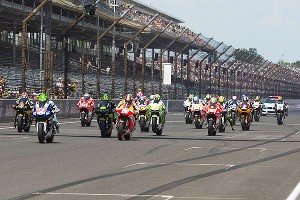 Mirco Lazzari gp/Bongarts/Getty ImagesRoad course races at Indianapolis Motor Speedway definitely have a different vibe.
I tend to agree with Bobby Rahal, who believes that tradition got thrown out the window as soon as IMS invited NASCAR to race on its hallowed rectangular oval.
The introduction of the Brickyard 400 nearly 20 years ago turned Indianapolis into another NASCAR town, and the recruitment of Formula One to the newly built IMS road course in 2000 only pushed Indy car racing further down the Speedway's pecking order.
But for a number of reasons, the Indy 500 has returned to the top spot here at our local racetrack, and the Indianapolis Motor Speedway's new boss, Hulman & Co. CEO Mark Miles, wants to reinvigorate the "Month of May" concept.
That's why Graham Rahal and Ryan Briscoe were pounding around the IMS road course on Wednesday in a pair of Dallara DW12 Indy cars. The test was billed as exploratory, but you can bet your bottom dollar that there will be an Indy car race on the IMS road course next year -- especially now that I'm starting to hear rumors that the IndyCar Series' event in Sao Paulo is going to fall by the wayside.
The notion of an IndyCar road race weekend kicking off the Indianapolis 500 activities has some old timers up in arms, but it's not the worst plan the Speedway could come up with.
"We've lost the whole 'Month of May,' and I think it would be cool to bring it back," said Graham Rahal, who was set to test a number of road course configurations Wednesday, running both clockwise on the Moto GP layout and counter-clockwise on the circuit most recently used by the Grand-Am sports car series.
"People complain a lot about this track, but I think it's a hoot," he continued. "Sure, there's not a lot of grip, so I wouldn't want to go around on a motorcycle. But sliding the car around out there is a lot of fun and I think we could put on a great race."
Indeed, the IMS road course has endured a fair bit of criticism, ever since seven-time Formula One world champion (and five-time Indianapolis GP winner) Michael Schumacher branded it "Mickey Mouse" back in 2000. Champion MotoGP riders, including Valentino Rossi, haven't been any kinder in their assessment of the two-wheeled layout.
But Rahal and Briscoe came away enthusiastic, especially after INDYCAR competition president Derrick Walker showed them plans for potential modifications to the track that would open up the slower parts while creating at least one additional hard braking zone to promote passing.
One potential plan would see the cars running in the same direction as motorcycles and oval races, but proceed all the way through Turn 1 of the oval before diving into the infield for a sequence of turns. Graham Rahal suggested cutting out the current Turn 7-8-9 complex in favor of a very fast right-hander leading onto the Hulman Blvd. back straight.
My own suggestion is to cut out the fiddly bits altogether and create an extremely fast, 6-7 turn road course similar to Monza before it was slowed down by chicanes. The course would need to offer at least one hard braking zone and tight corner for passing, but an average speed faster than Juan Pablo Montoya's 2002 Monza F1 record of 161.4 mph (including chicanes!) would easily be possible. From my perspective, making Indianapolis the fastest road course in the world would only be appropriate.
I'm always amazed at how the character of IMS changes when the facility is used for a road racing event, especially an international flavored one like F1 or MotoGP. The challenge for Speedway management would be to create an Indy car event that has its own unique atmosphere and enhances everything already in place for the Indianapolis 500.
It's unrealistic to think that IMS will fill the massive facility with fans for an early May Indy car race, nor even attract a crowd of 100,000. But with the opening weekend of Indianapolis 500 practice reportedly drawing fewer than 7,500 fans, any moderately successful full-fledged race weekend would improve the Speedway's bottom line.
Indianapolis Motor Speedway traditionalists can howl in protest all they want, but it's clear that plans for an Indy car road race are well under way. Whether it happens in 2014 or further down the line, I hope the naysayers give the event a fair chance and eventually lend their support to the track they love so dearly.
May, 22, 2013
May 22
11:24
AM ET
INDIANAPOLIS -- Media dinners can go one of two ways.
Some can be a great opportunity to get to know a driver or key team member in a casual setting. Others are less satisfying, cold and calculated affairs in which pretty much everyone involved would rather be someplace else.
I suppose you could technically say that I attended a media dinner on Monday night. Yes, there were a handful of media members there -- myself, Robin Miller from Speed Channel, photographer Michael Levitt and Dave Furst of WRTV-6, the local ABC affiliate.
[+] Enlarge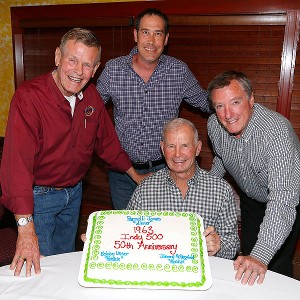 Mike Levitt/LATJohn Oreovicz, top, celebrates the 50th anniversary of the 1963 Indianapolis 500 with Bobby Unser, Parnelli Jones and Johnny Rutherford.
But Steve Shunck, the former CART and INDYCAR publicist now working on behalf of BorgWarner, didn't invite us to Mo's Steakhouse in downtown Indianapolis because he was looking to place a story.
Though it probably wouldn't hurt to mention that in addition to providing the iconic Borg-Warner Trophy to the winner of the Indianapolis 500, BorgWarner supplies the turbochargers for all of the Chevrolet and Honda engines in this year's Indy field.
No, Shunck just figured as friends who have a genuine, longtime love for Indy car racing that we would enjoy spending an evening with his pals Parnelli Jones, Bobby Unser and Johnny Rutherford.
Looking at Parnelli, still fit as a fiddle at 79, it's hard to believe that 50 years have passed since his famous victory in the 1963 Indianapolis 500. The statistics don't show it, but Jones was one of the dominant drivers of his era, especially at Indianapolis over the six-year period from 1961-67.
Rutherford and Unser were Indy rookies in 1963, set to enjoy long and prosperous Indy car careers. Both ended up winning national championships and tasted three wins apiece at Indianapolis -- Unser in 1968, '75 and '81, Rutherford in 1974, '76 and '80.
Unser and Rutherford had their wives along, and our table was completed by longtime Indy car mechanic and crew chief Tim Coffeen. There was no business being conducted, no message to convey, no reputation to rescue, no product to sell.
Just a group of good people, talking racing.
Miller, who has been around long enough to be old friends with all three legends, brought a stack of photographs from his vast collection. They got passed around the table, bringing back the memories.
They talked about Bud Tinglestad, Bobby Grim, Jud Larson, Joe Leonard, Lloyd Ruby, and Don Branson. Winchester, Salem, Trenton and Langhorne.
Unser got positively weepy when he saw a picture of his 20-year-old self, barreling up Pikes Peak back in 1955 in a homebuilt jalopy.
[+] Enlarge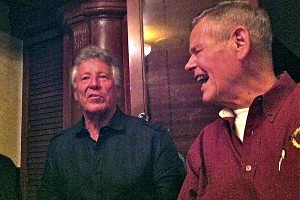 Courtesy of John OreoviczMario Andretti had plenty of stories to tell, and Bobby Unser, for one, was a captive audience.
"What a s---box!" needled Jones.
They talked in reverence of A.J. Foyt the racer, and they all had a funny story about Gordon Johncock.
Actually, they all had several hilarious Gordon Johncock tales.
As if the evening couldn't get any better, after dinner, a guy who has been around almost as long as Jones, Rutherford and Unser stopped by our table and offered to buy a round of wine.
Mario Andretti didn't break into Indy cars until 1964, but he immediately established himself as a star on and off the track. That much was obvious by the camaraderie he shared with his old friends.
Mario didn't have any obligation to visit, but he stayed and talked for an hour, trading quips with all the former racers.
"Remember going back and forth to Monza in '68?" Andretti asked Unser, before they shared the tale of trying to compete in the Italian Grand Prix and the Hoosier Hundred -- during the same weekend.
They chartered helicopters and private jets. They slept on the floor across the aisle of their TWA flights to and from Milan.
Although he was a native Italian, Andretti got Unser to drive their rental car over there and Uncle Bobby nearly ended up in jail.
"Twenty thousand will take care of it," Andretti told his American companion.
Unser panicked, not realizing that 20,000 Italian Lira amounted to about $10.
In the end, they weren't even allowed to race in Italy, on a rules technicality. In any event, it makes doing a double like Indianapolis and Charlotte look pretty tame in comparison.
All of those guys know they're lucky to be around; they survived racing's most dangerous era and lived to tell stories about escapades that even today's most colorful drivers couldn't dream of attempting.
It makes you wonder what a night out 40 years from now would be like with, say, Scott Dixon, Dario Franchitti and Helio Castroneves. Would they spark the same kind of reverence among younger generation race fans that the stars of the 1960s and '70s still earn today?
At the end of the evening, Jones, Unser and Rutherford signed copies of a 1963 Indianapolis 500 grid sheet. Of the 33 starters, only eight survive. Jones, a few months older than Unser, is the eldest.
They know they're not going to have too many more opportunities like they had Monday to get together with old friends to reminisce about old times. Good times.
"We've got to make sure to get Foyt here next year," Rutherford said.
"I don't know if he could make it up those steps," Unser replied.
They may be pushing 80, but the needle is sharp as ever.
May, 17, 2013
May 17
6:35
PM ET
INDIANAPOLIS -- E.J. Viso came within the blink of an eye of the first 230 mph lap in a decade at Indianapolis Motor Speedway on "Fast Friday."
Viso, driving a Dallara/Chevrolet for the Andretti Autosport team, uncorked a lap of 229.532 mph in his Citgo-sponsored machine.
Andretti Autosport claimed the top three speeds as Marco Andretti and rookie Carlos Munoz both topped 228 mph. Chevrolet-powered cars claimed the top eight positions on the speed chart, with three-time Indianapolis 500 winner Dario Franchitti the fastest Honda-powered competitor at 227.080 mph.
With an additional 10 mPA of turbocharger boost creating 40-45 extra horsepower, Friday practice speeds were approximately 4.5 mph faster than the previous best speed of the week -- 225.163 mph set by Munoz on Thursday.
Last year, the cool conditions of the final practice session on Saturday morning prior to qualifying produced laps about 0.3 mph quicker than Fast Friday of 2012.
[+] Enlarge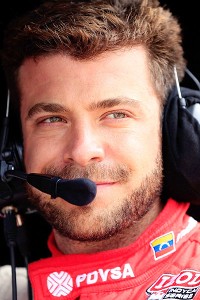 Jamie Squire/Getty ImagesE.J. Viso and the rest of the Andretti Autosport team were fastest on Fast Friday.
This year, Fast Friday conditions were not ideal for speed, with temperatures around 80 degrees and considerable humidity.
"I reckon we'd have been over 230 if we had a full day," Andretti said. "Obviously those were 'tow' laps.
"I think as a team, we're very comfortable with where we're at," he added. "But tomorrow is another day."
Andretti revealed that if he had his way, he'd sleep right through the Saturday 8 a.m. practice session.
"You don't learn a lot and in fact you can actually fool yourself," he said. "I think we were confident enough with our last couple of runs that we could just go out and qualify right now."
This is the second year that INDYCAR increased the turbo boost for Fast Friday and qualifying in an effort to produce speeds with a bit more sizzle. Last year, the drivers unanimously stated their desire to race with the additional horsepower, and most teams would prefer to have a consistent amount of power to work with as they develop their chassis setups.
"It's difficult for us to actually work on qualifying setups throughout the week, because typically the speeds build up gradually throughout the week and then on Friday you have this large buildup in terms of speed," explained Penske Racing president Tim Cindric. "You have to understand how the additional speed will affect the balance of the car. It's a lot to ask of these guys to have that difference in speed of 5-7 mph right before qualifying.
"I think it's good in terms of the overall impact to the sport, it's just difficult to do that in the short period of time like we have," he added. "But I'm certainly an advocate of trying to set new track records here, so I think we need to continue to work towards the right balance of safety and speed."
Teams lost nearly three hours of track time on Friday when rain swept into the Speedway at about 3:15 p.m. IMS officials called an end to the day's activity at 3:42 p.m. and moved the traditional draw for qualifying positions up to 5:00 p.m.
"Today is the day when the pressure really begins to mount for the drivers, and when you get a weather situation like we had today where it looked like we'd only be able to run up to about 3 o'clock, that just amplifies the situation," Cindric said. "It depends on the engine manufacturers, but I think you'll see 230 in tomorrow morning's practice. 230 might be a stretch, and I don't want to put that expectation out there. But I think we'll see those laps with some draft."
Last year's four-lap average pole speed was set by Ryan Briscoe at 226.484 mph. Helio Castroneves had the fastest individual lap speed of the month last year at 227.744 mph.
"It's very difficult to predict anything right now," said Ed Carpenter -- the IndyCar Series' most recent 500-mile race winner at Auto Club Speedway last season -- who was quickest on opening day, but 16th on Fast Friday at 226.768 mph. "I think the pole will be in the high 227 or low 228 for four laps.
"I have a good idea of what I think we can run on Saturday, but I'm not sure what everyone else can do."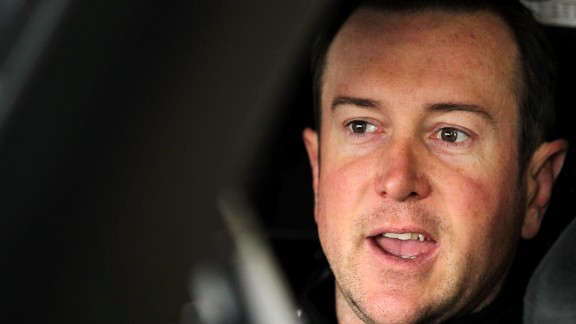 Todd Warshaw/Getty ImagesKurt Busch said doing the Memorial Day weekend double would make for a special one.
INDIANAPOLIS -- Last week, Kurt Busch took time off from his NASCAR duties for Furniture Row Racing to test an Australian V8 Supercar at Circuit of the Americas in Austin, Texas.
Now he's about to get back behind the wheel of an Indy car.
That's right, back.
Busch is set to test one of Andretti Autosport's Dallara-Chevrolets at the Indianapolis Motor Speedway on May 9. But it's a little-known fact the elder Busch brother actually tested an Indy car at Sebring International Raceway in February 2003. Busch wasn't looking to make a career change into open-wheel competition; at the time, he was firmly ensconced at Roush Racing and on the brink of winning the 2004 NASCAR Cup championship.
But in those days, Ford was the exclusive engine supplier to the CART-sanctioned Indy car series, and the Blue Oval arranged for Busch to take a spin in one of Team Rahal's Ford-Cosworth powered Lolas at the popular Florida test track.
Driving the car normally piloted by Michel Jourdain Jr., Busch certainly didn't embarrass himself. In what was basically his first-ever run in a rear-engine, open-wheel racing car, Busch lapped the 1.669-mile Sebring road course in 54.72 seconds -- just less than four seconds slower than test pacesetter Oriol Servia and less than 1.4 seconds slower than PK Racing rookie Patrick Lemarie.
Busch spun a couple of times, but overall, he made a deep impression on about 100 interested onlookers watching his 18-lap demonstration from a hillside between Turns 4 and 5.
[+] Enlarge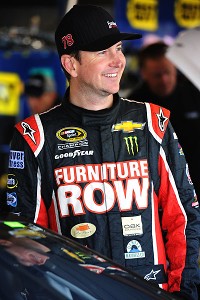 John Harrelson/Getty ImagesKurt Busch has a full-time job in NASCAR, but maybe one other race in the IndyCar Series isn't too much to ask.
"He looks good," remarked Jimmy Vasser, now an IndyCar Series team owner, but back then a driver who spectated during Busch's 30-minute demonstration run along with fellow CART drivers Servia and Paul Tracy. "The guy's obviously got talent because he won a bunch of Winston Cup races last year, and that's not easy."
Busch was grateful to have gotten the opportunity to drive the Team Rahal Champ Car. "The whole experience was first class," he said then. "Team Rahal went above and beyond what I'm used to in terms of telling me what to expect from the car, and Michel was very polite and very generous to let me drive his car today."
Busch spun early in his first flying lap, but he quickly settled into the mid-57 second bracket. After a pit stop to discuss the car with engineer Ray Leto and the Team Rahal crew, Busch returned to the track and steadily chipped away at the lap time until he put in a pair of sub-55 second tours. A second spin at Turn 2 ended his fun after 18 laps.
"After riding around with Michel this morning in a rental car, I knew the section between Turn 1 and Turn 3 was going to be difficult," Busch said then. "My first spin was down to cold tires, and on the last spin, I was just trying to carry too much speed because I was losing a lot of time there, due to the fact that I didn't trust the downforce.
"I probably lost 1.5 seconds of time on the lap just under braking," he added. "The braking was unlike anything I have ever comprehended in my life."
At the time, Busch expanded on his open-wheel experience in a column I ghost-wrote for the English magazine Autosport.
"Believe it or not, I call this my first experience in an open-wheel car," he told me. "I drove a Formula Ford at a Bondurant school four years ago, but that is irrelevant to driving a Champ Car. Many years ago, I went to Phoenix International Raceway to watch Modified and Super Modified cars race, and my dad told me it would be the closest thing I would ever see to an Indy car.
"So I am very appreciative to my friends at Ford for creating this chance, but I'm going to keep my day job," he added. "The door is open now and I enjoyed the experience, but I think I'll stick to what I'm accustomed to."
Busch could hardly have imagined that, more than 10 years later, he would get another shot at driving an Indy car -- this time, courtesy of Chevrolet and on a proper oval track.
Team owner Michael Andretti said he and Busch came into contact last year when they were working on "another racing project" -- presumed to be Andretti Autosport's exploratory effort to enter NASCAR racing -- and he looks forward to seeing what a modern stock car star can do in an Indy car.
"I respect his talent and am happy to give him the opportunity to experience the raw speed of an Indy car," Andretti stated. "It's a unique feel and perspective -- it will be totally different than what he is used to driving each week on the Cup circuit."
Busch was already asked about the possibility of attempting the Indy 500/Coca-Cola 600 double, something only three drivers (John Andretti, Robby Gordon and Tony Stewart) have successfully completed.
"I have always enjoyed racing at Indianapolis, and when IMS and Michael presented me with the opportunity to test an Indy car prior to opening day of practice of the Indianapolis 500, I jumped at it," Busch said.
"I'm looking forward to this test and experiencing IMS at the speeds the Indy cars run," he added. "Let's see how the test goes, and then I can look at the opportunities that could be beyond this coming Thursday. Running the Indianapolis 500 would certainly be a highlight, and doing another 600 miles in a Cup car on the same day would make for a special weekend."
April, 11, 2013
Apr 11
11:44
AM ET
INDIANAPOLIS -- I was born in Pennsylvania, but I moved two states to the west when I was 10 years old and the Indianapolis Motor Speedway became my home track.
I still enjoy returning to the Keystone State to reminisce about my youth and pay respects to my deceased family members. However, I'm particularly excited to head back to PA this summer because I get to go cover the IZOD IndyCar Series at a racetrack I've never visited: Pocono Raceway.
[+] Enlarge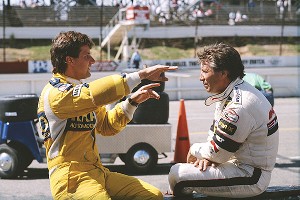 Michael Brennan/Getty ImagesMario Andretti, right, and son Michael discuss strategy at Pocono Raceway in 1988. Indy car racing returns to Long Pond, Pa., July 7 after 24 years.
Indy cars last raced at the 2.5-mile tri-oval in 1989, when defending CART/PPG IndyCar World Series champion Danny Sullivan scored the final oval track victory of his career for Penske Racing. It's hard to believe that nearly a quarter of a century passed before the return of open-wheel cars to Pocono, which happened in the form of a Firestone tire test Wednesday.
"We've been waiting for this moment, and we belong here," commented Indy car legend (and local resident) Mario Andretti, who was on hand to watch his grandson, Marco, in action.
"This place was built for Indy cars. The facility is fabulous, and it was my favorite superspeedway to drive on. It's different from any other superspeedway we run because of the very different radius of every corner and also different banking. That's what I really enjoyed about this place."
Three other drivers (Will Power of Team Penske, Dario Franchitti of Ganassi Racing and Simon Pagenaud of Sam Schmidt Motorsports) ran laps Wednesday, and all four pilots comfortably eclipsed Emerson Fittipaldi's pole-setting track record from 1989 of 211.75 mph. No speeds were announced, but Firestone confirmed that the 215 mph barrier was easily surpassed.
Scheduled for July 7, the Pocono 400 is the second of three rounds in a revived "Triple Crown" of superspeedway races in which Fuzzy's Vodka will pay a $1 million bonus to any driver who sweeps all three events. The other rounds are the Indianapolis 500 and the IndyCar Series finale at Auto Club Speedway in Fontana, Calif. From 1971 to 1980, the Triple Crown consisted of 500-milers at Ontario Motor Speedway, Indianapolis and Pocono; Ontario closed in 1980 and was replaced by Michigan Speedway. Al Unser is the only driver in history to have swept the Triple Crown (1978).
As Mario Andretti alluded, the challenge of Pocono is the three distinctive turns, two of which are linked by the longest straight on any oval track Indy cars race on -- 3,740 feet, or more than seven-tenths of a mile.
Because none of the current drivers has raced there -- with the exception of Franchitti, who competed at Pocono in 2008 in a NASCAR stock car during his sabbatical from Indy car racing -- I asked three-time Pocono winner Rick Mears to explain the secret to being successful there.
"It was always one of my favorite tracks, just because it's so challenging," Mears related. "That's down to the layout, and it's tough to set up the car to work everywhere. You've basically got Michigan in Turn 1, with banking kind of similar to that, then Indianapolis in Turn 2 and Milwaukee in Turn 3. There was always a compromise in tuning the car because you could never get all three corners together. If you were good in 3, you usually weren't good in 1 and 2. But if you were good in 1 and 2, you weren't too good in 3.
[+] Enlarge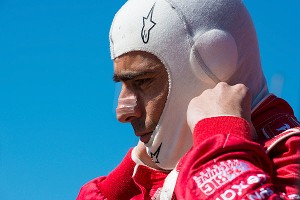 Robert Laberge/Getty ImagesFour-time IndyCar Series champion Dario Franchitti on his return to Pocono this summer: "It's going to be a very good race."
"Of course, 3 is a critical corner because it leads onto a long straightaway. So there was always a happy balance you tried to find to run well there, whether it was in qualifying or the race. Back then, we had bumps to contend with, but that was part of the challenge. Gearing could be critical for this race, with the narrower power band of smaller engines. Hopefully we won't have an aero package that lets them run wide open because pedaling it was what made it fun."
Remarkably, the modern Indy car drivers reported that they were able to lap the 2.5-mile track flat-out despite using the Indianapolis wing package that produces the lowest amount of downforce available for the Dallara DW12 chassis. It's likely that INDYCAR technical director Will Phillips will come up with a reduced downforce package by the time the series returns to Pennsylvania in July.
"It's a really nice track, very smooth with the resurfacing," Power reported. "It's very fast; I'm already wide-open all the way around. We're maybe a little bit heavy on downforce, but it's nice. It's going to be fun if your car is good. If not, you're not going to want to be out there."
Naturally, Franchitti was asked to compare driving the track in a stock car and an Indy car. It's apples and oranges.
"I had some preconceived ideas, having driven the Cup car," Franchitti said. "The tunnel turn [2] is probably the most similar car to car, but we're still, I think, 20 or 30 mph quicker in the Indy car. Going through 3 wide open right now defies logic, really, when you consider we have Indianapolis spec wings on the car.
"There's always compromise, especially at a track with three such different corners," he added. "You're always going to be better at one corner than another. The trick is to figure out which one you can give away the most in order to still be competitive. You've got to figure out which one is the one you can give away something to be perfect on the one or two other corners.
"It's going to be a very good race."
Just a few years ago, the notion of Indy cars returning to Pocono was unthinkable -- for safety reasons. But in recent times, the track was resurfaced and the old boilerplate wall was replaced by SAFER barrier-protected concrete.
"Needless to say, if you crashed, that could be like a razor blade chopping the car in half," Power observed. "I'm glad things have changed.
"I really hope when we come and race here we get a big crowd. I think these cars around here, with the corner speeds they carry, are pretty impressive. I hope people come and watch."
February, 12, 2013
Feb 12
12:16
PM ET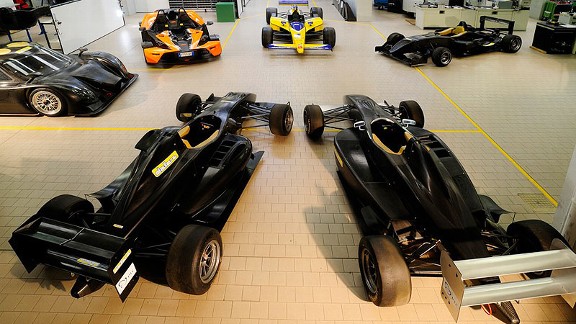 Courtesy Dallara AutomobiliEye candy for racers: a collection of Dallara cars at company headquarters in Varano, Italy.
VARANO, Italy -- I wasn't surprised when the folks at Dallara Automobili asked me to pay them a visit. After all, I live just three blocks from the Italian company's American assembly facility and interactive exhibit in the shadows of the Indianapolis Motor Speedway.
"No, Mr. Oreovicz, we would like you to come to Varano, to meet Mr. Dallara and see for yourself what we are all about."
An opportunity like that doesn't come along very often, so a few days later, I found myself boarding an American Airlines Boeing 767 with television analysts Scott Goodyear (ABC) and Jon Beekhuis (NBC Sports) plus a small contingent of INDYCAR officials. Over the course of 48 hours, we received a crash course in the unique culture of the firm Gian Paolo Dallara started more than 40 years ago in the village he was born in.
Mr. Dallara, 76, was an engineering prodigy who found himself stifled by the politics of working with manufacturers such as Ferrari, Maserati, Lamborghini and De Tomaso. So in 1971, he struck out on his own and designed and built his first sports racing car in the garage of his home in Varano de' Melegari, a village of approximately 2,000 residents about 20 miles from the historic city of Parma.
[+] Enlarge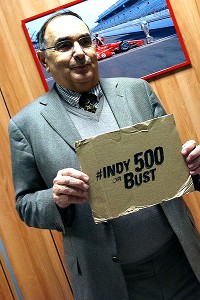 John Oreovicz/ESPNGian Paolo Dallara, 76, crafted his first sports racing car in the garage of his home in Varano in 1971.
Dallara is now the world's leading producer of customer racing cars, and the company has built a lucrative consultancy business working to develop road and racing cars. As a leader in aerodynamics and the use of carbon fiber construction, Dallara has played a key role in the creation of almost every Audi DTM and Le Mans car, not to mention outrageous street machines like the Bugatti Veyron and KTM X-Bow. But Dallara is still solidly rooted in Varano, with a small campus of buildings on the outskirts of town. If a Varano resident doesn't work for Dallara, he or she has a friend or relative who does.
Our group's connection to Dallara was through Indy car racing. When Tony George formed the Indy Racing League (now the Izod IndyCar Series), he needed chassis suppliers not affiliated with the existing CART-sanctioned Indy car championship. Enter Dallara, which battled with G-Force for IRL supremacy for nearly 10 years before the Italians established a monopoly in the chassis market. Dallara was then awarded the contract to produce the spec chassis that entered IndyCar Series competition in 2012. Since 1997, Dallara drivers have won 11 IRL or IndyCar Series championships, and the marque has tasted victory in the Indianapolis 500 no fewer than 12 times.
Dallara says its three core competencies are design (specializing in the use of carbon fiber), aerodynamics and vehicle dynamics. The company's revenues are generated 60 percent from racing and 40 percent from consultancy, three-quarters of which comes from racing-related projects. Dallara also helped design and develop the hand bike that Mr. Dallara's longtime friend Alex Zanardi used to win several medals at the 2012 London Paralympic Games.
The company employs 200 people with an unusually youthful average age of 32. "We are a young company, except for myself and Gian Paolo," jokes Dallara CEO Andrea Pontremoli. "We prefer to grow in knowledge, not size."
A key part of Dallara's measured growth was the construction of the American base on Main Street in Speedway, Ind. The $12 million facility is not a factory; the Dallara DW12 Indy car (known internally as the IR12) was designed in Italy and mostly constructed there. The Speedway plant manufactures suspension and bodywork components and handles the final assembly of cars before they are shipped to customer teams. There is also a permanent exhibition area with interactive displays aimed at introducing kids to Indy car racing. The facility houses a design office for American customer consultancies and the first Lino's Coffee franchise in America.
America is Dallara's only planned area of expansion and accounts for almost a quarter of Dallara's annual turnover.
"We want to produce in dollars what we sell in dollars, the same as in Europe," Pontremini said. "Big spreads in the exchange rate can be a problem for our company. In the last two years alone, it changed 20 percent. We want to replicate our European business model, where we work with about 80 suppliers within a short distance of our headquarters. We have more than 25 suppliers now in the U.S. and our goal is 40.
"We're not interested in mass production. We prefer the design side, but we have the capability to produce small quantities of prototypes for real-world testing. We try to keep ourselves on the edge of developing use of carbon fiber."
[+] Enlarge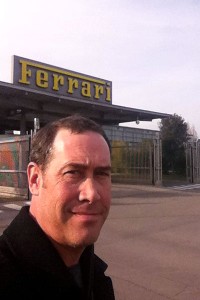 John Oreovicz/ESPNA gearhead's dream come true: John Oreovicz at the gates of the Ferrari factory in Maranello, Italy.
At Varano, Dallara has developed high-speed stereography techniques to create the parts needed to build half-scale models for testing in the state-of-the-art wind tunnel the company dedicated in 2008. A more recent innovation is what may be the world's most sophisticated driving simulator; our group watched KV Racing's Simona De Silvestro turn laps at Sebring International Raceway, Sonoma Raceway and the Long Beach street course during our visit.
Dallara plans to install an identical $1 million simulator in its American facility in the next year.
"It's really cool, and it's pretty useful once you adapt to the motions the simulator makes," De Silvestro said. "The simulator can help you understand things about the way the car feels, and you can maybe use it to learn new or unfamiliar tracks.
"But it's an even more important tool for the engineers because they can make changes to the chassis or engine setup in five minutes when it might take hours at the track. We did 400 laps of Sebring in two days, which would be impossible in real life, and the data confirmed our findings from our last real-world test at Sebring a few weeks ago."
Happily, there was a small amount of free time on our whirlwind trip, so we enjoyed a morning of sightseeing in Parma, including the Teatro (Theater) Farnese completed in 1618 that was severely damaged in bombing by the Allies in 1944 and subsequently restored in the post-war period. Other highlights were the Romanesque cathedral, the adjacent Baptistery and the San Giovanni Evangelista, featuring a beautifully painted dome with the first known use of illusionistic perspective. The Emilia Romagna region is also famous for food, including superb prosciutto, Parma ham and Parmigiano Reggiano cheese.
Our group of gearheads then journeyed to Maranello, where we bowed in homage at the gates of the Ferrari factory and toured the new Ferrari Museum in Fiorano. While disappointed that my quest to see a Ferrari 312T went unrewarded (the 1975 Formula 1 world championship winner driven by Niki Lauda is my favorite race car of all time), I was greatly moved by an exhibit dedicated to the memory of the late Gilles Villeneuve. There were a pair of Gilles' F1 cars on display (the 1979 312T4 and the 1981 126C), but what I thought was even cooler was the 308GTS road car with which Villeneuve set an unofficial record of 2 hours, 25 minutes from Monte Carlo to Maranello -- an average speed of 111 mph!
Goodyear related that last year he emceed an event in Canada at which Villeneuve's widow, Joanne, was special guest of honor. He marveled at how she said she simply slept in the passenger seat while her husband drove flat-out all over the roads of Europe in the manner in which he was famous for on the track. The ghost of Gilles -- a favorite son of Enzo Ferrari -- looms large over Ferrari even more than 30 years after his death in a 1982 racing accident.
As a kid who grew up as a passionate fan of F1, and Ferrari drivers in particular, it was a real treat to visit the museum. But it was also a pleasure to make many new friends at Dallara and learn about a company that has made such a significant impact on the world of Indy car racing. The Italians are superb hosts, and I sincerely hope that Mr. Dallara accepts the invitation I extended to visit my home in May when he is in town for the Indianapolis 500 to experience an American backyard barbecue.
January, 17, 2013
Jan 17
4:33
PM ET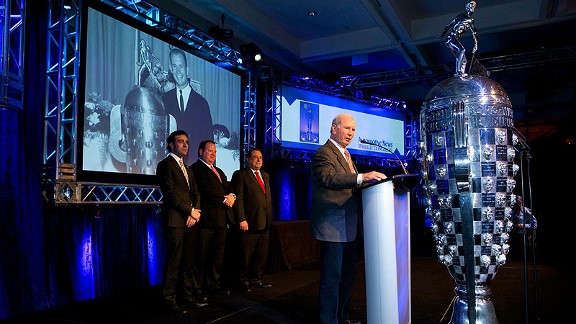 Michael Levitt/LAT Parnelli Jones glances at the real Borg-Warner Trophy on the day he was presented his replica.
DETROIT -- They say Parnelli Jones was prepared for any situation he faced as a driver or racing team owner.
But the 79-year-old legend wasn't prepared for what hit him Wednesday night in Detroit.
While in town at the Automotive News World Congress dinner to help present Dario Franchitti with the "Baby Borg" replica of the Borg-Warner Trophy that has been presented to Indianapolis 500 winners since 1988, Jones had the tables turned, as Franchitti presented him with the first Baby Borg created for a past Indy champion from the previous era.
2013 marks the 50th anniversary of Jones' victory in the 1963 Indianapolis 500, a classic duel that saw Parnelli in his traditional front-engine roadster pitted against Franchitti's hero Jim Clark in the revolutionary rear-engine Lotus-Ford.
[+] Enlarge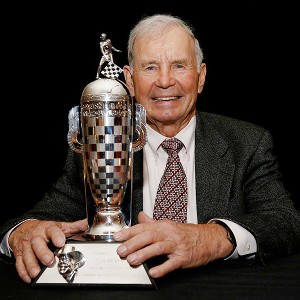 Michael Levitt/LATParnelli Jones shows off his Baby Borg. Given to Indianapolis 500 winners beginning in 1988, he is the first champion from before that era to be presented with the replica.
Jones' diverse career included success in such events as the Baja 1000 in the desert and Trans-Am road racing, but he is most famous for his achievements at Indianapolis Motor Speedway, where he led five of the seven Indianapolis 500s he started. Jones dominated the 1963 and 1967 contests but saw the checkered flag only in '63; a bearing failure in the radical STP Turbine car ended his '67 race four laps short of the finish. Jones never started lower than the second row at Indy, and he was the first driver to achieve the 150 mph milestone in qualifying. He shared Rookie of the Year laurels with Bobby Marshman in 1961 and finished second to Clark in the 1965 race.
The 2,000 industry dignitaries in attendance gave Jones a standing ovation when the surprise was revealed.
"We are extremely pleased to commemorate the 50th anniversary of Parnelli's Indianapolis 500 victory by presenting him with a personal symbol of his achievement -- a Baby Borg," said Timothy Manganello, executive chairman of BorgWarner. "Dario and Parnelli will tell you that the thrill of winning the greatest race in the world is beyond description, and looking at all of the faces and names on the Borg-Warner Trophy, you realize you've joined a very elite group of champions, representing a centurylong tradition of achievement."
Franchitti was in on the Baby Borg caper from the start. The seed was planted in the fall when he sat down for an interview in Los Angeles with Jones and four-time Indy 500 winner Rick Mears. Somehow the point was raised that Mears was the first Indianapolis winner to receive a Baby Borg, a 14-inch replica of the priceless 5½-foot-tall, 110-pound original Borg-Warner Trophy that debuted in 1936.
"I said, 'I need one of those,' and I guess they took it upon themselves to get that rolling with BorgWarner," Jones said.
Franchitti and former INDYCAR PR man Steve Shunck learned that Baby Borgs had been privately commissioned in the past for upward of $25,000.
But realizing the historic significance of 50 years since Jones' Indy victory and a potential way to annually recognize other past champions, BorgWarner helped create a new Indy tradition.
"It was so neat to see our plan for getting him one come together," Franchitti said. "Winning the Indianapolis 500 is a special honor, and I am thrilled to be able to see Parnelli get a retro Baby Borg 50 years later to remember his win in a very special way.
"I am very honored to be receiving my third Baby Borg this year," added the four-time IndyCar Series champion. "My Baby Borgs take front and center among all my trophies, and I know Parnelli is thrilled."
The surprise honoree was suitably humbled by the presentation and the warm reception.
[+] Enlarge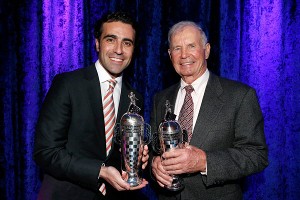 Michael Levitt/LAT 1963 Indianapolis 500 winner Parnelli Jones, right, and 2012 winner Dario Franchitti show off their Baby Borg trophies.
"They shocked me," Jones said. "I had mentioned to those guys that when I won Indy all I got was a plaque. That's not fair! I said I'd even be willing to pay for it. I had no idea they were going to present me with my own Baby Borg.
"It seems like it all happened maybe 20 years ago or something, not 50," he added. "I have a lot of great memories from that time, but you never get over the thrill of winning the Indianapolis 500."
As an aficionado of motorsports history, Franchitti was honored to have Jones present the Baby Borg for his third Indy win. Jones holds Franchitti in high regard as well.
"He's in the same class as Rick Mears and Al Unser in my opinion," Jones said. "They have a lot of finesse, and they know how to win. He's got a lot of confidence in his own ability, but he's not a daredevil-type race driver. He uses common sense, and he knows how to get to the end. There are guys who have a lot of talent and a lot of desire, but he knows how to finish, and that's important."
Although he is approaching 80, Jones remains as busy as ever. He is currently promoting a new biography titled "As a matter of fact, I am Parnelli Jones."
"It was an honor to be here honoring Parnelli tonight," Franchitti said. "Not only is he a man who could drive anything quickly, he's possibly one of the toughest guys ever in racing. He could completely kick the ass of anyone I've ever met. He still looks like he's made out of granite.
"I'm glad I didn't have to race against him, because he would have definitely kicked my ass!"
January, 7, 2013
Jan 7
11:10
AM ET
About 15 years ago, when I worked public relations for PacWest Racing, team owner Bruce McCaw suggested that I carry a point-and-shoot camera with me to capture on film whatever memorable moments might occur.
Of course, these days almost everyone -- myself included -- carries a point-and-shoot camera embedded in their cellphone. The quality of the images these tiny devices produce is sometimes astounding, and the proliferation of websites such as Instagram and Twitter has demonstrated that people love to share what happens in their lives.
ESPN The Mag's Ryan McGee recently posted his favorite pictures from the 2012 NASCAR season, and that inspired me to do the same. Here, therefore, are some of the memorable images I captured on the job throughout 2012:
Waiting game -- The Dallara DW12 was not quite ready for prime time when it made its official debut at an open test at Sebring International Raceway in January. As a result, there was plenty of time for the drivers to wait around, and several of them spent that time watching from a spectator area while their cars were prepared. From left, Graham Rahal, James Hinchcliffe, Marco Andretti, Ryan Hunter-Reay and Tony Kanaan discussed their offseason exploits.
---
***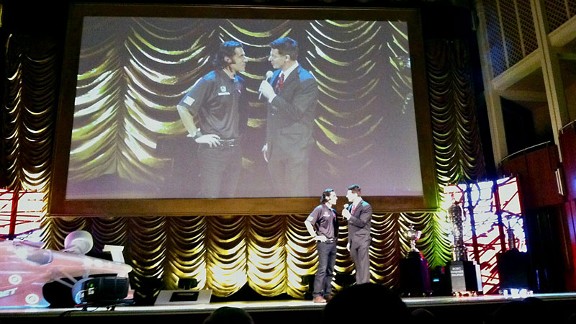 John Oreovicz/ESPN.com
Back to work -- For the first time, INDYCAR held a State of the Sport summit at the Hilbert Circle Theater in Indianapolis in February. It was the first public appearance by the series' drivers and management since Dan Wheldon's death four months earlier, and the mood was still somewhat somber. Here Kevin Lee interviews 2011 IndyCar Series champion Dario Franchitti.
---
***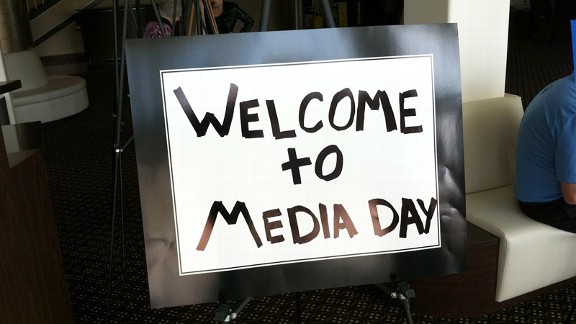 John Oreovicz/ESPN.com
Sign of the times? -- Every now and then you get reminded that the IndyCar Series isn't quite as big and professional as NASCAR and other major sports.
---
***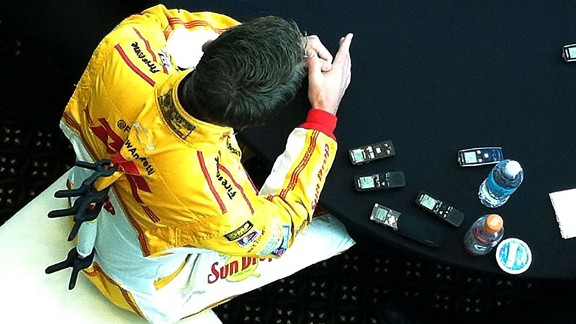 John Oreovicz/ESPN.com
Breathing room -- Photo and video shoots are a major part of media day, and many of the drivers are just trying on their new suits for the first time. OMP's first attempt at Hunter-Reay's 2012 duds came out a bit big, as seen by this overhead shot that reveals the clips in back holding the front taut.
---
***
[+] Enlarge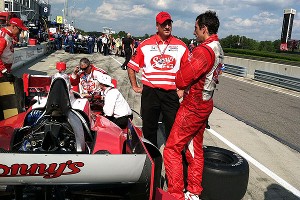 John Oreovicz/ESPN
Pit perspective -- Immediately after a race ends, I tend to make a lap of the pit lane to get quotes from competitors who may have played a notable part in the race but didn't finish on the podium. I like this picture I snapped of engineer Bill Pappas and driver Justin Wilson debriefing after the race at Barber Motorsports Park in April.
---
***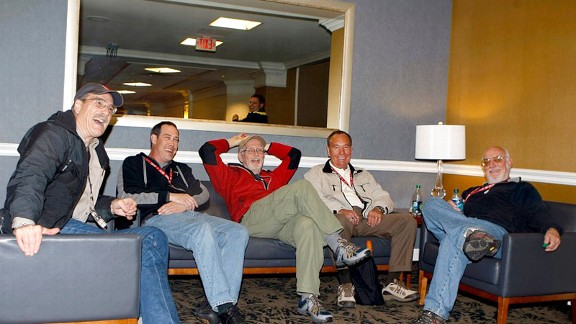 Phil Abbott/LAT
Catching up -- Friends and colleagues catch up outside the Long Beach Grand Prix media center in April. From left, John Zimmermann, John Oreovicz, David Phillips, Steve Chassey and Gordon Kirby.
---
***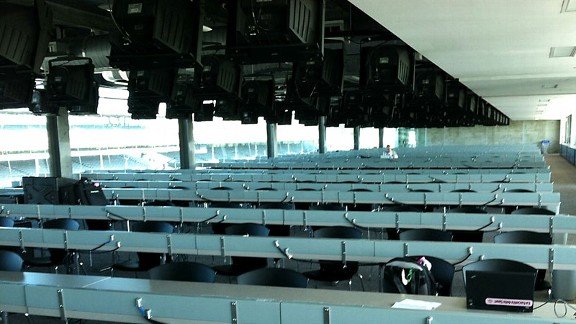 John Oreovicz/ESPN.com
Calm before the storm -- This was the sight that greeted me upon arrival at the Indianapolis Motor Speedway's fourth-floor media center on the opening day of practice for the Indianapolis 500. That lone figure busily typing away is Curt Cavin of the Indianapolis Star.
---
***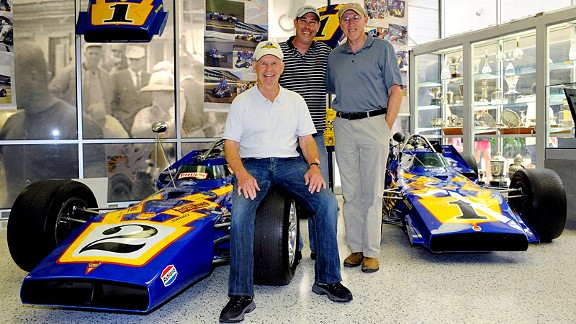 F. Peirce Williams/LAT
Parnelli and me -- My dad came to visit me during a practice day during the month of May. He arrived before cars were on track, so we decided to visit the IMS Hall of Fame Museum. We ran into my friend (and pro shooter) Peirce Williams, waiting in the Parnelli Jones Collection, who said, "I know why you're here!" Just then, Parnelli himself walked in for a photo shoot with Peirce and Greg Griffo of the Indianapolis Star. When the official shots were done, Peirce insisted on getting a shot of Dad and me with Parnelli. What a souvenir!
---
***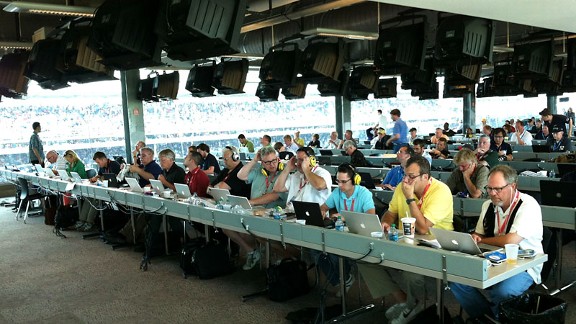 John Oreovicz/ESPN.com.
Let the fun begin -- This is the "after" picture of the Indianapolis Motor Speedway media center in full swing on race day. Now the entire row reserved for The Star is filled.
---
***
Proud fan -- Carb Day is the new party day during the month of May at Indy, and you see some pretty crazy fans.
---
***
Uh, OK -- Apparently I wasn't the only one who thought this jolly group was photo-worthy.
---
***
[+] Enlarge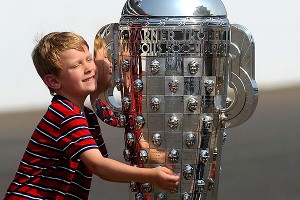 F. Peirce Williams/LAT
Memory of a lifetime -- Dario Franchitti suggested that I bring my 6-year-old son, Patrick, over to the Indy 500 winner's photo shoot the day after the race. This is the result. Thanks, Dario!
---
***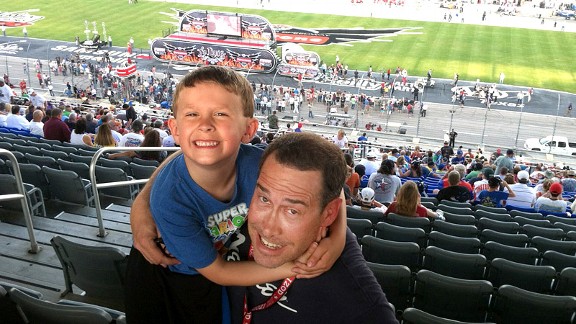 John Oreovicz/ESPN.com
A fan's perspective -- ESPN.com assigned Terry Blount to cover his home race at Texas Motor Speedway, but it was an event I wanted to attend anyway. So Patrick and I logged a mighty 2,800-mile road trip that took his tally of states visited up to 22 (not bad for a 6-year-old!) and watched the June 9 race from the grandstands.
---
***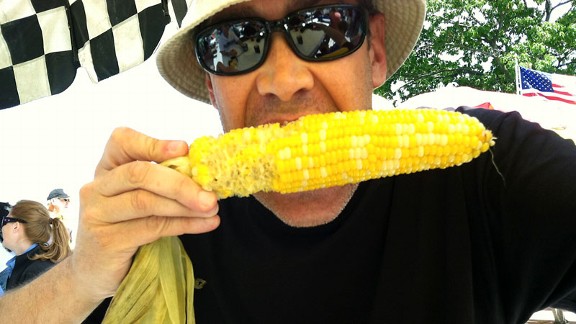 John Oreovicz/ESPN.com
Lip-smackin' good -- It was a true pleasure to return to Elkhart Lake, Wisc., to my favorite track in America for the first time in five years. Naturally I celebrated with a bratwurst and an ear of fire-roasted corn.
---
***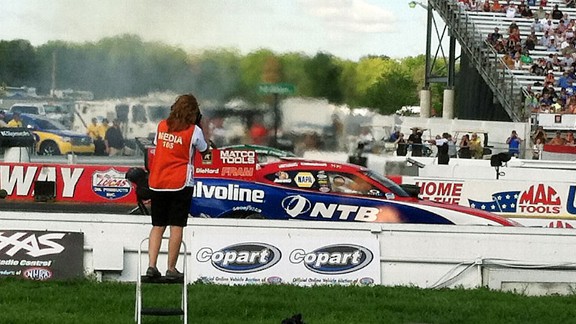 John Oreovicz/ESPN.com
Did you see that? -- I mixed in a few drag racing events along with IndyCar and Le Mans. I like this image -- three cameras capturing the same shot at the U.S Nationals in September.
---
***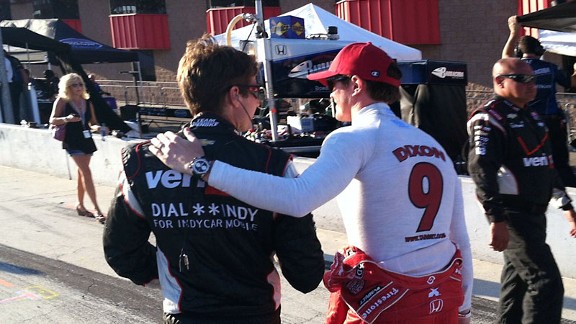 John Oreovicz/ESPN.com
Prerace banter -- Scott Dixon wishes Will Power good luck prior to the crucial final race of the IndyCar Series season Sept. 15 at Auto Club Speedway. Apparently it didn't work.
---
***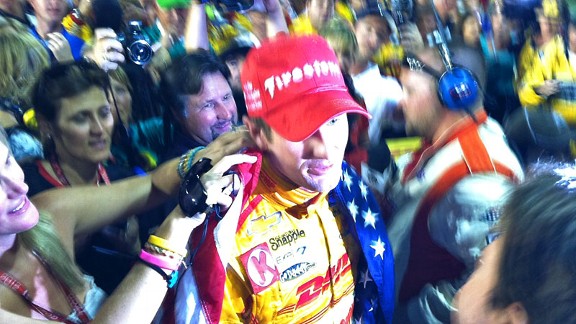 John Oreovicz/ESPN.com
Caught in the middle -- I was right there in Victory Lane when Power arrived to congratulate the new champion, Hunter-Reay. Talk about chaos!
---
***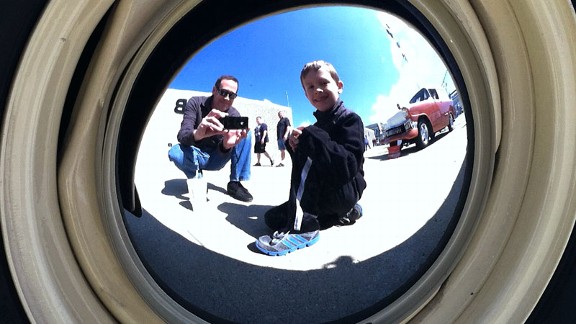 John Oreovicz/ESPN.com
Bring on '13 -- Reflecting on the last year with my son at the Good Guys Hot Rod and Custom show at IMS. Happy New Year, everyone!
December, 10, 2012
12/10/12
12:27
PM ET
INDIANAPOLIS -- Perhaps not surprisingly, Tony Stewart turned down Roger Penske's offer of a ride in the 2013 Indianapolis 500.
Stewart announced his decision at the annual International Motorsport Industry Show, of which he is a founding partner.
"It was kind of heartbreaking here to hear the crowd so upset when we said we weren't going to do it," Stewart said last week at a reception at Lucas Oil Stadium opening the 2012 edition of the racing trade show.
[+] Enlarge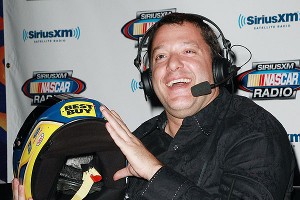 Marcel Thomas/FilmMagic/Getty ImagesTony Stewart on passing on the Indy 500: "... Since I've been a team owner I pretty much ruled out the possibility of ever running Indy again."
"But it's like being at Thanksgiving dinner … my plate is finally full. I don't know that I could add any more to what I've got right now."
At the NASCAR Sprint Cup banquet in Las Vegas on Nov. 30, Penske surprised Stewart and the rest of the racing community with his offer to provide a car so the two-time Sprint Cup Series champion could "do the double" -- compete in the Izod IndyCar Series Indianapolis 500 and the NASCAR Sprint Cup Series Coca-Cola 600 in the same day.
Stewart, who raced Indy cars under Indy Racing League sanction full-time from 1996 to 1998, performed the double feat in 1999 and 2001. In the latter year, he finished sixth at Indianapolis driving for Chip Ganassi Racing and third at Charlotte in a Joe Gibbs Racing stock car.
Since then, the 41-year-old Indiana native has maintained that an IndyCar non-regular would have little chance of being competitive in a one-off outing, and Stewart repeated that mantra Wednesday in Indianapolis.
"The IRL is so competitive now, probably stronger than it's ever been as far as competition," Stewart said. "You're not going to stroll in there for the month of May and expect to be on the same page as those guys. You'd have to start the season from the beginning to become acclimated to the team you were going to run the month of May with.
"Roger and I never even spoke about it," he added. "It's a great opportunity, but it's very hard when you're running three [NASCAR Sprint] Cup teams right now -- the obligations we have with making sure we're doing the right things for Ryan [Newman] and Danica [Patrick], as well as Donny Schatz and Steve Kinser and Bryan Clauson and Bobby East. We've got a lot of people that depend on us. There's a lot of responsibility there, and since I've been a team owner I pretty much ruled out the possibility of ever running Indy again.
"So as much as I would like to do it, I just don't have the time to do it proper."
If Penske is serious about running a Cup driver in the Indianapolis 500, and if contractual conflicts could be worked out, the legendary car owner wouldn't have to look far for a competitive alternative.
Brad Keselowski, who just clinched Penske's first NASCAR Sprint Cup title (to go along with 12 Indy car championships and 15 victories in the Indianapolis 500), told ESPN.com that he would be interested in "doing the double" in the future.
"Ford doesn't have a presence in Indy car racing, but if they did, I'd be knocking on Roger's door and he'd be knocking on mine," Keselowski said.
"How could it not appeal to you? It would be the pinnacle achievement in motorsport of all time. If you could go out and win one of those races, let alone two, you'd be a legend."
IndyCar Series champion Ryan Hunter-Reay said he was disappointed that Stewart did not accept Penske's challenge.
"I was hoping to see it happen," Hunter-Reay said. "We want the best here and welcome anyone who wants to come drive in the Indy 500, especially with someone like Tony Stewart's qualifications.
"We want to race against the best and we want to win against the best."
Hunter-Reay noted that Stewart -- or any other driver from a series outside of IndyCar -- would have a difficult time adapting to the foreign machinery, even with more than a week of practice time available at Indianapolis.
"We've seen the IndyCar drivers go over and put their toe in the water in NASCAR and more times than not it hasn't looked very good," RHR said. "I really respect what those guys do with those heavy cars, big horsepower, little tires, and I'd love to try it if I had a competitive opportunity.
"On the other hand, they would have a steep learning curve here, too. We haven't seen anybody come over here, but I would welcome seeing a NASCAR driver jump in an Indy car. Somebody like Tony knows how to adapt to different race cars. He's talented, he's been around the block, so he could absolutely do it."
Prior to the establishment of the Brickyard 400 stock car race, NASCAR drivers sporadically competed at Indianapolis through the mid-1970s.
Bobby and Donnie Allison, Cale Yarborough and LeeRoy Yarbrough all made starts in the Indy 500, with Donnie Allison's fourth-place finish in 1970 standing as the best result.
Indy car drivers Mario Andretti (1967) and A.J. Foyt (1972) have claimed victory in NASCAR's biggest race, the Daytona 500.
In 1994, John Andretti was the first driver to complete the Indianapolis-Charlotte double. Stewart, in 2001, was the last.