Title or no title, Dario's return a successful one
September, 29, 2009
09/29/09
1:37
PM ET
Dario Franchitti might not win the IndyCar Series championship Oct. 10 at Homestead-Miami Speedway. But in his open-wheel comeback season, he cemented his status as a champion for American motorsports.
To most, Franchitti's brief foray into NASCAR in 2008 was not a success. The obvious lows included an ankle-breaking accident in a Talladega Nationwide Series race and an embarrassing Sprint Cup DNQ at the Infineon Raceway road course.
[+] Enlarge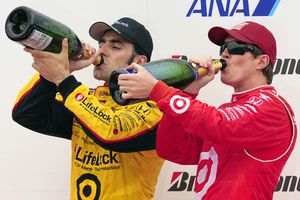 AP Photo/Shuji KajiyamaDario Franchitti, left, and teammate Scott Dixon have shown an extreme thirst for winning in 2009.
It's easy to miss the highlights: a Nationwide pole at Watkins Glen, and many laps led in the same series at Bristol. In fact, Franchitti showed more promise in his handful of stock car appearances than any of the recent open-wheel transplants currently racing in NASCAR.
Although things didn't work out the way he wanted in NASCAR, Franchitti's perceived failure in stock cars only strengthened his resolve and desire to drive Indy cars. He admitted those were lacking in the latter stages of his 10-year tenure with Andretti Green Racing, even during his IndyCar championship and Indy 500-winning season of 2007.
In a fresh environment at Target Chip Ganassi Racing, alongside a teammate he likes and respects in Scott Dixon, Franchitti adjusted back to open-wheelers as if he had never been away. His 2009 season has been every bit as competitive as his 2007 championship campaign, with four race wins and only five points separating him from Dixon's championship lead.
"Yeah, I'm having a blast," he said, smiling, after finishing second in the Indy Japan 300 at Twin Ring Motegi. "I'm really enjoying it again. I thought at one point I would have retired maybe by the time I was 35. But I'm still enjoying it. I still love it. The fact I can still be competitive, I'm still out there winning races and challenging for championships, it's just for fun. It's just because I enjoy it.
"For me, a big part of enjoyment has been being in the position to win races. I've got to thank Chip and those guys for inviting me back."
He won't want to hear it, but at age 36, Franchitti is a standard-bearer -- if not an elder statesman -- of the IndyCar Series. Despite his success on the track -- and the fact that he is married to one of the world's most-admired women, Ashley Judd -- Franchitti remains as unpretentious as he was the day he arrived in America to race in the CART series in 1997.
He knows there is a point coming when the wins aren't going to come as frequently. There's plenty of statistical evidence to show that Indy car drivers start to lose a fraction of their pace in their late 30s, the latest example being Franchitti's old pal Paul Tracy.
But Franchitti insists he's not there yet, which has allowed him to race in lockstep this season with Dixon, who at age 29 is already a two-time IndyCar Series champion with the potential to go down as one of the sport's all-time greats.
"It depends day to day, but I feel similar to what I did when I was 30, but maybe smarter," Franchitti said. "I think there's definitely a crossover. You improve as a driver and you improve your race craft and your sort of race smarts. You become a bit smarter. At the same time, your reactions start going a lot. I don't think I've reached that crossover point yet, and hopefully it doesn't come for a while."
With 50-year-old Mark Martin leading the Sprint Cup Series in wins and points, there's obviously time for Franchitti to eventually make the transition into stock cars if he still wants to. Sports cars are another option; he's a favorite at Honda and is co-driving Patron Highcroft Racing's Acura prototype in this weekend's Petit Le Mans at Road Atlanta.
For the time being, he is happy to watch Juan Pablo Montoya -- his former rival from the CART series -- fly the Ganassi flag in the Chase for the Cup.
Or maybe a little envious.
"I wish they'd been that good last year!" he said. "It's brilliant for the whole team. Chip puts a lot into his racing and gives every team everything it needs to do their job. I mean, to see the improvement there, to see JPM is not only in the Chase but stuck it on the pole down there in Loudon is really great to see.
"Hopefully we can keep our end of the bargain."