Catching up on racing angles in Detroit
January, 12, 2012
01/12/12
3:05
PM ET
DETROIT -- The automotive industry is getting back its swagger.
Take a look around the floor at the North American International Auto Show, where you'll find a 650-horsepower Mustang and a 580-horsepower Camaro, both totally street legal and for sale off the showroom floor.
That's more power than most racing cars have in this day and age.
But the show of brute force is indicative of an industry-wide shift back toward power and performance after a couple of lean years geared toward fuel efficiency and environmental friendliness.
From a racing standpoint, perhaps the most important new car on display at Detroit was the redesigned 2013 Ford Fusion. The midsize four-door sedan has sleek lines that were compared to those seen on Jaguars and Aston Martins.
Ford's NASCAR Sprint Cup Series cars are badged as Fusions, which made me wonder how the 2013 version would translate to NASCAR's boxy Car of Tomorrow specifications. But Ford Racing boss Jamie Allison assured me that next year's Ford Cup entry "will look exactly like the car you and I are looking at today."
[+] Enlarge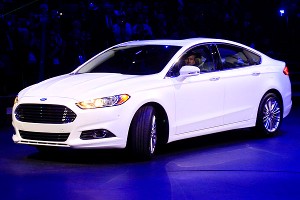 AP Photo/Carlos OsorioThe next-generation Ford Fusion was drawing plenty of attention at the North American International Auto Show in Detroit.
"It's stunning," he added. "This car carries the new face of Ford and we've been working with NASCAR because we race Fusions in the Cup series. Next year, you're going to see this new face of Ford on a car that is unique and identifiable as a Ford on the track."
Ford Racing officials are excited about the prospect of much more distinct differences in identity between the four competing marques in the Sprint Cup Series next year. But they discounted speculation that the company is looking to rejoin Chevrolet as an engine manufacturer in the Izod IndyCar Series, even though the new turbocharged engine formula would be a perfect platform to promote Ford's EcoBoost engine technology.
"There were times in our history when we were very active in open-wheel racing," Allison said. "We are now at this time focused on production-based racing and technologies. We want the cars we race to be evocative of the cars in people's driveways. Open-wheel racing, and the demands of what it requires to succeed with purpose-built applications, are right now not a priority for us."
Allison is also excited about Courtney Force's NHRA Funny Car debut in a John Force Racing Mustang.
"Courtney is absolutely a delight," he said. "We saw what [sister] Ashley [Force Hood] did when she came into the sport. We are very excited. She has a lot of potential. I've been to a couple of her tests and I think it's going to be a great year for John Force Racing and all the Fords."
---
Over at Honda, I had a long talk with Honda Performance Development president Erik Berkman, who filled me in on the status of the Honda IndyCar program.
"We're comfortable with how things are progressing," Berkman said. "We had to compromise a bit when the displacement was reduced from 2.4 to 2.2 liters, and that kind of squandered the early advantage we had gained by being the first to commit to building an engine for the V-6 turbo formula."
Berkman was a new car project leader for Honda when HPD last had engine building competition in Indy cars. He is quickly discovering the pratfalls that come with not being the IndyCar Series' sole engine supplier.
A year ago, before Chevrolet and Lotus also committed to IndyCar to produce engines for the 2012 season, Berkman told me he hoped to avoid the kind of "arms race" that characterized the war between Toyota and Honda in CART from 2000-02 and the IRL IndyCar Series from 2003-05.
In CART, Toyota began financing teams like Ganassi Racing, while Honda purchased chassis for its key teams and hired Wirth Research to develop the basic Dallara IRL chassis for its flagship team, Andretti Green Racing.
A complicating factor is that the INDYCAR 2012 engine rules have not been finalized and aren't expected to be done until the end of the month.
"Everyone is worried that we're not showing our hand or Ilmor [Chevrolet] isn't showing their hand, but how can we when major targets like minimum weight are still yet to be defined?" Berkman said. "We haven't locked in our final spec for the first race yet, and with the rules being finished so late, we may not have a definitive specification until the third or fourth race."
Eight of the 10 engines Honda intends to supply for a hypothetical 25-car grid have been claimed: Four to Ganassi Racing, two to Rahal Letterman Lanigan Racing, one to AJ Foyt Racing and one to Sam Schmidt Motorsports. Berkman is still deciding how to allocate the final two engines, which had originally been intended for Newman/Haas Racing.
"My phone has been ringing off the hook," he said with a laugh.