November, 3, 2012
11/03/12
4:50
PM ET
For drivers marching relentlessly toward the hope of a life-changing first NASCAR championship, the mental toll of the challenge is every bit as taxing as the mechanical or the strategic.
While in the garage Friday at Texas Motor Speedway, I sought out Carl Edwards to discuss that dynamic.
[+] Enlarge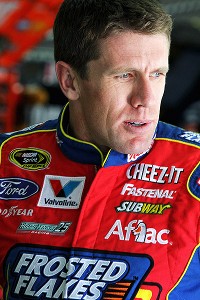 Jerry Markland/Getty Images/NASCARCarl Edwards, who lost the 2011 Sprint Cup championship on a tiebreaker, has zero wins and failed to make the Chase.
He's lived it. Three times during his eight-year-plus career, Edwards has been in contention for a championship in the season's late stages, in 2005, 2008 and 2011. Meanwhile this season, despite high expectations, has been wholly disappointing: zero wins and a failure to qualify for the Chase.
So how would he assess his team? How did his back-and-forth with Tony Stewart in 2011 affect his opportunity to win a championship? And what are Jimmie Johnson and Brad Keselowski experiencing right now?
Smith: What assessment would you give the No. 99 team right now?
Edwards: "The 99 team, right now, I think we're 15th in points or 14th in points, or something, so we're in a position that, No. 1, we didn't expect to be in, and, No. 2, is not acceptable to us. So what we're doing is, we're doing everything we can to make sure this Fastenal team gets running the way we know it can, the way it did last year -- the way our teammates are, for that matter.
"We're looking at every aspect of the team: the crew chief, the driver, the pit crew, everything that we can try to make better so that we can go out in 2013 and win a championship."
Smith: In what areas, specifically, do you need the most improvement?
Edwards: "There are a couple things that definitely we can do better. But that's the thing, there's no one big problem we have. Now, we have had a lot of bad luck. We have had a crew chief change. But there's not one specific thing.
"I think if we're honest with one another, we all have to be better in a small way. I know that's what we're working on, and hopefully we can accomplish it. We know how well we can run. We come to the races expecting to win, expecting to be on the pole, expecting to fight for the championship. And trust me, it is not fun running the way we've been running."
Smith: You've lived Brad Keselowski's current situation, a guy vying for his first Cup championship and negotiating all those emotions and pressure. What is that like?
Edwards: "My personal opinion is that Brad and Jimmie are experiencing a lot different type of pressure. I can only speak from my own experiences. In 2005, we had a real shot at the championship. We tied for second behind Tony Stewart. That type of pressure was kind of fun. There was no expectation. Anything we did was a good thing, and any mistake I made was acceptable.
"Then in 2008, we won nine races. We were battling Jimmie. Jimmie was on top of his game. Jimmie and Chad, as they always are, were very tough. Jimmie didn't play really any mind games. He didn't make any statements like he's making in this Chase, but I did feel a different type of pressure, started to feel like, 'Wow, I should win this championship.' And that was a little bit different than 2005.
"Then we go to 2011, and it was totally different for me. I had made all my mistakes. I knew that was my championship to win. And so, I felt like there was a lot more pressure on me. Fortunately, I can look back on that and say we went to Homestead with all the pressure in the world, qualified on the pole, led the most laps and just got beat.
"But that is a very, very difficult thing to do. And I think Jimmie, right now, realizes Brad's somewhere in that area where he needs to win this championship. I saw Jimmie kind of poking at him in the media. And if you remember, Jimmie spun out, he made a mistake at Kansas. And for him to come in to the media center at Martinsville to act like he's the man and all the pressure's on Brad, that's very, very telling of where Jimmie's mind is. He knows what he's doing."
Smith: What advantage does championship experience give a driver?
Edwards: "Tell you this, the difference between five championships and six. ... I mean, [Johnson's] just having fun. He's going to go home, no matter what happens, look at those trophies and, hey, he gave it his best shot. The difference between zero and one [championship]? That's a big difference.
"And if Brad Keselowski can do what he's done all year, I think that he's going to show everybody that he is very, very mentally tough. 'Cause it's tough. When you're dealing with a champion that's done it a number of times, it tests not only the driver but the team.
"Those guys, if they're in the hunt when they come down to that last pit stop, his pit crew, they're going to have to have nerves of steel because they know it's all on the line. And they don't want to be the guys that bump up against that heavyweight champ, Jimmie, and get pushed aside. They want to win."
Smith: We all thoroughly enjoyed the back and forth in the media between you and Tony Stewart in 2011. What affect do those mind games have on you?
Edwards: "I'm very fortunate. I've had a lot of life experience that's taught me that, usually, when people are talking a lot, they're trying to hide something, they're trying to cover something up. And I've dealt with Tony enough that I knew he was having a good time. It was a good show. But I knew deep down, I've read his book, I know what he's about. He wanted to win that championship.
"And in my opinion, I think that was something that he was doing to try to shake us. So that made it easier. But if that would have been my first year up there competing for the championship, it probably would have been a little bit tougher. It is fun. It's a neat experience to be a part of. It's definitely educational.
"Pressure can do a lot of things, but it can make diamonds too. I think it made me tougher, and I think that no matter what happens, I think Brad, just going through this, is going to be a really, really great competitor because of it. And he's going be driving a Ford next year, so for us, I think it's really good."
October, 19, 2012
10/19/12
11:00
AM ET
Dale Earnhardt Jr. is a revolutionary. His decision to seek expert help regarding the recurring headaches that plagued him was in fact a step so dramatic -- so ballsy -- it'll take years to quantify.
Granted, he'll tell you different. Earnhardt isn't inclined to pay mind to others' analysis of his personal decisions. He looks at it in literal terms: his desire to ensure his long-term health. He doesn't invest in the prospect of legacies or the broader scope beyond the racetrack. He just wants to be smart about his noggin so he can race for a long time.
But here's the truth: That step will forever be a part of his legacy. Because when he sat down with Dr. Jerry Petty to discuss the ramifications of successive concussions -- and was ultimately told that he couldn't do the only thing he has wanted to do since he was old enough to form an opinion -- he told an entire generation of fans, drawn to the speed and fury of his passion, that it's OK to be vulnerable.
Tear-open-your-soul-and-bleed vulnerable.
Because for a racer there is nothing more vulnerable than idling while another man is holding your wheel.
Emotionally, Junior is sick about it. He is hurt. He is sad. He is heartbroken.
Idling is torturous.
But he is a stronger man for it. He is a smarter man for it.
The easy decision would have been to saddle up and ride.
The impossible decision was to cuddle up and watch.
But he did. And everyone watched.
There were athletes in locker rooms all over this country watching him live on "SportsCenter." In that moment, many of them looked at themselves and wondered if they'd make the same decision.
Every driver in NASCAR wondered if he or she would do the same.
Few human qualities are as dynamic as vulnerability. Those self-confident enough to acknowledge the deepest part of their personal weaknesses are in fact the strongest among us. Just are. They're on another level spiritually. It takes indescribable guts to peer into your soul that deeply, because you may not like what you learn.
We're now a week removed from Earnhardt's announcement. We're still digesting it and will be for quite some time.
It was a landmark moment.
He wasn't fired. He's not sitting at home because he has no wheels. He's sitting out because he's smart enough to listen to his body. That he chose to do it in a resurgent season, which erased four years of mediocrity, is even gutsier. He chose to do it in a season that, for the first time in a long time, he was relevant in the season's championship conversation. He did it during a year in which the wit and the grin and the confidence that defined him in the early portion of his career had returned.
It was a revolutionary decision.
But we won't realize how revolutionary until a young racer, or a young football or soccer or baseball player makes the same decision -- because Dale Earnhardt Jr. did.
June, 30, 2012
06/30/12
6:59
PM ET
Comfortable is easy.
Comfortable provides our unwavering truth, cultivated by the plow of check marks on our calendar of experience. It's what we know, the daily routine dispersed through the borders of our emotional personal planners. It is walking through the same door at the same office every day at 8:58 a.m. for two decades; and greeting the same faces en route to the same coffee maker at exactly the same time each morning.
There is strange comfort in that knowledge.
Comfortable feels like security.
Until it feels like monotony.
Just then, suddenly and strikingly, comfortable becomes quite uncomfortable.
And in that revelatory moment of emotional tug-of-war it hits you like an anvil: To maximize potential, I must make myself uncomfortable. I must walk through the door of an unfamiliar office full of unfamiliar faces to rewrite my definition of comfortable.
Taking that chance is very difficult.
I imagine that has been Matt Kenseth's struggle in 2012.
For 14 years at the highest level of his trade, Kenseth has known but one way of doing business. The Roush way. It is a highly successful method, one that produced two Daytona 500 victories and a Sprint Cup championship season so consistently competitive it rewrote the way every champion after it was crowned.
This is not a LeBron James "Decision."
I do not believe that Matt Kenseth is leaving Roush Fenway Racing in search of faster racecars. He has the fastest racecars in the sport. I do not believe he is leaving with the hope of joining forces with more-competitive people in the quest for victory. He and crew chief Jimmy Fennig are already plenty formidable.
I believe Matt Kenseth is leaving Roush Fenway Racing for the liberation of a new start, under the direction of a new philosophy. He knows what he can do in Roush Fords. He knows the company methodology. It didn't especially apply any longer.
He wants to see what he can do under another man's roof in another man's cars with another man's methodology.
To do that he chose to make himself uncomfortable.
Uncomfortable is hard.
February, 26, 2012
02/26/12
8:05
AM ET
Note: My bosses on the television side charged me with capturing the essence of the annual pilgrimage to Daytona for a new season. The piece will air throughout Daytona 500 weekend. I wanted to share the script with you:
Only the rarest of pillars stand firmly on a foundation of sand …
For, sand is fickle …
Individual grains are loose and free in the ocean breeze … or are swept away with the tide …
But packed hard by pressure … sand molds as solid as stone … confirming Big Bill France's vision that Daytona's Beach would provide the foundation on which he would create NASCAR …
Daytona's legend evokes visions of Spring Break bikini beauties … and Harley-clad bikers. … And its racetrack wields a checkered flag so powerful … it propels he who captures it directly into immortality …
Or in an instant, history becomes heartbreak …
And therefore, Daytona's Beach is the ultimate destination point for NASCAR fans …
Here the cadence of 43 handcrafted steel chariots marching is your pulse … the roar of 200,000 breathless brethren your heartbeat. … And so every February fans from the farthest reaches of this great NASCAR Nation load up their dreams and make the pilgrimage …
Daytona marks a new beginning … an empty canvas with infinite possibility …
None has dipped his brush … no one is ahead … no one behind. … All are equal in status and in opportunity …
The same goes for us … the fans. … With the dawn of every season … the longest … coldest … most excruciatingly dormant months of our year are over … and we burst like spring's first bud with the boundless hope of excellence …
So to that hope I raise my glass to you, Daytona …
Cheers.
February, 11, 2012
02/11/12
5:44
PM ET
The picture on the front page of neilbonnett.com tells the tale: The jacket is blue and pink and purple, as colorful as the man wearing it; the smile all pearls. On that jacket's left breast, in embroidered red, yellow and black thread, it reads: Winston Legends.
Neil Bonnett is most certainly a NASCAR legend, as much for a laser-quick wit as for the 18 victories he accrued at the sport's highest level. Bonnett was among the most colorful characters the NASCAR garage has ever seen, a charter member of The Alabama Gang whose on-track success typically gets lost in the shadow of the person and the pranks -- not to mention the Allison family legacy.
Bonnett won at Richmond and Rockingham and Darlington and Wilkesboro, the toughest tracks the South ever produced. He won for Junior Johnson and Wood Brothers, some of the greatest owners the sport ever produced.
[+] Enlarge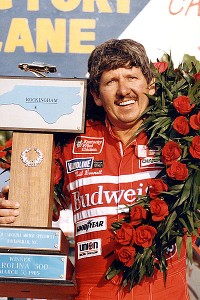 ISC Archives via Getty ImagesNeil Bonnett won some of the biggest races for some of NASCAR's biggest owners and sponsors in his career.
"In the sport he gets lost in the shuffle sometimes, because he was so lighthearted and so fun to hang out with that you almost forget to give him credit for being a pretty doggone good race car driver," NASCAR president Mike Helton said.
In 1994 Bonnett was staging a comeback from three years spent recovering from cracked ribs, a broken sternum and amnesia sustained in a 1990 wreck at Darlington. He'd been integral in testing the new Monte Carlo race car Chevrolet would unveil in 1995. Entering Speedweeks, he was confident he would contend to win the Daytona 500 in James Finch's No. 51 Chevy.
It was not to be.
On Feb. 11, 18 years ago, Bonnett died in a crash during the opening practice for the Daytona 500. He was 47 years old.
"That was my first year with NASCAR. We'd lost Rodney Orr a few days before that, so when Neil was the second incident of the weekend it was certainly much more difficult," Helton said. "It was really tough. Coming on the heels of losing Rodney, and it being Neil, magnified the impact of it all. It was very tough to be braced for that."
Helton is one of the folks in today's garage who knew Bonnett best. They were fishing buddies out on the lakes of Alabama, near Talladega and Birmingham. When I asked him to recall his favorite story about Bonnett's exploits, he literally laughed out loud.
Bonnett, see, was as proud of the motors in his boats as he was of those in his race cars. And one day out on a lake near Birmingham (where most everyone knew his name), he'd gone and wet a line in a no-fishing zone. When the game warden approached and asked if he knew he was fishing illegally, Bonnett looked at him and asked, "Do you know who I am?" When the Warden said, "Nossir, I don't know who are," Bonnett slammed that boat down in gear, hollered, "Good!" and took off like a bat outta hell across the water.
That warden didn't have a chance.
"Neil loved that story. He always told it," Helton said through the chuckle. "He was a big outdoorsman, and he and Dale Earnhardt had got to become good friends because they shared a lot of common loves and laughs and things they did, so they migrated to each other.
"You should have seen Neil try to play golf. He wasn't a good golfer. But then again, most of the folks that played with him, we weren't either. It was so fun. He was such a quick thinker and fun personality; such a practical joker."
And a fine broadcaster. Bonnett hosted "Winners," a weekly program on The Nashville Network that highlighted NASCAR's greatest drivers and personalities. It was wildly popular.
"Neil was a really easy person to warm up to because he kind of pulled you in," Helton said. "His personality was just so strong. As soon as he walked up to you for the first time, you felt like you'd known him for 20 years.
"Neil's legacy will be reflected on paper statistically, but I'm not sure that anybody can do him justice any other way. You had to know him. He had a show where he interviewed characters in the sport, like Bill [France] Sr. and Richard Petty and Buddy Baker. That show had a huge following to it because of his personality. Hopefully somebody resurrects those someday."
That was a different era. These days drivers must toe a thin line between showing too much and not enough personality. The driver that most reminds Helton of Bonnett?
"It's funny you ask this, because I said to somebody the other day who did not know Neil that Clint Bowyer is a very down-home personality that has a great sense of humor, is quick on his feet and, oh by the way, can drive a race car," Helton said.
"In today's world I look at Clint and see a little bit of former drivers in him. I see a little bit of Neil in Clint Bowyer. He's entertaining. That was Neil Bonnett -- as quick and witty as Clint is, he's the modern-day Neil."
January, 23, 2012
01/23/12
3:07
PM ET
CONCORD, N.C. -- It was barely Nov. 21, 2011, 2:30 in the morning on a Monday in North Carolina, and Steve Addington's mind and heart were racing. He was lying in bed, restless.
The NASCAR season had been over for six hours.
The transmission on the car Addington built to race in the NASCAR season finale, the No. 22 Penske Racing Dodge, had come apart early in the running. When it did, a piece from the drive shaft opened a softball-sized hole in the grill of Tony Stewart's Chevrolet.
At the time, that development didn't seem to bode well for Stewart's run at a third career championship -- and lying there in the dark, Addington felt it might not bode well for his future. Because at the very moment that universal joint pierced Stewart's grill, Stewart effectively became Addington's boss.
Or so Addington still hoped.
"This is a funny business -- you never know what's going to happen the next day," Addington said. "We almost cost Tony a championship, so I'm thinking, 'What's he thinking? He's just won a championship and going to change [his] mind.' I couldn't sleep."
Despite Stewart's unprecedented success during the 2011 Chase for the Sprint Cup -- five wins in a 10-race stretch and a dramatic third career title -- he decided to part ways with the man that directed his team to that championship, crew chief Darian Grubb.
And he did it in favor of Addington.
[+] Enlarge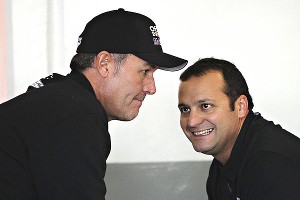 Jerry Markland/Getty Images Friends Steve Addington and Greg Zippadelli have the task of getting Tony Stewart a fourth Sprint Cup championship.
Stewart reassured Addington throughout the Chase that he was the man in 2012. But as the weeks passed and the wins piled up for Stewart and Grubb, Addington couldn't help but wonder if Stewart might change his mind.
Then his phone buzzed. It was Stewart with a simple yet profound message: "No pressure, bud."
"I'm not going to tell you what I replied," Addington chuckled.
Given the unique dynamics surrounding his introduction to Stewart Haas Racing, one might infer that Addington enters 2012 feeling substantial pressure. He says that he doesn't. As if the Grubb variable isn't reason enough, there's also the prospect of Greg Zipadelli peering over his shoulder.
Zipadelli, the newly minted SHR competition director, crew chiefed Stewart to a pair of NASCAR championships. Yes, Addington and Zipadelli are close friends, but what if the No. 14 team starts especially slow? What then?
"Not at all," he said. "I've got a lot of respect for Zippy. I'm going to feel good with him back there, giving his support. He knows Tony very well, and when you need to crack the whip and when not to. Tony told me I'd have to jerk him back in line when he's out of line, and that's what he wants out of me. That's when I'm going to lean on Zippy, to help me figure out what that point is."
Addington's accustomed to working with fiery drivers, of course. His past two jobs were with Kyle Busch and Kurt Busch, respectively, so his disposition is fitting for Stewart. He hopes his track record is what got him the job.
"I hope the wins got me the job," said Addington, who led the Busch brothers to 16 combined victories. "I wouldn't be here if I didn't think we could go out and win a championship. A lot of people will look at it like, 'You're the only thing that's changed on that race team.' And that's true. But I feel good about it.
"I'm confident enough in my position and experience in races to give him what he needs. Yes, we can go win a championship."
January, 6, 2012
01/06/12
5:22
PM ET
More often than not over the past several years, when I picked up the phone to call Jay Frye the voice on the other end was exhausted, frustrated and borderline disgusted. For 15 years Frye had run a race team at the Sprint Cup level. There was MB2. Then Ginn. Then Team Red Bull.
And when the doors effectively closed on Red Bull after the 2011 season finale, there was little more left than "now what?"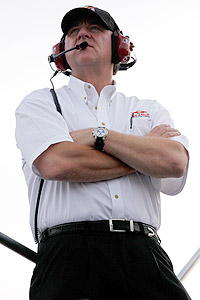 Geoff Burke/NASCAR/Getty ImagesJay Frye on joining Hendrick Motorsports: "Everything I learned in this sport -- and much of what I've learned about life, in general -- came from Rick Hendrick."
He tried to piece together an opportunity with the remaining parts and people from Team Red Bull, but no true investor properly engaged. As we've seen all too often recently, you can't race without money. A pile of it. During that same time he sought advice from an old mentor, Rick Hendrick, on multiple occasions. Those conversations spawned a new partnership between old friends.
Frye joined the Hendrick juggernaut recently in an executive role, focused mostly it seems on business development. He has no title and doesn't know exactly what his responsibility is yet. Not that he especially cares.
"Rick is a mentor. If I need advice I go to him, always," Frye said. "When this whole thing went down I met with them about other things, and basically outright told them I'd sure like to be here. I didn't know what they had, but whatever it was I'd do it. They basically came up with some ideas on what I could do to help. And that's how we came up with this role. I'm honored and flattered.
"Their sponsors don't leave and their people don't leave. There's a reason for that. They do it right. I'll contribute however I can. They don't need me."
For Frye, the move to Hendrick is a homecoming of sorts. In the early '90s, when Frye managed the NASCAR account for Valvoline, his office was at Hendrick Motorsports. He dropped a ceiling in an old barn up on the hill, in which legendary crew chief Harry Hyde used to restore old Volkswagens. They called it the "Bug Barn" for a reason.
"Everything I learned in this sport -- and much of what I've learned about life, in general -- came from Rick Hendrick," Frye said. "I was never more proud than I was of that office in the barn. That was a great experience for me. I have huge respect and admiration for Rick."
The respect is mutual.
"Jay is one of the most well-connected people in the sport, and he's going to be a great resource to help develop strong partnerships," Marshall Carlson, Hendrick Motorsports president, said in a statement. "We've known him for a long time, so there's an immense level of trust and respect between us. The opportunity to work with Jay again and have the benefit of his experience is something we're excited about."
What's left of Team Red Bull is still on the market. Investors still call Frye about Red Bull. He directs them to the corporate folks in Austria trying to sell the team. Frye says there is a fantastic opportunity sitting right there in plain view for the right investor.
"Up until the last couple of weeks there was something new happening every day, people calling all the time," he said. "I'm not directly involved so I don't know exactly what's going on. There's a very good facility with great cars ready to go, and if you hire some people over the next couple weeks you can go race immediately. There are great people on the street, great drivers, looking for work. You could put a great team together in a week. Red Bull has great people from Austria still trying to make things happen. I wish them the best."
Above all, Frye is relaxed. For the first time in more than a decade it's not his responsibility to keep mouths fed. I could sense it in his voice.
"It was 11 years with MB2 and four years with Red Bull, and it was a huge responsibility that I took very seriously every single day," Frye said. "I took it very seriously that no one would ever miss a paycheck. Part of our success was our survival. I'm very proud of that."
June, 5, 2011
06/05/11
1:36
PM ET
KANSAS CITY, Kan. -- As far as I'm concerned, it's high time Kyle Busch grabbed a shotgun and took off after Richard Childress. On a hunting trip.
Go to Montana with him. Or Wyoming. Or some remote land maps don't chronicle and nobody's ever seen outside of Childress, Dale Earnhardt and the locals.
That's the only way this feud will truly be quelled. They need to hash it out over cold beers and wet fishing line. With that comes honesty. And, ultimately, laughter.
On Saturday, witnesses said Childress removed his wristwatch, snatched up Busch in a headlock and went to beatin' on his head with his fist. There is neither footage nor photographs of the incident, at least that I am aware of. But I imagine it looked something like Nolan Ryan versus Robin Ventura.
[+] Enlarge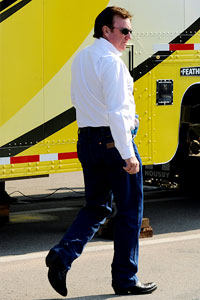 John Harrelson/Getty ImagesRichard Childress leaves the NASCAR hauler after meeting with officials prior to Sunday's Cup race at Kansas Speedway.
Whether it looked like it or not, we'll likely never know. But we do know this: The message was the same. Don't tread on me, young buck. This is my territory, and I'll see to it myself that you respect that territory.
As it pertains to racing, Busch did nothing wrong during -- or after -- Saturday's Truck series race at Kansas Speedway. Yes, he raced inexperienced drivers very hard -- too hard if you ask around the Cup garage. But this is Kyle Busch. If it has wheels, he's going to drive it like Junior Johnson running from the revenuers on the backroads of Wilkes County at dusk. We know that. It's not surprising.
During the race, Busch leaned on and crowded some kids who aren't prepared to be leaned on or crowded, including Joey Coulter, driver of Childress' No. 22 Chevrolet. He tapped Coulter after the checkers. That is driver code for, 'Hey, brother, I see you. I'm right here. And I don't like what you did to me.' It happens every weekend at every racetrack in this land.
The difference is this isn't Sprint Cup.
Coulter has eight Truck series starts to his name. He's learning on the fly. And he was racing the best of the best for a top-5 position. Welcome to the big show, kid. Coulter said after the race his truck began to handle differently than he expected. It got tight, so the front end wouldn't turn, and he pushed up into Busch's truck. Coulter ultimately prevailed in the drag race to the checkers, finishing fifth to Busch's sixth.
No matter the reasoning, Busch was none too pleased with the outcome and showed it with the love tap.
And that set Childress off. He would not be denied. He would prove to Busch once and for all that damaging his cars for no good reason would no longer be tolerated. This goes way back, even before Darlington or Dover. Multiple sources inside Richard Childress Racing tell me that there was a time years back, when Busch and RCR's drivers were wrecking far too many cars unnecessarily. That equals countless man hours to fix them. And that equals money spent.
So Childress confronted Busch, and told him if it continued he'd settle the situation himself. Saturday, it seems, he lived up to his word.
Childress hasn't commented on the matter, and Busch has said little more than yes, it happened, and that he'll support whatever action NASCAR deems appropriate. At this time he doesn't plan legal action outside of NASCAR's decision.
NASCAR said Sunday that Childress' actions were "unacceptable" for a team owner and "will not be tolerated." The sanctioning body will announce its findings this week, and I'll be very surprised if they suspend Childress. I base that opinion on his stature in the sport and the lofty respect NASCAR officials have for him. I could be wrong, but I expect he'll be fined monetarily, and that will be that.
What he did wasn't right. It's the old-school approach. It's the way it used to be handled. It's not how it should have been handled this time.
They should grab a couple of shotguns instead. And go hunting together.
May, 25, 2011
05/25/11
7:39
PM ET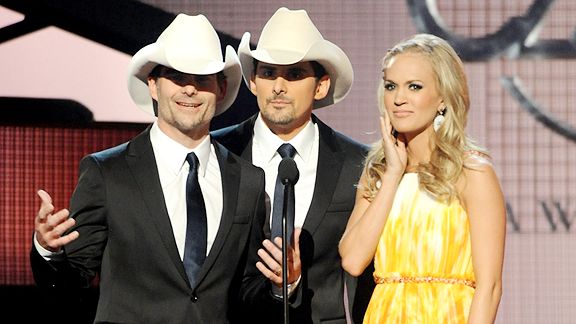 Rick Diamond/Getty ImagesCould Jeff Gordon, left, possibly be Brad Paisley's long-lost twin brother? Even Carrie Underwood did a double take at the 2010 CMA Awards.
Family, faith and Virginia Tech football not withstanding, my life's greatest passions are NASCAR racing and country music, and for the very same reason: Both are authentically southern and fundamentally rooted in an outlaw past.
Anyway (David Pearson shout-out), those passions collided at Charlotte Motor Speedway on Saturday. Brad Paisley showed up at the Sprint All-Star Race to hang out with a couple old buddies, Rick Hendrick and Jeff Gordon, and debut the video for his excellent new single, "Old Alabama."
It was the perfect scenario. Paisley already was planning to attend the race as a fan, then found out the track had a television screen on the backstretch big enough for the astronauts to watch from Endeavour. Why not debut a video on it?
So there he was, parked on site in the Nationwide garage, seated in the heavenly shadow cast by his blue and white tour bus.
Most folks in the racing industry are aware of my country music fandom. Including the Hendrick Motorsports folks. So they arranged for me to sit for a time in Paisley's shade to chat about the video, which includes a slew of Hendrick's classic cars and stars Gordon, naturally, as Paisley's buddy.
[+] Enlarge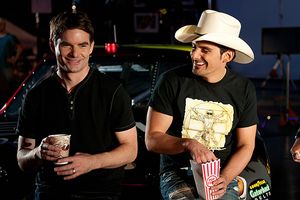 Hendrick MotorsportsReal-life pals Jeff Gordon and Brad Paisley play good buddies in the country music video "Old Alabama."
It was 4 p.m. And it was at least 8,000 degrees. In 2010, Paisley released a song called "Water." I thought I'd make a quip about the heat and how badly I could use some water. But then I realized that wouldn't be funny. So I didn't.
When I sat, I shared with him that I'm probably the biggest country music fan on Earth.
"Oh, wow, good," he said. "I'm glad to know that person exists."
Zing.
Paisley and Gordon may as well be twins. During the 2010 CMA Awards show that he co-hosted with Carrie Underwood, Paisley had the idea that he and Gordon should wear identical suits, and Gordon should walk onstage wearing his hat. Gordon played along, and the two took a photograph together beforehand.
"I went, 'Oh my God, that's me,'" Paisley chuckled. "He walked out with Carrie and started presenting. The trick was we didn't have him speak. When he talks, he sounds like Jeff Gordon. There's only one voice like that. We don't sound alike. But it was absolutely hysterical. He could have stood there the whole time.
"We have a common friend in John Lasseter [CCO] at Pixar, and have gotten to know each other through them. All it takes is one other family that you hang out with, and next thing you know you're all around together. I think the world of Jeff. He's a good guy."
So when the time came to write the video plan for "Old Alabama," Paisley had another idea for Gordon.
"This song is all about driving and listening to music in a nice car, so we did a NASCAR take on it," he said.
They shot the video on the Hendrick Motorsports campus, where Rick Hendrick opened the doors to his classic car collection.
"Rick's been so generous," Paisley said. "He let us use all these old cars and his facility. We couldn't have done this without him. We had '57, '59, '63, '65 Corvettes. You've got these backdrops that look like they're part of a set, but they're not. They're part of his facility. If we'd have had to pay for this stuff, it would have been a million-dollar video."
Paisley describes the production as "a buddy flick," in which he and Gordon cruise around the CMS backroads, then take a seat on the hood of an old car to watch a movie on a drive-in screen while they reminisce.
[+] Enlarge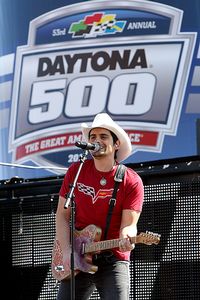 Kevin Kane/WireImageBrad Paisley rocked the house during a prerace concert at the 2011 Daytona 500 in February.
"We drove the 24 car around on the road out here," Paisley laughed. "We didn't make it street-legal. We just drove the thing. That's the beauty of videos -- they'll close down roads for you. People were freaking out, man. Imagine that car going by you -- Jeff himself was out there driving his race car on the roads. People saw him go by, and were like, 'What? He didn't even take time to switch vehicles before driving home from work?'"
As the video concludes, Johnny Law shows up and asks which one of them is Gordon.
Gordon points at Paisley.
Paisley gets the ticket.
That's how the video ends. But, in fact, it is only the beginning. Both gentlemen are quite philanthropic, and the video project offers an opportunity for more giving.
"We're using this video as an excuse to give some tickets away," Paisley said. "We're pairing up to give away tickets to the races to my fans, and tickets to my concerts to his [fans], and combining our charities here and there. We've only begun that process.
"Now we've got this video common-thread, in addition to it looking like my father made his way back to California or wherever. ... I don't think my dad was in California ..."
Zing.
"Anyway, it's a chance for both of us to do good that way. And it'll be a great use of a famous friendship."
The past year has been huge for Paisley. He was integral in helping buoy Nashville emotionally following the flood last spring, then helping rebuild it physically in the aftermath. Then, in November he achieved one of country music's highest, rarest honors: Entertainer of the Year.
"It's our Cup championship," he said. "Even though we don't necessarily earn it in points. It's a voted-on thing, so it's subjective. But it's a feeling of history in a way that only a few moments have matched. Like The [Grand Ole] Opry -- that's the gift that keeps on giving. When you get that, you can play there the rest of your life. That's better than the Hall of Fame, in my opinion, because the Hall of Fame is like, 'Nice job, you're done. I hope you had a good time because it's over.'
"Although, they put in George Strait recently and he's nowhere close to done. But the Opry is an award that's like the keys to the city. And Entertainer feels just as big, because it's achieved. Kenny Chesney called me and said, 'Enjoy this. They don't give these away. These are earned and you did a great, great job. Congratulations.'"
NASCAR is an obvious fit for Paisley. NASCAR people are his people. We're country and proud of it. And as a fan, one thing I really appreciate about him is, like us, he pays particularly genuine homage to the pioneers who built his platform.
"It was easy to cross right into [NASCAR] as a fan, because it's so much my world," he said. "Other than that it's a lot of the same types of people. I never feel out of place at races. I feel right at home."
May, 19, 2011
05/19/11
10:44
PM ET
It was sometime around midnight on Thursday, April 28, and Danielle Frye, former NASCAR publicist and wife of Red Bull Racing general manager Jay Frye, couldn't sleep. So she went to the couch and turned on the television.
Channel-by-channel, horrific images of the tornadoes that decimated the Southeast the previous day filled the screen. Among the areas affected was her hometown, tiny Pell City, Ala., located in the shadow of Talladega Superspeedway.
Fourteen people were killed in St. Claire County, which houses Pell City, and as Frye watched the devastation she was moved to help her own. So she grabbed her laptop and over the next 90 minutes sent and string of emails to her husband.
They were blessed. They had the platform to make a difference. They had to do something.
In the morning, Jay Frye went to work. His first call was to an old friend, Marshall Carlson, general manager at Hendrick Motorsports. Carlson didn't hesitate, and in fact raised the ante.
If you're sending a transporter full of supplies, he said, we are, too.
[+] Enlarge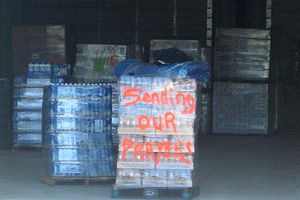 Danielle Frye, Special to ESPN.comPallets of food and other goods await distribution to the tornado-ravaged South.
Next up was a call to J.D. Gibbs. Then Ty Norris at Michael Waltrip Racing. Then Richard Childress Racing. No one hesitated.
"This was obviously a very personal cause for Danielle and a general humanitarian cause for the nation," Norris said. "When Jay and Danielle asked MWR to participate, we reacted as quickly as we could to participate. There are so many families who need people who care, and the families of Alabama found that in Jay and Danielle, who didn't just say they felt bad about the situation but they did something positive about it."
MRN Radio mentioned the initiative, and when the Jeff Gordon Foundation got wind of it, they, too, joined in. Gordon's foundation is specifically tailored to assist children battling cancer, but in this instance, Frye said, an exception was made. An online donation was organized. In three days, Danielle Frye said, JGF raised more than $6,000, all of which went towards assisting children affected by the tornado.
Over the following days two transporters were packed far past legal capacity with supplies and sent south to St. Claire County. HMS worked with the Charlotte Pepsi bottler to provide a palate of soda and water. Red Bull donated palates of product and water, as well. Frye estimates some 70,000 pounds of goods were on those trucks. The Red Bull Racing transporter alone, she said, was 6,000 pounds overweight.
"Fortunately, the weigh stations understood," she said with a laugh.
Upon arrival, the transporters were met by the St. Clair County Sheriff's Department and escorted by deputies into town. There, the Alabama National Guard waited to help unload supplies. In order to deliver the goods, volunteers were forced to float the supplies on Humvees.
The devastation was unspeakable.
"It was so sad," Danielle Frye said. "I try to tell people, it's not like it was a low-income or underfunded area. These are people that have things. And now they have nothing. Nothing.
"Think about everything you've used this morning. Those people don't have any of that right now. There are babies that need formula. There are kids that are separated from their families or lost their families completely."
She pauses briefly. Then starts again.
[+] Enlarge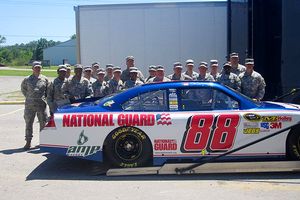 Danielle Frye for ESPN.comMen and women of the Alabama National Guard stand proudly behind Dale Earnhardt Jr.'s National Guard car as they work to distribute relief to the tornado-ravaged South.
(Disclaimer: This is one of the saddest things I've ever heard.)
"There's one story about a little boy in St. Clair County that the EMTs found wandering the street, and he was carrying his 3-year-old brother," she said. "He stopped the medic and said, 'Would you sit with us for a few minutes until our parents come back? We can't find them, and they would never leave us. My brother is asleep right now, but I'm kind of scared.'
"Come to find out, his 3-year-old brother was dead. He wouldn't leave his brother. That breaks my heart. Those stories are all over. That is everywhere."
She told the story of a farm not too far from the racetrack, where 100 horses were found in a nearby lake. She recalled seeing cows grazing on insulation in a remote field.
"The saddest thing for me, there was a house where the only thing left was a carport," Frye said. "There was a tire swing on a tree, and the entire tree was gone except one limb with the tire swing on it.
"And that's just one small area. The larger cities got all the attention, and rightfully so. But there were smaller communities that weren't getting what they needed. That's where our initiative went. I was familiar with the people and the area."
The Hendrick transporter carried on it one of Dale Earnhardt Jr.'s No. 88 cars. The National Guard volunteers were so excited to take photographs with it that they tried to climb up into the area that housed the car. Eventually, the car was lowered and removed so they might all have that opportunity.
"It was the least we could do," Frye said.
As we speak, Frye is driving north from downtown Charlotte with a car load of supplies. Next week, another smaller truck full of goods is headed to Alabama.
"You want to take the hurt away," she said. "You want to help them. When your own people are in need, and you know where the stuff is going and how it's impacting them, you need to step up. That's what we're trying to do."