CONCORD, N.C. -- Word spread like wildfire through the Lowe's Motor Speedway media center Saturday evening that
Jeremy Mayfield
was at the All-Star Race, and writers hopped up from their seats like Whac-A-Mole targets to find him.
Word on the street was he was stationed atop a National Guard hospitality rig near the infield tunnel on the backstretch, so that's the direction I headed. I ran.
When I arrived, he was -- with headphones on ears -- taking in the Sprint Showdown, watching his No. 41 car compete. His wife, Shana, was with him. He saw me quickly and waved. I waved back, and did a "Can you talk?" motion with my hand, like a duck bill opening and closing.
He motioned me up.
When I got up there, we discussed his situation and our agreement that NASCAR should divulge the drug for which he tested positive. I asked him what it was.
[+] Enlarge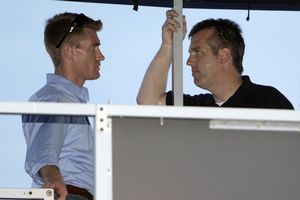 AP Photo/Chuck BurtonJeremy Mayfield, right, with ESPN's Marty Smith, apparently was in the wrong watching the race from the infield. Said NASCAR spokesman Ramsey Poston: "There seems to have been a misunderstanding on Jeremy's part."
He told me he didn't know.
Didn't know? How could he possibly not know?
"I have no paperwork whatsoever for what I tested for," Mayfield said. "I don't. They've shown me nothing."
Odd. Mayfield confirmed he'd hired legal representation, and wasn't inclined to file for reinstatement. That would be admittance of guilt, he said.
Every word we shared was shot on a mini-HD cam. He wore a microphone. A television crew was documenting his every move. I inquired about it, and he said it's something he'd been working on for a while.
He also told me something very interesting: When NASCAR told him he had the right for a B sample, he thought that meant he would be retested. He didn't realize the same sample would be tested again by the same lab.
"It's illegal. The same lab can't test both samples," he said.
Meanwhile, a slew of reporters had huddled beneath us. I told him he needed to step up and address the situation with them. He agreed, and down he went. He then set forth adamantly defending himself.
He said NASCAR's time line and explanation were inconsistent: "They've indicated something different every day of the week."
NASCAR denied that Saturday night.
"All NASCAR members who violate the policy, including Jeremy, are notified of the substance that caused the failure," league spokesman Ramsey Poston said. "Jeremy was verbally informed of the substance on three occasions last week by NASCAR's medical review officer. NASCAR stands by the reputable physicians and the nationally renowned lab that handles our substance abuse program."
Mayfield wasn't wearing any sort of credential. Rather, I noticed a yellow arm band, which I'm told was an infield pass any fan could buy for $75. Mayfield told the throng he had no plan to go to rehab, and asked whether any of us would do so if we didn't have a problem. He said he took two Claritin D tablets, and that there's more to the story than he's legally able to divulge at this time.
Mayfield got more animated with each passing question, and at one point Shana tried to calm him down. He kept going. He denied taking any illegal drugs and even pinched a bunch of his hair, mentioning that a hair sample would date back before Richmond.
It was like a revelation for him: I'm labeled now. If I'm going to fight this, I darn sure better stand up and fight it.
And he is.
"Wouldn't you want to know? Wouldn't you want a result?" Mayfield said. "If you guys were in my shoes wouldn't you want a result of your results of what happened?"
Earlier in the day I spoke with Tony Furr, Mayfield's old buddy and crew chief, and he backed his driver.
"Jeremy's had allergies. I've known him since '94, and back then he had allergies so bad, there was days it looked like he was crying all the time," Furr said. "On the way to Richmond it was like that. He used to get shots for that stuff and all, and he didn't do that. He took a Claritin.
"And he was out of Claritin and went to the [drug store] right across the road from Richmond [International Raceway] and bought some more Claritin and took another one there because he knew the next day he had to be ready to go. It just so happened it was his time for the random drug test."
Furr also does not believe Mayfield to be a drug abuser.
"It's a difficult situation. We all believe in Jeremy," Furr said. "If he's not the all-American boy, I don't know who is. I've known him all the way up through his career, here, and worked with him on and off. And I know the boy don't drink, smoke, [smoke] dope, none of that stuff.
"So I know Jeremy pretty good. I don't know him like a wife or nothing, but as a friend I've been around him quite a bit, and I can honestly say I don't believe the boy takes any kind of dope whatsoever."