Marcos Ambrose welcomes a fresh start
August, 26, 2010
08/26/10
3:25
PM ET
A man can tell himself that an uncertain future has no impact on the present. And even if he genuinely believes that in the moment, he's lying to himself. Distractions don't often reveal themselves as especially distracting until they're resolved.
[+] Enlarge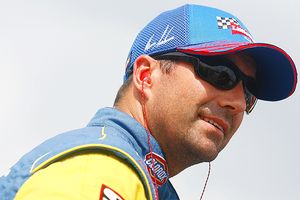 Jason Smith/Getty Images for NASCARFan favorite Marcos Ambrose will drive the No. 9 car for Richard Petty Motorsports beginning in 2011.
Take, for example, Kasey Kahne and Mark Martin. Neither thought he was distracted by the unrelenting "will Mark get out of the 5 so Kasey can get in or will Kasey race elsewhere for a year" soap opera. But they were. They readily acknowledge that now. They didn't compete any differently, mind you, and didn't drive any less passionately. But they were preoccupied.
And preoccupation ultimately permeates other facets of life.
Just ask Marcos Ambrose.
"Of course -- there's no doubt," Ambrose said this week. "We race our hardest every weekend. That doesn't change. But whenever you have instability at home, whether it be a choice you have to make on the business side or with your family life, your personal life, it has to have an impact on your thinking and on your attitude."
The hope is to quell the distraction. It's not easy.
"As professionals, you try hard to not let that get in the way, but it's only natural that it does," Ambrose said. "I had to work really hard to stay focused on the job of racing cars, and I look back at the results and there are some moments there where I lost my cool, and it may have impacted my performance.
"It's just hard to keep everything in balance like you need to. To be a race car driver you've got to be very balanced. You can't let emotions get away from you. It's a challenge. But it has to play a part in your psyche."
Now that his future with Richard Petty Motorsports and Ford is solidified -- he'll replace Kasey Kahne in the 9 car beginning in 2011 -- Ambrose is more relaxed. My discussion with him was jovial, full of insight and stark candor. His swagger is back. He appreciates his time with JTG Daugherty Racing, certainly. Without JTG, he's not a NASCAR driver in the first place. But there are unanswered questions, and Ambrose needs answers. They eat at him.
"Change is always good, and I felt like to get the most out of myself I just had to put myself back out there, wrap myself around another group of people and get a fresh start and try to get to a point where I can answer my questions," he said.
He didn't specify what those questions are. But the general vibe was simple: Just how good am I?
"That's part of the reason I've done what I've done this year," he said of the decision to change teams. "I'm not in racing for the fame. I'm not in racing for the money or the prestige. I'm in racing because I like to win races. And it's driving me crazy that I can run so well and so consistently on the road course and not on ovals."
Ambrose has no answers for his road course prowess. He doesn't know why he's so good at it. Throw out statistics and look at sheer ability, and no one in NASCAR is better -- possibly ever. When asked about it, he's not so interested. He quickly shifts to his intrigue with ovals.
"Oval racing is very technical. It takes a lot of science to get the cars to run the speeds we do around these big tracks," he said. "And sometimes, no matter how much talent Kasey Kahne's got or Jimmie Johnson's got or Jeff Gordon, if they have a bad day, they get lapped.
"Are they any less of a driver than what they were the week before, when they won the race? Absolutely not."
Ambrose is good for NASCAR. We need his perspective. And he needs those answers.
"There's a lot of pieces to the puzzle when you go oval racing that need to be right, and joined together the right way," he said. "And I'm searching for those answers, too. I'm putting myself in the position to help find out.
"We've had a rough year, no doubt. And I haven't quite delivered on the ovals like I want to. I want to be in contention every week on the ovals. I can run top 15 or top 10, but we haven't consistently. And rarely have we challenged for wins on ovals. I don't know why that is, and I'm looking for answers."