Remembering Dan Wheldon
Updated:
October 17, 2011, 10:04 AM ET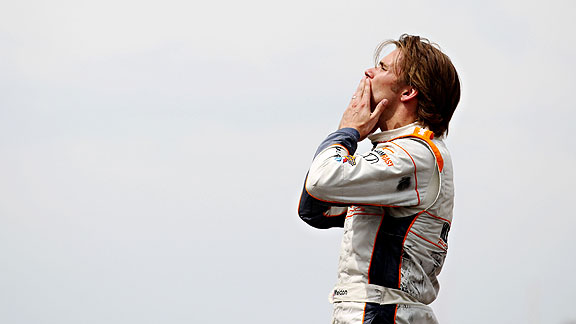 Nick Laham/Getty ImagesIndy 500 winner Dan Wheldon died following a horrific crash while racing in Las Vegas.
One of open-wheel racing's most popular drivers, Dan Wheldon, died Sunday during the IndyCar Series season finale at Las Vegas Motor Speedway. Join other fans from SportsNation as we remember the two-time Indy 500 winner and 2005 IndyCar Series champion. Share your thoughts below.
Fan reaction
DizzyD427: "I watched his joy after winning the 500 ... unexpected and exuberant ... and now this. God speed Dan."
kwnole77: "Dan Wheldon always carried himself with poise, respect, and class. I respect him as a driver and as a person. He will be missed, and my prayers go out to the Wheldon family. Racing lost a great driver and personality. If there's anything that be learned from this, it's that the cars could always be working to be safe along with the sport. But that they have made great improvements so far. Once again RIP Dan Wheldon and my condolences to his family."
d_osborne31: "The sport lost a great rising star and a great person ... my thoughts and prayers go out to his family and Rest in Peace Dan."
bloom05459: "It's a tragedy to lose a great racer and great human being. He will be missed. A risk all athletes especially racecar drivers face every day. We all do. It sucks to lose another great in the world of sports. You will be missed Dan."
bentuibi: "Condolences to all involved. Sad to read of the drivers prior concerns about the speeds being reached at this speedway."
Racers respond to tragedy on Twitter
SPONSORED HEADLINES
MORE RACING HEADLINES
MOST SENT STORIES ON ESPN.COM
DAN WHELDON, 1978-2011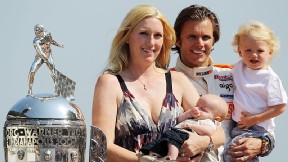 Dan Wheldon won 16 races in a storied IndyCar Series career, along with two Indianapolis 500s -- including this year's 95th running -- and one title. He was killed on the 11th lap of the Honda Indy 300 at Las Vegas Motor Speedway on Oct. 16. He left behind a wife, Susie, and two sons, 2-year-old Sebastian and 6-month-old Oliver.


Columns
•
Oreovicz: Unknowns led to fatal crash
•
Oreovicz: Remembering the good times
•
Little: Wheldon's spirit, humor will live on
•
Blount: Safety ideas coming to fore
•
Oreovicz: Key questions to answer
•
Hinton: More heartbreak for Mario Andretti
•
MacGregor: Unanswerable questions
•
Newton: Wheldon's death rocks NASCAR
•
Oreovicz: Heavy hearts in Las Vegas
•
Blount: From celebration to sorrow
News And Tributes
•
INDYCAR finding: Wheldon's head struck post
•
Barnhart still coping with Wheldon's death
•
Tribute to Wheldon at Indy
•
Drivers, officials to meet Monday
•
Wheldon remembered in Florida service
•
Driver meeting called to discuss death
•
Wheldon dies after Lap 11 crash
•
Wheldon died of head trauma
•
NASCAR planning tribute at Talladega
•
Expert: Too early to blame fence
•
New chassis to be named in honor of Wheldon
•&nbsp
Jimmie Johnson: IndyCar should quit ovals
•
Newton: Kahne wanted to accept challenge
•
Fans pay tribute to Wheldon
•
Conversation: Remembering Dan Wheldon
•
Dan Wheldon photo gallery
Video
•
ESPN3: Wheldon memorial replay
•
Wheldon honored at Indy service
•
NASCAR Countdown: Briscoe's emotional tribute
•
Sports Reporters: Schaap on Wheldon
•
Florida funeral for Wheldon
•
NASCAR Now: Wheldon tragedy
•
SportsCenter: NASCAR reflects on Wheldon
•
A tragedy at Las Vegas Motor Speedway
•
Blount and Oreovicz: Sad day for racing
•
Schaap: Wheldon remembered
•
Jamie Little reports from Las Vegas
•
SportsCenter: Wheldon killed in crash
Podcasts
•
Wheldon's death stuns motorsports world
•
NASCAR drivers react to Vegas tragedy