Designer: Too early to blame fence
Updated:
October 18, 2011, 3:42 PM ET
By
David Newton
| ESPN.com
CHARLOTTE, N.C. -- The man who helped develop many of the safety improvements in motorsports said there's not enough evidence at this point to determine whether the catch fence played a role in Dan Wheldon's death on Sunday at Las Vegas Motor Speedway.
But Dr. Dean Sicking, director of the Midwest Roadside Safety Facility at the University of Nebraska, which developed SAFER barriers, said improvements to the catch fence and entrance to pit-road area are next in line to be addressed.
Wheldon was killed in the IndyCar Series finale when his car went airborne and crashed violently into the catch fence during a horrific 15-car accident on Lap 11. Will Power's car also went airborne, but his car hit the SAFER barrier and he escaped with minor injuries.
According to the Clark County coroner's office, Wheldon died from blunt trauma to the head. Sicking said he is waiting on full video of the accident that can be broken down frame by frame.
He expects to have that video by the end of the week, at which time it will take at least another week to fully evaluate.
"I'm not prepared to say whether the catch fence caused the problem or not," Sicking told ESPN.com Tuesday. "There have been cases in the past where they've had crashes caused by the catch fence. From the video I've seen on TV, it's just impossible to say.
"If the fence caused the problem we'll go look at that."
Sicking said what allowed Wheldon's car to go airborne is a "fundamental problem in the design" of the cars.
While the new 2012 IndyCar -- which Wheldon played a major role in testing -- reportedly was built to reduce the likelihood that it will go into the air, Sicking said the general design with an air foil to create downforce still could produce lift whenever there is a change in the "attack of the wind."
Sicking said it's not simply a matter of not competing on ovals, as five-time defending Sprint Cup champion Jimmie Johnson suggested should happen.
"The nature of the car is to try to go as fast as they can, so the nature of the car that relies so much on air foil and downforce ... they would have to change the philosophy of racing to get where NASCAR is," Sicking said.
"If you change the air foils so it produces more drag as well as significant down force it slows the cars down. Then it becomes, 'Is this still an interesting and exciting sport?' I can't answer that question."
Sicking's efforts have helped increase safety in NASCAR and IndyCar the past 10 years.
"When we came into racing we found between one and two drivers were killed every year," Sicking said. "The vast majority of those were killed by outer wall crashes. We think we solved that problem (with the SAFER barriers)."
Johnson's nearly head-on crash into the Turn 2 wall at Charlotte Motor Speedway Saturday night is evidence of that. Johnson said the SAFER barrier, short for Steel and Foam Energy Reduction, helped spread the impact and reduced the number of G-forces by nearly half.
"The velocity was very high, but the G number was average, which is great," Johnson said. "That G number would have been doubled that if it wasn't on a soft wall."
Sicking said the second-most common problem in NASCAR is car-to-car crashes. His organization has worked with the governing body in terms of design with the car.
In open-wheel racing, Sicking said a major concern is the sand barrels guarding the wall at the entrance to pit road.
"So we're looking at transfers at the end of the pit walls for (NASCAR and IndyCar)," he said.
Sicking said his group also is looking at shoring up sections of tracks that occasionally take hard hits that weren't a part of the initial soft wall program because of expense and the lack of material. Several tracks already have made additions.
NASCAR driver Jeff Burton expressed a concern on Monday about several areas on the backstretch of Charlotte Motor Speedway that he discussed with NASCAR.
"There's interior walls on these racetracks that, the angles are wrong . . . we still have a large portion of the racetracks that don't have the softer walls on them," Burton said. "We need to continue to look at the catch fence. The catch fence thing is a really, really difficult situation because, how do you test it?"
Sicking said the catch fence that was designed primarily to keep cars and debris from reaching the fans isn't at the top of the list of concerns, but he admitted it is an area that needs to be addressed.
"That problem can be solved, but it will take a lot of time and effort," he said. "I'm confident if you give me any physical impact problems, we can go fix them."
David Newton covers NASCAR for ESPN.com. He can be reached at dnewtonespn@aol.com.
ESPN Carolina Panthers reporter
Covered Panthers, NFL for 11 years
More than 25 years experience covering NFL, college football and NASCAR
Joined ESPN in 2006
SPONSORED HEADLINES
MORE RACING HEADLINES
MOST SENT STORIES ON ESPN.COM
DAN WHELDON, 1978-2011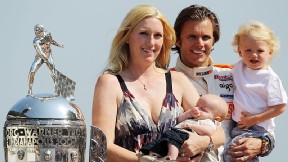 Dan Wheldon won 16 races in a storied IndyCar Series career, along with two Indianapolis 500s -- including this year's 95th running -- and one title. He was killed on the 11th lap of the Honda Indy 300 at Las Vegas Motor Speedway on Oct. 16. He left behind a wife, Susie, and two sons, 2-year-old Sebastian and 6-month-old Oliver.


Columns
•
Oreovicz: Unknowns led to fatal crash
•
Oreovicz: Remembering the good times
•
Little: Wheldon's spirit, humor will live on
•
Blount: Safety ideas coming to fore
•
Oreovicz: Key questions to answer
•
Hinton: More heartbreak for Mario Andretti
•
MacGregor: Unanswerable questions
•
Newton: Wheldon's death rocks NASCAR
•
Oreovicz: Heavy hearts in Las Vegas
•
Blount: From celebration to sorrow
News And Tributes
•
INDYCAR finding: Wheldon's head struck post
•
Barnhart still coping with Wheldon's death
•
Tribute to Wheldon at Indy
•
Drivers, officials to meet Monday
•
Wheldon remembered in Florida service
•
Driver meeting called to discuss death
•
Wheldon dies after Lap 11 crash
•
Wheldon died of head trauma
•
NASCAR planning tribute at Talladega
•
Expert: Too early to blame fence
•
New chassis to be named in honor of Wheldon
•&nbsp
Jimmie Johnson: IndyCar should quit ovals
•
Newton: Kahne wanted to accept challenge
•
Fans pay tribute to Wheldon
•
Conversation: Remembering Dan Wheldon
•
Dan Wheldon photo gallery
Video
•
ESPN3: Wheldon memorial replay
•
Wheldon honored at Indy service
•
NASCAR Countdown: Briscoe's emotional tribute
•
Sports Reporters: Schaap on Wheldon
•
Florida funeral for Wheldon
•
NASCAR Now: Wheldon tragedy
•
SportsCenter: NASCAR reflects on Wheldon
•
A tragedy at Las Vegas Motor Speedway
•
Blount and Oreovicz: Sad day for racing
•
Schaap: Wheldon remembered
•
Jamie Little reports from Las Vegas
•
SportsCenter: Wheldon killed in crash
Podcasts
•
Wheldon's death stuns motorsports world
•
NASCAR drivers react to Vegas tragedy