Dan Wheldon's funeral Saturday
Updated:
October 20, 2011, 6:54 PM ET
Associated Press
INDIANAPOLIS -- Funeral services for two-time Indianapolis 500 winner Dan Wheldon will be held Saturday in St. Petersburg, Fla.
The two-time Indianapolis 500 winner was killed in a fiery 15-car crash at Sunday's season-ending IndyCar race in Las Vegas. He was 33.
On Thursday, series officials released the funeral arrangements and a statement from Wheldon's widow, Susie. The funeral is scheduled for 10 a.m. at First Presbyterian Church in St. Pete.
"Though we won't be able to fit everyone inside, I know that Dan would have wanted the community to share in the celebration of his life and to grieve his passing," Susie Wheldon said.
She thanked fans for offering support over the past few days, which she described as "unbearable" for the family.
Wheldon's fun-loving ways made him one of IndyCar's most popular drivers and he developed a special bond with fans in both American cities that he called home -- Indianapolis and St. Petersburg -- after moving from his native England.
Fans from both cities dropped off notes of condolence and items ranging from teddy bears to checkered flags at impromptu memorial sites this week.
NASCAR drivers will honor Wheldon with a special decal at this weekend's race in Talladega, Ala.
The St. Petersburg city council was scheduled to honor Wheldon with a resolution Thursday afternoon, and IndyCar officials are holding a public memorial service Sunday afternoon at Conseco Fieldhouse in Indy. The Indy memorial service will open its doors to the public at 2:30 p.m., 90 minutes before the service is scheduled to start.
"Although the last few days have been unbearable for our family, the overwhelming love and support we have received are rays of sunshine during these dark days," Susie Wheldon said. "The outpouring of sympathy and condolences has been so comforting, and I want to thank everyone for their kind notes, letters, gifts and flowers.
Wheldon is survived by his wife and two young children, Sebastian and Oliver.
A trust fund for Wheldon's family has been established. Donations can be sent to Fifth Third Private Bank, attention Dan Wheldon Family Trust, 251 North Illinois St., Suite 1000, Indianapolis, IN 46204.
Those wishing to send their condolences to the Wheldon family can address letters to The Wheldons, 9600 Koger Blvd N, Ste. 105, St Petersburg, FL 33702.

Copyright 2011 by The Associated Press
SPONSORED HEADLINES
MORE RACING HEADLINES
MOST SENT STORIES ON ESPN.COM
DAN WHELDON, 1978-2011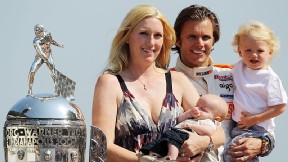 Dan Wheldon won 16 races in a storied IndyCar Series career, along with two Indianapolis 500s -- including this year's 95th running -- and one title. He was killed on the 11th lap of the Honda Indy 300 at Las Vegas Motor Speedway on Oct. 16. He left behind a wife, Susie, and two sons, 2-year-old Sebastian and 6-month-old Oliver.


Columns
•
Oreovicz: Unknowns led to fatal crash
•
Oreovicz: Remembering the good times
•
Little: Wheldon's spirit, humor will live on
•
Blount: Safety ideas coming to fore
•
Oreovicz: Key questions to answer
•
Hinton: More heartbreak for Mario Andretti
•
MacGregor: Unanswerable questions
•
Newton: Wheldon's death rocks NASCAR
•
Oreovicz: Heavy hearts in Las Vegas
•
Blount: From celebration to sorrow
News And Tributes
•
INDYCAR finding: Wheldon's head struck post
•
Barnhart still coping with Wheldon's death
•
Tribute to Wheldon at Indy
•
Drivers, officials to meet Monday
•
Wheldon remembered in Florida service
•
Driver meeting called to discuss death
•
Wheldon dies after Lap 11 crash
•
Wheldon died of head trauma
•
NASCAR planning tribute at Talladega
•
Expert: Too early to blame fence
•
New chassis to be named in honor of Wheldon
•&nbsp
Jimmie Johnson: IndyCar should quit ovals
•
Newton: Kahne wanted to accept challenge
•
Fans pay tribute to Wheldon
•
Conversation: Remembering Dan Wheldon
•
Dan Wheldon photo gallery
Video
•
ESPN3: Wheldon memorial replay
•
Wheldon honored at Indy service
•
NASCAR Countdown: Briscoe's emotional tribute
•
Sports Reporters: Schaap on Wheldon
•
Florida funeral for Wheldon
•
NASCAR Now: Wheldon tragedy
•
SportsCenter: NASCAR reflects on Wheldon
•
A tragedy at Las Vegas Motor Speedway
•
Blount and Oreovicz: Sad day for racing
•
Schaap: Wheldon remembered
•
Jamie Little reports from Las Vegas
•
SportsCenter: Wheldon killed in crash
Podcasts
•
Wheldon's death stuns motorsports world
•
NASCAR drivers react to Vegas tragedy