Commentary
Indy qualifying will be a crapshoot
INDIANAPOLIS -- What should we expect during qualifying weekend at the Indianapolis Motor Speedway?
That's a very good question. After 32 hours of track time spread over six picture-perfect Midwestern spring days, producing 8,304 laps of data, there is no clear-cut favorite to claim pole position for the 2012 Indianapolis 500.
Some say it could be the wildest and most wide-open Pole Day in 20 years or more.
Rookie Josef Newgarden, driving for local favorite Sarah Fisher Hartman Racing, has consistently been the fastest driver throughout the week at the famed IMS oval. And Marco Andretti, a more seasoned but still youthful American at age 24, turned the fastest lap of the week at 223.676 mph on Wednesday.
Meanwhile, the mighty Ganassi and Penske teams have laid comparatively low, turning relatively few laps and conserving their limited supply of Firestone tires.
[+] Enlarge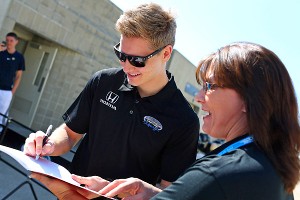 Michael Hickey/US PresswireIndyCar rookie Josef Newgarden has impressed with consistently high practice speeds at Indianapolis Motor Speedway.
But the main reason that qualifying promises to be unpredictable is simple: The cars have not run in qualifying specification yet, and will not until Friday's six-hour practice session.
Qualifying spec normally involves teams trimming out their cars by taking away as much downforce and drag as possible. But this year, qualifying has a new twist: more power.
With the Dallara DW12 chassis not producing the kind of 225-mph laps that computer simulations predicted, INDYCAR is increasing turbocharger boost by just under 10 percent for Friday practice and qualifying weekend in an effort to bump up speeds.
The adjustment from 130 to 140 kPa of boost pressure is expected to produce an increase of about 40-50 horsepower and bump speeds by as much as 4 mph. However, because the fastest practice speeds were achieved with the benefit of aerodynamic tows worth up to 3 mph, the pole-winning speed is unlikely to be much faster than the fastest practice laps recorded to date using 130 kPa of boost.
The last-minute power boost has been met with mixed reactions. One leading team manager called it "the definition of insanity," reasoning that the extra power will fundamentally change the race car's handling balance they have been developing for the past six days.
There's a strong likelihood that the more powerful engines will catch someone off guard and produce the first crash in what has been a remarkably clean week on the track. Newgarden suffered the only spin, lightly damaging a wheel and suspension arms on his Dollar General-sponsored DW12 Honda.
INDYCAR officials are hoping for a pole speed approaching 225 mph.
"To me, it's kind of irrelevant but definitely also exciting," said Scott Dixon, who was fastest in Thursday's action with the second 223-mph lap of the week. "You'll have to set the car up different for qualifying and the fans are going to love seeing the speeds go up.
"As drivers, it's just a number for us," he added. "We're more focused on the balance of the car. The car is going to be trimmed out and difficult to drive no matter how fast you're going. But I guess some people find it more attractive if we're going 225 instead of 221."
Dixon refused to take a guess at who will prevail for the pole and hinted that Honda and/or Chevrolet may have been sandbagging to spring a Pole Day surprise.
"It's hard to tell," he said. "Straight-out speed is totally different than what you can get from a tow. We may see some separation between engine manufacturers, because you'll see cars purposely running by themselves for the first time. Even if a car is 15-20 seconds ahead of you, you pick up half a mph or more from the tow.
"

We're more focused on the balance of the car. The car is going to be trimmed out and difficult to drive no matter how fast you're going. But I guess some people find it more attractive if we're going 225 instead of 221.

"

-- Scott Dixon on qualifying setup
"Some started off with better speed than others and they're trying to catch up," Dixon concluded. "The car is as easy as you want to make it, to be honest. You put in more downforce and you go slower."
Dixon's comments were echoed by Izod IndyCar Series championship leader Will Power.
"It won't be a massive change," Power remarked. "People have been doing those times with massive tows, and in turbulent air. So it's not going to be a massive shock to the system. It's going to make it a little bit harder and put it more in the hands for the driver in qualifying."
With an ideal weather forecast, the recently modified Indy 500 qualifying format that sends the fastest nine drivers out for a late-day pole shootout should play out well on Saturday. But there is now no prospect of bumping on Bump Day, and larger questions loom whether the two Lotus-powered entries will find enough speed to make the show even with open places in the 33-car field.
In order for Lotus to participate in the 500, INDYCAR may need to relax a rule that requires all competitors to lap within 105 percent of the fastest time.
Jean Alesi was permitted to run the qualifying level of 140 kPa boost just so his Lotus engine would produce enough power to allow him to meet the 210-mph minimum speed standard in rookie orientation. Even with the additional horsepower, Alesi's best lap of 211.516 mph would not meet the 105 percent standard, and Simona De Silvestro has barely topped 210 mph.
In another angle to the Lotus saga, Dragon Racing was formally released from its Lotus contract and allowed by INDYCAR to switch to Chevrolet power. Dragon's Katherine Legge finally completed her rookie test in a special after-hours session on Thursday evening, while lead driver Sebastien Bourdais passed his refresher course.
Alesi admitted Wednesday that he believed the slow Lotus cars are a danger to other competitors, and it is almost certain that if the Lotus cars are allowed to start the race, they will be quickly black-flagged on safety grounds.
Autos, Open-Wheel
Motorsports Writer for ESPN.com
Covered Indy car racing for 20 years
Work published in 12 countries
96TH INDIANAPOLIS 500-MILE RACE

The 96th running of the Indianapolis 500 is in the books. New stars, new cars and the venerable Indianapolis Motor Speedway came together for a thriller as a great tradition ended its 101st year.


Monday, May 28
•
Hinton: The best of his generation
•
Video: Franchitti sits down with Musburger
Race day, May 27
•
Hinton: Franchitti simply flawless
•
Blount: Wheldon friends finish 1-2-3
•
Oreovicz: Honda answers the bell
•
Recap: Franchitti wins his third
|
Results
•
Video: Indianapolis 500 highlights
•&nbsp
Video: Franchitti emotional after third win
•&nbsp
Video: Sato disappointed with crash
•&nbsp
Video: Kanaan falls short again
•
Racing Live! Indy 500 rewind
Saturday, May 26
•
Blount: Two stars gone, many new ones ready
•
Hinton: Magic remains in Indy
•
ESPN.com staff's podium picks
•
Newton: Dream weekend for Penske?
Carb Day, May 25
•
Oreovicz: Franchitti, Dixon make a charge
•
Blount: Five feel-good stories for the 500
•
Blount blog: How about Andretti-Rahal rivalry?
•
Oreovicz chat wrap
•
Andrews: Legge racing from behind
•
Wilson blog: Martina McBride gets the call
•
Guerrieri wins Freedom 100
•
Racing Live! Indy 500 on ESPN.com, Sunday, noon ET
Features
•
Hinton: One-on-one with Mario Andretti
•
Oreovicz: Handicapping the 500 field
•
Blount: The heartache lingers
•
Oreovicz: Briscoe puts Penske on pole
•
James: Indy 500 on Danica's mind
•
Oreovicz: Pole Day surprise?
•
Oreovicz: Young guns taking charge
•
Oreovicz: Storylines to watch at Indy
News & Notes
•
Briscoe wins Indy 500 pole
|
Starting grid
•
Food Network's Fieri to drive pace car
•
American drivers impress in practice
•
Andrettis split up for Indy race-day radio calls
•
Jay Penske needs engines for two cars at Indy
•
Dario Franchitti to run No. 50 at Indy
•
Herta Autosport chooses Honda
•
Pagenaud hits bird during practice
•
Jim Nabors to miss Indy 500
Video
•
Indy 500 memories: Wheldon thrills in 2011
•
Indy 500 preview
•
Helio says he's ready
•
The Andretti-Foyt rivalry
•
Franchitti's take on Dan Wheldon, Indy
•
Indy 500 memories: Hornish thrills in 2006
•
A.J. Foyt a NASCAR legend, too
•
Indy 500 memories: Wheldon's 2005 victory
•
Indy 500 memories: Danica leads a lap
•
Indy 500 memories: Helio goes back-to-back
•
Analysis: Indy 500 qualifying
•
Pole Day: Briscoe stars for Penske
•
Indy 500 memories: Little Al holds on
•
Indy 500 memories: Mears wins his fourth
•
Indy 500 memories: Unser vs. Goodyear
•
Indy 500 memories: Mears joins elite club
•
Indy 500 memories: Foyt wins fourth
•
Indy 500 memories: Sullivan spins and wins
Indy 500 Rewind
•
2011 Flashback: Wheldon's Cinderella story
•
2010 Flashback: Dario's all the way back
•
2009 Flashback: Castroneves wins again
•
2008 Flashback: Quiet Dixon makes noise
•
2007 Flashback: Franchitti comes up big
•
2006 Flashback: Hornish gets his "Holy Grail"