Marco Andretti passes 227 mph
Updated:
May 18, 2012, 10:21 PM ET
Associated Press
INDIANAPOLIS -- Maybe Marco Andretti can make good on his vision of going from last to first at Indianapolis.
The 25-year-old American with the well-known surname and the long racing legacy put himself atop the list of Pole Day favorites by becoming the only driver in Indianapolis 500 practice this week to post a lap more than 227 mph.
[+] Enlarge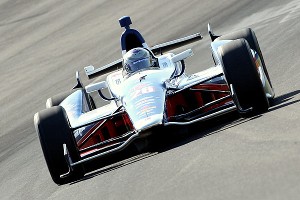 Andy Lyons/Getty ImagesMarco Andretti became the lone driver to pass 227 mph during Indianapolis 500 practice this week.
Before that, he was the first driver to go faster than 226. Now, one year after making the Indy 500 on the last qualifying run of the weekend, he could become the first Andretti to win Indy's coveted pole in a quarter century.
"I showed up this month to win the race, and I still believe we could do it from 33rd," Andretti said after Friday's practice. "If we could do it from first that would be fantastic. They told me (an Andretti on the pole) hasn't happened since my grandfather did it in 1987 and that was the year I was born, so it would be cool to be able to be on the pole tomorrow."
Andretti's incredible move up the speed charts this week comes in the midst of what has been an extremely trying season.
He hasn't qualified better than 10th in the past three races, hasn't finished in the top 10 and has replaced his most recent radio caller, father and team owner, Michael Andretti, with Kyle Moyer.
Race organizers couldn't have scripted a better story line for Pole Day.
Last May was easily the worst of Andretti's six career starts at Indianapolis, and without a wave off from James Jakes, he may have missed the race. The Andretti Autosport cars struggled all month with speed and two of the five cars failed to qualify for the race. Andretti only made it because of a courageous last-minute run that bumped teammate Ryan Hunter-Reay out of the field. Andretti wound up starting 27th.
This year, Andretti is leading a pack of 20-something Americans who have been at or near the top of the speed charts most of this week, setting up a Pole Day classic of young guns vs. the old guard.
"They've been impressive for sure and certainly guys to keep an eye on looking forward," said Team Penske driver Ryan Briscoe, who was No. 2 Friday at 226.835. "But there are a lot of drivers here with a lot of experience and a lot of teams. You're talking about Andretti being a five-car team, (Target Chip) Ganassi a four-car team and Penske being a three-car team. I think that's what 12 cars? So some of them will be out of the top nine tomorrrow."
Three-time Indy 500 winner Helio Castroneves was third fastest Friday at 226.716. Ten other drivers surpassed 225 including three-time defending IndyCar champ Dario Franchitti, two-time IndyCar champ Scott Dixon and last year's 500 runner-up JR Hildebrand -- the 24-year-old American.
The top 24 spots are expected to be filled Saturday. Drivers with the nine-fastest four-lap qualifying averages will advance to a 90-minute shootout late in the afternoon. The winner claims the biggest pole of the IndyCar season.
It's as wide open as it has been in years, and nobody seems to know where they fit in.
American rookies Josef Newgarden, 21, and Bryan Clauson, 22, had been among the fastest cars all week, mostly with tows. Newgarden topped the speed charts three times this week, while Clauson was third in practice last Saturday and second Sunday.
On Friday, with the added power boost of roughly 4 mph, Newgarden slid to 13th at 225.021, while Clauson was 23rd at 224.224. Yet if they can figure out where they lost speed Friday, they could be surprise contenders.
"We struggled a little bit to find a good balance, but we kind of got it back there at the end," Clauson said. "We'll work on it overnight to improve our qualifying position for tomorrow."
Who else could make a run at the pole?
Castroneves, Dixon, Franchitti and the other two Penske drivers -- Briscoe and points leader Will Power -- have all started on Indy's front row.
Fan favorite and 2005 Indy pole winner Tony Canaan drew the favored No. 1 spot in qualifying line after going 10th fastest Friday (225.322).
Canadian James Hinchcliffe and American Hunter-Reay, teammates with Andretti, have been strong this week, too. Both posted laps in the top six.
But with the new cars, the lack of solo laps and the possibility of sandbagging, nobody really knows.
"You never know if everybody is showing their full hand until it really counts and everything is on the table," Hinchcliffe said. "If you look at some of the runs other guys are having compared to us (Andretti Autosport) -- it's really not just one of us, it's all of us I think -- it puts the team in a really good position for tomorrow."
What is clear is that Chevrolet still has an edge over Honda.
The four fastest drivers Friday and eight of the top 10 all used Chevys. Dixon (fifth, 226.224) and Franchitti (ninth, 225.370) were the only Honda cars to crack the top 10.
Not surprisingly, the Penske and Andretti cars each use Chevys and the fastest of that group is the newest Andretti vying for the pole.
"Why not try to go for the pole?" Marco Andretti said. "We woke the car up, and with this added boost today, we woke my car up today, too. We found a couple of tenths of a mph and that's what it's going to come down too."

Copyright 2012 by The Associated Press
96TH INDIANAPOLIS 500-MILE RACE

The 96th running of the Indianapolis 500 is in the books. New stars, new cars and the venerable Indianapolis Motor Speedway came together for a thriller as a great tradition ended its 101st year.


Monday, May 28
•
Hinton: The best of his generation
•
Video: Franchitti sits down with Musburger
Race day, May 27
•
Hinton: Franchitti simply flawless
•
Blount: Wheldon friends finish 1-2-3
•
Oreovicz: Honda answers the bell
•
Recap: Franchitti wins his third
|
Results
•
Video: Indianapolis 500 highlights
•&nbsp
Video: Franchitti emotional after third win
•&nbsp
Video: Sato disappointed with crash
•&nbsp
Video: Kanaan falls short again
•
Racing Live! Indy 500 rewind
Saturday, May 26
•
Blount: Two stars gone, many new ones ready
•
Hinton: Magic remains in Indy
•
ESPN.com staff's podium picks
•
Newton: Dream weekend for Penske?
Carb Day, May 25
•
Oreovicz: Franchitti, Dixon make a charge
•
Blount: Five feel-good stories for the 500
•
Blount blog: How about Andretti-Rahal rivalry?
•
Oreovicz chat wrap
•
Andrews: Legge racing from behind
•
Wilson blog: Martina McBride gets the call
•
Guerrieri wins Freedom 100
•
Racing Live! Indy 500 on ESPN.com, Sunday, noon ET
Features
•
Hinton: One-on-one with Mario Andretti
•
Oreovicz: Handicapping the 500 field
•
Blount: The heartache lingers
•
Oreovicz: Briscoe puts Penske on pole
•
James: Indy 500 on Danica's mind
•
Oreovicz: Pole Day surprise?
•
Oreovicz: Young guns taking charge
•
Oreovicz: Storylines to watch at Indy
News & Notes
•
Briscoe wins Indy 500 pole
|
Starting grid
•
Food Network's Fieri to drive pace car
•
American drivers impress in practice
•
Andrettis split up for Indy race-day radio calls
•
Jay Penske needs engines for two cars at Indy
•
Dario Franchitti to run No. 50 at Indy
•
Herta Autosport chooses Honda
•
Pagenaud hits bird during practice
•
Jim Nabors to miss Indy 500
Video
•
Indy 500 memories: Wheldon thrills in 2011
•
Indy 500 preview
•
Helio says he's ready
•
The Andretti-Foyt rivalry
•
Franchitti's take on Dan Wheldon, Indy
•
Indy 500 memories: Hornish thrills in 2006
•
A.J. Foyt a NASCAR legend, too
•
Indy 500 memories: Wheldon's 2005 victory
•
Indy 500 memories: Danica leads a lap
•
Indy 500 memories: Helio goes back-to-back
•
Analysis: Indy 500 qualifying
•
Pole Day: Briscoe stars for Penske
•
Indy 500 memories: Little Al holds on
•
Indy 500 memories: Mears wins his fourth
•
Indy 500 memories: Unser vs. Goodyear
•
Indy 500 memories: Mears joins elite club
•
Indy 500 memories: Foyt wins fourth
•
Indy 500 memories: Sullivan spins and wins
Indy 500 Rewind
•
2011 Flashback: Wheldon's Cinderella story
•
2010 Flashback: Dario's all the way back
•
2009 Flashback: Castroneves wins again
•
2008 Flashback: Quiet Dixon makes noise
•
2007 Flashback: Franchitti comes up big
•
2006 Flashback: Hornish gets his "Holy Grail"
MOST SENT STORIES ON ESPN.COM