Ryan Briscoe on Indy 500 pole
Updated:
May 20, 2012, 4:17 PM ET
Associated Press
INDIANAPOLIS -- Roger Penske's strategy beat Michael Andretti by inches Saturday -- 9.168 inches to be exact.
In the closest pole duel in Indianapolis 500 history, Team Penske sent points leader Will Power onto the track with two minutes left in the Pole Day shootout -- a shrewd move that prevented three Andretti drivers from taking one last shot at the pole and preserving it for his own guy, Ryan Briscoe.
It was a remarkable finish to a wild afternoon.
Briscoe was the surprise winner of his first Indy pole with a four-lap average of 226.484 mph. He completed the 10-mile qualification run .0023 seconds quicker than James Hinchcliffe. The previous record was set in 1970, when Al Unser defeated Johnny Rutherford by .01 seconds over the four-lap qualifying run.
"My name will go down forever for something that I won here at the Indy 500," Briscoe said.
Oreovicz: For Briscoe's 2nd trick ...

It's no surprise that Team Penske scored the pole for the 2012 Indianapolis 500. But Ryan Briscoe? Where did that come from, John Oreovicz asks. Story
• James: Indy 500 on Danica's mind
It will go straight into the record book.
How close was the battle?
Everybody seemed to have an explanation.
When Hinchcliffe left the post-race news conference, Briscoe held his fingers about an inch apart and explained it was that close.
Hinchcliffe already knew better.
"It's a gust of wind; it's a shadow over a part of the track," Hinchcliffe said, before holding up his name card and explaining that was the distance. "I'm going to lose a little bit of sleep at how small the margin was to Ryan."
Eventually a series spokesman came in and blurted out the actual distance to the thousandth of an inch.
Nobody knows how to play this game better than Penske and he proved it again Saturday.
The iconic racing owner now has won five of the past seven poles at Indy and extended his own Indy record to 17 poles. Briscoe is the 11th driver to win a pole for The Captain, and it comes one week before Penske celebrates the 40th anniversary of his first career Indy win 1972.
As usual, he didn't rely on conventional wisdom.
Penske's three drivers -- Briscoe, three-time Indy winner Helio Castroneves and Power, the points leader -- spent most of this week just trying to crack the top 10 of the speed charts.
Some around Gasoline Alley thought the only IndyCar team to win a pole or a race this season was sandbagging.
Maybe they were. When Castroneves arrived at the track Saturday morning, it didn't take him long to top 227 mph in the early morning practice, and once qualifying began, it quickly became apparent this would be a two-team race between Penske's drivers and the resurgent Andretti team.
Still, most thought the battle would be waged between Castroneves and Marco Andretti, Power and Ryan Hunter-Reay or some combination of the four.
[+] Enlarge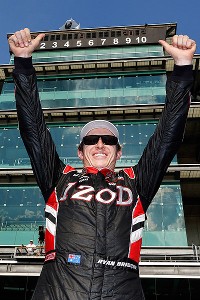 AP Photo/LAT/Michael L. LevittTeam Penske's Ryan Briscoe celebrates after winning the pole for the 96th Indianapolis 500 on Saturday.
It turned out to be Hinchcliffe who created the most tension for Briscoe, who started putting his gloves back on after Hinchcliffe ran a 227.009 warm-up lap.
When Hinchcliffe's first qualifying attempt in the shootout ended just short, Briscoe pumped his fists and started trading high-fives with crew members. The scene played out about one hour later when the track was closed.
"I don't know how many times I've been here and I've been in both those seats before and the next thing I know, Helio goes out and goes 1 mph quicker than everyone," Briscoe said. "I'm just glad it's my time."
Penske made sure of it.
With only minutes left in qualifying, Power took one final shot at earning his first Indy pole. He wasn't quick enough to win the pole, but he stayed on the track long enough to protect Briscoe's advantage.
"It's just that sort of place," Power said. "I think in 2010, Helio punched out a megatime, I think 28.0. Where did that time come from, you know?"
This time, Briscoe turned the tables on his teammate and the rest of the Indy field.
And it was Andretti's team that made the big splash.
After last May's debacle in which Danica Patrick and Marco Andretti nearly missed making the race, Mike Conway failed to qualify and Ryan Hunter-Reay only got back into the field by jumping into one of A.J. Foyt's car, Andretti Autosport rebounded by taking three of the top four starting spots and putting the most pressure on Briscoe.
"There's three Andretti's in the top four, you tell me?" Hinchcliffe said when asked if Michael Andretti's team is ready to make this championship a three-team race.
The replacement for Patrick in the Go Daddy car is starting second, the middle of Row 1 with a qualifying speed of 226.481. Hunter-Reay will start on the outside of Row 1 after going 226.240, and Andretti will start on the inside of Row 2 with a speed of 225.456. Power and Castroneves close out Row 2.
Rookie Josef Newgarden, from Sarah Fisher Hartman Racing, was the slowest of the shootout qualifiers at 224.037 and will start seventh. Tony Kanaan and E.J. Viso took the green flag, and then pulled into the pits before completing a full qualifying run during the shootout.
And after plenty of questions about whether the new compressor covers would give Honda engines an advantage over Chevrolet, Newgarden wound up as the only Honda in the first three rows. Fisher's other driver, rookie Bryan Clauson, crashed on his fourth qualifying lap and didn't get another chance to qualify. He's expected to take another shot when qualifying resumes Sunday.
"I know we aren't the quickest right now, but I really think we have the quickest car in the field," said the first Tennessee native to qualify for the 500.
There were some notable absences from the front of the field, too.
Team owner Chip Ganassi has won four straight IndyCar championships, but failed to get any of his four cars into the shootout. In fact, none of the cars even made a second attempt Saturday.
"We're not where we need to be to qualify for the pole," two-time Indy winner Dario Franchitti said, about 30 minutes before the first qualifying segment ended. "My situation with the 50 car, we're not even as quick as some of the other Honda runners. There's a bit of head-scratching going on. We've tried a lot of different things to make it."
But the grand finale came down to Briscoe, the man once a target of Patrick's ire, and Hinchcliffe, who was trying to join Alex Tagliani as the only Canadians to win Indy's pole.
Briscoe won it -- barely.
"If we had to go, I was ready to go," said Briscoe, who was sitting in his car when qualifying ended. "I felt like we could have done the same again."

Copyright 2012 by The Associated Press
SPONSORED HEADLINES
MORE RACING HEADLINES
MOST SENT STORIES ON ESPN.COM
96TH INDIANAPOLIS 500-MILE RACE

The 96th running of the Indianapolis 500 is in the books. New stars, new cars and the venerable Indianapolis Motor Speedway came together for a thriller as a great tradition ended its 101st year.


Monday, May 28
•
Hinton: The best of his generation
•
Video: Franchitti sits down with Musburger
Race day, May 27
•
Hinton: Franchitti simply flawless
•
Blount: Wheldon friends finish 1-2-3
•
Oreovicz: Honda answers the bell
•
Recap: Franchitti wins his third
|
Results
•
Video: Indianapolis 500 highlights
•&nbsp
Video: Franchitti emotional after third win
•&nbsp
Video: Sato disappointed with crash
•&nbsp
Video: Kanaan falls short again
•
Racing Live! Indy 500 rewind
Saturday, May 26
•
Blount: Two stars gone, many new ones ready
•
Hinton: Magic remains in Indy
•
ESPN.com staff's podium picks
•
Newton: Dream weekend for Penske?
Carb Day, May 25
•
Oreovicz: Franchitti, Dixon make a charge
•
Blount: Five feel-good stories for the 500
•
Blount blog: How about Andretti-Rahal rivalry?
•
Oreovicz chat wrap
•
Andrews: Legge racing from behind
•
Wilson blog: Martina McBride gets the call
•
Guerrieri wins Freedom 100
•
Racing Live! Indy 500 on ESPN.com, Sunday, noon ET
Features
•
Hinton: One-on-one with Mario Andretti
•
Oreovicz: Handicapping the 500 field
•
Blount: The heartache lingers
•
Oreovicz: Briscoe puts Penske on pole
•
James: Indy 500 on Danica's mind
•
Oreovicz: Pole Day surprise?
•
Oreovicz: Young guns taking charge
•
Oreovicz: Storylines to watch at Indy
News & Notes
•
Briscoe wins Indy 500 pole
|
Starting grid
•
Food Network's Fieri to drive pace car
•
American drivers impress in practice
•
Andrettis split up for Indy race-day radio calls
•
Jay Penske needs engines for two cars at Indy
•
Dario Franchitti to run No. 50 at Indy
•
Herta Autosport chooses Honda
•
Pagenaud hits bird during practice
•
Jim Nabors to miss Indy 500
Video
•
Indy 500 memories: Wheldon thrills in 2011
•
Indy 500 preview
•
Helio says he's ready
•
The Andretti-Foyt rivalry
•
Franchitti's take on Dan Wheldon, Indy
•
Indy 500 memories: Hornish thrills in 2006
•
A.J. Foyt a NASCAR legend, too
•
Indy 500 memories: Wheldon's 2005 victory
•
Indy 500 memories: Danica leads a lap
•
Indy 500 memories: Helio goes back-to-back
•
Analysis: Indy 500 qualifying
•
Pole Day: Briscoe stars for Penske
•
Indy 500 memories: Little Al holds on
•
Indy 500 memories: Mears wins his fourth
•
Indy 500 memories: Unser vs. Goodyear
•
Indy 500 memories: Mears joins elite club
•
Indy 500 memories: Foyt wins fourth
•
Indy 500 memories: Sullivan spins and wins
Indy 500 Rewind
•
2011 Flashback: Wheldon's Cinderella story
•
2010 Flashback: Dario's all the way back
•
2009 Flashback: Castroneves wins again
•
2008 Flashback: Quiet Dixon makes noise
•
2007 Flashback: Franchitti comes up big
•
2006 Flashback: Hornish gets his "Holy Grail"