Commentary
Andretti team looking sharp at Indy
INDIANAPOLIS -- With 33 entries competing for 33 places on the grid, the typical "bumping" that is part of Indianapolis 500 lore was nonexistent in 2012.
Ed Carpenter filled the traditional 33-car field shortly after 2 Sunday afternoon, leaving the track open for nearly four hours of free practice.
The lack of urgency about being bumped led to some teams accepting qualifying speeds well off Ryan Briscoe's 226.484 mph pole-winning pace. Bryan Clauson and Simona De Silvestro qualified in the 214 mph range, while Jean Alesi managed only 210 mph in his Lotus-powered machine.
Rookie Clauson topped 224 mph in practice and showed impressive pace all week, but during his pole day qualifying run, he claimed the dubious honor of being the first driver to crash a Dallara DW12 at speed on an oval. His 214 mph run was the result of being conservative with equipment for the cash-strapped Sarah Fisher Hartman Racing team.
[+] Enlarge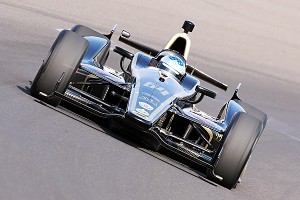 Andy Lyons/Getty ImagesJean Alesi will be watched closely Sunday to see whether he can maintain pace.
The lack of pace displayed by De Silvestro and Alesi, with their underpowered Lotus engines, is a more worrying concern for the race.
INDYCAR rules require competitors to maintain a lap time within 105 percent of the leader, which calculates to about a 10 mph difference at Indianapolis.
INDYCAR race director Beaux Barfield said Sunday that he will closely monitor the Lotus cars' ability to run at a safe speed during the Indy 500.
"Everyone is paying close attention, and that kind of puts more pressure on me to be on it very actively," Barfield said. "It's a very important rule that's there for safety reasons, because the speed differential at a place like this can be dramatic if a car is too far off the pace.
"I'm certainly willing, based on the two Lotus drivers' ability, to let them start the race and see how it plays out and see what their race pace is compared to everybody else," Barfield added. "We'll do what we need to do to keep them up to speed or get them out of the way."
Alesi, the 47-year-old former Formula One driver, earned praise from IndyCar Series regulars for his attitude and professionalism. But he and De Silvestro know they'll have to work hard to avoid being moving chicanes if the race settles into a long green-flag run.
"I'll try to be as much out of the way as possible, because I know when you have a fast car it's annoying when somebody is that much slower," De Silvestro said. "We all respect each other. I just have to do my job to be quick but not be in the way, too."
---
While Penske Racing took pole position and Ganassi Racing struggled (with a helping hand from Honda), Andretti Autosport quietly stole the show during the build-up to the Indianapolis 500.
Michael Andretti's usual three-car lineup has expanded to five entries for the season's biggest race, with Sebastian Saavedra and Ana Beatriz joining regulars Ryan Hunter-Reay, Marco Andretti and James Hinchcliffe.
Several Andretti cars often ran in tandem during practice during the week, working on race seutp, but in high-boost trim for qualifying, the AA camp also showed impressive speed, qualifying 2-3-4 behind pole winner Ryan Briscoe.
Hinchcliffe led the main qualifying session Saturday and came within about nine inches of taking pole position during the Fast Nine shootout, falling on the wrong side of the closest margin between first and second on the grid in the 100-year history of the Indianapolis 500.
With a series of quality performances to start the season, Hinchcliffe has quickly made everyone forget who used to drive the GoDaddy-sponsored Indy car. The 2011 IndyCar Series rookie of the year lies third in the standings four races into his sophomore campaign.
Briscoe's four-lap, 10-mile Indy qualifying run was 0.023 faster than Hinchcliffe's, for an average speed of 226.484 mph versus 226.481.
"226.484, those numbers will haunt me for the rest of my life," Hinchcliffe said with his usual deadpan humor. "Yes, I've thought long and hard about how those 10 miles unfolded and where that could have been."
When it was known as Andretti Green Racing, AA dominated the IndyCar Series in 2004, '05 and '07, winning championships with drivers Tony Kanaan, Dan Wheldon and Dario Franchitti.
The 2008 and '09 seasons were especially fallow for the Indianapolis-based team, and while it won races in 2010 and '11, AA still took a back seat to the dominant Ganassi and Penske teams.
AA didn't win any of the four road races that opened 2012, but its drivers were regularly contending for podium finishes. Still, Indianapolis would prove a crucial test, because qualifying at IMS was a humbling experience for Andretti Autosport in 2011.
AA struggled for speed so badly at Indy last year that Andretti and Danica Patrick barely made the show while Hunter-Reay and Mike Conway flat out failed to qualify.
This year, the Andretti cars were Indianapolis front-runners all week. In addition to qualifying 2-3-4, AA claimed four of the fastest seven speeds on Fast Friday, led by Marco Andretti's 227.540 mph scorcher.
"What a difference a year makes," Andretti commented after collecting a $10,000 check for fastest time of the day. "It's pretty ironic because last year we struggled to just get into the show. The credit goes to the guys for working so hard, and my engineer Allen McDonald has a lot of faith in me and vice-versa.
"Obviously the five of us [drivers] work together as well, but most of the credit is down to the guys," he added. "We learned attention to detail last year just trying to get into the show. But now that we have pace, all those little things put us in position to run for the pole."
Autos, Open-Wheel
Motorsports Writer for ESPN.com
Covered Indy car racing for 20 years
Work published in 12 countries
96TH INDIANAPOLIS 500-MILE RACE

The 96th running of the Indianapolis 500 is in the books. New stars, new cars and the venerable Indianapolis Motor Speedway came together for a thriller as a great tradition ended its 101st year.


Monday, May 28
•
Hinton: The best of his generation
•
Video: Franchitti sits down with Musburger
Race day, May 27
•
Hinton: Franchitti simply flawless
•
Blount: Wheldon friends finish 1-2-3
•
Oreovicz: Honda answers the bell
•
Recap: Franchitti wins his third
|
Results
•
Video: Indianapolis 500 highlights
•&nbsp
Video: Franchitti emotional after third win
•&nbsp
Video: Sato disappointed with crash
•&nbsp
Video: Kanaan falls short again
•
Racing Live! Indy 500 rewind
Saturday, May 26
•
Blount: Two stars gone, many new ones ready
•
Hinton: Magic remains in Indy
•
ESPN.com staff's podium picks
•
Newton: Dream weekend for Penske?
Carb Day, May 25
•
Oreovicz: Franchitti, Dixon make a charge
•
Blount: Five feel-good stories for the 500
•
Blount blog: How about Andretti-Rahal rivalry?
•
Oreovicz chat wrap
•
Andrews: Legge racing from behind
•
Wilson blog: Martina McBride gets the call
•
Guerrieri wins Freedom 100
•
Racing Live! Indy 500 on ESPN.com, Sunday, noon ET
Features
•
Hinton: One-on-one with Mario Andretti
•
Oreovicz: Handicapping the 500 field
•
Blount: The heartache lingers
•
Oreovicz: Briscoe puts Penske on pole
•
James: Indy 500 on Danica's mind
•
Oreovicz: Pole Day surprise?
•
Oreovicz: Young guns taking charge
•
Oreovicz: Storylines to watch at Indy
News & Notes
•
Briscoe wins Indy 500 pole
|
Starting grid
•
Food Network's Fieri to drive pace car
•
American drivers impress in practice
•
Andrettis split up for Indy race-day radio calls
•
Jay Penske needs engines for two cars at Indy
•
Dario Franchitti to run No. 50 at Indy
•
Herta Autosport chooses Honda
•
Pagenaud hits bird during practice
•
Jim Nabors to miss Indy 500
Video
•
Indy 500 memories: Wheldon thrills in 2011
•
Indy 500 preview
•
Helio says he's ready
•
The Andretti-Foyt rivalry
•
Franchitti's take on Dan Wheldon, Indy
•
Indy 500 memories: Hornish thrills in 2006
•
A.J. Foyt a NASCAR legend, too
•
Indy 500 memories: Wheldon's 2005 victory
•
Indy 500 memories: Danica leads a lap
•
Indy 500 memories: Helio goes back-to-back
•
Analysis: Indy 500 qualifying
•
Pole Day: Briscoe stars for Penske
•
Indy 500 memories: Little Al holds on
•
Indy 500 memories: Mears wins his fourth
•
Indy 500 memories: Unser vs. Goodyear
•
Indy 500 memories: Mears joins elite club
•
Indy 500 memories: Foyt wins fourth
•
Indy 500 memories: Sullivan spins and wins
Indy 500 Rewind
•
2011 Flashback: Wheldon's Cinderella story
•
2010 Flashback: Dario's all the way back
•
2009 Flashback: Castroneves wins again
•
2008 Flashback: Quiet Dixon makes noise
•
2007 Flashback: Franchitti comes up big
•
2006 Flashback: Hornish gets his "Holy Grail"