Commentary
Dan Wheldon's absence looms large
Updated:
May 27, 2012, 8:53 AM ET
By
Terry Blount
| ESPN.com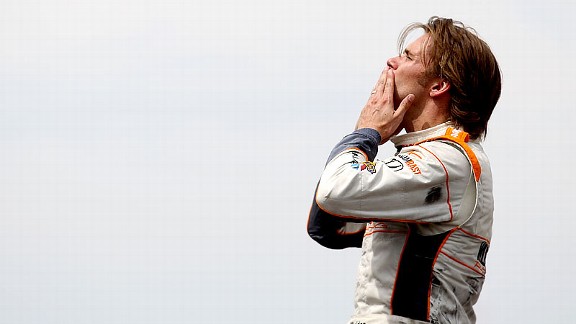 Nick Laham/Getty ImagesDan Wheldon's second Indy 500 win came about in miraculous fashion. Sadly, there won't be a third.
I so wish I was sitting at a table with Dan Wheldon right now, letting him regale me on how he "had it all the way, boys" in his miraculous victory one year ago in the Indianapolis 500.
I can see him leaning back, in his goofy white sunglasses, his feet up on the table and his hands behind his head, pretending to boast about how easy it was to win it for the second time.
Dan would have enjoyed making fun of his good fortune last year, when leader JR Hildebrand crashed exiting the final turn, enabling Wheldon to zoom past him in one of the most surprising turn of events in the century-long history of the race.
I would have gotten a good laugh out of it, thanks to Dan's joyful nature. But it won't happen. It can't.
[+] Enlarge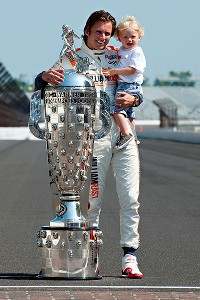 Robert Laberge/Getty ImagesA moment to remember: Dan Wheldon and son Sebastian posing next to the Borg-Warner Trophy in May 2011.
Wheldon is gone, the first Indy 500 winner in 66 years to lose his life in a crash before he could return to defend his victory.
Wheldon was killed in a horrifying multicar accident in October at Las Vegas Motor Speedway, the season finale for the IndyCar Series.
I was there that day, and it crushed me. Yes, I had seen drivers die several times at races I was covering, including Dale Earnhardt in the 2001 Daytona 500.
That was a dark moment for the sport, but Dan's death really got to me on a personal level.
When you are a reporter and something tragic happens at an event you're covering, you go into robot mode. It's almost like a doctor in a trauma situation. I'm not saying my job is anywhere near that important, but you have to focus on the task at hand and work feverishly without getting emotional.
After a very long and difficult day of writing and doing TV interviews and reports at the Las Vegas track, I got in my rental car in the infield, drove through the tunnel and lost it. I stopped the car and broke down and cried.
I just kept thinking how this didn't have to happen, how it shouldn't have happened. This race had too many cars (34, the most for any race in series history outside of Indianapolis) with too many inexperienced drivers racing at speeds way too fast.
And Dan didn't have to be there. He probably wouldn't have been in a race car that afternoon if not for an opportunity at a $5 million bonus, a promotional gimmick that only he accepted.
IndyCar had offered any driver who was not a 2011 series regular a chance to split a $5 million bonus with a fan if the driver won the event. Series officials were hoping some NASCAR drivers would try it. No one did.
So Wheldon was the guy. The 2005 IndyCar series champion didn't have a full-time ride last season and had competed in only two events, including his Indy 500 victory.
I'm not blaming anyone for having the promotion. I was all for it, thinking it was a great way to bring more attention to the series.
And as I sat there in my car, I kept thinking about Dan's two little boys and how much he loved them. I kept seeing that giant smile across his face as he held 2-year-old Sebastian after winning again at Indy five months earlier.
And I just kept crying. Maybe part of my emotions came from the fact that I was going through a painful divorce at the time, a situation that I tried to save but couldn't.
[+] Enlarge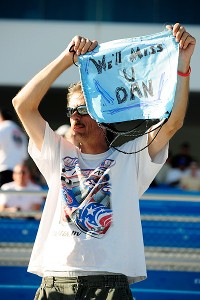 Robert Laberge/Getty ImagesDan Wheldon's death at Las Vegas Motor Speedway in October 2011 rocked the motor racing world.
I guess I just wanted to save someone -- Dan, his little boys, his wife Susie, my family, myself, someone. But I couldn't.
I didn't want to hear anyone say Dan died doing what he loved. I hate it when people say that after a racer dies in a crash. Dan shouldn't have died. That's all that mattered.
The next day, I did live TV and radio interviews at the track with my ESPN colleague John Oreovicz, who knew Dan well.
John and I had different views on the incident. John felt open-wheel cars shouldn't race on high-speed, high-banked ovals like Las Vegas. I felt the track was getting blamed unfairly and the IndyCar Series should have blamed itself.
Neither of us had the answers. We both were angry that Dan was gone.
A week later, I wrote a column about how the IndyCar Series should seriously consider going to enclosed cockpits. It's something unlimited hydroplane boat racing did two decades ago, saving countless lives.
But I knew it wasn't going to happen. Traditions are important in racing. The idea of the open cockpit is part of the allure of open-wheel race cars.
I just wanted to do something to provoke thought and move things forward. Maybe I wouldn't have to see another driver die. I wouldn't have to feel the way I felt that day -- sadness, anger, regret.
In April at the annual Texas Motorsports Hall of Fame induction ceremony, I had the honor of saying a few words about Dan. Sports journalists from across the state vote to select new members each year.
We also select a yearly winner for a sportsmanship award. It's a recognition that's close to my heart because it honors racers who have gone out of their way to project a positive image, help others, cooperate with the media and make the sport better.
Dan was a landslide winner in our vote for the award. I was asked to accept it for him. As I feared, I couldn't quite make it to the end of my speech without breaking up. But I did say what I wanted to tell everyone attending the gala that night:
"We aren't giving this award to Dan because he died. We are giving it to him because of how he lived."
When the green flag waves for the Indy 500 on Sunday, I will stand in the media center and remember how Dan lived -- wishing someone or something could have saved him.
ESPN Seattle Seahawks reporter
Covered the NFL at the Houston Post and Houston Chronicle, including eight Super Bowls
Received Citation for Writing Excellence from Hearst Newspapers
Also has covered NBA Finals, World Series, Finals Fours, Indy 500 and Daytona 500
96TH INDIANAPOLIS 500-MILE RACE

The 96th running of the Indianapolis 500 is in the books. New stars, new cars and the venerable Indianapolis Motor Speedway came together for a thriller as a great tradition ended its 101st year.


Monday, May 28
•
Hinton: The best of his generation
•
Video: Franchitti sits down with Musburger
Race day, May 27
•
Hinton: Franchitti simply flawless
•
Blount: Wheldon friends finish 1-2-3
•
Oreovicz: Honda answers the bell
•
Recap: Franchitti wins his third
|
Results
•
Video: Indianapolis 500 highlights
•&nbsp
Video: Franchitti emotional after third win
•&nbsp
Video: Sato disappointed with crash
•&nbsp
Video: Kanaan falls short again
•
Racing Live! Indy 500 rewind
Saturday, May 26
•
Blount: Two stars gone, many new ones ready
•
Hinton: Magic remains in Indy
•
ESPN.com staff's podium picks
•
Newton: Dream weekend for Penske?
Carb Day, May 25
•
Oreovicz: Franchitti, Dixon make a charge
•
Blount: Five feel-good stories for the 500
•
Blount blog: How about Andretti-Rahal rivalry?
•
Oreovicz chat wrap
•
Andrews: Legge racing from behind
•
Wilson blog: Martina McBride gets the call
•
Guerrieri wins Freedom 100
•
Racing Live! Indy 500 on ESPN.com, Sunday, noon ET
Features
•
Hinton: One-on-one with Mario Andretti
•
Oreovicz: Handicapping the 500 field
•
Blount: The heartache lingers
•
Oreovicz: Briscoe puts Penske on pole
•
James: Indy 500 on Danica's mind
•
Oreovicz: Pole Day surprise?
•
Oreovicz: Young guns taking charge
•
Oreovicz: Storylines to watch at Indy
News & Notes
•
Briscoe wins Indy 500 pole
|
Starting grid
•
Food Network's Fieri to drive pace car
•
American drivers impress in practice
•
Andrettis split up for Indy race-day radio calls
•
Jay Penske needs engines for two cars at Indy
•
Dario Franchitti to run No. 50 at Indy
•
Herta Autosport chooses Honda
•
Pagenaud hits bird during practice
•
Jim Nabors to miss Indy 500
Video
•
Indy 500 memories: Wheldon thrills in 2011
•
Indy 500 preview
•
Helio says he's ready
•
The Andretti-Foyt rivalry
•
Franchitti's take on Dan Wheldon, Indy
•
Indy 500 memories: Hornish thrills in 2006
•
A.J. Foyt a NASCAR legend, too
•
Indy 500 memories: Wheldon's 2005 victory
•
Indy 500 memories: Danica leads a lap
•
Indy 500 memories: Helio goes back-to-back
•
Analysis: Indy 500 qualifying
•
Pole Day: Briscoe stars for Penske
•
Indy 500 memories: Little Al holds on
•
Indy 500 memories: Mears wins his fourth
•
Indy 500 memories: Unser vs. Goodyear
•
Indy 500 memories: Mears joins elite club
•
Indy 500 memories: Foyt wins fourth
•
Indy 500 memories: Sullivan spins and wins
Indy 500 Rewind
•
2011 Flashback: Wheldon's Cinderella story
•
2010 Flashback: Dario's all the way back
•
2009 Flashback: Castroneves wins again
•
2008 Flashback: Quiet Dixon makes noise
•
2007 Flashback: Franchitti comes up big
•
2006 Flashback: Hornish gets his "Holy Grail"