Susie Wheldon accepts Dan's ring
Updated:
May 24, 2012, 7:16 PM ET
Associated Press
INDIANAPOLIS -- Susie Wheldon somberly celebrated her late husband's Indianapolis 500 victory Thursday.
Seven months after Dan Wheldon was killed in a horrific crash at Las Vegas, Susie and their two children came to Indianapolis to accept the champion's ring.
"He loved Indianapolis Motor Speedway so much," she said softly as cameras clicked. "I'm proud to be here with our two children, Sebastian and Oliver, and to represent him as a two-time winner of the Indianapolis 500."
Wheldon didn't take questions during the brief ceremony, but did thank racing fans for showing love and support following the fatal crash.
[+] Enlarge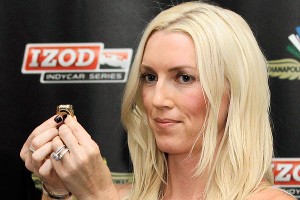 AP Photo/Darron CummingsSusie Wheldon holds the 2011 Indianapolis 500 Champion of Champions ring that was presented to her during a ceremony at Indianapolis Motor Speedway.
After posing for photos with the track owners and the ring, two-time Indy winner Dario Franchitti, a close friend and former teammate of Dan Wheldon, walked into the room, gave Susie Wheldon a hug and urged her to try the ring on. She did it with her customary smile.
Series officials said it was believed to be her first trip back to Indy since the city's public memorial service in October.
The 14-karat gold ring includes one full karat of diamonds with Wheldon's name on one side of the ring. It was made by Herff Jones and is valued at $5,000.
Wheldon won Indy in 2005 and won it for the second time last year when race leader JR Hildebrand crashed on the last turn of the last lap. Wheldon passed the skidding car in the final straightaway and Hildebrand finished second.
Though Wheldon won't be here this weekend, his presence certainly is being felt.
"You know he was pretty good around here, but every time he was here, he'd be like 'Oh, look at the flags blowing' or 'Oh, they changed the pictures in the Pagoda,'" said Tony Kanaan, another close friend and former teammate.
Fans will get to see Wheldon's No. 98 car in the Pagoda Plaza this weekend and are being asked to display the cardboard sunglasses that will be handed out for Sunday's race on laps 26 and 98 -- representative of the two winning numbers Wheldon had at Indy.
Team owner Bryan Herta will take the No. 98 car that won last year's race around the oval during pre-race ceremonies. Ryan Hunter-Reay is wearing a special helmet in honor of Wheldon, and Kanaan is bringing a new pair of sunglasses to the track Sunday, too.
"Hopefully, you guys will understand," Kanaan said, drawing laughter. "I said the two toughest races would be here and St. Pete because that's where he lived and this one because he's the defending champ. I hope after this race we can put some closure on this, but it will be very emotional."
Espeically when Susie Wheldon shows up for the public drivers meeting Saturday.
Just like it was during the ring ceremony.
"Dan will always be remembered and loved by his racing fans as one of the of the most competitive drivers at the 500," said Herff Jones representative Ken Keltner. "Dan Wheldon will always be remembered as the champion of champions."

Copyright 2012 by The Associated Press
SPONSORED HEADLINES
MORE RACING HEADLINES
MOST SENT STORIES ON ESPN.COM
96TH INDIANAPOLIS 500-MILE RACE

The 96th running of the Indianapolis 500 is in the books. New stars, new cars and the venerable Indianapolis Motor Speedway came together for a thriller as a great tradition ended its 101st year.


Monday, May 28
•
Hinton: The best of his generation
•
Video: Franchitti sits down with Musburger
Race day, May 27
•
Hinton: Franchitti simply flawless
•
Blount: Wheldon friends finish 1-2-3
•
Oreovicz: Honda answers the bell
•
Recap: Franchitti wins his third
|
Results
•
Video: Indianapolis 500 highlights
•&nbsp
Video: Franchitti emotional after third win
•&nbsp
Video: Sato disappointed with crash
•&nbsp
Video: Kanaan falls short again
•
Racing Live! Indy 500 rewind
Saturday, May 26
•
Blount: Two stars gone, many new ones ready
•
Hinton: Magic remains in Indy
•
ESPN.com staff's podium picks
•
Newton: Dream weekend for Penske?
Carb Day, May 25
•
Oreovicz: Franchitti, Dixon make a charge
•
Blount: Five feel-good stories for the 500
•
Blount blog: How about Andretti-Rahal rivalry?
•
Oreovicz chat wrap
•
Andrews: Legge racing from behind
•
Wilson blog: Martina McBride gets the call
•
Guerrieri wins Freedom 100
•
Racing Live! Indy 500 on ESPN.com, Sunday, noon ET
Features
•
Hinton: One-on-one with Mario Andretti
•
Oreovicz: Handicapping the 500 field
•
Blount: The heartache lingers
•
Oreovicz: Briscoe puts Penske on pole
•
James: Indy 500 on Danica's mind
•
Oreovicz: Pole Day surprise?
•
Oreovicz: Young guns taking charge
•
Oreovicz: Storylines to watch at Indy
News & Notes
•
Briscoe wins Indy 500 pole
|
Starting grid
•
Food Network's Fieri to drive pace car
•
American drivers impress in practice
•
Andrettis split up for Indy race-day radio calls
•
Jay Penske needs engines for two cars at Indy
•
Dario Franchitti to run No. 50 at Indy
•
Herta Autosport chooses Honda
•
Pagenaud hits bird during practice
•
Jim Nabors to miss Indy 500
Video
•
Indy 500 memories: Wheldon thrills in 2011
•
Indy 500 preview
•
Helio says he's ready
•
The Andretti-Foyt rivalry
•
Franchitti's take on Dan Wheldon, Indy
•
Indy 500 memories: Hornish thrills in 2006
•
A.J. Foyt a NASCAR legend, too
•
Indy 500 memories: Wheldon's 2005 victory
•
Indy 500 memories: Danica leads a lap
•
Indy 500 memories: Helio goes back-to-back
•
Analysis: Indy 500 qualifying
•
Pole Day: Briscoe stars for Penske
•
Indy 500 memories: Little Al holds on
•
Indy 500 memories: Mears wins his fourth
•
Indy 500 memories: Unser vs. Goodyear
•
Indy 500 memories: Mears joins elite club
•
Indy 500 memories: Foyt wins fourth
•
Indy 500 memories: Sullivan spins and wins
Indy 500 Rewind
•
2011 Flashback: Wheldon's Cinderella story
•
2010 Flashback: Dario's all the way back
•
2009 Flashback: Castroneves wins again
•
2008 Flashback: Quiet Dixon makes noise
•
2007 Flashback: Franchitti comes up big
•
2006 Flashback: Hornish gets his "Holy Grail"