Commentary
New stars ready to step up
Updated:
May 27, 2012, 2:17 AM ET
By
Terry Blount
| ESPN.com
INDIANAPOLIS -- A couple of things will be missing when the green flag waves Sunday at the Brickyard. The princess has moved on, and a hero is gone.
For the first time in eight years, the super celebrity is not among the 33 drivers in the Indianapolis 500.
Danica Patrick is not here. The divorce is final. She has left her first love of Indy cars for the big bucks of NASCAR.
And for the first time in 66 years, the defending Indy 500 winner isn't here, because of a crash that took his life.
Dan Wheldon will be remembered before and during the race. I'll have on my Wheldon-style white-framed sunglasses at the green flag, along with thousands of others in attendance, to honor Dan. Tears will be shed.
No tears were shed in Gasoline Alley this weekend over Patrick's absence. Danica brought a lot of attention to the IndyCar Series over the past seven seasons at a time when open-wheel racing desperately needed it. But she also took away attention from the drivers who actually won races.
Some of those drivers see this Indy 500 as their chance to shine and become stars without having to share media attention with the former queen of Indy cars.
[+] Enlarge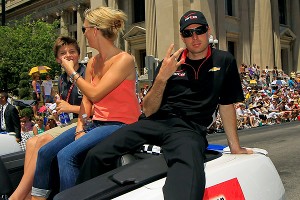 Chris Trotman/Getty ImagesWill Power beat the heat just fine in Saturday's parade in Indianapolis. Can he beat the heat -- and the field -- in Sunday's race?
Much has been said and written about Patrick and Wheldon this week. That's understandable.
However, what's missing from the conversation is how this could be the best Indy 500 in many years. It's also going to be the hottest, literally, and maybe figuratively, as well.
The predicted high Sunday is 97 degrees, which would make this Indy 500 the hottest on record. And that means some dangerous racing conditions.
A hot track is a slick track. The 2.5-mile rectangle could be slick as glass late in the race as the temperatures rises. That makes the cars more difficult to drive through the four sharp turns.
"I wouldn't be surprised to see a pass for the lead on almost every lap," said Will Power, who starts on the middle of Row 2. "The trailing car gets such a tow down the front stretch that it's easy to get by."
It's one of many changes thanks to a new car design, which makes this race a big unknown.
This car has more body around it than any car in Indy-racing history. The rear wheels are almost completely enclosed. The sidepods are larger and wider in a futuristic look that some people like -- including me -- and some don't.
This is the first oval-track race of the year for the IndyCar Series, so no one knows for sure what we will see. But the prevailing logic is the cars will produce some exciting side-by-side racing Sunday.
If so, competition in the 200-lap race should be fierce. At least 10 drivers have a realistic shot at winning.
Team Penske is unbeaten in four races this year (three wins for Power and one for three-time Indy 500 winner Helio Castroneves). Teammate Ryan Briscoe hasn't won this year, but he's on the pole and has his best chance ever of winning at Indy.
And forget all that talk about Honda-powered cars not being able to win against the Chevys. Chip Ganassi's Honda drivers -- two-time Indy winner Dario Franchitti and 2008 Indy winner Scott Dixon -- had the two fastest cars on Carb Day's final practice Friday.
The favorite among the ESPN.com boys is Marco Andretti. Three of our five voters picked him to win (I was one) and the other two picked him as the runner-up.
Maybe we're all just sentimental fools who want to see the Andretti family curse finally end after 43 years without a victory at Indy. Then again, maybe we're right. Marco has been fast all month and even Dixon picked him to win.
Two drivers I can guarantee won't win are Simona de Silvestro and Jean Alesi. They would have a better chance sitting on top of a riding lawn mower than in the cockpit of the pitifully underpowered Lotus-engined machines they will drive.
[+] Enlarge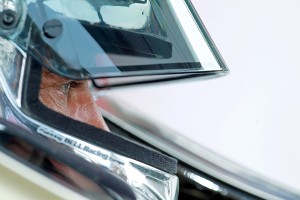 Andy Lyons/Getty ImagesJean Alesi is only the latest Formula One driver to come calling at Indianapolis Motor Speedway.
Call them the IndyCar version of NASCAR's start and park.
It's a shame. De Silvestro has the talent to do as much, or more, on the track as Patrick did. Alesi, 47, is a former Formula One racer competing in the Indy 500 for the first time.
My colleague, Ed Hinton, asked him why he was here?
"Call it a middle life crisis," Alesi said in his French accent. "For some men it is a woman. For me, it is this race."
Good answer. This race has been a mistress for many a driver over the years, a temptation that never fully returns the affections -- like 1969 winner Mario Andretti, who lost here in more ways than you can imagine.
For others, it became the love of their life -- like A.J. Foyt, Al Unser Sr., Rick Mears and many more.
Drivers come and go, sometimes of their own accord, like Patrick, and sometimes because they were taken from us, like Wheldon. But someone new always steps up and becomes Indy's new symbol of racing nobility.
The race will start with a couple of stars missing. It may end with a new star found.
ESPN Seattle Seahawks reporter
Covered the NFL at the Houston Post and Houston Chronicle, including eight Super Bowls
Received Citation for Writing Excellence from Hearst Newspapers
Also has covered NBA Finals, World Series, Finals Fours, Indy 500 and Daytona 500
SPONSORED HEADLINES
MORE RACING HEADLINES
MOST SENT STORIES ON ESPN.COM
96TH INDIANAPOLIS 500-MILE RACE

The 96th running of the Indianapolis 500 is in the books. New stars, new cars and the venerable Indianapolis Motor Speedway came together for a thriller as a great tradition ended its 101st year.


Monday, May 28
•
Hinton: The best of his generation
•
Video: Franchitti sits down with Musburger
Race day, May 27
•
Hinton: Franchitti simply flawless
•
Blount: Wheldon friends finish 1-2-3
•
Oreovicz: Honda answers the bell
•
Recap: Franchitti wins his third
|
Results
•
Video: Indianapolis 500 highlights
•&nbsp
Video: Franchitti emotional after third win
•&nbsp
Video: Sato disappointed with crash
•&nbsp
Video: Kanaan falls short again
•
Racing Live! Indy 500 rewind
Saturday, May 26
•
Blount: Two stars gone, many new ones ready
•
Hinton: Magic remains in Indy
•
ESPN.com staff's podium picks
•
Newton: Dream weekend for Penske?
Carb Day, May 25
•
Oreovicz: Franchitti, Dixon make a charge
•
Blount: Five feel-good stories for the 500
•
Blount blog: How about Andretti-Rahal rivalry?
•
Oreovicz chat wrap
•
Andrews: Legge racing from behind
•
Wilson blog: Martina McBride gets the call
•
Guerrieri wins Freedom 100
•
Racing Live! Indy 500 on ESPN.com, Sunday, noon ET
Features
•
Hinton: One-on-one with Mario Andretti
•
Oreovicz: Handicapping the 500 field
•
Blount: The heartache lingers
•
Oreovicz: Briscoe puts Penske on pole
•
James: Indy 500 on Danica's mind
•
Oreovicz: Pole Day surprise?
•
Oreovicz: Young guns taking charge
•
Oreovicz: Storylines to watch at Indy
News & Notes
•
Briscoe wins Indy 500 pole
|
Starting grid
•
Food Network's Fieri to drive pace car
•
American drivers impress in practice
•
Andrettis split up for Indy race-day radio calls
•
Jay Penske needs engines for two cars at Indy
•
Dario Franchitti to run No. 50 at Indy
•
Herta Autosport chooses Honda
•
Pagenaud hits bird during practice
•
Jim Nabors to miss Indy 500
Video
•
Indy 500 memories: Wheldon thrills in 2011
•
Indy 500 preview
•
Helio says he's ready
•
The Andretti-Foyt rivalry
•
Franchitti's take on Dan Wheldon, Indy
•
Indy 500 memories: Hornish thrills in 2006
•
A.J. Foyt a NASCAR legend, too
•
Indy 500 memories: Wheldon's 2005 victory
•
Indy 500 memories: Danica leads a lap
•
Indy 500 memories: Helio goes back-to-back
•
Analysis: Indy 500 qualifying
•
Pole Day: Briscoe stars for Penske
•
Indy 500 memories: Little Al holds on
•
Indy 500 memories: Mears wins his fourth
•
Indy 500 memories: Unser vs. Goodyear
•
Indy 500 memories: Mears joins elite club
•
Indy 500 memories: Foyt wins fourth
•
Indy 500 memories: Sullivan spins and wins
Indy 500 Rewind
•
2011 Flashback: Wheldon's Cinderella story
•
2010 Flashback: Dario's all the way back
•
2009 Flashback: Castroneves wins again
•
2008 Flashback: Quiet Dixon makes noise
•
2007 Flashback: Franchitti comes up big
•
2006 Flashback: Hornish gets his "Holy Grail"