Will Power knocked out in first crash
Updated:
May 27, 2012, 3:53 PM ET
Associated Press
INDIANAPOLIS -- IndyCar points leader Will Power and Mike Conway were both knocked out of the Indianapolis 500 in the first crash of Sunday's race.
Conway had just returned to the track after hitting one of his crew members during a pit stop, an accident that broke the car's front wing. The wing, which helps drivers with their handling of the car, was not fixed before he pulled out.
[+] Enlarge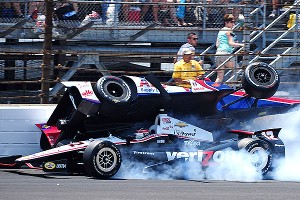 Mark J. Rebilas/US PresswireMike Conway and Will Power were knocked out of Sunday's Indianapolis 500 after Conway spun out and collided with Power.
Conway spun out right in front of Power, who drove into the side of Conway's car, sending it up into the catch fence. Both drivers were able to climb out of their damaged cars.
Power said he didn't understand why A.J. Foyt's team would send Conway onto the track with a broken wing. He said there was no way to avoid the hit that got Conway's car off the track and sent Power's spinning into the inside wall.
"He just spun in front of me. Nothing I could do," Power said. "Good thing is I'm OK, so is Mike, and we'll just look for the next race."
Both drivers climbed out of the car and neither driver was seriously hurt, though Conway told a crew member his back was stiff.
"It started from the pit lane incident," he said. "I came in a little bit too hard and hit a couple of my guys, which I've never done that before. A big apology to them for that. Somebody could have been hurt. Luckily everyone's OK.
"I think at that moment it damaged the front wing, we didn't see. Going down the front straight, I could see it flew up in the air. ... I slowed down going into one, but it just wasn't enough. It just pinched me down and spun the car around."
Three-time Indy winner Helio Castroneves avoided the crash, though a loose, still-bouncing tire careened off his right front tire.
It didn't appear to do much damage to the car, but shortly after that hit, Castroneves started sliding back in the standings, possibly because of a suspension problem.
Also out of the race were Ryan Hunter-Reay and the Lotus cars driven by Jean Alesi and Simona de Silvestro. Alesi and de Silvestro were black-flagged after just 10 laps for not keeping pace with the race leaders.
Michael Andretti, the owner of Hunter-Reay's car, said something broke in the rear end of the No. 28 car.
"We're just lucky we didn't crash really bad," Hunter-Reay said.
Conway has been here before.
Two years ago, with less than two laps to go in the 500, Conway ran into Hunter-Reay and went airborne into the catch fence -- breaking his lower leg and leaving him with an injured back. He missed the rest of the season and failed to qualify at Indy last year.
Conway said he couldn't compare the two hits but lamented he had been knocked out of the race again in a crash.

Copyright 2012 by The Associated Press
SPONSORED HEADLINES
MORE RACING HEADLINES
MOST SENT STORIES ON ESPN.COM
96TH INDIANAPOLIS 500-MILE RACE

The 96th running of the Indianapolis 500 is in the books. New stars, new cars and the venerable Indianapolis Motor Speedway came together for a thriller as a great tradition ended its 101st year.


Monday, May 28
•
Hinton: The best of his generation
•
Video: Franchitti sits down with Musburger
Race day, May 27
•
Hinton: Franchitti simply flawless
•
Blount: Wheldon friends finish 1-2-3
•
Oreovicz: Honda answers the bell
•
Recap: Franchitti wins his third
|
Results
•
Video: Indianapolis 500 highlights
•&nbsp
Video: Franchitti emotional after third win
•&nbsp
Video: Sato disappointed with crash
•&nbsp
Video: Kanaan falls short again
•
Racing Live! Indy 500 rewind
Saturday, May 26
•
Blount: Two stars gone, many new ones ready
•
Hinton: Magic remains in Indy
•
ESPN.com staff's podium picks
•
Newton: Dream weekend for Penske?
Carb Day, May 25
•
Oreovicz: Franchitti, Dixon make a charge
•
Blount: Five feel-good stories for the 500
•
Blount blog: How about Andretti-Rahal rivalry?
•
Oreovicz chat wrap
•
Andrews: Legge racing from behind
•
Wilson blog: Martina McBride gets the call
•
Guerrieri wins Freedom 100
•
Racing Live! Indy 500 on ESPN.com, Sunday, noon ET
Features
•
Hinton: One-on-one with Mario Andretti
•
Oreovicz: Handicapping the 500 field
•
Blount: The heartache lingers
•
Oreovicz: Briscoe puts Penske on pole
•
James: Indy 500 on Danica's mind
•
Oreovicz: Pole Day surprise?
•
Oreovicz: Young guns taking charge
•
Oreovicz: Storylines to watch at Indy
News & Notes
•
Briscoe wins Indy 500 pole
|
Starting grid
•
Food Network's Fieri to drive pace car
•
American drivers impress in practice
•
Andrettis split up for Indy race-day radio calls
•
Jay Penske needs engines for two cars at Indy
•
Dario Franchitti to run No. 50 at Indy
•
Herta Autosport chooses Honda
•
Pagenaud hits bird during practice
•
Jim Nabors to miss Indy 500
Video
•
Indy 500 memories: Wheldon thrills in 2011
•
Indy 500 preview
•
Helio says he's ready
•
The Andretti-Foyt rivalry
•
Franchitti's take on Dan Wheldon, Indy
•
Indy 500 memories: Hornish thrills in 2006
•
A.J. Foyt a NASCAR legend, too
•
Indy 500 memories: Wheldon's 2005 victory
•
Indy 500 memories: Danica leads a lap
•
Indy 500 memories: Helio goes back-to-back
•
Analysis: Indy 500 qualifying
•
Pole Day: Briscoe stars for Penske
•
Indy 500 memories: Little Al holds on
•
Indy 500 memories: Mears wins his fourth
•
Indy 500 memories: Unser vs. Goodyear
•
Indy 500 memories: Mears joins elite club
•
Indy 500 memories: Foyt wins fourth
•
Indy 500 memories: Sullivan spins and wins
Indy 500 Rewind
•
2011 Flashback: Wheldon's Cinderella story
•
2010 Flashback: Dario's all the way back
•
2009 Flashback: Castroneves wins again
•
2008 Flashback: Quiet Dixon makes noise
•
2007 Flashback: Franchitti comes up big
•
2006 Flashback: Hornish gets his "Holy Grail"