Commentary
Honda cranks up the heat at Indy
INDIANAPOLIS -- Honda knows what it's like to be humbled at the Indianapolis Motor Speedway.
One of the world's most respected carmakers struggled mightily in its first attempt at the Indianapolis 500 back in 1994. When its overweight and underpowered engines put Bobby Rahal and his team in jeopardy of failing to qualify, Rahal abandoned his Hondas and leased a pair of Ilmor-powered cars.
Honda also knows how to rebound quickly. Just a year after the embarrassing 1994 DNQ, Scott Goodyear looked like he had victory in the '95 Indy 500 in the bag until he inadvertently passed the pace car on a late restart. The CART/IRL war meant Honda didn't get another shot at Indianapolis until 2003, but it won every 500 since 2004, the past six as the exclusive engine supplier to the IZOD IndyCar Series.
Engine manufacturer competition returned to the IndyCar Series in 2012, and up through last Friday, Honda found itself getting humbled again. Chevrolet and Penske Racing won the first four races of the season on road and street courses, then swept nine of the top 10 grid positions at Indy.
[+] Enlarge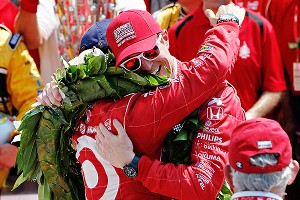 Jonathan Ferrey/Getty ImagesDario Franchitti, left, and Scott Dixon qualified 16th and 15th for the Indy 500 in Honda-powered machines, but they finished 1-2 on race day.
But suddenly on Carb Day, the tide turned in Honda's favor. Dario Franchitti and Scott Dixon ran 1-2 for Target Ganassi Racing, and they repeated that result in the race, with Franchitti literally brushing off a last-lap challenge from Takuma Sato to record his third Indianapolis 500 victory.
On race day, the Hondas not only outpaced the Chevrolets, they also consistently ran a lap or two longer on a tank of Sunoco race fuel.
What on earth happened? After pretty much getting its doors blown off in the first four races of the season, plus in Indianapolis qualifying, could Honda have suddenly regrouped and produced the dominant engine for race day?
Yes, it did.
"Honda made a massive, massive improvement after qualifying," said Franchitti, who has utilized Honda power for every one of his 31 Indy car race wins. "I really take my hat off to those guys because we really gave them a hard time after qualifying. I mean, you know how upset I was on qualifying day. I was angry. I had no expectations coming in, but I thought we'd be quick, and we weren't. I think I was fairly honest and clear about being upset with it.
"The Honda guys have worked hard since before the start of the season, but they've been playing catch-up," he continued. "When they made the turnaround from Sunday to Carb Day, it was very impressive. They continue to amaze me."
There were a lot of furrowed brows in the Honda camp after qualifying at Indianapolis. The Honda cars were consistently 2-3 mph slower than the fastest Chevrolet-powered entries from the Penske and Andretti Autosport teams.
But Honda Performance Development assured its teams it had an upgrade coming. They just had to wait until their existing engines reached the end of their 1,850-mile life as required by INDYCAR regulations.
"That was our first chance to show the next step in our evolution," explained HPD assistant vice president Steve Erickson. "I think Chevrolet had an early benefit, particularly when they switched to fresh engines at Long Beach. That was an upgrade that didn't match the league's planning, so of course there was a penalty. But they were on the next iteration of engine from Long Beach on, whereas we were following the regulations that said when you get to the end of your 1,850 miles of engine life, then you put in your next iteration. That's what we did here."
While the Ganassi cars suddenly gained pace on Carb Day with the Step 2 Honda motors, it wasn't until a couple of long green-flag stints in the race that it became obvious the upgraded Honda also was making better fuel mileage than the Chevys.
SportsNation: Indianapolis 500

Ten drivers have won the Indianapolis 500 three or more times. Can you name them?
• Quiz!
"Everybody wants more power and better fuel economy, and oftentimes those are opposed," Erickson said. "In this particular case, the improvements that we made actually achieved both. When you have that, it's a really special situation."
Still, Chevrolet was in a position to win the race right up to the very end. KV Racing Technology's Tony Kanaan led into the final restart, but his third-place finish ended up leading a 3-4-5-6 string for the Bowtie brigade.
Chevrolet's advantage was magnified in qualifying, because Honda did minimal development tuning its first-generation engine for the increased turbocharger boost that was implemented at the last minute.
Knowing it would introduce its upgrade after qualifying, Honda bit the bullet and basically got embarrassed in qualifying. Josef Newgarden of Sarah Fisher Hartman Racing was the marque's top qualifier in seventh place, and Ganassi's Dixon and Franchitti lined up 15th and 16th.
But Franchitti showed his hand early in the race when a pit lane spin caused by E.J. Viso knocked him to the back of the pack. The Scotsman calmly drove through the field and put himself back in contention without the benefit of a full-course caution or alternate pit strategy.
His effort resulted in a dream result for Honda and HPD, the company's racing engine division based in Santa Clarita, Calif.
HPD started out in the early '90s as a rebuild facility while design, development and manufacture of its Indy car engine took place in Japan. But it took on additional responsibilities over the years to the point where the Honda engine is now the only engine in Indy car competition that is designed and manufactured in America.
"The Indy 500 has been our No. 1 company goal -- above all, make no mistake, the Indy 500 is it," HPD's Erickson said. "Everything else falls below that. So everything about our development program was focused on winning the Indy 500. A lot of overtime, a lot of long nights went into achieving this one goal.
"We worked long and hard to bring engine manufacturer competition back to the IndyCar Series because it means so much to us and our associates," he added. "This is why we race, and winning today is payback for all the hard work we put in to get to this point."
Autos, Open-Wheel
Motorsports Writer for ESPN.com
Covered Indy car racing for 20 years
Work published in 12 countries
96TH INDIANAPOLIS 500-MILE RACE

The 96th running of the Indianapolis 500 is in the books. New stars, new cars and the venerable Indianapolis Motor Speedway came together for a thriller as a great tradition ended its 101st year.


Monday, May 28
•
Hinton: The best of his generation
•
Video: Franchitti sits down with Musburger
Race day, May 27
•
Hinton: Franchitti simply flawless
•
Blount: Wheldon friends finish 1-2-3
•
Oreovicz: Honda answers the bell
•
Recap: Franchitti wins his third
|
Results
•
Video: Indianapolis 500 highlights
•&nbsp
Video: Franchitti emotional after third win
•&nbsp
Video: Sato disappointed with crash
•&nbsp
Video: Kanaan falls short again
•
Racing Live! Indy 500 rewind
Saturday, May 26
•
Blount: Two stars gone, many new ones ready
•
Hinton: Magic remains in Indy
•
ESPN.com staff's podium picks
•
Newton: Dream weekend for Penske?
Carb Day, May 25
•
Oreovicz: Franchitti, Dixon make a charge
•
Blount: Five feel-good stories for the 500
•
Blount blog: How about Andretti-Rahal rivalry?
•
Oreovicz chat wrap
•
Andrews: Legge racing from behind
•
Wilson blog: Martina McBride gets the call
•
Guerrieri wins Freedom 100
•
Racing Live! Indy 500 on ESPN.com, Sunday, noon ET
Features
•
Hinton: One-on-one with Mario Andretti
•
Oreovicz: Handicapping the 500 field
•
Blount: The heartache lingers
•
Oreovicz: Briscoe puts Penske on pole
•
James: Indy 500 on Danica's mind
•
Oreovicz: Pole Day surprise?
•
Oreovicz: Young guns taking charge
•
Oreovicz: Storylines to watch at Indy
News & Notes
•
Briscoe wins Indy 500 pole
|
Starting grid
•
Food Network's Fieri to drive pace car
•
American drivers impress in practice
•
Andrettis split up for Indy race-day radio calls
•
Jay Penske needs engines for two cars at Indy
•
Dario Franchitti to run No. 50 at Indy
•
Herta Autosport chooses Honda
•
Pagenaud hits bird during practice
•
Jim Nabors to miss Indy 500
Video
•
Indy 500 memories: Wheldon thrills in 2011
•
Indy 500 preview
•
Helio says he's ready
•
The Andretti-Foyt rivalry
•
Franchitti's take on Dan Wheldon, Indy
•
Indy 500 memories: Hornish thrills in 2006
•
A.J. Foyt a NASCAR legend, too
•
Indy 500 memories: Wheldon's 2005 victory
•
Indy 500 memories: Danica leads a lap
•
Indy 500 memories: Helio goes back-to-back
•
Analysis: Indy 500 qualifying
•
Pole Day: Briscoe stars for Penske
•
Indy 500 memories: Little Al holds on
•
Indy 500 memories: Mears wins his fourth
•
Indy 500 memories: Unser vs. Goodyear
•
Indy 500 memories: Mears joins elite club
•
Indy 500 memories: Foyt wins fourth
•
Indy 500 memories: Sullivan spins and wins
Indy 500 Rewind
•
2011 Flashback: Wheldon's Cinderella story
•
2010 Flashback: Dario's all the way back
•
2009 Flashback: Castroneves wins again
•
2008 Flashback: Quiet Dixon makes noise
•
2007 Flashback: Franchitti comes up big
•
2006 Flashback: Hornish gets his "Holy Grail"