Commentary
Dario Franchitti unflappable at Indy
Updated:
May 27, 2012, 9:02 PM ET
By
Ed Hinton
| ESPN.com
INDIANAPOLIS -- Dario Franchitti had to be beyond flawless Sunday. Just his own perfection wouldn't have been enough. Mistakes by others, one early and one late, would have taken him out of the 96th Indianapolis 500 anyway.
But such is Franchitti's mastery of Indy nowadays that neither getting wrecked in the pits on the 15th lap or nearly getting wrecked on the last lap even fazed him.
However wild it got, whenever in the race, you sensed all along that he was going to win it for the third time, and the second in three years.
The 39-year-old Scot has become simply imperturbable and impeccable, and beyond, in this race.
Getting spun around in the pits by E.J. Viso early? Being delayed while his crew replaced a nose cone on his car so that he was last on the restart?
[+] Enlarge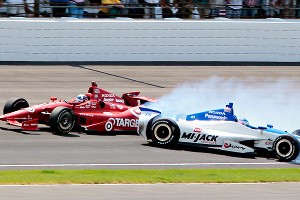 AP Photo/Bill FrielTakuma Sato spins in the first turn of the final lap after a failed attempt to pass Dario Franchitti.
No problem. For him and his team -- which also was beyond flawless on strategy and in the pits, "It's like, 'Right, OK, here we go,'" Franchitti said. "'Here's the situation we find ourselves in. How are we going to get out of it?'"
A sudden, ferocious challenge by Takuma Sato on the last lap, the crescendo of far and away the best showing ever by a Japanese driver here?
No problem, except for Sato, who went spinning in the first turn, even clipping Franchitti.
Seconds after they took the white flag, "Takuma got a good run on the inside," Franchitti said. "We turned into the corner and I think he just ran a tight line and he just lost the rear."
"I was going for the win," Sato said. "I thought I had the job done. But he kept pushing and didn't give me enough room, so that I was well below the white line."
"You're allowed to protect your position," Franchitti said. And he did.
"Turn 1 was the trickiest corner all day [although ambient temperatures reached only 91, not surpassing predicted record heat], and if you did go in there with a tight line you tended to get a bit loose," Franchitti said.
"He lost the rear end, I guess, and came round and hit us," Franchitti said. "I kept my foot in it and managed to catch it. And that was it. It was a helluva finish."
No matter what Franchitti encounters, "He's sort of been there, done that," Chip Ganassi said, after his fifth Indy 500 win as a team owner.
"So when it comes to a day like today, and we were last after that first pit stop, there was never one word said about that," Ganassi said. "It wasn't like, 'Aw, man.' Nobody said anything. They changed the front wing and he went out, and he said, 'All right.'
"And before you knew it he was about 23rd. And the next thing you know he's about 16th. And the next thing you know he was 10th."
Even during Sato's last-lap charge, "I wasn't overly concerned," Ganassi said of his view from the pits, "because I thought we could get him on the back straightaway again, or coming to the start-finish line."
An owner has to consider his driver pretty unflappable to think that even if he gives up the lead on the last lap, he'll have two more chances to win before the finish line.
Franchitti teammate Scott Dixon finished second after the Sato crash, followed by Tony Kanaan in third.
SportsNation: Indianapolis 500

Ten drivers have won the Indianapolis 500 three or more times. Can you name them?
• Quiz!
Marco Andretti dominated the first half of the race, leading 59 laps, but he and his team grew rattled when they realized their Chevrolet engines weren't getting anywhere near the fuel mileage of Ganassi's Hondas.
Ganassi claimed he had no idea of the fuel superiority until the race started.
"We don't know anything about the Chevrolets. We noticed that after the first pit stop."
Indeed, going into the race, the Ganassi team appeared to have stumbled from its dominance of recent years. Dixon qualified 15th, and Franchitti 16th.
"We had no idea where we were going to be, where we were going to run. Believe me, we came in here with more unknowns than any other year," Ganassi said.
Well, they could have fooled more than 200,000 people at Indianapolis Motor Speedway all Sunday afternoon.
Told that, Ganassi said, "You weren't in our race shop the Monday after qualifying, or on the phone with the chairman of Target [the team's primary sponsor] the Monday after qualifying, or in a meeting with Honda soon after qualifying.
"Let's just say it wasn't our finest moment."
But Sunday was. All because the Ganassi team gathered themselves in the crunch, out of what might have been chaos for another team.
Minutes after the race, Franchitti's wife, actress Ashley Judd, invoked the names of Scotland's two greatest drivers ever.
"Jackie Stewart brought him up right," she said of the three-time Formula One driver who mentored Franchitti, grandson of an Italian restaurateur who immigrated to Edinburgh.
And, "Jim Clark is looking down on him," she said of the driver who won the 1965 Indy 500 and is widely considered the greatest F1 driver ever, even though he was killed in mid-career in 1968.
"Jackie and Jimmy are the guys I wanted to emulate -- to drive like, I guess," Franchitti said. "I don't have their talent, so I just try and work hard, and I'm lucky I'm with a great team."
The team was flawless for sure. But that wouldn't have been enough without a driver who drove, well, in the best tradition of Scotland.
SPONSORED HEADLINES
MORE RACING HEADLINES
MOST SENT STORIES ON ESPN.COM
96TH INDIANAPOLIS 500-MILE RACE

The 96th running of the Indianapolis 500 is in the books. New stars, new cars and the venerable Indianapolis Motor Speedway came together for a thriller as a great tradition ended its 101st year.


Monday, May 28
•
Hinton: The best of his generation
•
Video: Franchitti sits down with Musburger
Race day, May 27
•
Hinton: Franchitti simply flawless
•
Blount: Wheldon friends finish 1-2-3
•
Oreovicz: Honda answers the bell
•
Recap: Franchitti wins his third
|
Results
•
Video: Indianapolis 500 highlights
•&nbsp
Video: Franchitti emotional after third win
•&nbsp
Video: Sato disappointed with crash
•&nbsp
Video: Kanaan falls short again
•
Racing Live! Indy 500 rewind
Saturday, May 26
•
Blount: Two stars gone, many new ones ready
•
Hinton: Magic remains in Indy
•
ESPN.com staff's podium picks
•
Newton: Dream weekend for Penske?
Carb Day, May 25
•
Oreovicz: Franchitti, Dixon make a charge
•
Blount: Five feel-good stories for the 500
•
Blount blog: How about Andretti-Rahal rivalry?
•
Oreovicz chat wrap
•
Andrews: Legge racing from behind
•
Wilson blog: Martina McBride gets the call
•
Guerrieri wins Freedom 100
•
Racing Live! Indy 500 on ESPN.com, Sunday, noon ET
Features
•
Hinton: One-on-one with Mario Andretti
•
Oreovicz: Handicapping the 500 field
•
Blount: The heartache lingers
•
Oreovicz: Briscoe puts Penske on pole
•
James: Indy 500 on Danica's mind
•
Oreovicz: Pole Day surprise?
•
Oreovicz: Young guns taking charge
•
Oreovicz: Storylines to watch at Indy
News & Notes
•
Briscoe wins Indy 500 pole
|
Starting grid
•
Food Network's Fieri to drive pace car
•
American drivers impress in practice
•
Andrettis split up for Indy race-day radio calls
•
Jay Penske needs engines for two cars at Indy
•
Dario Franchitti to run No. 50 at Indy
•
Herta Autosport chooses Honda
•
Pagenaud hits bird during practice
•
Jim Nabors to miss Indy 500
Video
•
Indy 500 memories: Wheldon thrills in 2011
•
Indy 500 preview
•
Helio says he's ready
•
The Andretti-Foyt rivalry
•
Franchitti's take on Dan Wheldon, Indy
•
Indy 500 memories: Hornish thrills in 2006
•
A.J. Foyt a NASCAR legend, too
•
Indy 500 memories: Wheldon's 2005 victory
•
Indy 500 memories: Danica leads a lap
•
Indy 500 memories: Helio goes back-to-back
•
Analysis: Indy 500 qualifying
•
Pole Day: Briscoe stars for Penske
•
Indy 500 memories: Little Al holds on
•
Indy 500 memories: Mears wins his fourth
•
Indy 500 memories: Unser vs. Goodyear
•
Indy 500 memories: Mears joins elite club
•
Indy 500 memories: Foyt wins fourth
•
Indy 500 memories: Sullivan spins and wins
Indy 500 Rewind
•
2011 Flashback: Wheldon's Cinderella story
•
2010 Flashback: Dario's all the way back
•
2009 Flashback: Castroneves wins again
•
2008 Flashback: Quiet Dixon makes noise
•
2007 Flashback: Franchitti comes up big
•
2006 Flashback: Hornish gets his "Holy Grail"