Commentary
Dario humble as generation's best
Updated:
May 29, 2012, 9:59 AM ET
By
Ed Hinton
| ESPN.com
INDIANAPOLIS -- Gazing out at the vast, empty grandstands on Monday, with two hours' sleep after a party that lasted almost until dawn celebrating his third Indy 500 win, Dario Franchitti clearly felt the gravity of the hallowed ground, and a sadness for "a whole generation of us."
Call them the Lost Generation of Indy car drivers, who in their primes were not allowed to compete here much, if at all, due to the devastating civil war in open-wheel racing that began in 1996 and wasn't entirely settled until 2008.
"It's a real shame," Franchitti said. "It's a real shame. But the good news is we're together again and we've got one IndyCar series, and we're in a lot better position than we were in four years ago."
[+] Enlarge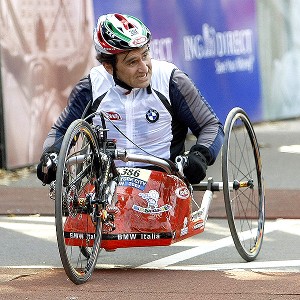 Timothy A. Clary/AFP/Getty ImagesAlex Zanardi may have been a force to be reckoned with in the Indy 500, but his racing career was lost in a frightening accident in Germany.
That's relative, of course. This race, for which Franchitti's appreciation deepens every year now, had its reputation gutted by the absence of the stars, the real talent of the time.
"Guys like Greg Moore," Franchitti said of his still-mourned teammate at Team Green in the CART series. The promising, effervescent young Canadian was killed at Fontana, Calif., in 1999. "He tested here, but he never got to race here."
Then there was Jimmy Vasser, who won the CART championship in the first season of total separation, '96.
"Jimmy Vasser got to race here a little bit, but not anywhere near …"
Maybe most of all, "Zanardi never raced here."
Allesandro Zanardi, called "Alex" in North America while he was winning two CART championships in the '90s, brought a type of victory celebration never before seen in major American racing: burnouts and doughnuts.
Whenever you see a Jimmie Johnson or a Kyle Busch send the tire smoke billowing, know that nobody in NASCAR had heard or even thought of that before Zanardi came to the U.S.
After mediocre seasons in Formula One, Zanardi returned to CART in 2001 but lost his legs in a crash during a race in Germany.
Indy never knew his flamboyance of manner and driving style.
Michael Andretti and Paul Tracy lost the primes of their careers in exile from Indy, came back in twilight, ran a few times, but never won the 500.
Franchitti, at 39, has rebuilt youthful promise as well as anyone who lost years here. Still, you have to wonder: Had he not lost five years during the CART boycott, then missed the 500 of 2003 with injuries, then missed in '08 on a misbegotten venture into NASCAR …
Might we be talking about a four-time Indy winner today? The first foreign driver to move alongside A.J. Foyt, Al Unser and Rick Mears?
Hell, even a five-time winner, as superbly as Franchitti deals with this place now?
"Let's just enjoy this third one," he said in almost a whisper, and a reverent one at that.
[+] Enlarge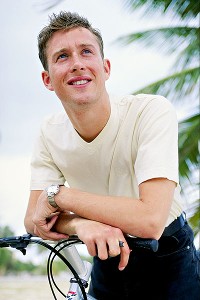 Getty ImagesGreg Moore was a rising star in open-wheel racing but never got the chance to race in the Indianapolis 500 before he died in an accident in 1999 at Auto Club Speedway while racing in the CART Series, then a rival to the Indy Racing League.
So paradoxical, he reckoned, the way awe of Indy works.
"When you come here as a rookie," he said, "you're like, 'yeah, yeah, whatever.' And the more you do this race, the worse it gets. It's not like with experience you sort of calm down.
"The more you do it, the more it means to you. The more the stress. The more the emotion. So it's kind of in reverse. You've almost got to work harder to focus and control your emotions, because of everything that it means."
He and his Ganassi team had, of course, made it look easy on Sunday, even after they fell behind early when Franchitti was wrecked in the pits … even as he and teammate Scott Dixon swapped the lead a dozen times as they dominated the late stages … even as Takuma Sato went spinning, almost taking Franchitti out with him, after Sato's ferocious challenge in the first turn of the last lap …
The 96th Indy 500 had a record 35 lead changes among 10 drivers, and was, plain and simple, a good race from flag to flag.
"The majority of our races are like that," Franchitti said of the IndyCar series. "Obviously, the Indianapolis 500, there's so many eyeballs on it."
Maybe that's another step in the long climb out of the crater for American open-wheel racing.
And, of Indy's Lost Generation, one has come home from the war, to rebuild at least something of what might have been.
96TH INDIANAPOLIS 500-MILE RACE

The 96th running of the Indianapolis 500 is in the books. New stars, new cars and the venerable Indianapolis Motor Speedway came together for a thriller as a great tradition ended its 101st year.


Monday, May 28
•
Hinton: The best of his generation
•
Video: Franchitti sits down with Musburger
Race day, May 27
•
Hinton: Franchitti simply flawless
•
Blount: Wheldon friends finish 1-2-3
•
Oreovicz: Honda answers the bell
•
Recap: Franchitti wins his third
|
Results
•
Video: Indianapolis 500 highlights
•&nbsp
Video: Franchitti emotional after third win
•&nbsp
Video: Sato disappointed with crash
•&nbsp
Video: Kanaan falls short again
•
Racing Live! Indy 500 rewind
Saturday, May 26
•
Blount: Two stars gone, many new ones ready
•
Hinton: Magic remains in Indy
•
ESPN.com staff's podium picks
•
Newton: Dream weekend for Penske?
Carb Day, May 25
•
Oreovicz: Franchitti, Dixon make a charge
•
Blount: Five feel-good stories for the 500
•
Blount blog: How about Andretti-Rahal rivalry?
•
Oreovicz chat wrap
•
Andrews: Legge racing from behind
•
Wilson blog: Martina McBride gets the call
•
Guerrieri wins Freedom 100
•
Racing Live! Indy 500 on ESPN.com, Sunday, noon ET
Features
•
Hinton: One-on-one with Mario Andretti
•
Oreovicz: Handicapping the 500 field
•
Blount: The heartache lingers
•
Oreovicz: Briscoe puts Penske on pole
•
James: Indy 500 on Danica's mind
•
Oreovicz: Pole Day surprise?
•
Oreovicz: Young guns taking charge
•
Oreovicz: Storylines to watch at Indy
News & Notes
•
Briscoe wins Indy 500 pole
|
Starting grid
•
Food Network's Fieri to drive pace car
•
American drivers impress in practice
•
Andrettis split up for Indy race-day radio calls
•
Jay Penske needs engines for two cars at Indy
•
Dario Franchitti to run No. 50 at Indy
•
Herta Autosport chooses Honda
•
Pagenaud hits bird during practice
•
Jim Nabors to miss Indy 500
Video
•
Indy 500 memories: Wheldon thrills in 2011
•
Indy 500 preview
•
Helio says he's ready
•
The Andretti-Foyt rivalry
•
Franchitti's take on Dan Wheldon, Indy
•
Indy 500 memories: Hornish thrills in 2006
•
A.J. Foyt a NASCAR legend, too
•
Indy 500 memories: Wheldon's 2005 victory
•
Indy 500 memories: Danica leads a lap
•
Indy 500 memories: Helio goes back-to-back
•
Analysis: Indy 500 qualifying
•
Pole Day: Briscoe stars for Penske
•
Indy 500 memories: Little Al holds on
•
Indy 500 memories: Mears wins his fourth
•
Indy 500 memories: Unser vs. Goodyear
•
Indy 500 memories: Mears joins elite club
•
Indy 500 memories: Foyt wins fourth
•
Indy 500 memories: Sullivan spins and wins
Indy 500 Rewind
•
2011 Flashback: Wheldon's Cinderella story
•
2010 Flashback: Dario's all the way back
•
2009 Flashback: Castroneves wins again
•
2008 Flashback: Quiet Dixon makes noise
•
2007 Flashback: Franchitti comes up big
•
2006 Flashback: Hornish gets his "Holy Grail"