Commentary
Racing, tweaking, infighting continue
DETROIT -- How can the Izod IndyCar Series top the 2012 Indianapolis 500?
The obvious answer is to stage a similarly competitive and exciting race this weekend at the Chevrolet Detroit Belle Isle Grand Prix (Sunday, 3:30 p.m. ET, ABC).
But even if the stars of the IndyCar Series, led by three-time Indianapolis winner (and four-time series champion) Dario Franchitti, produce a spectacular contest on the track, the focus at Detroit and perhaps throughout the rest of the season seems likely to be on political events taking place out of the public eye.
Honda's surprisingly dominant performance at the Indianapolis 500 will no doubt intensify the engine manufacturer battle with Chevrolet, which already has been through one protest, appeal and arbitration process in the first quarter of the 2012 season.
And now INDYCAR CEO Randy Bernard has suggested that at least one unnamed team owner is orchestrating his ouster.
[+] Enlarge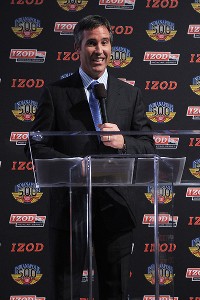 Michael Loccisano/Getty ImagesINDYCAR CEO Randy Bernard may be dealing with a mutiny among some team owners.
Bernard said via Twitter on Tuesday evening: "It is true that an owner is calling others trying to get me fired. I have had several owners confirm this. Disappointing."
What's disappointing is that the sport of Indy car racing as a whole would allow history to repeat itself -- especially in the immediate aftermath of what many observers are calling one of the best Indianapolis 500s in decades.
Franchitti won the 500 for the third time after driving through the field and fighting off a charging (and crashing) Takuma Sato in a thrilling conclusion to the IndyCar Series' most prestigious race.
Yet in the same crippling fashion that has infuriated longtime supporters of the sport, the inability of the team owners to coexist with the current sanctioning body is threatening to derail any and all of the progress that has been made during Bernard's three years as the INDYCAR chief.
The series has seen increased sponsorship, attendance, participation and television ratings during Bernard's tenure, but there is now a growing band of malcontent team owners out to change the management of the series.
The impeachment movement was reportedly sparked by several factors, including INDYCAR's decision to assist the Hondas in the aim of parity, the hiring of a new race management team and a desire for more transparency in announcing fines and transgressions.
INDYCAR issued more than $300,000 in fines recently, including a $25K hit to Panther Racing chief John Barnes over his Twitter comments that criticized the series over the turbocharger inlet controversy.
No matter who is responsible for the current mutiny, it's a bad thing for the perception and health of the sport of Indy car racing. Here's a series that's trying to turn a page after the death of one of its most popular and charismatic drivers, with a new chassis and an exciting new engine package, and the spotlight is once again back on team owner revolts and boardroom machinations.
More than 35 years after the original CART team owner breakaway in 1978, it seems nothing has changed. At least not for the better.
What other IndyCar Series topics will people be talking about at Detroit and in the coming months?
The engine war
To recap, Chevrolet won the first four races of the season and vigorously fought INDYCAR's parity-driven decision to adjust the size of Honda's turbocharger inlet. Manufacturers are allowed to introduce modifications to pistons and fuel systems at designated points during the season (1,850 miles of engine life); Chevrolet elected to make a premature engine change on all its cars at Long Beach (incurring a 10-place grid penalty for all), but Will Power won from 12th on the grid with the latest spec Chevy motor. Chevy then went on to claim nine of the top 10 places on the Indy 500 grid, but when Honda changed all its engines for Carb Day (at the prescribed mileage limit), it was obvious that Honda made big gains in power and fuel economy. The Japanese manufacturer subsequently dominated the 500-mile race.
[+] Enlarge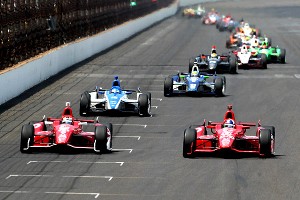 Nick Laham/Getty ImagesAn engine change led to Honda-powered cars running up front at Indy, but the engine-manufacturers battle may ebb and flow throughout the season.
So Chevy's first and second spec engines were better than Honda's first, but Honda's second spec appears to be better than Chevy's second. But now the two manufacturers are "out of sequence," and the Chevrolet engines that went into service at Long Beach will mileage out after Detroit.
"It's going to get very interesting as the season goes on because of the chaos that's going to result from the manufacturers being on very different schedules," said Honda Performance Development assistant vice president Steve Eriksen. "It already has! But as the season goes on, it's only going to get more fractured to the point where it's going to be really interesting to watch and try to keep track of what engine people are on."
The Honda engines installed at Indianapolis will remain in those cars through the conclusion of the Milwaukee race on June 16.
"You've got five engines in a season, so each one of those five can have a different piston stack, for example," Eriksen said. "We've laid out the plan for the year, and each one of those five engines will be a step up based on what we can do within IndyCar's homologation specifications."
Chevrolet made a heavily publicized return to Indy car racing this year after a six-year absence, and support of the revived Belle Isle Grand Prix is part of the promotional campaign.
"This race is an important event to showcase our IndyCar program as well as an opportunity to showcase the city of Detroit," said Mark Kent, director of Chevrolet Racing. "The Chevy IndyCar V-6 is undefeated on street courses this year, and with the Chevrolet Detroit Belle Isle Grand Prix being held right in our hometown, this race offers all of the Chevrolet and Powertrain employees as well as our partners in the Detroit area that have contributed to this program the ability to see firsthand the results of their hard work."
The safety factor
The Indianapolis 500 was the first oval race featuring the new Dallara DW12 chassis and therefore the first opportunity to crash-test the DW12 in real-world conditions.
Results were mixed. No injuries were reported after seven significant crashes, but in three of the wrecks when the car made a half-spin and impacted the SAFER barrier flush with its left side while traveling backward, the DW12 showed an alarming tendency to flip up onto its left side, with the roll hoop (and driver's head) up against the wall.
This is of particular concern for the June 9 race at Texas Motor Speedway. TMS features catchfence construction similar to Las Vegas Motor Speedway, a track also owned and operated by Speedway Motorsports Inc. The SMI fence design places the support poles on the track side of the netting rather than mounting the netting on the outside of the poles, as at most other circuits.
After two incidents during the qualifying weekend when DW12s got up onto their left side, Dallara made a modification to a floor mounting strut before the race, cutting slots in an effort to change the breakaway pattern of the floor in an accident. But when Mike Conway crashed in the race, he DW12 appeared to be headed onto its side on its own before it was hit by the following car driven by Will Power.
"Dallara's response has been immediate to try and make sure all improvements possible could be implemented in time for the race -- all credit to them," said Will Phillips, vice president of technology for INDYCAR. "Their solution and response is a great example of how safety comes first."
However, INDYCAR race director Beaux Barfield tweeted that "some testing needs to be done," and series officials will be keeping their fingers crossed during the upcoming stretch of three consecutive oval races (Texas, Milwaukee and Iowa) between June 9-23 and hope additional changes to the DW12 are not necessary before the season's only other oval race, the finale at Auto Club Speedway in California in mid-September.
The championship battle
Oh yeah, the IndyCar Series is also staging a series of car races at a variety of domestic and international ovals and road-racing venues.
A bridesmaid the past two years to Franchitti, Will Power came out of the box strong, winning three of the first four races of the season. But Power crashed out of the Indy 500 through no fault of his own, and Franchitti's win cut one-third out of the early 100-point advantage Power had accumulated.
Franchitti is within 64 points of Power and lies sixth in the standings, still a fair way behind but definitely within striking distance with 11 races remaining. Helio Castroneves, who won the season opener at St. Petersburg, ranks second in the championship, 36 points adrift of his Penske teammate. Andretti Autosport is also running strongly this year, with breakout star James Hinchcliffe and Ryan Hunter-Reay solidly in the top five. Scott Dixon (Ganassi) and Indianapolis pole winner Ryan Briscoe (Penske) will also no doubt vie for race wins.
Other contenders to watch into the summer include Indy near winner Sato and Simon Pagenaud in the Honda camp and Chevrolet drivers Tony Kanaan of KV Racing Technology, Oriol Servia of Panther/D&R Racing, owner/driver Ed Carpenter (on the ovals) and Sebastien Bourdais, who will split duties in Dragon Racing's single entry with Katherine Legge.
Autos, Open-Wheel
Motorsports Writer for ESPN.com
Covered Indy car racing for 20 years
Work published in 12 countries
SPONSORED HEADLINES
MORE RACING HEADLINES
MOST SENT STORIES ON ESPN.COM
96TH INDIANAPOLIS 500-MILE RACE

The 96th running of the Indianapolis 500 is in the books. New stars, new cars and the venerable Indianapolis Motor Speedway came together for a thriller as a great tradition ended its 101st year.


Monday, May 28
•
Hinton: The best of his generation
•
Video: Franchitti sits down with Musburger
Race day, May 27
•
Hinton: Franchitti simply flawless
•
Blount: Wheldon friends finish 1-2-3
•
Oreovicz: Honda answers the bell
•
Recap: Franchitti wins his third
|
Results
•
Video: Indianapolis 500 highlights
•&nbsp
Video: Franchitti emotional after third win
•&nbsp
Video: Sato disappointed with crash
•&nbsp
Video: Kanaan falls short again
•
Racing Live! Indy 500 rewind
Saturday, May 26
•
Blount: Two stars gone, many new ones ready
•
Hinton: Magic remains in Indy
•
ESPN.com staff's podium picks
•
Newton: Dream weekend for Penske?
Carb Day, May 25
•
Oreovicz: Franchitti, Dixon make a charge
•
Blount: Five feel-good stories for the 500
•
Blount blog: How about Andretti-Rahal rivalry?
•
Oreovicz chat wrap
•
Andrews: Legge racing from behind
•
Wilson blog: Martina McBride gets the call
•
Guerrieri wins Freedom 100
•
Racing Live! Indy 500 on ESPN.com, Sunday, noon ET
Features
•
Hinton: One-on-one with Mario Andretti
•
Oreovicz: Handicapping the 500 field
•
Blount: The heartache lingers
•
Oreovicz: Briscoe puts Penske on pole
•
James: Indy 500 on Danica's mind
•
Oreovicz: Pole Day surprise?
•
Oreovicz: Young guns taking charge
•
Oreovicz: Storylines to watch at Indy
News & Notes
•
Briscoe wins Indy 500 pole
|
Starting grid
•
Food Network's Fieri to drive pace car
•
American drivers impress in practice
•
Andrettis split up for Indy race-day radio calls
•
Jay Penske needs engines for two cars at Indy
•
Dario Franchitti to run No. 50 at Indy
•
Herta Autosport chooses Honda
•
Pagenaud hits bird during practice
•
Jim Nabors to miss Indy 500
Video
•
Indy 500 memories: Wheldon thrills in 2011
•
Indy 500 preview
•
Helio says he's ready
•
The Andretti-Foyt rivalry
•
Franchitti's take on Dan Wheldon, Indy
•
Indy 500 memories: Hornish thrills in 2006
•
A.J. Foyt a NASCAR legend, too
•
Indy 500 memories: Wheldon's 2005 victory
•
Indy 500 memories: Danica leads a lap
•
Indy 500 memories: Helio goes back-to-back
•
Analysis: Indy 500 qualifying
•
Pole Day: Briscoe stars for Penske
•
Indy 500 memories: Little Al holds on
•
Indy 500 memories: Mears wins his fourth
•
Indy 500 memories: Unser vs. Goodyear
•
Indy 500 memories: Mears joins elite club
•
Indy 500 memories: Foyt wins fourth
•
Indy 500 memories: Sullivan spins and wins
Indy 500 Rewind
•
2011 Flashback: Wheldon's Cinderella story
•
2010 Flashback: Dario's all the way back
•
2009 Flashback: Castroneves wins again
•
2008 Flashback: Quiet Dixon makes noise
•
2007 Flashback: Franchitti comes up big
•
2006 Flashback: Hornish gets his "Holy Grail"