Commentary
Tony Kanaan conquers Indy misery
Updated:
May 27, 2013, 11:26 AM ET
By
Ed Hinton
| ESPN.com
INDIANAPOLIS -- Tony Kanaan and 200,000 thundering admirers made the mightiest statement imaginable against green-white-checkered overtimes in motor racing on Sunday.
This was the color yellow's finest moment at any track in many a year.
The Indianapolis 500, unlike NASCAR races, adheres to deep, time-proven tradition, ending races under caution when warranted.
No two final laps ever added on could have yielded higher drama, or pleased any crowd any more, than Kanaan's two-lap hero's parade, as roars followed him like a wave all the way around storied Indianapolis Motor Speedway.
The jubilation on his behalf was for the dozen tries it took the 38-year-old Brazilian to win this race, endearing himself to open-wheel fans up and down the Western Hemisphere for his sunny resilience in the face of so many near misses and such chronic hard luck here.
[+] Enlarge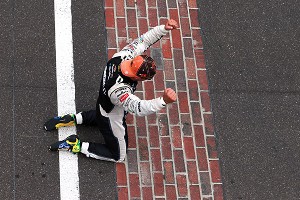 Jonathan Ferrey/Getty ImagesFinally, Tony Kanaan got to kiss the famed bricks at Indianapolis Motor Speedway …
"Life is funny," he said with a shrug after he'd finally won. "The yellow is my best friend."
But the yellow handed him absolutely nothing. He timed that final caution perfectly, with all the savvy of all his years here.
When the next-to-last caution ended with four laps left, "I was in the perfect place, exactly where I wanted to be, right behind the leader." That was Ryan Hunter-Reay at the moment.
Then, with three to go, "I said, 'I'm going for the lead because if something happens, I wanted to be first."
Due to bunching up for restarts, the old saying goes that cautions breed cautions, so Kanaan "knew there was potential for another yellow right away."
Moments after he shot past Hunter-Reay and darted well out front, defending race champion Dario Franchitti crashed behind them, bringing out the loveliest yellow of Kanaan's career.
In the final scramble -- Indy cars now draft and slingshot better than NASCAR cars -- Hunter-Reay was shuffled back to third, and rookie Carlos Munoz of Colombia finished second.
Yet Hunter-Reay, who likely would have been the beneficiary of a green-white-checkered finish were it allowed, stood staunchly, proudly by the tradition.
"This is Indy. There's a certain way things are done," Hunter-Reay said. "We don't try to produce results out of green-white-checkereds. It can be a bit gimmicky. That said, I think what the fans want is most important."
What they wanted, clearly, was for Kanaan to pass beneath them slowly so they could thunder their approval, their appreciation, their affection.
The competing teams were the same way, greeting him on the pit road in an outpouring similar to that for the late Dale Earnhardt after he finally won the Daytona 500, on his 20th attempt, in 1998.
(Earnhardt, by the way, was celebrated by that crowd as he finished that race under caution before NASCAR fans demanded and got their green-white-checkered overtimes.)
[+] Enlarge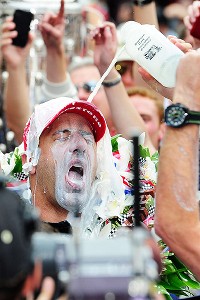 Robert Laberge/Getty Images… and chug that glorious milk in celebration.
Kanaan had seen the Earnhardt reception on television.
"I was already in America," he recalled. I thought that was so cool."
Then Sunday, "when I came down pit lane, it was not the same, but it was close. I saw a lot of teams. I think a lot of people thought that I deserved to win."
Even those whose hearts were broken in his wake Sunday agreed.
"He's done a great job his whole career here," Hunter-Reay said. "He's had plenty, I'm sure, of the days I've had."
Here's how consistent Kanaan is in his disposition: His demeanor wasn't much, if any, different after his win than it had been after he'd led this race and lost on his first seven straight starts here, nor last year after he led and finished third -- just another day like Hunter-Reay's day Sunday.
Listen to what Kanaan had said just last Thursday:
"I've never been disappointed here," he'd said. "I haven't been good enough to win it yet."
Or, a journalist prompted, lucky enough?
His head bowed a bit, and he smiled beneath that spectacular nose, of which he is so proud.
"That's a better word," he said, and nodded. But, "the way the fans cheer me up here, I think it would be extremely selfish of me to be disappointed if I didn't win.
"I've asked myself many times before" -- and again, this was last Thursday -- "'Why do I deserve to win? Why am I better than the other 32 guys?'
"And then the disappointment goes away pretty quick."
He was good enough Sunday. He was better than the other 32 drivers. He was luckier, too, but he made his own luck with a lightning pass at precisely the right moment.
And there wasn't any disappointment to get over quickly.
Kanaan was pretty much the same Sunday as he'd been on 11 previous Sundays in May here. No highs, no lows, always mellow, always sunny, always resilient.
And that is why the legions thundered for him, more ecstatic en masse for two laps of glorious yellow than any crowd for any green-white-checkered ever made.
97TH INDIANAPOLIS 500-MILE RACE

The 97th running of the Indianapolis 500 is scheduled May 26 with coverage beginning at 11 a.m. ET (ABC). The venerable Indianapolis Motor Speedway is ready for another thriller as a great tradition enters its 102nd year.


Sunday
•
Racing Live! Indy 500
•
Hinton: This time, Kanaan good enough
•
Oreovicz: Andretti comes up short ... again
•
Video: Full highlights and analysis
•
Video: Winner on SportsCenter
•
Video: Dario kart
•
Kimball cleared to race after illness
Saturday
•
Hinton: Want a feel-good story?
•
Stats & Info blog: Winning on Sunday
•
Video: Preparing for the Indy 500
•
Video: The Andretti curse at Indy
•
Video: Speed and danger
•
Video: Sato has Foyt back in contention
•
Ailing Kimball misses driver's meeting
•
Security tightened after Boston attack
•
Insider: Betting the Indy 500
Features
•
Hinton: Foyt is back as a threat in the 500
•
Oreovicz live blog from Carb Day
•
Newton: Could a NASCAR star compete?
•
Oreovicz: Indy 500 rookies could surprise
•
Petry: Full speed ahead for Fisher
•
Oreovicz: Night out with legends
•
Oreovicz: No Bump Day drama
•
John Oreovicz live blog from Pole Day
•
Oreovicz: Turbo boost, speeds, are up
•
Oreovicz: Need for more speed?
•
Oreovicz: The drive for four
•
Oreovicz: Hang on to your hats, folks
News & Notes
•
Record-tying four women in 500 field
•
Jim Harbaugh to drive Indy 500 pace car
•
Driver/owner Carpenter wins 500 pole
|
Grid
•
Full 33-car field assured for Indy 500
•
Legge gets ride with Schmidt, is 34th entry
•
Viso flirts with 230 mph on Fast Friday
•
Rookie Munoz paces Thursday practice
•
Rookie Daly wrecks car at Indy 500 practice
•
Fewer seats at Indy 500, but not fewer fans
•
Franchitti tops speed chart Wednesday
•
Andretti runs fastest on Tuesday
•
IndyCar hires Walker as competition chief
•
Carpenter posts fastest lap Monday
•
1996 champion Lazier enters Indy 500 field
Video
•
Czarniak's ride of a lifetime with Mario
•
AJ Allmendinger geared up for Indy
•
Ed Carpenter wins Indy 500 pole
•
Marco Andretti third fastest on Pole Day
•
Getting ready for Indy
•
The Greatest Spectacle In Racing
Chats
•
Ed Carpenter chat wrap
•
John Oreovicz chat wrap
•
Oreovicz Fast Friday chat wrap
Indy 500 Rewind
•
2012 Flashback: Franchitti simply flawless
•
2011 Flashback: Wheldon's Cinderella story
•
2010 Flashback: Dario's all the way back
•
2009 Flashback: Castroneves wins again
•
2008 Flashback: Quiet Dixon makes noise
•
2007 Flashback: Franchitti comes up big
•
2006 Flashback: Hornish gets his "Holy Grail"