Commentary
Cup preview: Wood Brothers Racing
Updated:
February 13, 2014, 7:43 AM ET
By
John Oreovicz
| ESPN.com
Tom Pennington/NASCAR/Getty ImagesTrevor Bayne, the 2011 Daytona 500 winner, will pilot the iconic No. 21 Wood Brothers Racing Ford.
One in a series of 15 NASCAR Sprint Cup Series team previews ahead of the season-opening Daytona 500:
[+] Enlarge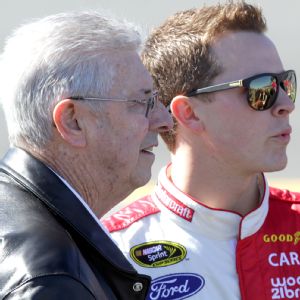 Jerry Markland/Getty ImagesTrevor Bayne has an experienced team to lean on -- NASCAR Hall of Famer Leonard Wood included.
WOOD BROTHERS RACING
Principal owners: Glen Wood, Eddie Wood, Len Wood, Kim Wood-Hall
Manufacturer: Ford
Engine source: Roush Yates Engines
Alliances: Roush Fenway Racing
Driver (crew chief): Trevor Bayne (Donnie Wingo)
2013's top finisher: Bayne (ineligible for NSCS points because he ran full Nationwide Schedule)
2013 grade: C-minus
2014 preseason grade: C-plus
2014 outlook: Trevor Bayne again teams with the legendary Wood Brothers team for a part-time Sprint Cup schedule while he contests the full Nationwide Series slate with Roush Fenway Racing. Unless additional sponsorship is found, look for the 2011 Daytona 500 winners to enter approximately a dozen races. After revealing in November that he was diagnosed with multiple sclerosis, Bayne insists he is 100 percent healthy and eager to get the new season underway.
Quotable: "With sponsorship like it is, we have to pick races that give us the best chance of a good payback. We'll do what we can and we'll do it properly, or we won't do it at all. It's all about surviving to race again. We would really love to be back full time. With so much emphasis on the championship and the Chase, we work towards getting back to full time all the time. We're very fortunate to have the partners in Ford Motor Co. and Motorcraft/Quick Lane like we have forever. They've kept us in business and actually kept us going when things got tough for us, so they've done their part. It's kind of up to us to find extra funding and find someone to partner up to finish it off -- at least to get more races and then work towards finishing to where we can run all of them." -- Eddie Wood
DRIVER LINEUP

Bayne
Trevor Bayne (No. 21 Motorcraft/Fast Lane Ford): "I'm really thankful for this opportunity. We still have an opportunity to win races. These guys really believe in our superspeedway program. The thing that Donnie [Wingo] and I will work out is just communication, because we pretty much race once a month. That makes it a little bit more challenging, but we know that. We could handle 16-20 races pretty strong, but if anybody is out there that wants to do a full season, I'm sure we could get some more men on board and make it happen. We know our strengths and our weaknesses and we'll try to pinpoint those better to where we can contend for those top-10s and top-15s. That leads to those top-5s and wins that you're looking for."
2014 goal: Attract sponsor for future full-time effort
Autos, Open-Wheel
Motorsports Writer for ESPN.com
Covered Indy car racing for 20 years
Work published in 12 countries
SPONSORED HEADLINES
MORE RACING HEADLINES
MOST SENT STORIES ON ESPN.COM
2014 SPRINT CUP TEAM PREVIEWS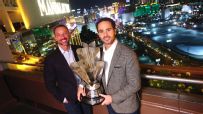 A team-by-team look at the NASCAR Sprint Cup Series contenders (previews of the remaining teams will be unveiled almost daily leading up to the season-opening Daytona 500 on Feb. 23):
TEAM REPORTS