Commentary
Denny Hamlin gets his swagger back
Updated:
February 16, 2014, 12:12 AM ET
By
Brant James
| ESPN.com
DAYTONA BEACH, Fla. -- Denny Hamlin's comeback continues to go smashingly.
Determined to re-establish himself as a perennial championship contender after breaking vertebrae in his back, missing four races and the Chase for the Sprint Cup for the first time as a full-time Sprint Cup driver last year, Hamlin won his second straight trophy in winning a bedlam- and wreckage-filled Sprint Unlimited on Saturday night at Daytona International Speedway.
[+] Enlarge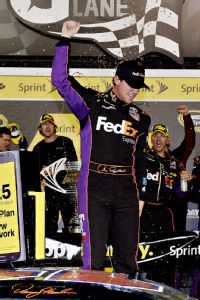 Patrick Smith/Getty ImagesConsider Denny Hamlin's yearlong recovery from a broken back now complete.
Hamlin, who won the season-ending Cup race at Homestead-Miami Speedway in November, got the push-off into Speedweeks and the 2014 season he had obsessed over the entire offseason. He can only hope the momentum is as lasting as in 2006, when he followed a surprising Unlimited win as a rookie to win two races and finish third in the driver standings.
Granted, a series of wrecks, including a nine-car melee in the second of three race segments, eliminated much of his competition, but Hamlin sounded confident and rejuvenated over the team radio as he crossed the start/finish line in the No. 11 Toyota.
"Any questions?" he growled.
Brad Keselowski was second, followed by Hamlin's Joe Gibbs Racing teammate Kyle Busch.
With the starting lineup and race structure determined by fan vote, Hamlin started on the simulated pole after posting the best practice speed, and led at every juncture: 30, 55 and the final 75-lap distance. He assumed his last lead with two laps remaining, swooping low past Keselowski and bearing off without the aid of a draft partner. His margin of victory was .197 seconds.
Whether the Unlimited yielded much intelligence for the Daytona 500 remains to be seen. Closing rates were rapid, side-drafting was enhanced and blocking was a necessity in a new package crafted to eliminate tandem draft. And wrecking. Wrecking was commonplace, reducing the field from 18 at the start to eight by the finish. Terry Labonte parked after one lap.
"The field was so small, I wouldn't take anything from the second half of the race and say you would see it in the 500," Keselowski said.
Jimmie Johnson failed to finish the race for the third straight year when he appeared to lose control of the No. 48 Chevrolet in a traffic with one lap left in the first segment. Trying to set up a pass of Hamlin coming off Turn 4, the 2005 Unlimited winner said he "got light" and slid hard into the a retaining wall near pit road before coming to a mangled halt on the infield grass.
[+] Enlarge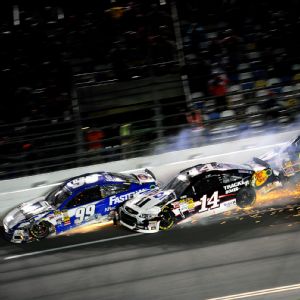 Jared C. Tilton/NASCAR/Getty ImagesCarl Edwards (99) and Tony Stewart were collected in a nine-car pileup in the second segment of Saturday night's Sprint Unlimited at Daytona.
Much of the field soon followed. Just three laps into the second segment, Matt Kenseth veered sharply left into the front of Joey Logano as he tried to avoid the slowing car of leader Keselowski, precipitating a nine-car wreck that knocked seven from the field, including the entire four-car Stewart-Haas Racing contingent. Jeff Gordon's No. 24 Chevrolet was mashed between two of them -- Tony Stewart and Kurt Busch -- and limped off the track until the sparking mass of metal came to rest.
Ricky Stenhouse Jr. wedged Busch in the air along the wall until breaking free, accelerating and, after looking down -- according to video on an in-car camera -- walloping Danica Patrick, who had initially evaded the accident on the apron but squirted back onto the track after driving onto the grass.
"I was up around the top and just tried to slow down as much as I could and then all of a sudden I saw the underneath body of the [Busch's No. 41 Chevrolet]," Stenhouse said. "He was pretty much on the roof and I couldn't see, and after that the hood was up in the way and I couldn't get out of gear and couldn't steer."
Patrick was disappointed but whimsical about the quick end to her first Sprint Unlimited start after winning the pole for the 2013 Daytona 500.
"I hooked and spun and about come to a stop," she said. "Then I got hit. I got hit by my boyfriend. What a bummer, huh?"
Following an 11-minute, 25-second red flag period, Hamlin restarted as the leader of a nine-car race and paced the field at the end of the 25-lap segment. Fan vote determined that the final portion would be seeded by results off pit road following a mandatory two-tire stop, and he led the field back for the final 20 laps. But then the pace car caught fire, another oddity in a race chocked with them, forcing series officials to a replacement for the resumption.
"I was just laughing," Keselowski said. "What are you going to do? That's racin'."
Dale Earnhardt Jr. assumed the lead on Lap 57 and held it through a caution period when Kyle Busch lost control in a corner, slid down the track and through the grass but avoided contact.
That was a bummer. No where to go on first part, then Feel bad we destroyed Danica's car after through the crash. But learned a ton tonight!

- Ricky Stenhouse Jr. (@StenhouseJr) February 16, 2014
Earnhardt was eliminated with 11 laps left when he was squeezed toward the wall as Keselowski blocked and was turned by the No. 9 Ford of Marcos Ambrose. Earnhardt sideswiped Ambrose on the long circuit to the garage, but later absolved the Richard Petty Motorsports driver of blame.
"I was upset with him but I can't say, really, that it was his fault," he said. "He was going to the outside and I didn't know he was out there."
In a race of so much mayhem, Hamlin was nearly alone in his happiness.
"It's been a great start to Speedweeks," Hamlin said. "This is a very small part of what goes into these two weeks, but obviously it feels good to have all the accomplishments we've had in a short amount of time. We're motivated for the start of this year anyway, but obviously this gives us even more."
And now on to the next thing, said crew chief Darian Grubb.
"Now we're looking forward to going out there and getting points," he said.
Contributor, espnW.com
Brant James has covered the Daytona 500, Indianapolis 500, a World Series and Stanley Cup for the big hometown daily, an NCAA tournament and a Super Bowl. He's walked to the paddock with Kentucky Derby horses before post, ridden to the top of Mount Washington with Travis Pastrana and landed on an aircraft carrier with Dale Earnhardt Jr. He once induced Danica Patrick into a dance number from Moulin Rouge by saying the word "Switzerland." It's been pretty interesting so far.