Kyle Busch 5th winner in 5 races
Updated:
March 23, 2014, 11:09 PM ET
Associated Press
FONTANA, Calif. -- With tires and tempers blowing up all over the track for 400 crazy miles, Kyle Busch stayed calm and relied on his remarkable knack for big finishes at Fontana.
Busch won on this 2-mile oval for the second straight year Sunday, holding off Kyle Larson, Tony Stewart and his older brother Kurt on a frantic two-lap sprint to the finish.
Kyle Busch capably blocked Larson and outlasted a crowded field to win a race featuring a track-record 35 lead changes and numerous tire problems. Busch stayed out of trouble and roared up late for his second straight stunner in Southern California, following up the Las Vegas native's final-lap surge to victory a year ago.
More from ESPN.com

There were tires blowing out left and right, but not for everybody on Sunday in the Auto Club 400. Kyle Busch and crew figured it out, then sailed to victory in Fontana, Calif. Story
"Holy cow, what do you expect when you've got a green-white-checkered finish and everybody has to come down pit road and put four tires on?" Busch asked after his third career win at Fontana. "That was 'Days of Thunder' right there. Unbelievable day."
With his 29th career Sprint Cup victory in his Joe Gibbs Racing Toyota, Kyle Busch is NASCAR's fifth winner in five races already this season. He led just five laps -- the fewest of his career in a win.
Jimmie Johnson was comfortably in front when he blew a tire with seven laps left, precipitating the wild finish. Jeff Gordon moved in front until Clint Bowyer spun with two laps to go, setting up an overtime finish.
Gordon was hoping to finish on old tires when Bowyer spun, but then elected to pit along with most of the leaders. Kurt Busch gambled with just two tires, allowing him to restart in second, but his younger brother came up from fifth in the final two laps to win.
"I came off the fourth turn in disbelief that we won this thing, because we were mediocre all day," Kyle Busch said. "It was really weird for us, not a race that we're typically used to. But now there's a load off your shoulders that you can go out the rest of the season and race the way you want to."
He also got a thrill from outlasting Larson, the 21-year-old rookie who held him off Saturday to win the Nationwide Series race.
"I guess you couldn't ask for more, but I was surprised to get up there late in the race," Larson said. "We were probably a 12th-place car for most of the day."
[+] Enlarge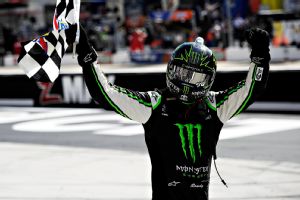 Jared C. Tilton/Getty ImagesKyle Busch likened Sunday's race to the movie "Days of Thunder" as his second straight win at Fontana featured a track-record 35 lead changes and a green-white-checkered finish.
He had to settle for the best finish of his Sprint Cup career in the No. 42 Chevrolet for Chip Ganassi Racing.
Kyle Busch, who went to Larson's car Saturday to congratulate him on his Nationwide win, pointed out his window at Larson after Sunday's finish, pumping his fist in approval.
"What a shoe that boy is," Kyle Busch said of Larson.
Kurt Busch finished third, with Matt Kenseth in fourth and 2012 champion Stewart in fifth.
Several teams had serious tire problems on this weathered track, with multiple flats and cautions for various problems throughout the hot afternoon.
The problems likely were the latest effect of NASCAR's new aero rules, which are producing higher speeds that lead to extra stress on the tires -- particularly on the bumpy asphalt on Fontana's back straightaway, which already wears out tires aggressively.
Those problems might frustrate pit crews, but they can also lead to phenomenal racing, as the sellout crowd on its feet for the finish could attest.
"By no means is this a problem for Goodyear," Kurt Busch said, referring to NASCAR's tire manufacturer. "It's just a thumbs-up for NASCAR for allowing teams to get aggressive in all areas."
Fontana Results

Kyle Busch won at Fontana for the second straight year and, in the process, became the fifth winner in the Sprint Cup Series' first five races.
1. Kyle Busch, Toyota
2. Kyle Larson, Chevrolet
3. Kurt Busch, Chevrolet
4. Matt Kenseth, Toyota
5. Tony Stewart, Chevrolet
6. Jamie McMurray, Chevrolet
7. Brian Vickers, Toyota
8. AJ Allmendinger, Chevrolet
9. Paul Menard, Chevrolet
10. Carl Edwards, Ford
Complete results
The intrigue and weirdness started early on at Fontana -- which somehow seemed appropriate for a race in which the Muppets' Gonzo told the drivers to start their engines.
Several drivers complained during an early pit stop that the red light was on, indicating pit road was closed. Gordon, Bowyer and Brad Keselowski did not pit because of the red light, and all were adamant NASCAR needed to correct their position in the running order.
Robin Pemberton, NASCAR's vice president of competition, was told that the official in charge of displaying the flag got his uniform caught in a hole in a fence and couldn't move, preventing him from flipping off the red light.
It's the second consecutive week an issue with the caution light affected the race: At Bristol last Sunday, someone in the flagstand leaned on the button that turned the caution lights on right before Carl Edwards took the white flag. Rain then began to fall heavily, and the race could not be resumed, so Edwards won under caution.
Edwards finished 10th at Fontana and stayed one point ahead of Dale Earnhardt Jr., who finished 12th, for the overall points lead.
Fontana didn't get a repeat of last year's exciting duel between Denny Hamlin and Joey Logano, the unfriendly rivals who crashed into each other on the final lap while racing for the win.
Hamlin was a last-minute scratch with a sinus infection, depriving him of the self-described chance for redemption after getting airlifted away from the track last year with a broken vertebra. Sam Hornish Jr. took his place in the No. 11 JGR Toyota and finished 17th.
Logano, in a backup car after a crash earlier in the week, had to go to the garage after 114 laps, knocking him out of contention. He finished 39th.

Copyright 2014 by The Associated Press
SPONSORED HEADLINES
MORE RACING HEADLINES
MOST SENT STORIES ON ESPN.COM