Commentary
Brickyard 400 at a crossroads
Updated:
July 27, 2011, 1:50 AM ET
By
Terry Blount
| ESPN.com
The Brickyard 400 quickly became everything NASCAR hoped it would be.
It changed history at auto racing's most storied track with the inaugural event in 1994, bringing stock cars to open-wheel racing's most hallowed ground.
It produced new legends for the Indianapolis Motor Speedway's book of racing lore -- Jeff Gordon, Dale Earnhardt, Tony Stewart and Jimmie Johnson, to name a few who have kissed the bricks after a victory.
[+] Enlarge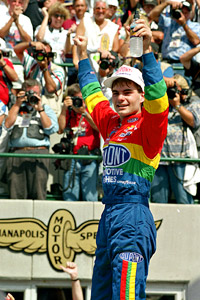 AP Photo/Tom RussoJeff Gordon has won four times at the Brickyard, including the inaugural 400 in 1994.
And it brought the biggest crowds ever to witness a NASCAR race, estimated at close to 300,000 on a few occasions.
It seems like only a moment ago, but those are just memories now.
The Brickyard 400 (1 p.m. ET Sunday, ESPN) isn't what it used to be. The crowds have dwindled. The prestige has waned.
This race, which NASCAR officials and many of its drivers still see as a premier event, has reached a crossroads.
The event can continue a downward slide in popularity and interest, or it can try to find its way back to what it once was.
"It's exciting for us all to go there, especially with the history there and the prestige of winning that event," Kyle Busch said. "I'd love nothing more than to win there. It would be something cool."
Something cool, indeed, but not as cool as it was a 10 years ago, or even five years ago. The newness and the novelty have worn off.
Attendance last year was estimated at 140,000. That's still a huge crowd, more people than many Cup tracks can seat. But this is about perception.
At a place that seats 257,000 people and an event that had more than double the 2010 attendance a few years ago, it's a disturbing trend.
That trend is expected to continue this weekend. An internal NASCAR email obtained by the Charlotte Observer last week stated ticket sales at Indy are "significantly behind previous years."
How did it happen? How did one of the biggest races of the year, with the second-biggest purse of the year ($9.1 million in 2010), become something that needs fixing?
The reason most people point to is the "tiregate" debacle at Indy in 2008. The race, if you dare call it that, had mandatory cautions every 10 to 15 laps because the tires were shredding like paper rolling over razor blades.
It left thousands of fans angry and disgusted, threatening never to return. That day significantly damaged the event, but it isn't the only reason for the decline.
The 2.5-mile flat rectangle at Indy never has produced great stock car racing.
"I'm not big on the racetrack itself," Clint Bowyer said. "But the history and tradition behind it is really neat to be a part of."
The glory of NASCAR competing at the Brickyard was enough to overcome the fact that the on-the-track action was below average most of the time. Side-by-side racing and up-front passing is limited on the narrow Indy pavement.
Winning at Indy, however, is still a big deal for the drivers and teams. For one, it pays big money -- 2010 winner Jamie McMurray got a check for $438,879.
And standing in the same Victory Lane where so many racing icons have stood -- A.J. Foyt, Mario Andretti, Rick Mears, Al Unser, Michael Schumacher, etc. -- is an enormous honor for any driver.
But that's not enough to get the race back to a prominent place. It also has to be a big deal to the fans.
For many, it still is. For some, it never was. But it's that big group in the middle, the fans who loved it for years and now aren't so sure, whom race officials have to convince that the buzz is back.
And it has been for many races this season. NASCAR has enjoyed an upswing in 2011 with larger crowds and better racing. The Cup series has 13 different winners in 19 events, including four first-time winners.
Whether any of those positive vibes translate to Indy remains to be seen. But IMS officials aren't sitting back hoping it gets better.
The Nationwide race, which has been down the road at Lucas Oil Raceway for 29 years, will move to IMS in 2012. Losing another short track didn't sit well with a lot of NASCAR fans, but it will give IMS more to offer.
And the Grand Am sports cars also will race on the IMS road course next year, giving the Brickyard a rare tripleheader on the NASCAR weekend.
"We're billing it as a super weekend in motorsports," IMS president Jeff Belskus said at the announcement three weeks ago. "To come here and see all the different types of competition, whether it be on the road course or on the oval, it will be great for our fans, it will be good for the sponsors. It's going to be a fun weekend."
Both NASCAR and IMS officials knew the show needed something new to try to regain some lost luster.
"I think it speaks to the commitment NASCAR and the Indianapolis Motor Speedway have with each other to create a truly world-class event here in the middle of our season," NASCAR president Mike Helton said at the announcement. "It gives us a great moment to look to. It's going to be special for all motorsports fans."
Ticket holders this weekend can participate in what is being billed as the biggest autograph session of the season, when most of the Cup stars will greet fans in the IMS infield Saturday.
Ancillary events and time with the drivers will help, but in the end, the Brickyard 400 will determine if the Indy weekend can grow again.
Can it be what it once was? Probably not.
But it's still the Brickyard, a place of reverence in all of auto racing. That alone can cure a lot of ills.
Terry Blount is a senior writer for ESPN.com. His book, "The Blount Report: NASCAR's Most Overrated and Underrated Drivers, Cars, Teams, and Tracks," was published by Triumph Books and is available in bookstores. Click here to order a copy. Blount can be reached at terry@blountspeak.com.
ESPN Seattle Seahawks reporter
Covered the NFL at the Houston Post and Houston Chronicle, including eight Super Bowls
Received Citation for Writing Excellence from Hearst Newspapers
Also has covered NBA Finals, World Series, Finals Fours, Indy 500 and Daytona 500
18TH BRICKYARD 400

The 18th running of the Brickyard 400 is in the books, with Paul Menard adding his name to the lore of grand old Indianapolis Motor Speedway. Check out all the twists, turns and coverage the ESPN.com crew put together leading up to and during the event.

Raceday
•
Newton: An emotional win for Menards
•
Blount: Fuel-mileage racing? Try fuel insanity
•
Hinton: The end of an Indianapolis era
•
Racing Live! Indianapolis rewind
•
Recap: Menard holds off Gordon for win
•
Full Brickyard 400 race results
•
Watch: Brickyard 400 highlights
•
Watch: Victory Lane interview
Features
•
Oreovicz: NASCAR leaving its Indy roots
•
Newton: Winning a NASCAR "Major"
•
Smith: Is Kyle Busch still Rowdy?
•
Blount: What can we expect Sunday?
•
Who are we picking for our podium?
•
Blount: Time to get nervous, Junior Nation
•
Newton: What does Pastrana injury teach us?
•
Oreovicz: Jarrett's '96 win a lasting memory
•
Steve Addington: A crew chief's life
•
Newton: Will Chad and Jimmie ever break up?
•
Smith: Scott Borchetta living the dream
•
Jarrett: Some drivers have work to do
•
Willis: Brickyard numbers crunching
•
McGee: Top five Brickyard moments
•
Blount: Brickyard 400 at a crossroads
Video
•
One fickle track
•
Indy, the first Motor City
•
Symbols of celebration
•
First take with Kyle Busch
•
A lap around the Brickyard
•
Importance of the Brickyard
•
Kyle Busch: 100 wins and counting ...
•
Logano hits his stride as Brickyard looms
•
When NASCAR First Tested At Indy
•
NASCAR Now: Midseason Awards
Podcasts
•
SVP Show with Dale Jarrett
•
Jayski: Friday
•
Mike & Mike with Dale Jarrett
•
Jayski: Thursday
•
Jayski: Wednesday
•
Mike & Mike with Jeff Gordon
•
Jayski: Tuesday
•
Jayski: Monday
Chats
•
Ed Hinton chat wrap
•
David Newton chat wrap
•
Marty Smith chat wrap
•
Joey Logano chat wrap
•
Ryan McGee chat wrap
•
Terry Blount chat wrap
•
David Newton chat wrap
MOST SENT STORIES ON ESPN.COM