Paul Menard wins Brickyard 400
Updated:
August 4, 2011, 5:02 PM ET
Associated Press
INDIANAPOLIS -- Paul Menard became NASCAR's newest first-time winner Sunday with an upset victory at Indianapolis Motor Speedway, a track steeped in tradition for his family.
The first half of the race was dominated by drivers with the strongest cars. But when debris cautions jumbled up the pit cycles, the Brickyard 400 turned into a race of pure strategy.
More on ESPN.com

Welcome to the new normal in the world of NASCAR: Befuddled drivers and head-scratching crew chiefs play the fuel strategy game -- or they get beat, writes Terry Blount. Story
---

Of course it never hurt that Paul Menard had a father wealthy enough to help him achieve his racing dreams. But that wasn't money crossing the finish line first in the Brickyard 400 on Sunday, writes David Newton. Story
---

This Brickyard 400, the last automobile race of Indianapolis Motor Speedway's centennial era, shows that even hallowed ground can be eroded when the NASCAR machine comes to town, writes Ed Hinton. Story
Menard and his Richard Childress Racing team played it brilliantly, as crew chief Slugger Labbe had Menard give the lead up to defending race winner Jamie McMurray in an effort to save fuel. Certain McMurray didn't have enough gas to make it to the finish, Labbe then turned his attention to Jeff Gordon, who fell 12 seconds behind after a late fuel stop but was slicing his way through the field.
Labbe gave Menard the green-light with just over three laps to go. He passed McMurray for the lead, and was silent as he circled the track with Labbe giving constant updates on Gordon's lap times. Gordon ran out of time, and Menard cruised to his first career victory in his 167th career start.
Menard's only other victory came in the second-tier Nationwide Series in 2006.
Quiet and reserved by nature, that didn't change as Menard crossed the finish line. As his team screamed over the radio, Menard quietly asked, "that's the checkered, right?"
Atop the pit box, his billionaire father was far less reserved.
"I've been waiting to kiss these bricks for such a long time. I'm ready!" John Menard yelled.
John Menard, owner of the family's Midwest-based hardware chain who has a decades-long involvement in racing, was ecstatic and seemingly near tears. He fielded cars for years in the IndyCar Series, and suffered his own Indianapolis 500 heartbreak as a car owner.
"I've been coming here since I was a little kid, my dad tried to win this race for 35 years, so this is for my dad," Menard said. "A lot of emotions right now. I went to every Indy 500 from 1989 to 2003, I was here for the inaugural Brickyard 400 in '94, for my family and for myself, Indianapolis is a very special place."
"He's a good boy," John Menard said before racing to Victory Lane to embrace his son.
Menard's victory Sunday continued the trend of first-time winners this season in NASCAR's crown jewel events. Trevor Bayne won the Daytona 500, Regan Smith won at Darlington Raceway and David Ragan won earlier this month at Daytona.
Gordon settled for second, but didn't mind losing to Menard, who he had talked to just this week about the family history at Indy.
"We were talking about him coming here as a kid with his family I think from like, I don't know, late `80s or something all the way to 2000, some ridiculous thing where every year he was here for the 500," Gordon said. "Knowing what his dad has done here in IndyCars ... I think he's in awe right now.
"I went and saw him. His eyes, he's like a deer in headlights. I'm so happy for him. It's one thing to get your first win here, but it's another when you can appreciate how special it is to win here. I think Paul certainly has that."
[+] Enlarge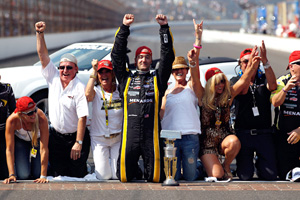 Chris Graythen/Getty ImagesPaul Menard celebrates on the bricks after winning the Brickyard 400 at Indianapolis Motor Speedway. It is Menard's first career Sprint Cup Series victory.
Smith, who picked up his first win this season at Darlington, was third for yet another big finish in a crown jewel race. Smith had never before scored a top-10 in NASCAR's top series, but now has them in the Daytona 500, the Southern 500, the Coca-Cola 600 and the Brickyard 400.
Like Gordon, Smith was more focused on his close friend Menard, who is scheduled to be a member of Smith's wedding party later this year.
"I just know what it means to Paul. I know how hard he's worked," Smith said. "He always talks about coming up here. He always talks about how much he loves this place. I know if he had to highlight one race to get his first win, I'm sure he'd tell you in a minute he couldn't be happier.
"You only get one chance to get your first win. It's a special thing, especially when you do it here."
Brickyard 400 Results

Paul Menard became NASCAR's newest first-time winner with an upset victory in the Brickyard 400.
1. Paul Menard, Chevrolet
2. Jeff Gordon, Chevrolet
3. Regan Smith, Chevrolet
4. Jamie McMurray, Chevrolet
5. Matt Kenseth, Ford
6. Tony Stewart, Chevrolet
7. Greg Biffle, Ford
8. Mark Martin, Chevrolet
9. Brad Keselowski, Dodge
10. Kyle Busch, Toyota
Complete results
McMurray took fourth as Chevrolets took the top four spots. Matt Kenseth was fifth in a Ford and Tony Stewart, a two-time Brickyard winner, was sixth.
Stewart, who led late but had to stop for gas, once drove for John Menard and was complimentary in defeat.
"I'm really happy for Paul Menard," he said. "Paul's been around this place for a long time, been here since he was a kid. It couldn't have happened to a better guy. It's a pretty deserving win right there. I'm happy for him."
Greg Biffle was seventh, while Mark Martin, Brad Keselowski and Kyle Busch rounded out the top 10.
For Menard, the win lifted him five spots in the standings to 14th, putting him in contention for a wild card into the 12-driver Chase for the Sprint Cup championship. The final two spots in the field will go to drivers ranked 11th or lower who have the most victories.
The two currently in position? Menard and Denny Hamlin, who is 11th in the points.

Copyright 2011 by The Associated Press
18TH BRICKYARD 400

The 18th running of the Brickyard 400 is in the books, with Paul Menard adding his name to the lore of grand old Indianapolis Motor Speedway. Check out all the twists, turns and coverage the ESPN.com crew put together leading up to and during the event.

Raceday
•
Newton: An emotional win for Menards
•
Blount: Fuel-mileage racing? Try fuel insanity
•
Hinton: The end of an Indianapolis era
•
Racing Live! Indianapolis rewind
•
Recap: Menard holds off Gordon for win
•
Full Brickyard 400 race results
•
Watch: Brickyard 400 highlights
•
Watch: Victory Lane interview
Features
•
Oreovicz: NASCAR leaving its Indy roots
•
Newton: Winning a NASCAR "Major"
•
Smith: Is Kyle Busch still Rowdy?
•
Blount: What can we expect Sunday?
•
Who are we picking for our podium?
•
Blount: Time to get nervous, Junior Nation
•
Newton: What does Pastrana injury teach us?
•
Oreovicz: Jarrett's '96 win a lasting memory
•
Steve Addington: A crew chief's life
•
Newton: Will Chad and Jimmie ever break up?
•
Smith: Scott Borchetta living the dream
•
Jarrett: Some drivers have work to do
•
Willis: Brickyard numbers crunching
•
McGee: Top five Brickyard moments
•
Blount: Brickyard 400 at a crossroads
Video
•
One fickle track
•
Indy, the first Motor City
•
Symbols of celebration
•
First take with Kyle Busch
•
A lap around the Brickyard
•
Importance of the Brickyard
•
Kyle Busch: 100 wins and counting ...
•
Logano hits his stride as Brickyard looms
•
When NASCAR First Tested At Indy
•
NASCAR Now: Midseason Awards
Podcasts
•
SVP Show with Dale Jarrett
•
Jayski: Friday
•
Mike & Mike with Dale Jarrett
•
Jayski: Thursday
•
Jayski: Wednesday
•
Mike & Mike with Jeff Gordon
•
Jayski: Tuesday
•
Jayski: Monday
Chats
•
Ed Hinton chat wrap
•
David Newton chat wrap
•
Marty Smith chat wrap
•
Joey Logano chat wrap
•
Ryan McGee chat wrap
•
Terry Blount chat wrap
•
David Newton chat wrap
MOST SENT STORIES ON ESPN.COM