Commentary
Kahne gearing up for a breakout
Updated:
November 17, 2011, 1:08 PM ET
By
Terry Blount
| ESPN.com
MIAMI -- Rick Hendrick probably smiled so big Sunday that he felt it in his sore ribs.
Hendrick still is recovering from his injuries in a plane accident two weeks ago, but the successful Sprint Cup team owner must be a happy man thinking about what Kasey Kahne can accomplish next season at Hendrick Motorsports.
You heard it here first. Not only is Kahne going to win and make the Chase next season at Hendrick, he's going to compete for the championship. Everyone is going to see just how good Kahne really is.
His victory Sunday at Phoenix was the sixth time in the last seven races Kahne finished in the top six. And he's done it at a lame-duck Red Bull organization where most of the people working on his team don't know if they'll have jobs after this weekend.
Jayski
Carl Edwards and Tony Stewart are still separated by three points in the Chase for the Sprint Cup. Plus, more on Kasey Kahne, Ricky Stenhouse Jr., Elliott Sadler and Kyle Busch.
"Some of these guys haven't won before and it felt like I haven't won," Kahne said his first victory since 2009. "It's been a long season. The guys haven't given up. They have done an unbelievable job. I just wanted to win for them really bad."
Let's face facts. Kahne has raced his Cup entire career without the best equipment. But he still has 12 victories in eight seasons and two appearances in the Chase.
Kahne had good cars with Ray Evernham, but they were not among the elite. And things went downhill fast when George Gillett took over. But the people in the Cup garage have known all along that Kahne has what it takes to win a title.
"We got to work with [Kahne's team] really closely when he was driving a Ford," Carl Edwards said Sunday. "He is a really impressive driver. I think he is going to be really tough for a long time now."
Next year, when he turns 32, Kahne finally gets to see how good he can be. And he's taking crew chief Kenny Francis with him, which should ease the transition. They've been together six years.
Now they go to an organization where no expense is spared to try to reach the top. If you're good enough, you can get it done at Hendrick Motorsports.
Kahne and Francis are good enough. Wait and see.
---
A few people on our ESPN.com race chat Sunday wanted to compare Brian Vickers' payback moment on Matt Kenseth to the Kyle Busch incident at Texas.
Don't go there. The two have-at-it-boys moments are light years apart in severity.
[+] Enlarge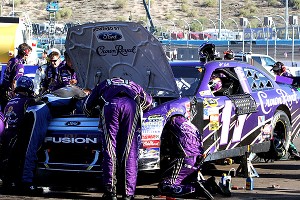 Jerry Markland/Getty Images for NASCARMatt Kenseth and crew weren't pleased with the aftermath of a tussle with Brian Vickers.
Vickers, retaliating for what he felt was Kenseth deliberately wrecking him at Martinsville, pushed Kenseth's car from behind under green and caused Kenseth's Ford to scrape the wall. No one's life was in danger.
However, Vickers still should have been parked for the race after deliberately taking out a Chase driver. It's also clear that Vickers is burning bridges and not helping his chances of landing a ride in 2012.
Kenseth was slow because of failing brakes, so Vickers said it wasn't intentional. Sorry Brian, I'm not buying it. There was ample time to slow down or move inside without ramming Kenseth.
But it wasn't anything like what Busch did at Texas. Busch sped up under caution and turned Ron Hornaday Jr.'s truck head on into the wall at a high rate of speed. Hornaday could have been seriously injured.
Both decisions were wrong, but the two incidents are nowhere close to the same.
As for Busch, he paid a big price and deserves the opportunity to redeem himself. His post-race comments at Phoenix, after blowing an engine while racing in the top five, were a step in the right direction.
"It's just really, really unfortunate," Busch said in an ESPN interview. "These guys work their butts off all season long. It's just devastating. To go through turmoil like this, all you can do is group together and pull through it and try to persevere and move on.
"I can't say enough about all these guys on this team this weekend, too. We had to change an engine on Friday, starting behind [at the back of the field], got all the way to third. We had a shot. It's certainly been a tough few weeks. I hate it for these guys. They just don't deserve this. All we can do is work forward."
Busch said all the right things, as did Kenseth after Vickers ruined his day.
"We aren't racing street stocks at a quarter-mile track," Kenseth said. "So [NASCAR] needs to figure out how to get the drivers to settle their differences in a different way instead of using your car as a battering ram."
Kenseth said he has no intention of continuing the on-track paybacks.
"I don't stoop to that level," he said. "I would never sit down there and wait for somebody and take a cheap shot like that. You can hurt someone like that and that isn't sportsmanlike and that isn't something I would do."
---
Along with the championship battle Sunday at Homestead between Edwards and Tony Stewart, a few other Chasers will battle for a coveted top-10 spot in the standings.
Five drivers are within 10 points of each other, from seventh-place Dale Earnhardt Jr. to 11th-place Jeff Gordon. Kurt Busch, Ryan Newman and Denny Hamlin are between them.
One of them is going to be the odd man out and not get to walk on stage at Las Vegas for the awards ceremony at The Wynn hotel on Dec. 2. That may not sound like a big deal, but believe me, it is, especially for the sponsors.
Terry Blount is a senior writer for ESPN.com. His book, "The Blount Report: NASCAR's Most Overrated and Underrated Drivers, Cars, Teams, and Tracks," was published by Triumph Books and is available in bookstores. Click here to order a copy. Blount can be reached at terry@blountspeak.com.
ESPN Seattle Seahawks reporter
Covered the NFL at the Houston Post and Houston Chronicle, including eight Super Bowls
Received Citation for Writing Excellence from Hearst Newspapers
Also has covered NBA Finals, World Series, Finals Fours, Indy 500 and Daytona 500
SPONSORED HEADLINES
MORE RACING HEADLINES
MOST SENT STORIES ON ESPN.COM
CHAMPIONSHIP WEEKEND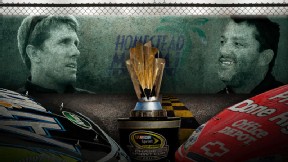 The 2011 Sprint Cup Series title came down to Carl Edwards vs. Tony Stewart, and it lived up to the hype. Stewart won the race, Edwards finished second and they tied on points. The tie-breaker? Total wins, and Stewart won that -- and the championship -- five to one for the season.


Tuesday
•
Willis: Stewart's title historic
Monday
•
Monday Rundown: Thrilling title finishes
•
Power Rankings: The final cut
•
SportsNation: Stewart's legacy
•
Gossage: What a finish!
•
Tony Stewart chat wrap
•
Video: Season in review
•
Video: Sounds of the season
•
Video: Stewart on SportsCenter
•
PodCast: Jayski
•
PodCast: Stewart on Mike & Mike
•
PodCast: Stewart on The Herd
•
PodCast: Stewart on the SVP Show
Sunday
•
Hinton: A finale for the ages
•
Newton: Stewart roars to title
•
Blount: Edwards put up valiant fight
•
Video: SportsCenter highlights
•
Video: Tony Stewart in Victory Lane
•
Video: Carl Edwards deals with loss
•
Video: NACAR Now analysis
•
Recap: Stewart wins and wins
•
Final Sprint Cup standings
•
Ford 400 final results
•
Racing Live! Homestead rewind
•
Sprint Cup 2011 Zoom Gallery
•
Newton: Stenhouse livin' the dream
•
Mark "Guru" Garrow fantasy chat wrap
Saturday
•
Blount: Advantage Carl Edwards
•
Edwards takes pole for finale
•
Hinton: JJ sees edge for Edwards
•
Newton: Johnson a champion's champion
•
Dosh's business blog: NASCAR on the rebound?
•
McGee: Danica limps into the offseason
•
Newton blog: DW remembers close one
•
Hinton blog: Dillon's Trucks title meaningful
Friday
•
Ed Hinton on NASCAR mind games
•
Terry Blount on Brian France and NASCAR
•
David Newton on team orders
•
Blount blog: Danica and moonshine?
•
Newton blog: Keselowski's "secret" fine
•
Ricky Craven on Jimmie Johnson's ride
•
ESPN experts pick the title winner
•
Racing Live! Title Tilt rewind
Columns, Features & Blogs
•
Blount: Edwards figures talk is cheap
•
Newton: Round 1 goes to Tony Stewart
•
Hinton: Edwards would make best champ
•
Blount: Stewart would make best champ
•
Willis: Edwards' time to shine
•
Ed Hinton chat wrap
•
Newton: Roush chasing his dreams
•
Willis blog: For all the marbles
•
Monday Rundown: JJ's reign over
•
Power Rankings: Two-man fight
•
Newton: Homestead, here we come!
Video
•
Season in review
•
Sounds of the season
•
Stewart on SportsCenter
•
SportsCenter highlights
•
NACAR Now championship analysis
•
Tony Stewart in Victory Lane
•
Carl Edwards deals with loss
•
Rain washes out Cup practice
•
Marty Smith interviews Edwards, Stewart
•
Edwards and Stewart: Talking smack
•
RPM Extra: Around the tracks
•
One Last Chance
•
He Said, He Said
•
Edwards Ready For A Championship
•
Soundtracks: Phoenix
Podcasts
•
Jayski: The end of the season
•
Stewart on Mike & Mike
•
Stewart on The Herd
•
Stewart on the SVP Show
•
Jayski: Ready to rumble
•
Dale Jarrett on Mike & Mike
•
Rusty Wallace on the SVP Show
•
Jayski: Clash of the titans
•
Jayski: Edwards, Stewart talk title
•
Jayski: Action-packed week
•
Jayski: Edwards, Stewart stay close