Commentary
Edwards more interested in Sunday
Updated:
November 19, 2011, 3:13 AM ET
By
Terry Blount
| ESPN.com
MIAMI BEACH, Fla. -- From the start until the end of the championship showdown news conference Thursday, Carl Edwards looked like a guy ready leave the media tent, step outside and take an afternoon nap on the South Beach sand.
Ho-hum.
At one point during Tony Stewart's expected intimidation campaign, Edwards calmly pulled out his cellphone, looked down and checked his messages.
[+] Enlarge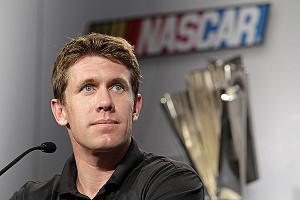 AP Photo/Chuck BurtonCarl Edwards is more interested in what happens on the track Sunday than what was said in a news conference Thursday.
Clearly, those texts were far more important to him than any trash-talking venom Stewart had to say. And Stewart did his best -- "We have nothing to lose. … I'm the one with two championships. … This is war, not friendship. … I'll wreck my mom to win this," etc.
Edwards just sat there onstage, looking totally uninterested in most of the things being said or most of the questions being asked.
Oh, he played along a couple of times, telling Stewart: "I believe we're the ones on top of the standings. I don't think those two [championship] trophies will make his car any faster Sunday."
But for the most part, Edwards was content to let Stewart have his little bully pulpit and his comical sideshow. Stewart even compared one reporter to porn star Ron Jeremy.
Edwards was asked whether he needed an explanation about Jeremy. "I know who he is," Edwards said. "I just didn't hear what [Stewart] said."
Edwards wasn't really listening because he didn't care. All he cares about is what happens in Sunday's Ford 400 at Homestead-Miami Speedway (3 p.m. ET, ESPN and WatchESPN).
"I know and [Stewart] knows it doesn't matter what is said," Edwards said afterward. "Even if we fistfight in the corner, it's still about what we do as drivers in this race."
In what should be the best Chase finale ever, Edwards leads Stewart by three points. And in Edwards' mind, talk is cheap.
"At this point of my life, it doesn't matter to me what anybody says," Edwards added. "Even if they build you up and say you're the man.
"I understand competition, and I understand Tony pretty well. If I had won four times in the Chase [as Stewart has], I probably would have stuff to say and stick my chest out, too. But now it's all about what we do on Sunday."
And that's a good situation for Edwards. He has won two of the past three races at Homestead. He has led the most laps on this track. He has the best average finish (4.3) at Homestead. And his Roush Fenway Racing teammates have won five times at Homestead when Edwards didn't win.
"I'm not nervous because we're in the best possible position we could be in," Edwards said. "I don't really have any nerves. We've been running well and have earned our spot at the top of the standings. And there couldn't be a better track for us."
All true, but Stewart is perceived as the man with all the momentum entering the final race.
"I don't think so," Edwards said. "I think the momentum swung back our way last weekend [at Phoenix when Edwards was second and Stewart was third]. That was like a win for us."
Edwards and Stewart have finished next to each other the past two races, with Stewart winning at Texas when Edwards finished second. Will it happen again on Sunday?
"I honestly think it could come down to who wins this race, wins the championship," Edwards said. "It would be foolish for either of us to underestimate the other's resolve to win."
Edwards believes he is a different man from the one who came close to winning the title twice before and fell short. He lost to Stewart by 35 points in 2005, and Jimmie Johnson beat him by 69 points in 2008.
Those championships battles took place before Edwards became a married man and long before the births of his two children, all of which changed his outlook on life.
"I have personal reasons I'm not nervous," Edwards said. "No matter what happens Sunday, it won't define me as a man.
"I'm very fortunate with so many positive things in my life. I don't go to bed worrying about sponsors or money or women. I've done it the other way, too, and this works a lot better."
That was his own little dig at Stewart's playboy image. But as Edwards made clear, none of that stuff matters come Sunday.
"Tony is as good as they get," Edwards said. "You won't find two harder racers than the two of us.
"But I believe we are prepared. We started the season with specific goals, and we have accomplished all those goals. We have no issues. We know what it takes to win this."
And it isn't who talks the best game. It's who races the best on Sunday. That's just how Edwards wants it.
Terry Blount is a senior writer for ESPN.com. His book, "The Blount Report: NASCAR's Most Overrated and Underrated Drivers, Cars, Teams, and Tracks," was published by Triumph Books and is available in bookstores. Click here to order a copy. Blount can be reached at terry@blountspeak.com.
ESPN Seattle Seahawks reporter
Covered the NFL at the Houston Post and Houston Chronicle, including eight Super Bowls
Received Citation for Writing Excellence from Hearst Newspapers
Also has covered NBA Finals, World Series, Finals Fours, Indy 500 and Daytona 500
CHAMPIONSHIP WEEKEND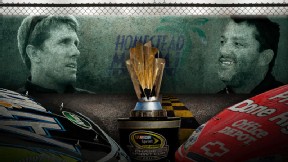 The 2011 Sprint Cup Series title came down to Carl Edwards vs. Tony Stewart, and it lived up to the hype. Stewart won the race, Edwards finished second and they tied on points. The tie-breaker? Total wins, and Stewart won that -- and the championship -- five to one for the season.


Tuesday
•
Willis: Stewart's title historic
Monday
•
Monday Rundown: Thrilling title finishes
•
Power Rankings: The final cut
•
SportsNation: Stewart's legacy
•
Gossage: What a finish!
•
Tony Stewart chat wrap
•
Video: Season in review
•
Video: Sounds of the season
•
Video: Stewart on SportsCenter
•
PodCast: Jayski
•
PodCast: Stewart on Mike & Mike
•
PodCast: Stewart on The Herd
•
PodCast: Stewart on the SVP Show
Sunday
•
Hinton: A finale for the ages
•
Newton: Stewart roars to title
•
Blount: Edwards put up valiant fight
•
Video: SportsCenter highlights
•
Video: Tony Stewart in Victory Lane
•
Video: Carl Edwards deals with loss
•
Video: NACAR Now analysis
•
Recap: Stewart wins and wins
•
Final Sprint Cup standings
•
Ford 400 final results
•
Racing Live! Homestead rewind
•
Sprint Cup 2011 Zoom Gallery
•
Newton: Stenhouse livin' the dream
•
Mark "Guru" Garrow fantasy chat wrap
Saturday
•
Blount: Advantage Carl Edwards
•
Edwards takes pole for finale
•
Hinton: JJ sees edge for Edwards
•
Newton: Johnson a champion's champion
•
Dosh's business blog: NASCAR on the rebound?
•
McGee: Danica limps into the offseason
•
Newton blog: DW remembers close one
•
Hinton blog: Dillon's Trucks title meaningful
Friday
•
Ed Hinton on NASCAR mind games
•
Terry Blount on Brian France and NASCAR
•
David Newton on team orders
•
Blount blog: Danica and moonshine?
•
Newton blog: Keselowski's "secret" fine
•
Ricky Craven on Jimmie Johnson's ride
•
ESPN experts pick the title winner
•
Racing Live! Title Tilt rewind
Columns, Features & Blogs
•
Blount: Edwards figures talk is cheap
•
Newton: Round 1 goes to Tony Stewart
•
Hinton: Edwards would make best champ
•
Blount: Stewart would make best champ
•
Willis: Edwards' time to shine
•
Ed Hinton chat wrap
•
Newton: Roush chasing his dreams
•
Willis blog: For all the marbles
•
Monday Rundown: JJ's reign over
•
Power Rankings: Two-man fight
•
Newton: Homestead, here we come!
Video
•
Season in review
•
Sounds of the season
•
Stewart on SportsCenter
•
SportsCenter highlights
•
NACAR Now championship analysis
•
Tony Stewart in Victory Lane
•
Carl Edwards deals with loss
•
Rain washes out Cup practice
•
Marty Smith interviews Edwards, Stewart
•
Edwards and Stewart: Talking smack
•
RPM Extra: Around the tracks
•
One Last Chance
•
He Said, He Said
•
Edwards Ready For A Championship
•
Soundtracks: Phoenix
Podcasts
•
Jayski: The end of the season
•
Stewart on Mike & Mike
•
Stewart on The Herd
•
Stewart on the SVP Show
•
Jayski: Ready to rumble
•
Dale Jarrett on Mike & Mike
•
Rusty Wallace on the SVP Show
•
Jayski: Clash of the titans
•
Jayski: Edwards, Stewart talk title
•
Jayski: Action-packed week
•
Jayski: Edwards, Stewart stay close
MOST SENT STORIES ON ESPN.COM