Commentary
Team loyalty adds to Chase intrigue
Updated:
November 18, 2011, 4:56 PM ET
By
David Newton
| ESPN.com
HOMESTEAD, Fla. -- Team orders. Few in NASCAR admit they exist, but they do, as we saw several times in the Chase race at Talladega Superspeedway and as we could see in Sunday's Cup finale at Homestead-Miami Speedway.
They're like dirty little secrets that nobody wants to talk about.
But they're out there.
Don't think for one moment that if Ryan Newman is leading on the final lap with his team owner Tony Stewart in second needing a win to erase Carl Edwards' three-point lead that Newman won't let his owner pass, even though he says he won't. If Stewart would wreck his mom to win the championship, as he declared Thursday, then surely he would issue that order.
[+] Enlarge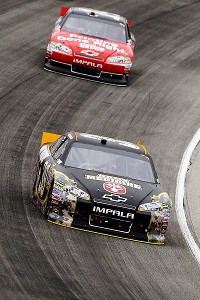 Jonathan Daniel/Getty ImagesWould Ryan Newman, bottom, let team owner Tony Stewart pass if a championship were on the line?
Don't think for one moment that if Edwards is three spots behind Stewart on the final lap with a Roush Fenway Racing teammate or Ford team between him and his bid for the championship that there isn't a plan to let Edwards move up.
Not that either driver wants the championship to come down to such scenarios, but too much is on the line financially -- between $6 million and $7 million for the winner -- to get wrapped up in being politically correct.
"It shouldn't be about team orders," Stewart said. "[But] we saw a hint of it last week. The 16 [Edwards' teammate Greg Biffle] picked a pit right in front of us. We never had an issue with it, but you know that that can happen.
"We're racing for a national championship, so we are prepared that if something develops along that line, we have countermeasures for the same thing."
Edwards agreed.
"We want to win because we deserve to win this thing," he said. "That's that."
But the potential is there, perhaps more than in any season finale ever, because the points are so close. Stewart said he's not planning on it in the same breath that he said Stewart-Haas Racing is "prepared for that," if that tells you anything.
Is there really a difference between planning and being prepared?
That this is Ford versus Chevrolet increases the odds for team orders. The manufacturers take as much pride in winning the title as the drivers do, and it's been since 2004 that Ford has interrupted Chevrolet's string of nine wins in 11 seasons.
For the record, 19 Chevys have the potential to be in this race, compared to 14 Fords.
Also, Edwards has five direct teammates between RFR and Richard Petty Motorsports, and Stewart has five between Newman and Hendrick Motorsports, which supplies him engines and chassis.
But don't expect manufacturers to admit team orders exist any more than owners and drivers do.
"Good question," Kevin Harvick said when asked if they are out there. "I don't have any answers for you, though."
So are they out there?
"I don't know," Harvick deadpanned. "You have to draw your own conclusion to that."
[+] Enlarge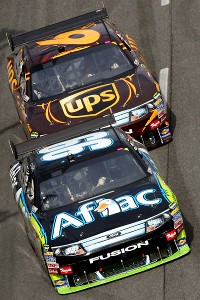 Streeter Lecka/Getty ImagesCarl Edwards will have several allies on the racetrack Sunday, including Roush Fenway Racing teammate David Ragan, top.
All Harvick would admit is he'd prefer to see a Chevrolet win than a Ford and that there is potential for drivers to influence the championship.
He also said he doesn't want to "disrupt the pureness of the sport."
"You don't want to be that guy that always shows up on the highlight reel that affected the championship," Harvick said. "Yeah, if Tony has a question or needs something, I'm not going to put myself in a position to where if we're going to win the race, we're going to let somebody win the race, for sure.
"So you go about cutting him some slack on restarts, little things like that, and on pit road, whatever the case may be."
It's a complex issue, one that reached fever pitch at Talladega when Trevor Bayne left dancing partner Jeff Gordon in favor of Ford driver Matt Kenseth on the final restart, when Richard Childress Racing's Paul Menard backed off pushing Stewart with teammates Clint Bowyer and Jeff Burton pulling away.
"Somebody heard [Menard] change to a different channel and heard that conversation in the trailer on a scanner," Stewart said after the race. "So it was really disappointing to hear something like that from an organization like [RCR]."
Childress insisted there were no orders and he never would give them, but he said there are common-sense decisions that drivers will make during a race.
Call it team expectations instead of orders.
"Ryan should know what he's got to do," Childress said if the aforementioned scenario with Stewart takes place on the last lap. "I just figure that with all my people. I never tell them exactly what to do. They have to be smart enough."
In other words, team orders aren't as blatant in NASCAR as they are in Formula One and drag racing. They're like the "secret" fine the governing body handed Brad Keselowski for publicly trashing the fuel-injection program.
They're there, even though nobody openly talks about them.
"There's always been some sense of team orders," Newman said. "My little baby is one year old and I can order her around all I want, but that doesn't mean she'll listen."
Newman insists he won't have to make that decision, that team orders won't impact this championship, at least if it means giving Stewart the win.
"I'm not going to pull over for him; he wouldn't pull over for me," Newman said. "We're not raised that way."
Newman didn't discount Stewart wrecking him for the win, though, which would make for a better story than any team orders.
"If he needed to, yeah," said Newman, reminding us that Stewart owns the car he would be wrecking.
Let's hope this doesn't come down to team orders. We've seen the backlash they have created in other forms of motorsports. They wreak havoc on the integrity of the sport.
"Our sport is beyond that," said Newman's crew chief, Tony Gibson. "I don't think anybody deliberately gives anybody any kind of orders. Situations dictate themselves at times where drivers make decisions on what he needs to do."
Whether you call it team orders or not, those things happen. Bayne understood it was in the best interest of Ford if he pushed Kenseth at Talladega even though it meant hanging his childhood hero out to dry -- and even though his guilt afterward started an uproar in social media.
Menard understood that he shouldn't push Stewart past Burton and Bowyer unless he could get the win himself for RCR.
Call it team loyalty.
NASCAR doesn't call it anything, by the way.
"That's a team question," said Robin Pemberton, NASCAR's vice president for competition. "What did they tell you?"
Told pretty much what Harvick said about everybody having to draw their own conclusions, Pemberton said, "Well, then, he's probably right."
"I just think people know who their teammates are and who they aren't," Pemberton added.
Nobody really wants to talk about this dirty little secret, but it's out there.
And it could determine the championship.
David Newton covers NASCAR for ESPN.com. He can be reached at dnewtonespn@aol.com. Follow him on Twitter at @DNewtonespn.
ESPN Carolina Panthers reporter
Covered Panthers, NFL for 11 years
More than 25 years experience covering NFL, college football and NASCAR
Joined ESPN in 2006
SPONSORED HEADLINES
MORE RACING HEADLINES
MOST SENT STORIES ON ESPN.COM
CHAMPIONSHIP WEEKEND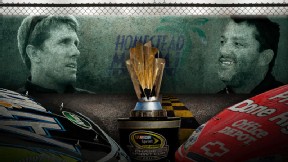 The 2011 Sprint Cup Series title came down to Carl Edwards vs. Tony Stewart, and it lived up to the hype. Stewart won the race, Edwards finished second and they tied on points. The tie-breaker? Total wins, and Stewart won that -- and the championship -- five to one for the season.


Tuesday
•
Willis: Stewart's title historic
Monday
•
Monday Rundown: Thrilling title finishes
•
Power Rankings: The final cut
•
SportsNation: Stewart's legacy
•
Gossage: What a finish!
•
Tony Stewart chat wrap
•
Video: Season in review
•
Video: Sounds of the season
•
Video: Stewart on SportsCenter
•
PodCast: Jayski
•
PodCast: Stewart on Mike & Mike
•
PodCast: Stewart on The Herd
•
PodCast: Stewart on the SVP Show
Sunday
•
Hinton: A finale for the ages
•
Newton: Stewart roars to title
•
Blount: Edwards put up valiant fight
•
Video: SportsCenter highlights
•
Video: Tony Stewart in Victory Lane
•
Video: Carl Edwards deals with loss
•
Video: NACAR Now analysis
•
Recap: Stewart wins and wins
•
Final Sprint Cup standings
•
Ford 400 final results
•
Racing Live! Homestead rewind
•
Sprint Cup 2011 Zoom Gallery
•
Newton: Stenhouse livin' the dream
•
Mark "Guru" Garrow fantasy chat wrap
Saturday
•
Blount: Advantage Carl Edwards
•
Edwards takes pole for finale
•
Hinton: JJ sees edge for Edwards
•
Newton: Johnson a champion's champion
•
Dosh's business blog: NASCAR on the rebound?
•
McGee: Danica limps into the offseason
•
Newton blog: DW remembers close one
•
Hinton blog: Dillon's Trucks title meaningful
Friday
•
Ed Hinton on NASCAR mind games
•
Terry Blount on Brian France and NASCAR
•
David Newton on team orders
•
Blount blog: Danica and moonshine?
•
Newton blog: Keselowski's "secret" fine
•
Ricky Craven on Jimmie Johnson's ride
•
ESPN experts pick the title winner
•
Racing Live! Title Tilt rewind
Columns, Features & Blogs
•
Blount: Edwards figures talk is cheap
•
Newton: Round 1 goes to Tony Stewart
•
Hinton: Edwards would make best champ
•
Blount: Stewart would make best champ
•
Willis: Edwards' time to shine
•
Ed Hinton chat wrap
•
Newton: Roush chasing his dreams
•
Willis blog: For all the marbles
•
Monday Rundown: JJ's reign over
•
Power Rankings: Two-man fight
•
Newton: Homestead, here we come!
Video
•
Season in review
•
Sounds of the season
•
Stewart on SportsCenter
•
SportsCenter highlights
•
NACAR Now championship analysis
•
Tony Stewart in Victory Lane
•
Carl Edwards deals with loss
•
Rain washes out Cup practice
•
Marty Smith interviews Edwards, Stewart
•
Edwards and Stewart: Talking smack
•
RPM Extra: Around the tracks
•
One Last Chance
•
He Said, He Said
•
Edwards Ready For A Championship
•
Soundtracks: Phoenix
Podcasts
•
Jayski: The end of the season
•
Stewart on Mike & Mike
•
Stewart on The Herd
•
Stewart on the SVP Show
•
Jayski: Ready to rumble
•
Dale Jarrett on Mike & Mike
•
Rusty Wallace on the SVP Show
•
Jayski: Clash of the titans
•
Jayski: Edwards, Stewart talk title
•
Jayski: Action-packed week
•
Jayski: Edwards, Stewart stay close